1. CENTRAL AND WEST AFRICA
Traders anticipate post Spring Festival boost in Chinese demand
At the beginning of the 2020 trading year producers report
some slight adjustments in FOB prices for iroko and
padouk logs. For the other species there are no reports of
price movements.

Analysts say that while there are some early signs of
increased buyer interest in China it is unlikely there will
be any significant movement in demand in the Chinese
market as the country prepares for the Spring Festival
running from 25 January to 4 February.

Weakening home market demand hits Indian veneer
mills in Gabon
There are reports of some Indian companies experiencing
difficulties in Gabon's Nkok Special economic Zone. The
problems that have surfaced include log availability and
the high Zone charges.

In trade circles it is rumoured that several Indian veneer
millers are pulling out because of difficulties in securing
raw materials, high charges and a weakening in demand
for veneer in their home market, India.

News awaited on new concession regulations in
Cameroon
In Cameroon operators are anxiously waiting for news on
forest concession and export regulations. Analysts write
that there is also concern amongst operators on the process
for bidding for concession rights and on the log export
quota system.

Gabonese authorities investigating concession
allocations
The Minister of Forests has apparently required all
concession holders to provide details of the concessions
under management and detail correspondence on how and
when the concessions were granted. This move is
apparently in response to suggestions that some
concessions were inappropriately approved. The current
investigation will also cover community forests, a massive
undertaking, say analysts.

It has been reported that Rougier has begun transporting
some kevazingo logs to domestic sawmillers. Current
regulations say that only kevazingo finished products can
be exported but there is as yet no capacity for significant
downstream export production in Gabon.

Buyers in China are anxious to secure supplies of
kevazingo and are asking that they be allowed to import
sawn slabs for processing in China but this is not
permitted under the current regulations. Chinese buyers of
kevazingo have been focusing on Equatorial Guinea where
log exports are permitted and okoume and tali logs are
available
Reports of transport problems in Gabon
Transport issues and delayed fuel deliveries are seriously
affecting mills operating far from the coastal developed
areas in Gabon. Operators in the Lastourville area in eastcentral
Gabon who rely on the Trans-Gabon Railway and
highway N3 to transport production and bring in fuel and
spares are experiencing problems as there have been
regular derailments and the highway is frequently washed
out.

It is reported that some operators are undertaking road
repairs as the weather has improved and are being
compensated through tax reductions.

CFA Franc to be phased out
In December 2019 Ivorian President Alassane Ouattara
and Emmanuel Macron held a joint press conference in
Abidjan to announce that the CFA franc would be replaced
by the Eco from the middle of 2020.

The CFA franc is pegged to the euro. With the exchange
rate remaining unchanged for the time being Eco
banknotes will be issued in such a way that they will
gradually replace the CFA franc which is currently being
used in eight west African countries and six countries in
central Africa.

Eco banknotes of the same denomination as the CFA will
be in circulation. The new currency will be adopted
progressively by African states as and when they fulfil the
convergence criteria.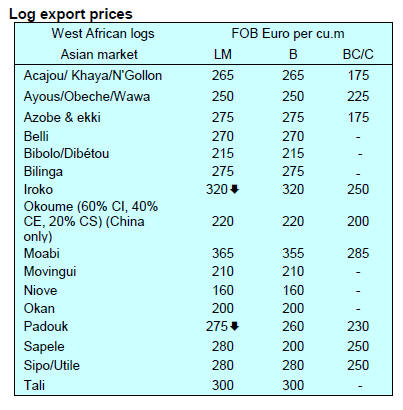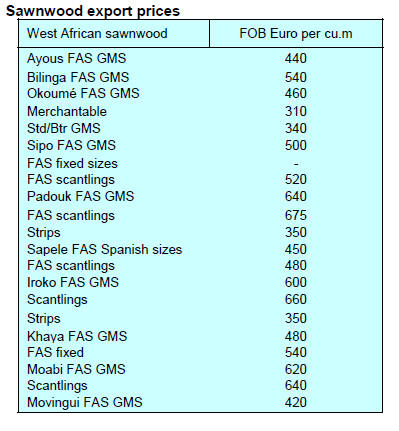 2. GHANA
January to October export performance
Ghana exported a total of 266,015cu.m of wood products
in the first 10 months of 2019 earning euro 129.85 million.
Export volumes and values in the first 10 months of 2019
fell by 4% and 18% respectively when compared to the
same period in 2018.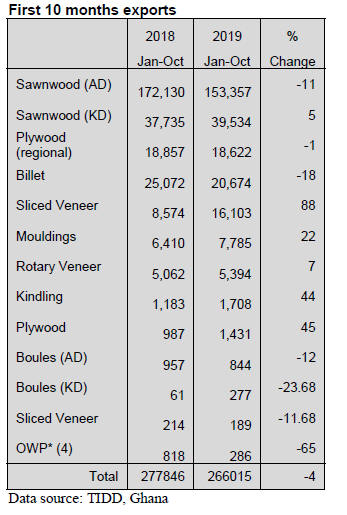 The export of five products, air and kiln dry sawnwood,
plywood to regional markets, billet and sliced veneer
accounted for over 90% of the total export volume for the
period.

Products that saw significant increases included kiln dried
boules, sliced veneer plywood and kindling. However, the
overall average unit price for export product in the first 10
months of 2019 dropped to euro 488/cu.m from euro
570/cu.m in 2018.

Asia continued as the major market for country's wood
product with a 69% growth in 2019, compared in 2018 but
the pace of growth in Asian markets has slowed. This was
followed by Europe which recorded a 15% year on year
increase. Regional African markets continued to perform
well. The leading species that went into the production of
export products were teak, wawa, ceiba, eucalyptus and
mahogany.

Economic growth forecast at almost 7% in 2020
The World Bank is projecting an economic growth of
6.8% for Ghana in t 2020 according to its January 2020
Global Economic Prospects report. This is lower than the
7.5% forecast by the International Monetary Fund for the
same year. The Bank's report, however, said growth will
fall to 5.2% and 4.6% in 2021 and 2022, respectively.
See:
https://www.worldbank.org/en/news/feature/2020/01/08/january-2020-global-economic-prospects-slow-growth-policy-challenges 3.
Business outlook positive say Ghana's business
leaders
In its annual survey of Ghana's Chief Executive Officers
the Oxford Business Group reports that most CEOs are
highly positive about the country's prospects and that this
positive view was driven by the likely opportunities when
the Africa Continental Free Trade Area (AfCFTA) whose
headquarters is in Ghana, becomes operational.

The Oxford Business Group said most respondents
described their expectations of local business conditions as
positive or very positive and most were of the view that
business transparency in the country was good relative to
the West Africa region.
Forest landscape restoration target exceeded
As part of its forest landscape restoration plan Ghana
planted a total of 26,865 ha. exceeding its annual target of
25,000 ha. In a statement to the press, the Chief Executive
of the Commission, Kwadwo Owusu Afriyie, said this was
the first time since the annual target has been exceeded.

Mr, Afriyie said the high level of planting was in part due
to the programme for the Youth in Afforestation and
Reforestation project. The species planted included teak,
cedrela, gmelina, ofram, emire, mahogany and rosewood,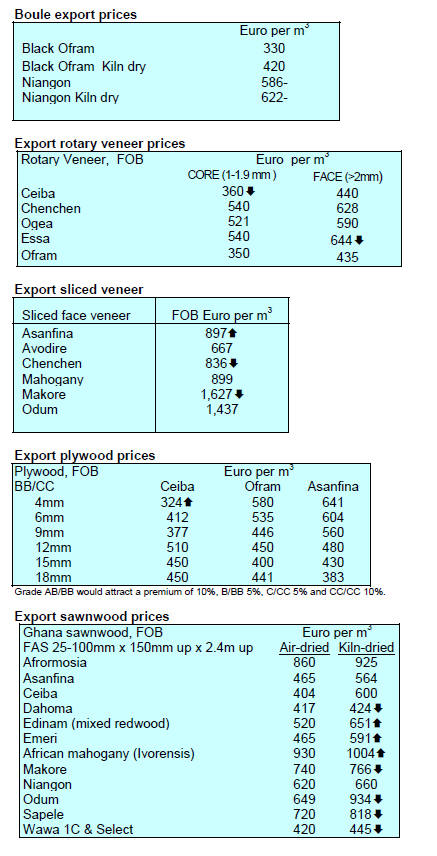 3. MALAYSIA
Costs beginning to outweigh benefits of fair
participation
Speaking after the December Malaysian Furniture &
Furnishing Fair 2019, furniture manufacturers reported
that 2019 was a tough year for sales especially in the
domestic market where the reintroduction of the sales and
service tax at a higher rate than the previous tax was one
of the factors behind the weaker domestic demand.

A Malaysian company executive said fierce competition
weighed on sales which called for strong efforts to
maintain market share, even at the cost of discounted
prices and higher promotional costs. While there is strong
interest in participating in fairs to raise brand awareness,
in the face of weak demand the costs are beginning to
outweigh the benefits. One manufacturer commented that
the company previously participated in some 40 fairs but
will now cut back.
For more see:
https://www.theedgemarkets.com/article/2019-tough-year-localsales-2020-likely-be-better
Sarawak association warns of consequences of minimum wage hike
The Sarawak Timber Association (STA) has issued a press
release on the recent decision to raise the minimum wage.
The press release, which can be found at:
http://sta.org.my/images/staweb/Press_Release/2019/Press Release 31122019.pdf
says the following:

"The recent increase in the minimum wage from RM1,100
to RM1,200 for 57 major cities and towns throughout
Malaysia from January 1, 2020 onwards is a major
concern, including for the plantation, forestry and timber
industries. This comes as the minimum wage increases
rapidly over the last three years from RM920 to RM1,200.

The general pushback against this hike, as claimed by
some employers, is the lack of a corresponding increase in
labour productivity. Also, the current weak international
economy is making it hard to absorb additional
production costs.

STA is deeply concerned about the latest decision by the
Government in raising minimum wages (MW) to RM1,200
in fifty-seven (57) major cities and towns effective from 1
January 2020. STA continues to support the Government's
efforts and policies in spurring sustainable and equitable
economic growth. Nevertheless, STA is taken aback by the
seemingly hasty and ambiguous pattern of setting the MW.

In less than sixteen (16) months, the MW was revised
from RM1,000 for Peninsular Malaysia and RM920 for
Sabah & Sarawak to become RM1,100 nationwide
effective 1 January 2019, which was then again raised to
the recent RM1,200 effective 1 January 2020. Relevant
stakeholders, specifically employers and employees, have
been since thrown in a state of confusion and unease due
to the constant revisions of the MW by the Government.
STA is in the opinion that such move without considering
the current lethargic global economic condition and the
capacity of employers to continuously absorb rising
operation costs will indefinitely take its toll on the already
hard-hit industry.

The upward review of MW will inevitably lead to cost
increase in timber and timber products. For example,
plywood which is one of the main export products of
Sarawak, is currently seeing a cost increase of about
RM18 per cubic metre. Sarawak is already losing its
market shares to more competitive nations like Indonesia,
Viet Nam and other ASEAN countries, who are able to
offer their products at cheaper prices.

Even before the MW increase to RM1,200, our plywood
production cost has skyrocketed over the last few years
due to increase in costs for raw materials and labour. Log
cost has escalated by at least 22% since 2017 because of
increase in Hill Timber Premium from RM0.80/m3 to
RM50.00/m3 (hill timber species), Timber Premium
(Rehabilitation & Development) from RM0.60/m3 to
RM5.00/m3 ; glue cost has increased by 12%, and
administrative & distribution costs increased by 59% due
to significant reduction in production volume.

For our plywood export to Japan, it has dropped by 32%
over the corresponding period of January to November
2018 and 2019."

Plans for bamboo industry development cluster
The Primary Industries Minister has announced that a
bamboo industry development cluster development will be
established this year in the Taman Industri Perabot Lahat,
in Ulu Kinta, Perak.
The Minister pointed out that, currently, the contribution
of the bamboo industry to the Malaysian economy was
low with exports of bamboo products earning just RM9.9
million in 2019. She pointed out that the global bamboo
market is worth around US$65 billion a year. The minister
said that bamboo plantations will be encouraged and
supported especially in Sabah which has vast areas of
suitable land.

News in Brief
A Japanese company is interested in investing in the pellet
wood industry in the Tanjong Manis timber industrial area
in Sarawak. This was expressed by Makoto Yokoshi, who
led a business delegation to visit the Minister of
International Trade and Industry, Industrial Terminal and
Entrepreneur Development.
https://www.theborneopost.com/2019/12/14/japanese-firm-eyesinvestment-
in-pellet-wood-industry-in-tanjong-manis/

The Sarawak State government has increased the premium
on swamp timber species effective 1 January. The Director
of Forests disclosed that the premium for swamp timber
species had not been reviewed for over three decades.
https://www.theborneopost.com/2020/01/04/swamp-timberpremium-
increases-three-to-six-folds/

The Chief Minister of Sarawak has set a target of RM10
bil. in exports of timber products by 2030. Of the target,
he wanted RM6 billion to come from the export of
furniture. He revealed that total earning from the export of
timber products from Sarawak in 2018 was RM5.4 bil. Of
the total, the export of furniture was only worth RM43
million.
https://cm.sarawak.gov.my/modules/web/pages.php?mod=news
&sub=news_view&menu_id=&sub_id=&nid=3752&m=12&y=2
019
Malaysia-China bilateral trade would hit another record
high in 2019, as it had already posted US$111bil. in the
first 11 months of the year, according to Chinese
Ambassador to Malaysia Bai Tian.
In 2018, bilateral trade between the two countries totalled
US$108.66 bil.
See: https://www.thestar.com.my/business/businessnews/
2020/01/07/malaysia-china-trade-to-hit-new-high-in-2019-
envoy-says

4. INDONESIA
Building opportunities for community/private sector
investments
The Ministry of Environment and Forestry (KLHK) plans
to strengthen investment and production in the forestry
sector in support of Indonesia's National Medium-Term
Development Plan (RPJMN) for 2020-2024. The 2020-
2024 RPJMN, the macro development plan is targeting an
investment level increase of around 8 percent.

Secretary General of the KLHK, Bambang Hendroyono,
explained that one of the KLHK's contribution to
increased investment will be through social forestry.
Communities have been given legal access to manage
forest land for non-timber commodities and abandoned
forest lands can be managed productively. Bambang hopes
that by simplifying regulations and bureaucracy in the
private sector joint investments will develop.

SMEs can boost exports due to 'empty' US market
says association
Regina Kindangen, the Deputy Chairman for Small and
Medium Industries in the Indonesian Furniture and Crafts
Industry Association (HIMKI) is optimistic that
association members will be able to take advantages of
market opportunities in the United States where they have
some competitive edge on rivals.

To support the SMEs to progress and develop, Kindangen
said that HIMKI has an annual trade exhibition for
furniture, craft, and homedecor in Jakarta which attracts
many overseas buyers.

Encouraging plantation forestry
The KLHK encourages industrial plantation to increase
national the production volumes. The government intends
to prioritise commercial tree plantations as the raw
material for industry. Acting Director General of KLHK's
Sustainable Production Forest Management, Bambang
Hendroyono, said that while the natural forest will
continue as a source of timber the emphasis on plantations
is to protect the natural forest where exploitation has now
been restricted.

In recent years the contribution of production forests to the
Indonesian economy has fallen. It is reported that in 2019,
the non-tax State Revenue from the production forest
sector dropped to 2.73 trillion rupiah from 2.86 trillion in
2018.

In addition, investment in the production forest sector has
also been falling said Bambang. In 2018 investment
reached 155.71 trillion rupiah but in 2019 it dropped to
128.14 trillion rupiah.

Bambang said the ministry wants the private sector to
invest in plantations across the country. A major concern
of government is that the supply chain for wood products
should be made more efficient and costs reduced and a
number of supporting policies are also being prepared.

In 2020-2024 the KLHK will focus on increasing
investment, productivity, added value and competitiveness
of production forests.

In related news, the Chairman of the Indonesian Forestry
Community Communication Forum (FKMPI), Indroyono
Soesilo, pointed out that plantation forests have increased
significantly. In 2018, planting totalled 196,000 hectares
while in 2019 this jumped to 297,000 ha.

Chinese enterprises deterred by investment climate
Over 50 Chinese wood processing companies are said to
be considering relocating some of their production
capacity to Indonesia. The Chairman of the Indonesian
Forestry Community Communication Forum said
investors from 53 companies had visited Indonesia and
met with business associations and the government.
However, the Chinese companies have not yet made a
decision to relocate citing the unattractive investment
climate.

There was still an opportunity to attract these investors as
the government had just issued a new policy that will
facilitate investment.

See: https://www.republika.co.id/berita/q3miow370/asosiasi-53-industri-olahan-kayu-cina-lirik-indonesia
Indonesia International Furniture Expo (IFEX) 2020
The Indonesia International Furniture Expo (IFEX) that
has been successful in introducing and promoting
Indonesian quality furniture to the global audience will be
held 12-15 March 2020.

The furniture industry is still regarded as important for the
Indonesian economy as it supports a huge labour force.
Data from the Ministry of Industry shows an increase in
furniture exports in 2019 to US$1.69 billion. On average,
the industry is experiencing a growth of 4% annually.

To realise further growth, the country's furniture industry
needs continuous innovations in terms of design,
technology, marketing and the after-sales service to ensure
a high level of customer satisfaction.

See: https://markets.businessinsider.com/news/stocks/indonesiainternational-
furniture-expo-ifex-2020-pursuing-the-opportunityto-
increase-indonesia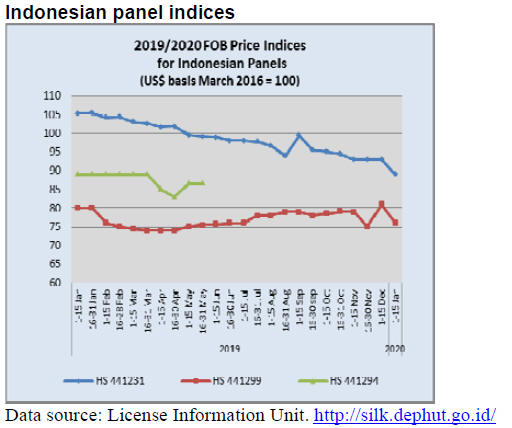 5. Myanmar
More harvests from mature teak plantations
The Myanma Timber Enterprise (MTE) harvesting plan
for 2019-20 provides for the production of about 5,000
tons of teak and 28,5000 tons of other hardwoods. Some
3,000 tons of teak will come from the Shah State with
most of the balance from the Sagaing Region, Chin State
and Magwe Division. In addition, teak will be harvested
from mature plantations (30 years and above).

It is understood that the mature teak plantations are
considered 'natural forest' as the quality of the timber is
considered equal to that from the natural forest. Myanmar
is believed to have exported about 80,000 tons of timber to
as many as forty countries in fiscal 2018-19 with teak
accounting for around 35% of the total.

According to Ministry of Commerce, earnings from the
forestry sector in fiscal 2018-19 were about US$175
million.

To maintain business activity at the same level as in
previous years, exporters need to be trading around 60,000
tons of teak annually. On the current harvest levels it is
clear the industry will face a shortage of teak logs in the
coming years. Myanmar has a problem with deforestation
and the switch to harvesting mature plantations will help
ease the pressure on the natural forest.

Forestry Minister, Own Win, recently attended a ceremony
marking 100 years of plantation forest in the Bago
Mountain Range. An area of 268 acres produced 7,356
teak trees out of which there were 5,665 tress with girths
above 4ft., according to MTE data.

Logging ban – but communities depend on the forest
for their livelihood
The Minister of Natural Resources and Environmental
Conservation has been quoted as saying during the
quarterly meeting of the Ministry that an indirect effect of
the logging ban has been a rise in illegal harvesting since
over 80% of the population depend on the forest for their
livelihood.

How to address domestic timber consumption needs is one
of the main issues as Myanmar addresses forestry sector
reforms. The Minister said that as long as there is a
logging ban there will be so-called 'illegal logging' (by
rural communities to support their lives) and he said the
legal export of logs can support the state income.

This remark by the Minister is interpreted by analysts that
Myanmar will continue harvesting to meet domestic
requirements and to support exports but that the volumes
will be strictly controlled.

Logging ban has impacted domestic availability of
sawnwood
In an article published by a local journal by a retired
general manager of the Myanma Timber Enterprise (MTE)
says that in the ten years from fiscal 2006-07 37,758 tons
of teak and 1,714,780 tons of other hardwood sawnwood
was milled.

Of this it was estimated that around 52% of the teak and
32% of the other hardwoods were for domestic
consumption. Analysts note that the logging ban has
seriously impacted the domestic availability of sawnwood
the distribution of which, before the ban, was undertaken
by the MTE.

Management of natural resources for peace building
report
Forest Trends has published a report "Natural resource
governance reform and the peace process in
Myanmar," billed as a baseline study for efforts to
promote equitable and accountable management of natural
resources for peacebuilding.

The report calls for natural resources to be governed by
subnational and local government officials may help meet
ethnic political demands and steer the country towards a
federalist structure.

See: https://www.forest-trends.org/publications/natural-resourcegovernance-
reform-and-the-peace-process-in-myanmar/
ADB project to fight rural poverty
The Asian Development Bank (ADB) has approved a
US$195 million financing package for a project that will
develop climate-resilient and market-oriented
infrastructure and livelihoods in 2,942 villages in
Myanmar's Ayeyarwady, Chin, Sagaing and Tanintharyi
regions. This will help reduce rural poverty and strengthen
the villages' climate and disaster resilience, benefiting
around 1.8 million people, according to a statement.
See:
https://www.adb.org/sites/default/files/publication/156173/adbiwp318.pdf
Disclosure of owners of companies in extractive sectors
The Office of the President has issued a notification that
requires the disclosure of owners of companies involved in
the extractive sector. This is to support Myanmar's efforts
to become accredited to the Extractive Industries
Transparency Initiative (EITI).

The notification will result in greater transparency on the
158 companies and 5 state-owned enterprises operating in
Myanmar's natural resource sector.
See: https://www.mmtimes.com/news/knowing-who-ownsextractive-
companies-will-help-myanmar-thrive.html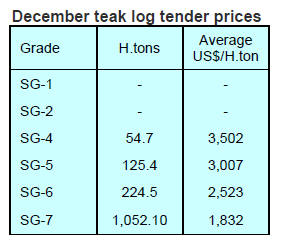 6. INDIA
Lower prices for sawnwood and veneer pushes down
price indices
The official Wholesale Price Index for 'All Commodities'
(Base: 2011-12=100) for November 2019 rose slightly to
122.3 from 122.2 for the previous month. The index for
the group 'Manufactures of Wood and of Products of
Wood and Cork' declined to 133.7 from 134.4 for the
previous month due to lower prices of sawnwood and
veneer sheets.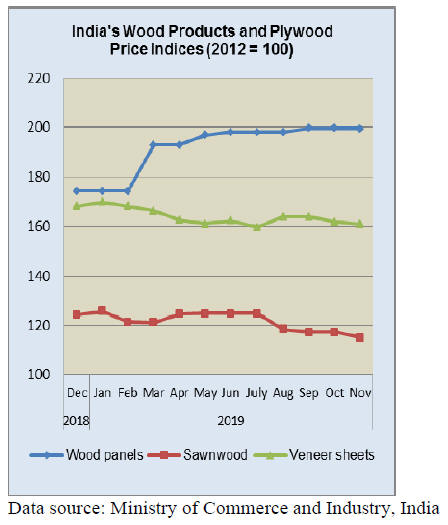 The annual rate of inflation based on monthly WPI in
November 2019 stood at 0.58% compared to 4.47% in
November 2018.
The press release from the Ministry of Commerce and Industry
can be found at: https://eaindustry.nic.in/pdf_files/cmonthly.pdf

Plywood association comes out against trade deal
At the 3rd Regional Comprehensive Economic Partnership
(RCEP) summit held in Bangkok in November 2019 India
opted out fearing a surge of imports into India, particularly
from China. Some in India held the view that there would
also have a negative impact on farming communities and
small-scale industries.

More recently the Punjab Plywood Manufacturers
Association (PPMA), one of the largest associations in the
country, has urged the government to keep plywood and
allied products out of any agreement on trade. PPMA
chairperson, Ashok Juneja, has said "if trading of products
like plywood and allied items is allowed under RCEP, it
will be disastrous for the plywood industry".
See: http://timesofindia.indiatimes.com

Growing interest in red oak says AHEC
The American Hardwood Export Council has released data
showing that total exports of US hardwood lumber to India
reached a value of US$1.822 million for a volume of
around 3,200 cubic metres during the first three quarters of
2019, with red oak sawnwood accounting for nearly a 25%
of all exports to India. The total value of American
hardwood lumber and veneer exports top USD 5.272
million in the first three quarters of 2019.

As the leading international trade association for the
American hardwood industry, the American Hardwood
Export Council (AHEC) has closely observed the Indian
market's growing acceptance of hardwood, especially
American red oak.

India is known as an importer of logs primarily but
changes in the market structure and regulations has
encouraged a growing interest in sawnwood imports.
India's imports of US hardwood logs for the first nine
months of 2019 fell by around 50%.
See: www.americanhardwood.org

Plantation teak prices
C&F prices for teak landed at Indian ports continue within
the same range as shown in December 2019 reflecting the
stable rupee/US dollar exchange rate which remains at
around Rs.71 to the US dollar.

Locally sawn hardwood prices
Prices have been maintained as reported previously.
Domestic market demand and import volumes remain well
balanced say traders.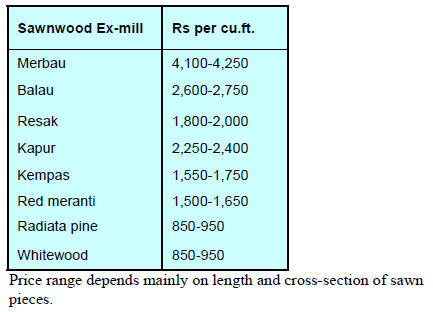 Myanmar teak prices
Much of the teak imported from Myanmar is used in India
for the manufacturing of entrance doors for private homes
and, as such, teak imports from Myanmar mirror activity
in the Indian housing market.

On prospects in the housing market analysts write
"conditions in the money market are improving and loans
and credit facilities are being slowly being granted by
banks. Also, the Central government is actively helping
boost the reality market which, along with easing interest
rates, should lead to firmer teak imports".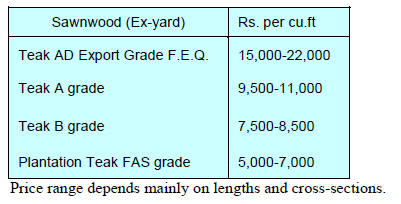 Sawn hardwood prices
Prices remain unchanged. The AHEC website referred to
above specifically mentions Indian interest in red oak
saying "There has never been a better time to buy
American red oak.

That's partly because it's in plentiful supply and partly
because it's eminently affordable, with the price
differential versus European oak as wide as it's ever been.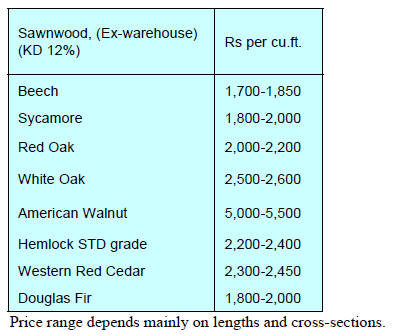 Plywood price increases
Container freight rates continue to rise but plywood
manufacturers have maintained the price increased prices
reported in December 2019.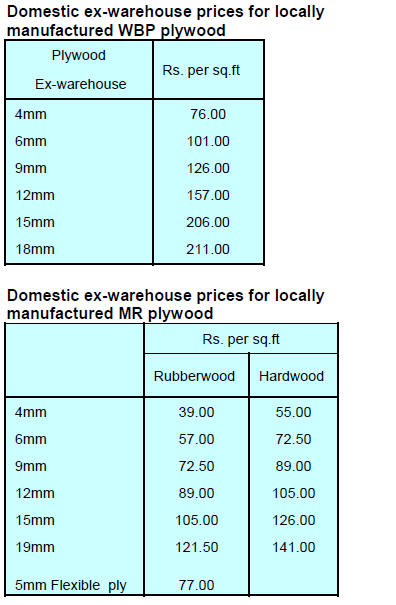 7. VIETNAM
Forest product exports now one of three commodities
with earnings over US$10 billion
At a meeting with the Vietnam Timber and Forest Product
Association and wood associations of Ho Chi Minh City,
Binh Duong, Dong Nai and Binh Dinh Provinces on 9
January the Minister of Agriculture, Nguyen Xuan Cuong,
said that having achieved exports of over US$11 million in
2019, an increase of 18% compared to 2018 he expects the
industry to achieve US$20 billion in export earnings by
2025.

Forest product exports are now one of three commodities
in Vietnam with annual earnings over $10 billion.

To achieve the 2025 export target the Minister noted that it
will be necessary to adopt the latest technologies, revamp
institutions and policies, build the value chains and
develop new market opportunities and new technology.
The most important thing he said, is to ensure that the are
dedicated and well trained engineers and administrators.

See :https://sggpnews.org.vn/business/forestry-industry-aims-atexports-of-20-billion-by-2025-85200.html

2019 – services sector the biggest employer
The Vietnamese formal workforce topped 55.8 million in
2019, an increase of 417,100 compared to 2018 according
to the General Statistics Office (GSO). Of the total, 19
million or around 35% were working in the agro-forestryfishery
sector, 16.1 million in the industrial and
construction sector (290%); and 19.6 million in the service
sector (36%).

The GSO Director General, Nguyễn Bích Lâm, said the
labour issue had seen positive developments last year with
the service sector just overtaking the agro-forestry-fishery
sector as the largest employer. The average pay of workers
increased 2.2% last year says the GSO.

Young workers aged 15-24 years accounted for most of
the unemployed at 44.4% which is a major challenge for
the government. To address this the government is actively
encouraging new enterprises and there were 138,100 new
enterprises established last year an increase of 5.2 per cent
compared to 2018.

See: https://vietnamnews.vn/economy/570623/viet-nam-seespositive-labour-growth-in-2019.html

South Korea leads in investment
The Foreign Investment Agency (FIA) under the Ministry
of Planning and Investment has reported that foreign
investment pledges to Vietnam exceeded US$38 billion in
2019 marking a 10-year high and representing a year-onyear
increase of over 7%.

The FIA reports more than 3,500 new projects received
investment licenses during in 2019, up 27% from 2018.

Among the 125 countries and territories investing in
Vietnam last year, South Korea remained the leading
source of FDI with US$7.92 billion or 21% the total. Hong
Kong was next with almost 8 billion. Singapore ranked
third with US$4.5 billion, followed by Japan and China.

Investment from Hong Kong and mainland China
increased in 2019 mainly due to the impact of the
US/China trade dispute. FDI from China increased 1.65-
fold and from Hong Kong 2.4-fold, year-on-year. In 2019,
the foreign enterprise sector earned US$181 billion from
exports.

See: https://vietnamnews.vn/economy/570419/viet-nams-fdicapital-hits-10-year-record-in-2019.html
8. BRAZIL
Prospects for the domestic furniture sector in 2020
The furniture sector has performed poorly in the domestic
market over the past five years because of economic
stagnation and manufacturers in the municipality of
Linhares, Espírito Santo, one of the main furniture
production centres in the country, have suffered. But in
2019 sales stabilised and, towards the end of 2019, there
was a modest expansion of sales in the domestic market.

Analysts write that prospects for 2020 will improve if the
reforms announced by the federal government, especially
the tax reforms, are enacted. Despite experiencing a period
of instability over the last few years furniture
entrepreneurs have strived to innovate and invest in
technology to raise productivity.

The regional association has maintained its policy of
strengthening partnerships with public and private
institutions in order to further develop the furniture sector.

Bringing innovation and sustainability to Amazon producers
The Brazilian Ministry of Agriculture, Livestock and Food
Supply (MAPA) has launched a project in the Amazon to
raise productivity in the agricultural and timber sectors.

The project, with the support of the German government,
will be implemented from 2020 to 2024 in five states of
the Amazon region: Amazonas, Mato Grosso, Pará,
Rondônia and Tocantins. MAPA will manage and monitor
the project and the Inter-American Institute for
Cooperation on Agriculture (IICA) will act as the financial
agent.

Some planned outcomes include alignment of production
with international agreements, traceability of supply
chains, opening new markets (internal and external) and
development of innovation.
For more see: https://portal.datagro.com/en/207280
Exports of Tropical Plywood and Veneer in 2019
Exports volume of tropical plywood in 2019 totalled
89,120 cubic metres, an increase of over 45% compared to
2018. However, the monthly average of around 7,400
cu.m is very low compared to the past decades and minute
compared to the potential of the Brazilian tropical forest.

The top 5 markets for tropical plywood in 2019 were the
US, Ireland, the United Kingdom, Mexico and Canada
which together accounted for over 80% of all exports of
these products.

It has been difficult to expand markets for tropical veneer
says the Brazilian Association of Mechanically-Processed
Timber Industry (ABIMCI) because of raw material
supply issues. However, despite this problem there was a
significant growth in export volumes in 2019, with
shipment of 25,848 cubic metres, a good recovery
compared to previous years.

The top 5 markets for Brazilian veneers in 2019 were
South Korea, the US, Malaysia, the Philippines and China
which together accounted for almost 70% of veneer
exports.

Timber production in international market in 2019
According to ABIMCI production of the main timber
products has been steadily expanding, driven mainly by
the rising production potential of the forests and export
demand.

Sawnwood, pallets, veneer sheets, plywood, wood frames,
doors and other components are some of the main products
produced for the domestic and export markets. Some
processed products such as furniture parts/frames for the
export market, especially in the US are competing directly
with the same product from Chile and China."

Representatives of ABIMCI said in 2020 the international
wood products market will continue to experience some
market unpredictability as the US/China trade dispute will
linger on creating uncertainties and changes in the supply
chain for wood products in several countries.

The consumption of wood products is gaining importance
globally and there is a high expectation that as technical
standards for wood frame construction are developed there
will be major opportunities in the construction sector.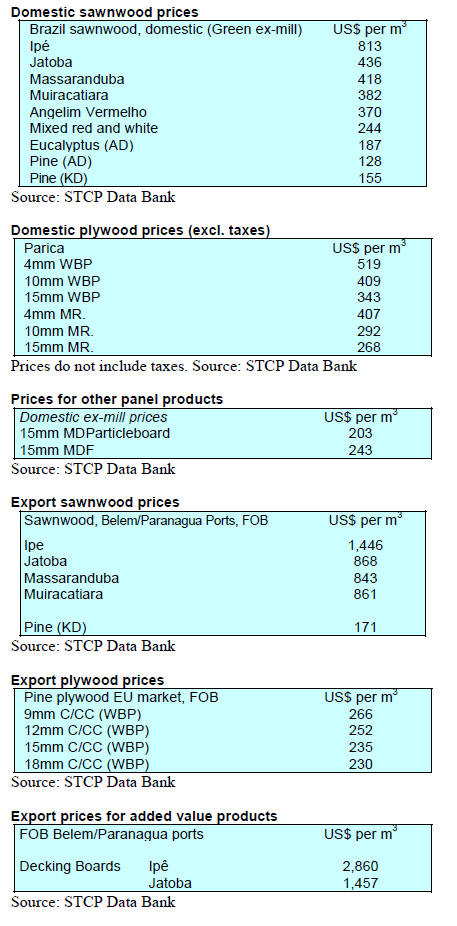 9. PERU
Millions of hectares of natural forest exposed to
encroachment
Erik Fischer, president of ADEX, the exporters
association of Peru has said there are millions of hectares
of natural production forest that are unutilised and exposed
to encroachment and destruction.

According to Fischer, "95% of deforestation in Peru is due
to a change in land use for subsistence agriculture, illegal
mining and illegal cultivation of coca leaf". Fischer
strongly recommended that the government implement
clear policies for the sustainable development of forests as
the only means to prevent informal and illegal activities.

He considered it essential to fully value the immense
potential of the forests in the country and boost private
investment in timber and non-timber production in order
to generate employment opportunities in remote areas.

Domestic construction sector set to grow
The expansion of public investment this year will bring a
boost for the construction sector which, according to the
Institute of Business Development and Economics
(IEDEP) of the Lima Chamber of Commerce (CCL), could
expand by over 6% this year.

In the first half of 2019 Peru's construction sector
expanded by over 5%. The IEDEP indicated that it is
optimistic on growth prospects as mortgage lending has
been rising.

Information of the Superintendent of Banking and
Insurance shows that up to August 2019 loans granted by
financial institutions expanded almost 10% compared to a
year earlier. A healthy and expanding construction output
contributes greatly to the development of markets for
wood products.

New law extends tax benefits to forestry sector
An Emergency Decree, approved 28 December 2019 by
the Council of Ministers extends the validity of the
Agricultural Promotion Law until 2031 and incorporates
the forest and aquaculture sectors.

One of the benefits that will be retained is the lower
payment of tax now extended to the forestry and
aquaculture sectors, explained the Minister of
Development and Agricultural Infrastructure and
Irrigation, Jorge Montenegro. The Minister said the aim is
to boost investment in both sectors which will lead to
higher exports.

San Martín and Loreto progress forest zoning
San Martín was the first region to complete its technical
studies for its forest zoning exercise and has now
submitted its conclusions to the National Forest and
Wildlife Service (SERFOR) within the Ministry of
Agriculture and Irrigation which is responsible for
verifying the compliance with the provisions for the
zoning process.

The San Martín report has been reviewed favourably by
SERFOR and has been forwarded to the Ministry of
Environment which is responsible for issuing any
ministerial resolution formalising the approval of the
forest zoning exercise.

For its part, the Loreto completed the first stage of the
zoning process and this has earned a favourable response
from SERFOR but has not yet received notification from
the ministry. Meanwhile, in Loreto modules II and III of
the zoning process are advancing.

It should be noted that forest zoning is the planning tool
that provides information on the forest and wildlife
resources. The forest zoning exercise is carried out by
regional governments with technical assistance from
SERFOR throughout the process. To-date, 19 regional
governments are undertaking forest zoning.