Report from North America
US, Mexico and Canada agree to trade deal changes
On 10 December negotiators from the US, Mexico, and
Canada met in Mexico City to sign an agreement making
changes to the so-called US-Mexico-Canada Agreement
(USMCA) to update the North American Free Trade
Agreement. The changes were the result of negotiations in
the US between the Trump Administration and key
Democrats in the House of Representatives and were seen
as necessary to win approval from the House Democratic
Caucus.

While the text of the changes is not yet available a Fact
Sheet from the US House of Representatives Committee
on Ways and Means outlined changes to the
environmental provisions in the agreement. These include
a new commitment that all parties adopt, implement, and
maintain seven multilateral environment agreements, new
mechanisms to monitor whether environmental protections
are being applied, and enhancements to mechanisms that
ensure only legally harvested and taken flora and fauna are
traded through Mexico.

See:
https://waysandmeans.house.gov/sites/democrats.waysandmeans.house.gov/files/documents/USMCA%20win%20factsheet%20.pdf

Sawn tropical hardwood imports continue upswing
US imports of sawn tropical hardwood expanded 18% in
October, rising to 22,080 cubic metres for the month.
Imports were 10% higher than October of last year. For
the year to October imports are up on 2018 by 17%.

Imports from Ecuador continue to grow, rising by 74%
month on month in October but are still at a level slightly
below that of October 2018. Total imports from Ecuador
for the year to October are down 8%.

Sawnwood imports from Brazil and Cameroon both fell by
more than 20% in October but remain well ahead of 2018.

Jatoba imports remained steady at a level well above
previous years. Jatoba imports are more than double that
of 2018 and are the highest volume tropical hardwood
imported by the US year to date.

Balsa, the traditional import leader, saw a 71% increase in
volume in October to a level roughly even with October
2018 and is now down 8% from last year to date.

Keruing imports more than doubled in October and are
now up 37% year to date. Teak and padauk also saw
stronger imports in October and are well ahead of last
year¡¯s volume to date.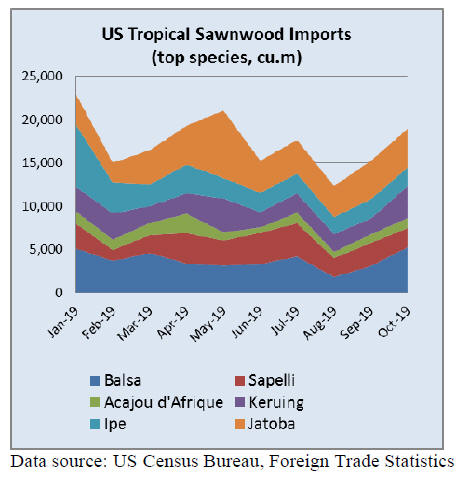 Canadian imports of sawn tropical hardwood grew by 30%
in October. The month saw the highest dollar value of
imports since May 2017. The strong monthly performance
boosted year to date imports to 5% ahead of last year¡¯s
totals, with imports of sapelli up 39% and iroko up 67%
year to date.

Hardwood plywood imports climbing
US imports of hardwood plywood rose by 18% in October
to reach one of its highest levels of the year. The more
than 246,000 cubic metres of plywood imported was 16%
higher than that of October 2018 and now year to date
totals are just 7% below those of the same period last year.

Imports from Russia saw its strongest month since 2012
after increasing by 39% in October. Imports from China
and Indonesia both fell in October and are down 52% and
29% respectively year to date.

Imports from Vietnam continue to grow; they were up
18% in October and are up 83% year to date.

Rebound in Tropical veneer imports
US imports of tropical hardwood veneer rebounded
sharply from a dismal September, rising 58% in October
to a level 16% better than that of October 2018. However,
2019 imports still trail last year by 18% year to date.

Imports from Italy came back strong in October after
suffering its slowest month in three years to now outpace
2018 year to date by 4%. The Italian imports offset
monthly declines of more than 10% from all other major
supplying countries.

Imports from China and Cameroon were both down by
nearly half in October and are behind 2018 year to date
totals by more than 50%.

China and Indonesia only winners as flooring imports
drop
US imports of hardwood flooring fell by 12% in October
to a level more than 25% below that of October 2018. The
decline leaves overall imports only slightly ahead of last
year, up 3% year to date. Imports from China and
Indonesia held steady in October, while imports from all
other major trading countries fell by at least 10% for the
month.

Imports of assembled flooring panels fell by 3% in
October and are within 1% of 2018 year to date. Imports
from China were down 4% in October and are off by 41%
year to date. Imports from Vietnam and Thailand were
both down in October, but still greatly exceed numbers
from October 2018. Year to date imports from Vietnam
are up 114% and imports from Thailand are up 38%.

Sharp decline in moulding imports from Malaysia and
China
US Imports of hardwood moulding fell by 14% in
October, led by sharp declines in imports from China and
Malaysia. Malaysian imports declined by 34% and
Chinese imports fell by 25%. Year to date imports are
down 24% overall with imports from China and Brazil
both at around half of last year¡¯s totals.

US Wooden furniture imports, China down others up
US imports of wooden furniture grew by 9% in October
but were still 10% less than that of the previous October.
Slowing imports from China was the main reason for the
decline. Imports from China were down by 3% in October
and are lagging 2018 by 27% year to date.

Imports from are other leading trading partners were up in
October and are ahead of last year¡¯s year to date totals.

US unemployment matches half-century low
US job gains roared back in November as unemployment
matched a half-century low and wages topped estimates.
This provides the Federal Reserve with more reason to
hold interest rates steady after three straight cuts.

Payrolls jumped 266,000, the most since January, after an
upwardly revised 156,000 advance the prior month,
according to a US Department of Labor release.

That topped all estimates in a Bloomberg survey calling
for 180,000 jobs. It was the first full month that General
Motors Co. workers returned to work after a 40-day strike,
adding 41,300 to automaker payrolls following a similar
drop the prior month.

The jobless rate dipped to 3.5%, matching the lowest since
1969. Average hourly earnings climbed 3.1% from a year
earlier, exceeding projections, and the prior month was
revised higher. Private employment jumped by 254,000.