Japan Wood Products Prices
Dollar Exchange Rates of 10th December 2019
Japan Yen 109.34

Reports From Japan

Dip in machinery orders signals economic slowdown
Signalling a likely slowdown in growth, orders for
machinery placed with Japanese companies fell in the final
quarter of the year according to Cabinet Office data.

Capital expenditure driven by orders for machinery has
been resilient until recently as companies at home and
abroad invested in new equipment and in automation by
Japanese companies because of the tightening labour
market, the result of a shrinking and rapidly aging
population.

Policymakers had been hoping business investment would
remain robust to off-set the dip in consumer spending as a
result of the sales tax hike in October. Private-sector
machinery orders, excluding those for ships and electric
power companies, declined by 6.0% in October.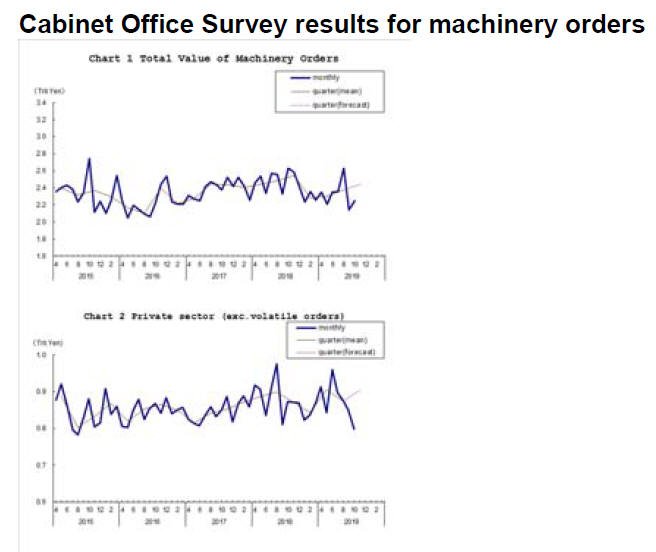 See: https://www.esri.cao.go.jp/en/stat/juchu/1910juchu-e.html

Massive economic stimulus package to support
growth
Japan¡¯s economy is highly sensitive to exports so the
US/China dispute and now the Japan/Korea trade dispute
are undermining export growth. To counter slowing
growth the government has put together a massive
stimulus package worth over yen 25 trillion yen (around
US$ 230 billion).

This is the first stimulus package in three years and is
focused on lifting consumer spending by promoting
"cashless sales". Public infrastructure will also be targeted.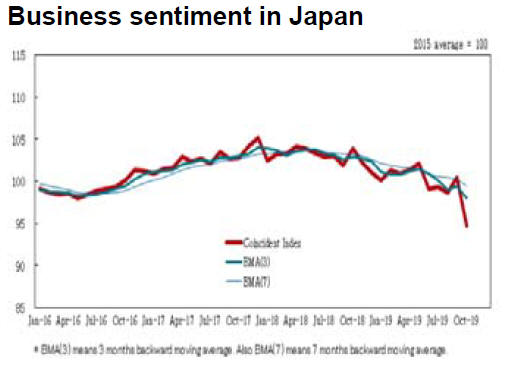 Source: https://www.esri.cao.go.jp/en/stat/di/di-e.html

Consumer confidence continues upward momentum
November consumer confidence data from the Cabinet
Office showed a remarkable reversal, climbing to a five
month high.

The overall consumer confidence index rose and the index
reflecting household¡¯s inclination to buy durable consumer
goods also rose in November. In contrast the Tankan
survey conducted by the Bank of Japan showed Japanese
manufacturers had again turned pessimistic about business
prospects. Analysts put this down to the continuing
US/China trade dispute and weakening global demand.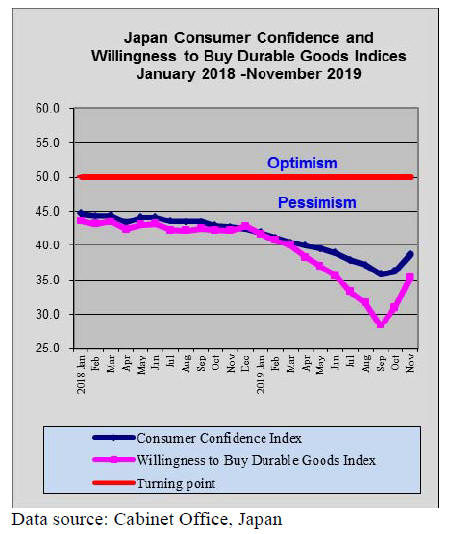 Long period of yen stability could about to be rocked
The US Federal Reserve has announced it is maintaining
its current monetary policy and this allowed the US
dollar/yen exchange rate to maintain the approximate US
dollar to 108 yen that has been in place for several weeks.

The yen is the third most commonly used currency in the
world, behind the US dollar and euro. While the Chinese
RMB is growing in importance its managed status and
lack of flexibility means the yen is still the preferable
Asian reserve currency.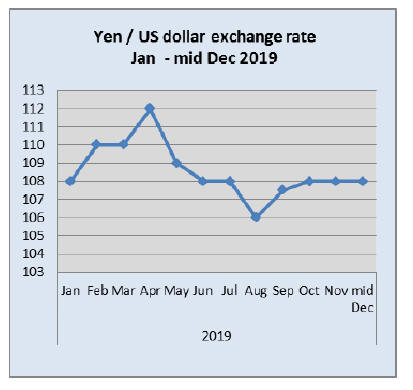 Popularity of wooden housing drops
Interest in wooden housing among Japanese has been
steadily declining since 1989 according to a Cabinet
Office survey. The reasons cited by respondents to the
survey include high maintenance costs and vulnerability to
fire.

The share of respondents preferring to build or buy
wooden homes dropped to just over 73%, down from the
over 80% polled 30 years earlier. Homes made of
reinforced concrete and steel frames the main alternative
mentioned. The Japanese Forestry Agency has said ¡°We
need to promote the positive (environmental) aspects and
the safety of wooden housing,¡±

Apartment prices in Tokyo up 4.5%
The average price of existing condominiums in Tokyo
rose by 4.46% during the first three quarters of 2019 and
the average price of new apartments in Tokyo surged
almost 14% in the same period in contrast to the decline of
over 6% a year earlier.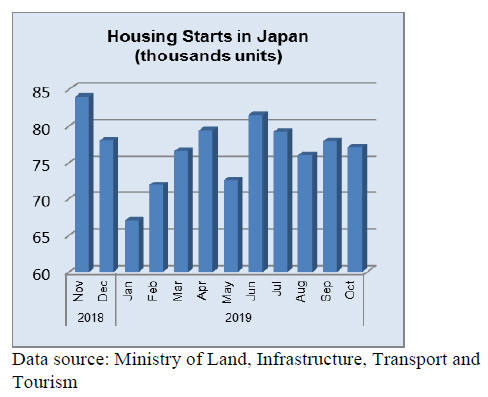 Import update

Wooden door imports
As has been the pattern in previous months, two shippers,
China and the Philippines, accounted for over 80% of
October imports of wooden doors (HS 441820). The other
significant shippers in October were Indonesia and
Malayasia. Of the non-Asian suppliers the US topped the
ranking.

The value of Japan¡¯s imports of wooden doors in October
was almost the same as in October a year earlier but there
was a 10% month on month increase in imports.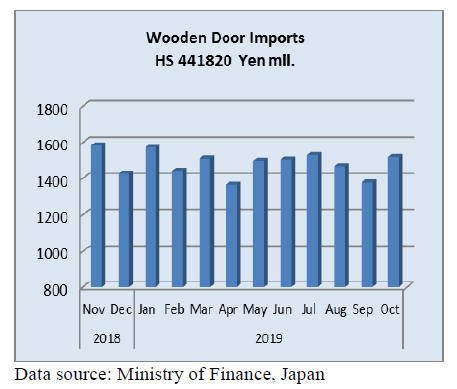 Wooden window imports
October marked the third consecutive decline in the value
of japan¡¯s wooden window (HS 441810) imports.

Year on year the value of wooden window imports was
unchanged but there was a 2% month on month decline.
The value of Japan¡¯s wooden window imports peaked in
July but from there steadily declined. There was a 22%
drop in the value of wooden window imports between July
and October.

Three suppliers accounted for over 90% of October
wooden window deliveries, China (53%) the Philippines
(20%) and the US (18%).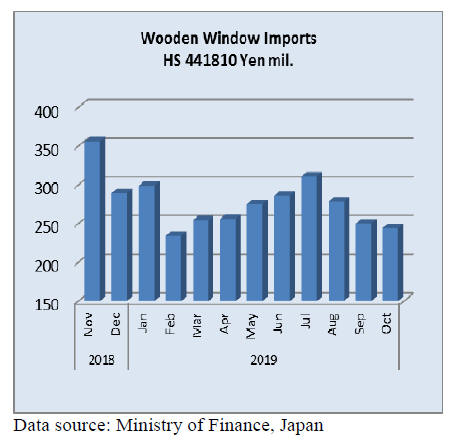 Assembled wooden flooring imports
The value of Japan¡¯s assembled wooden flooring imports
continued its ¡®see-sawing¡¯ between peaks and dips and the
sharp increase in October import values off-set the double
dip seen in August and September.

Year on year wooden flooring imports (HS441871-79) in
October rose 13% and month on month there was a 45%
increase in the value of imports.

As in previous months most of the October assembled
wooden flooring imports were of HS441875 and China
and the US were the main shippers followed by Malaysia
and Indonesia.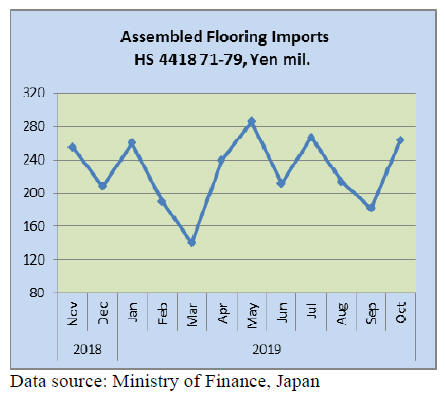 Plywood imports
Imports reported as HS 441231 dominated Japan¡¯s
October plywood imports accounting for almost half of all
import categories. Malaysia and Indonesia continue to be
the main suppliers accounting for around 80% of all
plywood imports by volume. The other significant supplier
is China.

Year on year, Japan¡¯s October 2019 plywood imports
dropped 25% but there was a rise (25%) in the volume of
imports in October 2019 compared to September levels.

October shipments from Malaysia dropped 39% year on
year in October and there was a year on year decline of
17% in the volume of imports from China.

Indonesia¡¯s October 2019 shipments were around the same
as in October 2018. Despite the sharp decline in imports
from a year earlier both Malaysia and Indonesia saw
plywood shipments rise in October.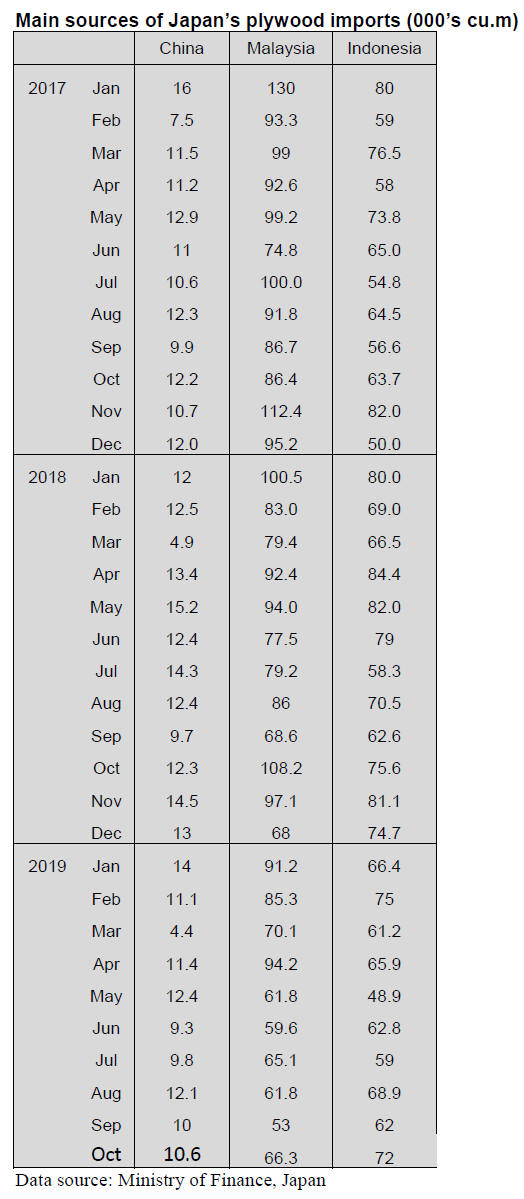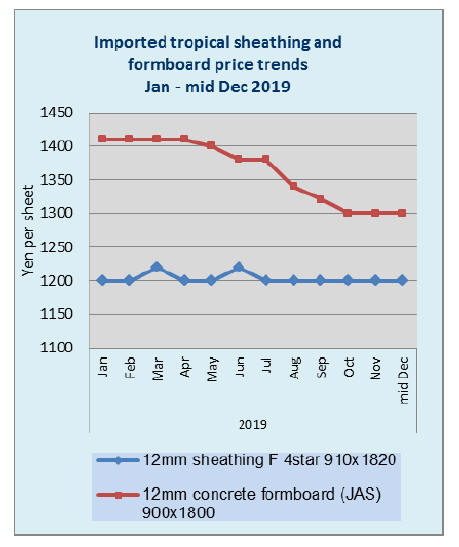 National Conference to Advance the Use of Wood
The Japan Lumber Journal has reported on the inaugural
meeting of National Conference to Advance the Use of
Wood held in early November. The aim of the group is to
revitalise rural areas through encouraging greater domestic
wood use which will stimulate harvesting and replanting.

Through seminars and information and activities
highlighting the environment benefits it is hoped that
greater use will be made of domestic resources. The gropu
also aims to promote the values of wood use for the
environment and society and promote productivity
improvement and spread of new technologies in the
forestry sector.