Japan Wood Products Prices
Dollar Exchange Rates of 25th November 2019
Japan Yen 107.87

Reports From Japan

Falling exports of concern ¨C government economic
stimulus pack on its way
Ministry of Finance data shows Japan's October exports
fell almost 10% year on year. This follows the 7% drop in
September. The decline in exports to China and the US
was the main reason for the fall but all markets have been
showing weakness. To ward off the negative impact on the
economy the government plans to compile a stimulus
package.

Exports to China dropped 10% year on year in October,
down for the eighth consecutive month. Exports to Asia,
which account for more than half of Japan's exports, fell
11%, down for the 12th month and Japan's exports to the
US also dropped 11%.

The decline in exports and weak domestic demand has
driven down manufacturing activity for the seventh
consecutive and this has spurred the government to prop
up the economy which is growing at its slowest pace in
twelve months.

Domestic consumption is vital for economic growth but in
the long term Japan faces a big problem as low birthrates,
coupled with rising longevity, is creating what has been
termed a ¡°crumbling¡± population pyramid which will
shrink the labour force and lower consumption.

Analysts also point to the problem of the ¡°dependency
ratio¡± as there are around 68 dependents (people less
than15 or older than 64) for every 100 people of working
age (15-64) and this is getting progressively worse and
will undermine Japan¡¯s economic potential.

Parliament approves US trade deal
On 19 November the Japanese parliament approved the
trade deal negotiated with the US that will lower import
tariffs and set new quotas for US farm goods. Both sides
are hopeful of quick ratification so the deal can be
implemented.

Under the deal over 80% of the approximately US$15
billion worth of US exports to Japan will be tariff-free or
attract preferential treatment. The new deal is scheduled
for implementation in January 2020. This trade deal helps
restore market access for US exporters to levels they
would have enjoyed if the US joined the Trans-Pacific
Partnership.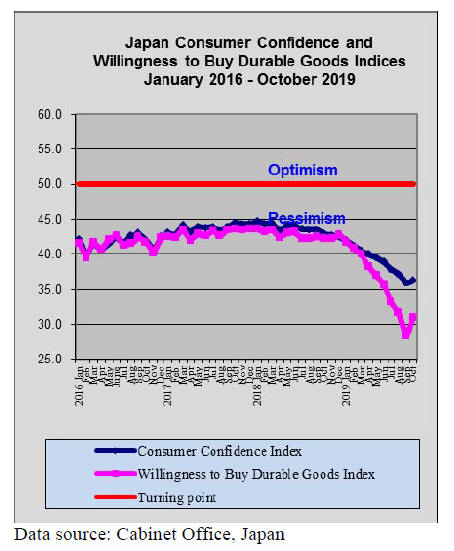 Yen exchange rate within narrow band all year
One of the surprises this year has been very modest
strengthening of the yen in response to the US/China tariff
war and weak global trade. Usually in times such as now
the yen strengthens significantly as a safe haven currency.
This year the yen has traded against the dollar in a very
narrow range and has held at around 108 to the dollar for
months. Analysts put this down to the changing
composition in Japan¡¯s external assets.

See:
https://www.bloomberg.com/news/articles/2019-10-31/one-clueto-why-yen-bulls-are-struggling-lies-in-japan-m-a-boom

Over the past month there was growing optimism that a
deal between China and the US was close but it soon
became apparent that there is a long way to go. Until a
trade deal is struck the yen/dollar exchange rate will
respond because of the ¡®safe haven¡¯ mentality but other
factors are now in play which could minimise the
exchange rate volatility.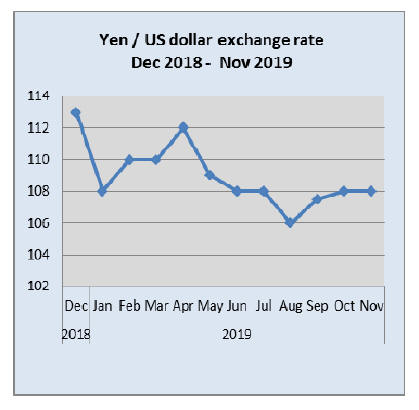 Housing starts flat in October
Ministry of Land, Infrastructure, Transport and Tourism
data showed that housing starts dropped 7% year-on-year
in October. This follows the almost 5% decline in
September. On an annualized basis, housing starts fell to
879,000 in October from 897,000 in September.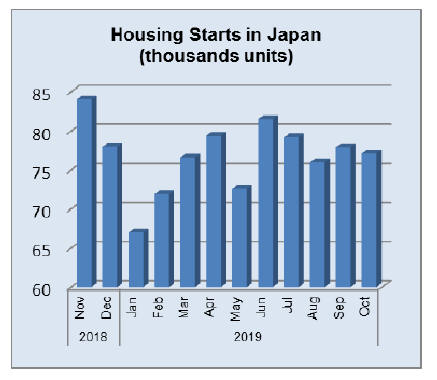 Import update

Furniture imports
In 2019 there were 94 trade shows in Japan, many of
which focused on furniture and household items.

Details of upcoming fairs can be found at:
https://www.tradefairdates.com/Furniture-Trade-Shows-Japan-FSL246-L112-S1.html

The most recent fair IFFT/Interior Lifestyle Living was
held in Tokyo in late November. This show welcomed
over 400 exhibitors with variety of products related to the
entire living space from furniture to tableware. The show
attracted a wide range of visitors including retailers,
hotels, restaurants, architectural designers and office
designers.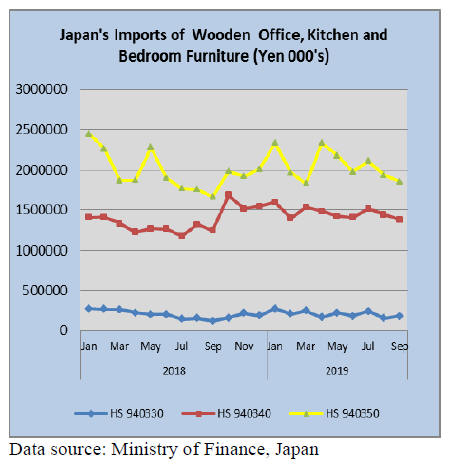 Office furniture imports (HS 940330)
Japan¡¯s September imports of wooden office furniture (HS
940330) reversed course once again rising 50% year on
year and by 16% month on month.

Shipments from China, while still accounting for the
highest level of imports of wooden office furniture,
dropped sharply in September but still accounted for
almost 60% of all HS 940330 imports.

The Netherlands emerged as the second largest shipper in
September capturing a 9% market share in Japan. Two
other shippers, the UK and Poland were in the top rank of
suppliers in terms of value.

Kitchen furniture imports (HS 940340)
September marked the second monthly decline in the
value of imports of wooden kitchen furniture (HS940340).
Imports from China almost halved in September but the
value of imports from the other two main suppliers, the
Philippines and Vietnam held up well. The Philippines and
Vietnam accounted for around 85% of Japan¡¯s imports of
wooden kitchen furniture in September.

Year on year the value of imports of HS 940340 in
September was up 11% but there was a 4% decline from
levels in August this year.

Germany and Italy feature in the top 20 suppliers of
wooden kitchen furniture but between them have only
around 2% of total September shipments into Japan.


Bedroom furniture imports (HS 940350)
Once again, China¡¯s dominace of Japan¡¯s imports of
wooden bedroom furniture (HS 940350) was apparent in
September when imports from China accounted for around
60% of all wooden bedroom furniture imports. The second
largest supplier in terms of import value was Vietnam with
a 34% share of September imports.

Other shippers such as Thailand and Malaysia have a
small share of Japanese imports but have not managed to
increase their share of wooden bedroom furniture imports.

Year on year, the value of Japan¡¯s September imports of
wooden bedroom furniture rose 11% but there was a 4%
month on month decline in the value of imports.

Trade news from the Japan Lumber Reports (JLR)
The Japan Lumber Reports (JLR), a subscription trade
journal published every two weeks in English, is
generously allowing the ITTO Tropical Timber Market
Report to reproduce news on the Japanese market
precisely as it appears in the JLR.

For the JLR report please see:
http://www.nmokuzai.com/modules/general/index.php?id=7

Structural change of plywood import business
Performance of building materials trading firms for the
last term is disclosed and imported plywood business is
major key factor but gap between suppliers¡¯ export prices
and the market prices in Japan is getting wider particularly
since 2017 so the importers suffer negative business for
almost a year.

In the first half of 2018, the market prices rose together
with suppliers¡¯ prices so imported plywood was major
factor of profit for some companies. Then in late 2017, the
suppliers¡¯ prices dropped and the market prices in Japan
decreased much more than suppliers¡¯ price drop so many
importers suffered loss.

In producing regions in Malaysia and Indonesia,
production and shipment plan collapsed by log supply
shortage and resultant higher log prices. In Japan,
warehouses near ports are plugged with imported plywood
and many ports restricted accepting plywood cargo ships.

Smooth import procedures were disrupted. While
confusion lasted in ports, the market skidded and high cost
inventories had to be disposed at lower prices, which
resulted in huge loss for the importers. Initially price skid
was supposed to stop around June but bleak market
continues during summer months. This is nothing unusual
and it happened cyclically before.

The most noticeable change is that imported plywood is no
longer influential to the plywood market. Imported South
Sea hardwood plywood used to dominate the market but
now even when monthly import volume is less than
200,000 cbms, there is no panic at all. Market share of
domestic softwood plywood and imported plywood
reversed and domestic share is getting larger while supply
of South Sea hardwood plywood became unstable by log
shortage. Plywood users rely more on stable supply of
domestic plywood.

This means structural change of plywood market from
imports to domestic. It is obvious that domestic plywood
is leading the market. By environmental restriction and
declining of forest resources, there is no chance that
supply of hardwood plywood from Malaysia and
Indonesia would become competitive in price and quality
like before.

South Sea hardwood plywood has been the most important
material as composite floor base but after by insufficient
supply and high prices, Japanese floor manufacturers have
been shifting to use domestic softwood plywood without
choice.

Supplying mills in these countries have been struggling
with tight log supply and low orders from Japan and only
thing they can do now is to curtail the production. One
solution is to use planted species to manufacture plywood
if the prices are competitive with Japanese cedar.

Diversification of floor base materials
Base materials of composite floor have been diversified.
According to statistic made by the Japan Laminated Wood
Flooring Manufacturing Association (JLWFMA),
percentage of domestic wood used for floor base in
September is 36%, 10 points more than September last
year.

Reason of shifting is price increase of South Sea hardwood
plywood and decline of the supply. This has been used as
floor base for many years in Japan with dimensional
stability. To replace natural hardwood, plywood of planted
species of falcate and eucalyptus increased for some time
but after the demand increased, the prices soared so use of
domestic softwood plywood rapidly increase due to price
stability since 2014. Planted species grow faster but it
lacks strength and surface is soft to have scratches easily.

Up until 2000, South Sea hardwood plywood was the main
material for floor base then the prices started climbing
since 2006 and they shot up to US$700 per cbm C&F at
one time, which triggered diversification of floor base
materials.

In 2007, Panasonic developed 100% particle floor base for
the first time in Japan then in 2009, Daiken started
marketing composite floor ¡®Forest Hard¡¯, which is the first
domestic softwood plywood floor with MDF.

In 2010, the JLWFMA declared to pursue using domestic
softwood plywood for floor base.

Prices of South Sea hardwood plywood climbed again
since late 2017 so the composite floor manufacturers all
increased the sales prices then major house builders
changed the specifications to use domestic softwood
plywood as floor base. This speeded up use of softwood
plywood.

Right now, the main floor base is domestic softwood
plywood with MDF but there are variety of other materials
such as hardboard with softwood plywood or planted
wood plywood and hardboard so diversification is
progressing to avoid risk of high cost and supply stability.

Looking at development of new floor base by individual
companies, everyone is now trying to increase use of
domestic materials to avoid risk of exchange rate of
imported materials and unstable supply.

South Sea (tropical) logs and lumber
Supply and demand of South Sea logs are balanced. There
was no arrival in September both from Malaysia and PNG
but plywood manufacturers carry about two to three
months inventories. Malaysia is in rainy season so the log
supply is dropping largely.

After log prices dropped in last summer, log suppliers
have begun reducing harvest since last August so the
supply decreased much faster than normal year. Log
inventories of local plywood mills are decreasing rapidly
so local log prices are also climbing.

Export log prices for China stagnate
Export prices of cedar logs for China from Kyushu ports
had been about 9,500 yen per cbm FOB port until last May
then the prices have started dropping and now 8,000 yen
or lower for last six months.

Radiata pine log prices from New Zealand to China have
been gradually climbing and ocean freight is also
increasing but Chinese buyers demand 12,000 yen per cbm
C&F Shanghai for Kyushu cedar logs.

Chinese log market bottomed in September and is
improving and the buyers plan to build up the inventories
for next year¡¯s New Year in February. They will keep
buying if present price level continues.

In 2018, total logs exported from Kyushu ports are about
950,000 cbms, 25% more than 2017, out of which logs for
China were about 800,000 cbms.

For the Japanese log exporters, concern is log purchase
competition with biomass power generation plants. If the
export log prices drop too much, logs would go to biomass
business. Present prices for biomass are holding at 7,000
yen per cbm FOB chip plant. In short, minimum export
log prices are 7,500 yen per cbm FOB port and if they are
lower than this, logs would go to biomass plants.