3. MALAYSIA
Brisk sales at Malaysia Wood Expo
The Malaysian Wood Expo (MWE) organised by the
Malaysian Timber Council (MTC) and the Panel and
Furniture Group attracted considerable international
interest with exhibitors from Germany, Italy, Australia,
France, Belgium, Gabon, China, Chile, New Zealand,
Taiwan P.o.C.

Business matching events conducted in collaboration with
the Malaysia External Trade Development Corporation
and MTC generated business worth an estimated RM120
million.

A press release from MTC quotes MTC chairman Dato'
Low Kian Chuan as saying "We are extremely happy with
the outcome of the Malaysian Wood Expo. It was a
commercial success with brisk sales. The Expo was wellattended
by a broad spectrum of visitors and buyers from
day one.

To boost business at MWE, MTC organised two business
matching sessions – the Overseas Suppliers-Malaysian
Importers/Manufacturers Exchange Programme and the
Incoming Buying Mission (IBM).

MTC also offered special incentives for the purchase of
machinery under its Financial Incentive for Purchase of
Machinery Programme (FIPM) as well as importation of
raw materials under its Import Assistance Programme
(IAP).

See the MTC press relase at:
http://www.mtc.com.my/images/media/703/MWE_2019_Postrelease_-Final-.pdf
Speaking at the event, Teresa Kok, Minister of Primary
Industries said Malaysia now has over 4 million hectares
of forests certified under the Malaysian Timber
Certification Scheme and that over 2 million cubic metres
of certified wood products have been exported.

The Minister also announced a new levy of RM 1 per
tonne of oil produced by palm oil companies which will be
accumulated in a fund for wildlife conservation and green
initiatives, especially tree planting.

Forest landscape restoration in Sarawk
The Sarawak Forest Department is committed to
implement Forest Landscape Restoration programmes and
intends to include local tree species in recovery of
degraded forest areas. Previously, over 90,000 ha. have
been successfully planted under the enrichment planting
and restoration work throughout the state.

In other news from Sarawk, Deputy Chief Minister Awang
Tengah Ali Hasan, outlined the State Governments' plan
for the total protection of 1 million ha. of forest.

Correction
In the early November issue of the ITTO market report a table
showed Sabah exports of MDF, this was incorrect and should
have read MDG i.e. mouldings. A corrected table is provided
below.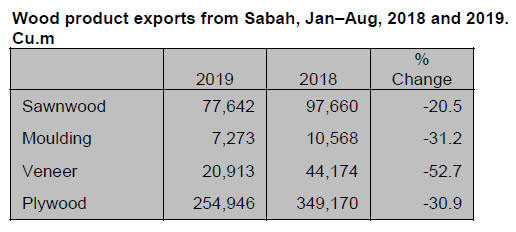 4. INDONESIA
Obstacles to investment in forestry
The chairman of the Association of Indonesian Forest
Concessionaires (APHI), Indroyono Soesilo, said that
exports of wood products can be increased if the
performance of the upstream forestry sector can be
improved. He commented that the upstream sector is
currently facing problems especially low log prices, land
tenure issues, limited access to funding and underutilisation
of business permit areas.

Furthermore, Indroyono said there are several important
issues that need attention due to the imposition of land and
building tax (PBB) in the forestry sector which is punitive
and unclear on the amount charged, the classification of
taxable assets (land and buildings) and the overall scope of
the tax.

See: https://nasional.kontan.co.id/news/aphi-masih-ada-kendalainvestasi-bisnis-kehutanan

2019-2024 forest development roadmap
APHI has launched its 2019-2045 Production Forest
Development Roadmap with the aim of expanding social
forestry and re-configuring forestry businesses.

The roadmap contains investment, production and export
targets as well as targets for employment in the forestry
sector. The Plan encompasses issues such as non-timber
forest products and environmental services.

According to the APHI chairman, in 2020 the forestry
sector will face challenges and strategic issues in
investment development and there is a need to boost
forestry performance which will involve developing multibusinesses,
synergising and balancing the flow of goods,
funding, rationalisation and review of fees and developing
new clusters for enterprises.

See: https://www.gatra.com/detail/news/456135/politik/aphiluncurkan-roadmap-pembangunan-hutan-produksi-2019-2045

Aiming for a rise in exports to the EU
The government has targeted a 10% growth in export of
wood products to the European Union in 2020. Rufi'ie, the
Forest Products Processing and Marketing Director of the
ministry said wood products from Indonesia are of highquality
and efforts to increase production capacity will be
required if the target is to be achieved.

The value of Indonesian wood product exports to the
European Union in 2017 reached US$994.5 million rising
by 8.5% to US$1.08 billion last year. This year export
values in the 11 months to November were US$963
million.

Trade dispute undermining performance of the
furniture sector
The Ministry of Industry (Kemenperin) said it would
continue to support growth in the furniture industry.

However the sector has faced problems as the Ministry of
Industry records show the value of furniture exports
reached only around US$730 million in the first half of
this year while exports in the first 6 months of last year
reached US$845 million.

Gati Wibawaningsih, Director General of Small and
Medium Industries in the Ministry of Industry suggested
the decline in exports was due to the effects of the
US/China trade dispute. Gati said he expects around 52
foreign manufacturers to relocate to Indonesia and that this
would boost furniture output.

In related news, as many as 200 Chinese timber
entrepreneurs are considering investing in Central Java
according to the Investment Coordinating Board (BKPM).
This was the result of a meeting with the Shandong
Timber Employers Association at the Indonesian Embassy
in Beijing recently.

During this meeting, the BKPM team, represented by the
Director of Services and Regional Planning Nurul Ichwan
and members of the Investment Committee, explained
how investors will be supportedin resolving problems.

The Shandong entrepreneurs indicated they are
considering relocating to East Kalimantan because the
price of land in East Kalimantan is much cheaper than in
Central Java. In addition, East Kalimantan has abundant
forest wood.

See: https://katadata.co.id/berita/2019/11/22/bkpm-sebut-200-pengusaha-kayu-tiongkok-ingin-berinvestasi-di-jateng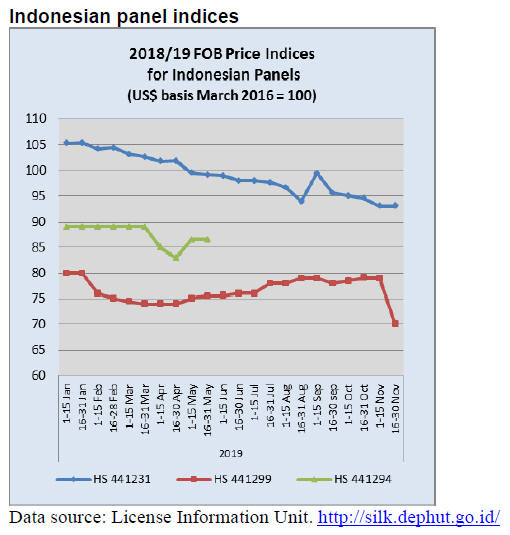 5. INDIA
Slight decline in price index - inflation low and steady
The official Wholesale Price Index for 'All Commodities'
(Base: 2011-12=100) for October 2019 rose to 122.2 from
121.3 for the previous month. The index for the group
'Manufactures of Wood and of Products of Wood and
Cork' rose to 134.4 from 134.0 for the previous month due
to higher prices for splints, boxes and plywood. However,
prices for composite boards and veneers dipped in
October.

The annual rate of inflation based on monthly WPI in
October 2019 stood at 0.16% compared to 5.54% in
October 2018.

The press release from the Ministry of Commerce and Industry
can be found at: https://eaindustry.nic.in/pdf_files/cmonthly.pdf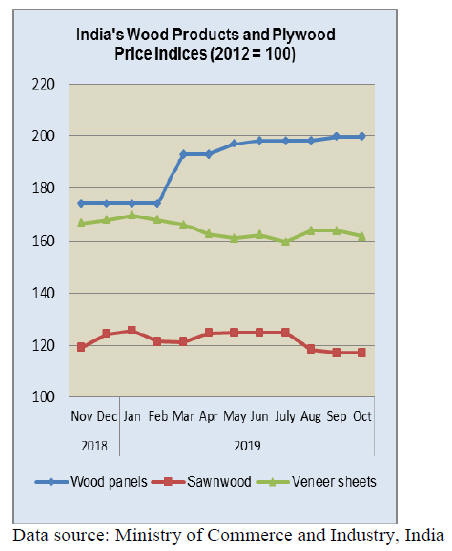 Fund to revive stalled housing projects
The government has established a fund to revive up to as
many as 1,600 housing projects, many of which have been
classified by banks as non-performing assets or are facing
insolvency. The Union Finance Minister, Nirmala
Sitharaman, said there may be some relief for those who
have defaulted on repayment of their home loans stalled
projects across the country.

This latest news follows a government decision to
establish a fund for the completion of stalled affordable
and middle-income housing projects.

Niranjan Hiranandani, president of the National Real
Estate Development Council said "This will be a win-win
for homebuyers and real estate developers as it will help
alleviate financial stress faced by homebuyers who have
invested their hard-earned money, while also releasing
funds stuck in such delayed/ stalled projects for productive
purposes."

See:
http://timesofindia.indiatimes.com/articleshow/71947035.cms?utm_source=contentofinterest&utm_medium=text&utm_campaign=cppst

Red Sandalwood seized
Recently police raided warehouses in Bhendi Bazaar and
Thane and seized more than 2,200kg of red sandalwood
arresting one person for allegedly smuggling the
sandalwood from Chennai into the city apparently enroute
to Hong Kong. This is the second time in less than two
weeks that the police have broken a sandalwood
smuggling ring.



C&F prices for imported teak from various countries
remain within the same range as given earlier, mainly
because of the stable rupee/US dollar exchange rate which
is about Rs.71 to the dollar. The chances of a reduction in
GST on wood products appear dim at the moment but the
timber sector continues to lobby for a review of the tax on
wood products.

Locally sawn hardwood prices
Prices have been maintained as reported previously.
Demand and import volumes are balanced.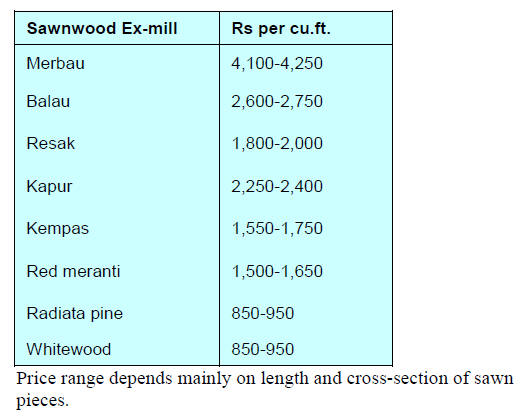 Myanmar teak prices
Myanmar teak enjoys a steady demand in high end
markets in which, despite the higher prices due to the
GST, demand is steady.

In recent weeks shippers of teak in Columbia have been
offering large girth logs the quality of which, say analysts,
appears close to that of Myanmar teak. Developing this
business opportunity is stalled for now as importers still
struggle to secure business development finance.
However, analysts say conditions are improving and loans
and credit facilities are gradually being granted by banks
and interest rates are falling.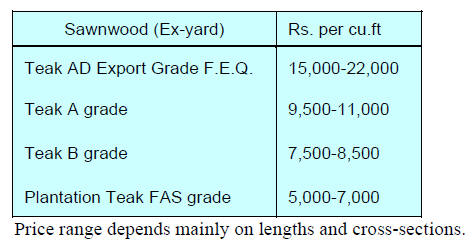 Sawn hardwood prices
Prices remain unchanged.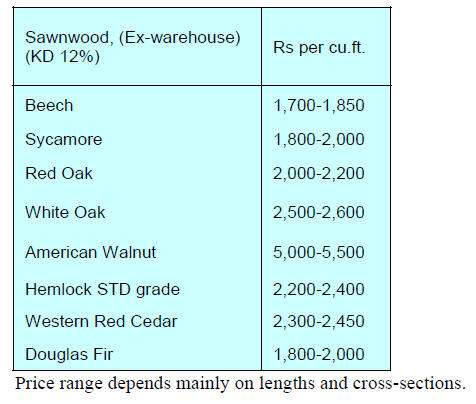 Plywood
The Indian Trade Journal' Plyreporter' says reports from
Russia suggest that since the end of last year birch
plywood prices have fallen more than 10% because of
weak international demand. Demand continues weak in
core markets in Europe and there has been a buildup of
stocks such that mills are offering discounts.

Indian plywood importers have taken advantage of the
prices cuts and ordered significant volumes. Birch
plywood is increasingly popular among Indian buyers
because it is made to EU standards.

For the full story see
https://www.plyreporter.com/article/51043/birch-plywood-pricedrops-by-10

Plywood wholesale prices remain unchanged.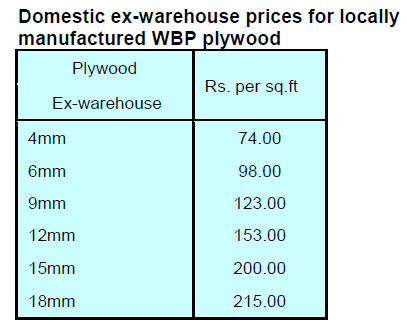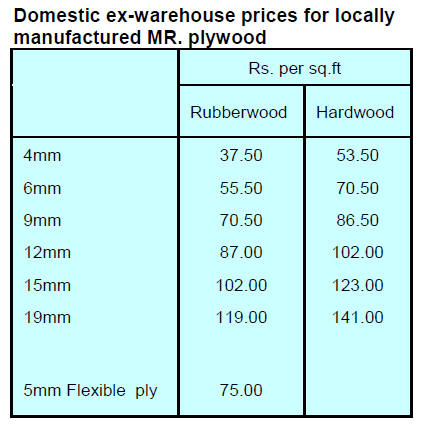 6. VIETNAM
Exports top US$1 billion in just one month
In October the value of Vietnam's wood product exports
was US$1,037 billion, up 20% compared to September
and by 23% compared to October 2018. This was the first
time Vietnam's export earnings from wood products
exceeded US$1 billion in a single month.

Exports in the first 10 months of this year totalled around
US$8.6 billion, up 18% over the same period last year.
Also, in the first half of November, exports of wood
products reached US$451 million. It is estimated that in a
short time the target of US$9 -10 billion export value for
2019 will come a reality.

Vietnam's exports of non-wood forest products are also
growing. In the first half of November exports of rattan,
bamboo, sedge and natural fibre carpets reached more than
US$23 million, bringing the total export value of this
group of commodities to US$407 million since the
beginning of 2019.

See: http://fpabinhdinh.com.vn/lan-dau-tien-trong-lich-su-nganhgo-dat-hon-1-ty-usd-xuat-khau-chi-trong-1-thang/

Major export markets for Vietnamese wood products
The US is a top export market for Vietnamese wood
products and has contributed to the success of Vietnam's
exports in the first 10 months of 2019. In October, the
export value of wood products for the US market was
US$547 million, up 41% compared to October 2018 and
this accounted for more than 50% of the total export value
for the month.

Another important export market of Vietnamese wood and
wood furniture is China. Vietnam is one of the biggest
suppliers of wood and wooden furniture to the Chinese
market, together with Italy and Poland.

In the first 9 months of 2019, China's imports from these
three markets accounted for 48% of total wooden furniture
imports.

Japan wood product imports from Vietnam in the first 10
months of 2019 were up 19% over the same period in
2018. There was a surge in Japan's demand for furniture
from Vietnam before Japan's consumption tax increased to
10% from October 2019. In addition, timber enterprises in
Japan have benefitted from the Vietnam-Japan Economic
Partnership Agreement.

See: http://cafef.vn/my-la-thi-truong-xuat-khau-go-va-san-phamgo-lon-nhat-trong-10-thang-nam-2019-20191124103131206.chn

Vietnam's timber industry not yet paying attention to
the domestic market
The recent Vietnam Furniture and Interior Fair (VIFA
HOME 2019) organized by the Ho Chi Minh City
Handicraft and Wood Industry Association (HAWA) in
November 19 highlighted that Vietnam's timber industry
has not focused much on domestic demand even while
demand is growing very strongly as incomes rise.

HAWA has estimated domestic demand is in the region of
US$5 billion annually and this has attracted many foreign
suppliers creating a fierce competition.

Unlike most export markets Vietnamese consumers prefer
wood products with unique styles and favour order-made
designs which is a strength of small and medium-sized
processing enterprises in Vietnam.

See: https://bnews.vn/nganh-go-viet-nam-chua-khai-thac-het-thitruong-noi-dia/140467.html

7. BRAZIL
Expansion of forests in Mato Grosso do Sul
The Brazilian Institute of Geography and Statistics (IBGE)
recently released data showing there was a huge expansion
of planted forests in Mato Grosso do Sul over the past
decade. In 2006 the state had 121,000 ha. of plantations
but this jumped to 1.1 million ha. after 10 years.
According to IBGE, there are 91 million ha. of natural
forests for conservation. Eucalyptus accounts for most of
the planted area.

In 2007 the State Government, in partnership with the
Brazilian Micro and Small Businesses Support Service
(SEBRAE), undertook a study of soil conditions, climate,
relief, availability of water resources and workforce which
was the foundation of the State's plantation plan.
SEBRAE noted that planted forests, if properly managed,
bring many benefits and they reduce the pressure on
natural forests.

Strengthen the forestry sector
In the first week of November the Timber Industry Union
of Northern Mato Grosso State (Sindusmad) arranged a
meeting of timber producers in the municipality of Itaúba.
The objective was to bring together, integrate and
strengthen the forestry sector of the municipality.

At the meeting the Center for Timber Producers and
Exporters of Mato Grosso State (CIPEM) presented
information on technical and legal requirements in the
timber sector. One of the goals of Sindusmad is to promote
and integrate forest-based industries and attract new
members.

The municipalities that participated in the meeting
recognised the importance of the sector for their economic
development and committed to reduce bureaucracy and
review legal procedures and environmental and tax laws.
The forest-based sector in the state employs around
100,000 people and contributes more than R$100 million
in annual taxes to the state.

CIPEM welcomed the partnership with Sindusmad as
fundamental to strengthening the interests of the forestbased
sector.

Export update
In October 2019, the Brazilian exports of wood-based
products (except pulp and paper) declined almost 27% in
value compared to October 2018, from US$272.5 million
to US$199.1 million.

The value of pine sawnwood exports dropped by a third
between October 2018 (US$50.4 million) and October
2019 (US$33.5 million). In terms of volume, exports
dropped 28% over the same period, from 244,100 cu.m to
175,500 cu.m.

Following this trend, the volume of tropical sawnwood
exports also fell over 30% from 52,400 cu.m in October
2018 to 36,400 cu.m in October 2019. The value of
October exports also fell 30% from US$20.6 million to
US$14.4 million over the same period.

The downturn in October plywood exports was even more
severe, dropping almost 40% in value in comparison with
October 2018, from US$55.7 million to US$33.7 million.
The volume of exports dropped but only by around 12%
indicating a strong downward pressure on prices.

Tropical plywood exports also declined in October, in
volume terms exports fell 42% and in value the decline
was even sharper (-50%), from 12,800 cu.m (US$5.4
million) in October 2018 to 7,400 cu.m (US$2.7 million)
in October 2019.

The bad news continued as wooden furniture export
earnings declined from US$48.3 million in October 2018
to US$46.6 million in October this year.

IBÁ Bulletin highlights export performance
The IBÁ Bulletin, published by the Brazilian Tree
Industry (Ibá), which reports the consumption, export,
import and sales statistics of the forest-based sector,
pointed out that its members exported products worth
US$7.8 billion between January and September 2019.

Wood panel exports in September 2019 totalled 93,000
cu.m, an increase of around 6% year on year. In the yearto-
September exports were 870,000 cu.m, a drop of 9%
compared to the same period in 2018.

Pulp exports totalled around 11 million tonnes in the first
three quarters of the year, a slight decrease compared to
the same period of 2018. The main export destination for
this product was China, which accounted for about US$2.5
billion of total sales.

SFB builds credibility and confidence among
importers in Europe
In a partnership with the Brazilian Trade and Investment
Promotion Agency (Apex-Brazil) and the Brazilian
Embassies in Germany, Belgium and France, the Brazilian
Forest Service (SFB) delivered a series of lectures in
Cologne, Brussels and Paris to provide information on
forest concessions and the monitoring system in Brazil.

This event was in conjunction with Brazil's participation
in the 15th Branchentag Holz Timber Trade Fair organised
by the German Wood Trade Association (GD-Holz).

The Forest Concession Manager of SFB explained in
detail how forest concessions in federal public forests are
allocated and monitored. The manager presented a video
on forest concessions and the chain of custody system
which allows identification of the exact location where
each log was harvested.

Success in the promotion of Brazilian forest products in
international markets depends on disclosure of clear
technical information and on timber tracking and legality.
This type of event which provided technical information is
important in building credibility and confidence on the
part of importers in Europe.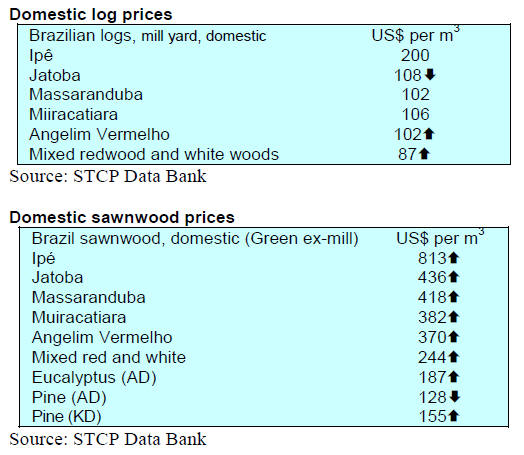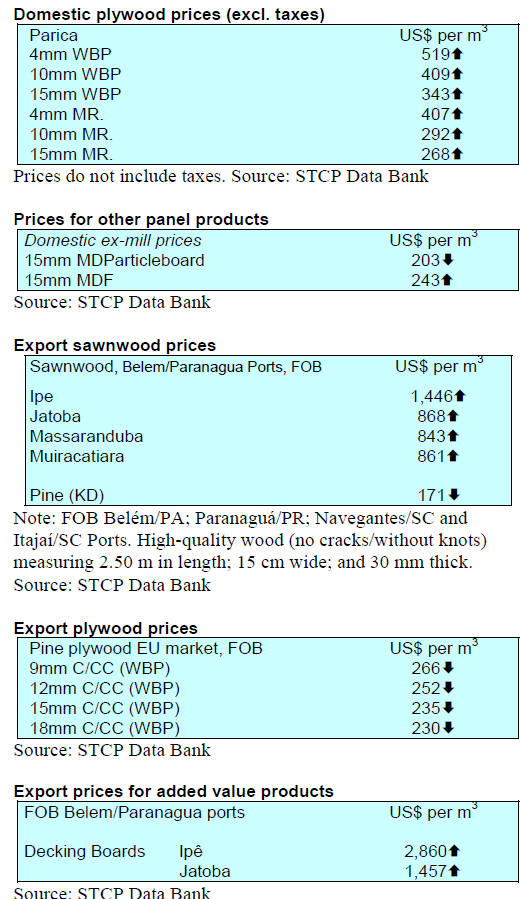 8. PERU
Forest concessions study concluded
According to the report "Evaluation of the Concession
Model in Peru" conducted by the National Forest and
Wildlife Service (SERFOR) with the support of the
USAID Forest Program and the US Forest Service, after
almost 20 years since the current concession model was
adopted in Peru only 56% of the allocated concessions
were ever operational.

The Executive Director of the SERFOR, Alberto
Gonzáles-Zúñiga Guzmán, said this evaluation will be the
driving force for proposals for new modes of operation for
the approximate 17 million ha. of Permanent Production
Forest in Peru.

The concession report identified that many areas were
abandoned or have administrative problems that prevent
them from becoming operational.

The study, carried out in Ucayali, Loreto and Madre de
Dios, recommends that the size of the concessions in the
future must be large enough, that is greater than 30,000 ha.
to justify investment and guarantee sustainability. The
study also recommends that concessions should be for no
less than 40 years and diameter limits should be defined
for specific species and all areas should have an approved
Forest Management Plan to ensure sustainability.

New head for OSINFOR
Lucetty Ullilen Vega has been appointed the new head of
the Forest and Wildlife Resources Supervision Agency
(OSINFOR). The domestic press in Peru reports that Vega
is a forest engineer and has more than 25 years of
experience in the field of public policy and was Director
of Policy and Competitiveness in SERFOR.

Business cooperation between Ucayali and Acre
In mid-November Peruvian and Brazilian businessmen
and relevant authorities negotiated a multimodal
integration plan between Pucallpa and Cruzeiro do Sul.
This initiative was proposed by the Regional Councilor
Edwin Alvarado Montero.

The objective of which is to begin integration of
businesses between the two cities to create greater
commercial exchange and job creation. Work on
improving transport between the province of Purús and the
state of Acre is underway. The next step is the creation of
a working group for regional integration, planning and
implementation of activities to effect industrial and
commercial integration.

Forestry training for regional governments
SERFOR has launched a programme "The Force of three
regions" which delivers internships in the application and
use of Operations Guide for forestry specialists in the
Regional Governments of Madre de Dios, Loreto and
Ucayali.

For three days, 16 specialists from the Regional Forestry
Directorate of Madre de Dios, four specialists from the
Loreto Forest Management and four specialists from the
Ucayali Forest Management received training in applying
the Operations Guide which deals with a host of issues
especially legality verification.