Report from North America
Some Indonesian lauan and meranti plywood now
eligible for duty-free entry to US
The Office of the US Trade Representative has redesignated
certain lauan and meranti plywood from
Indonesia (HTS 4412.31.45) as eligible for duty-free entry
under the Generalized System of Preferences (GSP)
program. Lauan plywood is a critical input for US
manufacturers in the recreational vehicle (RV) industry.
¡°Duty-free entry of this unique international product is a
win-win for RV manufacturers and the IWPA members
that supply them,¡± said Cindy Squires, International Wood
Products Association (IWPA) Executive Director.
US importers and users have been paying an estimated
US$ 1 million per month in additional duties since this
product was removed from the GSP program in 2016. The
re-designation became effective on 1 November 2019.

See:
https://www.iwpawood.org/news/475896/USTR-Redesignates-
Lauan-Plywood-as-Duty-Free-Under-GSP.htm,
https://www.govinfo.gov/content/pkg/FR-2019-10-31/pdf/2019-
24008.pdf

Mislabelling still a problem for the US timber industry
Forensic testing suggests that the mislabelling of consumer
goods containing wood in the US remains a problem
across industries, including furniture, flooring, musical
instruments and sporting goods, according to a study
reported in MarketWatch. The study, undertaken by the
World Wildlife Fund, the World Resources Institute and
the US Forest Service, found that 62% of sampled
consumer goods containing wood¡ªmostly imports¡ª
included labelling errors.
Researchers examined 73 commercial wood products sold
by major US retailers, comparing them with the US Forest
Service¡¯s reference specimens. The US is the world¡¯s
largest importer of wood and wooden furniture by value,
at US$ 51.5 billion in 2017, representing 22% of all global
imports.
See:
https://www.marketwatch.com/story/odds-are-strong-yourhardwood-
floor-was-harvested-illegally-2019-11-
04?reflink=MW_GoogleNews

Sawn tropical hardwood imports rebound
US imports of sawn tropical hardwood grew by 17% in
September following a weak August. Imports rose to
18,714 cubic metres in September, 9% higher than
September 2018. Imports are ahead of 2018 by 18%, yearon-
year.
Imports from Ecuador recovered after a poor August,
rising by 66%; nevertheless, they are 9% down on 2018
totals, year-on-year . Imports from most trade partners are
up by more than 10% so far this year.

Imports of both balsa and sapelli increased in volume in
September. US sapelli imports are up by nearly one-third,
year-on-year, but balsa imports are 9% below 2018 totals,
year-on-year. Unit values for most hardwoods have
remained fairly steady since spring, although teak prices
have been more volatile.

Hardwood plywood imports steady but down significantly
US imports of hardwood plywood are well below that of
last year. Import volume fell by 2% in September and is
10% behind 2018, year-on-year.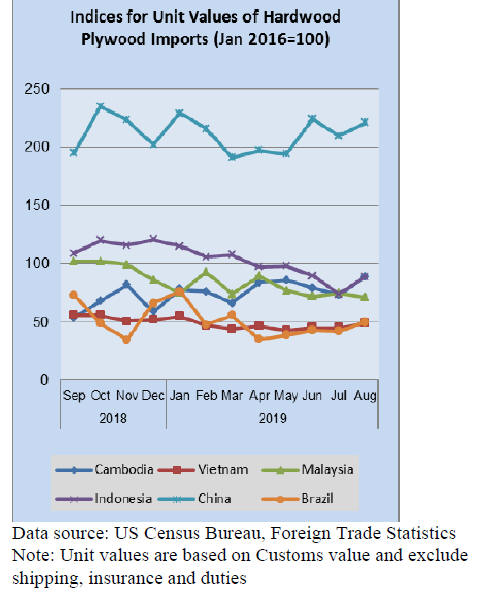 Imports from the Russian Federation and Malaysia were
down by more than 20% in September and are lagging
overall, year-on-year. Imports from Vietnamcontinue to
grow, rising by 15% in September and ahead by 81%,
year-on-year. Imports from China were down by 8% and
are now less than half of what they were in 2018, year-onyear.

Tropical veneer imports drop again
Imports of tropical hardwood veneer fell by 42% in
August as imports fell off drastically from Italy, the top
foreign supplier to the US. September is historically slow
for veneer imports from Italy, but a 97% plunge in
September resulted in the worst month in more than three
years.

Imports from China were the strongest they have been in
16 months, more than doubling August numbers (which
had doubled July¡¯s totals)¡ªnevertheless, imports from
China still trail 2018 by 52%, year-on-year. Total US
imports of hardwood veneer are down by 21%, year-onyear.

Flooring imports recover after slow summer
US imports of hardwood flooring grew by 33% in
September, having declined for each of the previous three
months. Imports from Malaysia, Vietnamand Indonesia
were all up sharply for the month. Imports overall are up
by 7%, year-on-year.

Imports of assembled flooring panels were up 9% in
September but were slightly behind totals for September
of last year. Imports from Vietnamwere up by 39% in
September and are outpacing 2018 totals by 118%, yearon-
year.

US imports of hardwood moulding were flat in September
and remain 25% down compared with 2018, year-on-year.