3. MALAYSIA
Malaysian Wood Expo 2019
The first Malaysian Wood Expo 2019 will run 19 to 21
November 2019 at the Putra World Trade Centre in Kuala
Lumpur. The organisers are promoting the event for its
strength in networking, accessing developments in
technology and brand building.

This Expo will be jointly organised by the Malaysian
Timber Council and the Panels & Furniture Group of
timber magazines. It is endorsed by the Malaysian Wood
Industries Association (MWIA), The Timber Exporters'
Association of Malaysia (TEAM), The Malaysian Panel-
Products Manufacturers' Association (MPMA), Malaysian
Furniture Council (MFC), Malaysian Wood Moulding &
Joinery Council (MWMJC) and Association of Malaysian
Bumiputra Timber and Furniture Entrepreneurs (PEKA).

Plywood industry seeks help from State to address
falling competitiveness
The Sarawak Timber Association (STA) plywood
members and the Sarawak Timber Industry Development
Corporation (STIDC) recently met to discuss issues facing
the timber industry and how best the State government and
STA members can work together to overcome these
challenges.

One issue raised was the declining market share for
Malaysian plywood in the Japanese market, the biggest
market for Sarawak plywood. Participants at the meeting
also noted that Sarawak is losing market share around the
world to shippers in Indonesia, Vietnam and China who
are more price competitive.

It was also noted that domestic logs are now more widely
used for plywood production in Japan due to incentives
offered by the Japanese government.

Over the past few years plywood production cost in
Sarawak have risen due to increases in log costs and
labour. It was stated that log cost have risen over 20%
since 2017 because of increases in the Hill Timber
Premium from RM0.80/cu.m to RM50.00/cu.m, increases
in the Timber Premium (Rehabilitation & Development)
from RM0.60/cu.m to RM5.00/cu.m; rising adhesive cost
(+12%) and increased logistic costs per unit volume
because of the reduction in harvest and hence production
levels.

Added to this has been the rise in the minimum wage in
Sarawak from RM9200 to RM1,100 per month in 2019.
Also, from January 2018 employers are required to bear
the cost of the levy for foreign workers at RM1,010 per
worker. Previously, the cost was borne by employees
themselves.

STA plywood producers reported they are unable to pass
on the added costs to their buyers and that the only way
the sector will survive is if the industry works with the
authorities to restore the competitiveness of the industry.

Sarawak - one million hectares of planted forests by
2025
Sarawak Deputy Chief Minister, Datuk Awang Tengah Ali
Hasan, said Sarawak will focus on planted forests and high
value-added products for its timber industry in view of
declining resources from natural forests. He also said the
state was targeting one million hectares of planted forests
by 2025 which will become the main source of raw
materials for the timber industry.

He noted there was a 12% decline in Sarawak's timber
export revenues in the first three quarters of this year.
Exports from the State were worth RM3.48 bil. between
January to September this year, down from RM3.96bil in
the same period last year.

In the first three quarters of 2019 plywood, the state's
main timber export product, saw a 21% decline in export
earnings to RM1.76 bil., down from the RM2.25 bil. in the
same period in 2018.

Japan remains Sarawak's main plywood export market,
worth RM1.7 bil. between January to September this year
but this is a year on year drop of around 13%. Other major
markets are India (RM394mil), the Middle East
(RM327mil), Taiwan P.o.C (RM239mil) and South Korea
(RM193mil).

Timber industry 'umbrella body' for Sabah
The Sabah State Government is looking into setting up a
platform where all timber players can come together with
relevant State departments and agencies to discuss and
plan the development of the industry, as well as seek
solutions to issues affecting the sector.

This platform will serve as an umbrella body for the Sabah
Timber Industry Association (STIA), Timber Association
of Sabah (TAS), Sabah Furniture Association and Sabah
Bumiputera Furniture Association. Sabah, Chief Minister,
Mohd Shafie Apdal, said the industry has considerable
potential if it is well managed which will require
commitment from the private sector and the State.

Major mangrove planting exercise
As part of the Mangrove and Suitable Tree Species
Planting Programme, over 6 million trees have been
planted along the Malaysian coastline. The planting
programme involved collaboration between the Forestry
Department of Peninsular Malaysia and Forest Research
Institute Malaysia. This was announced during events held
at the national-level commemoration of the International
Day for the Conservation of the Mangrove Ecosystem.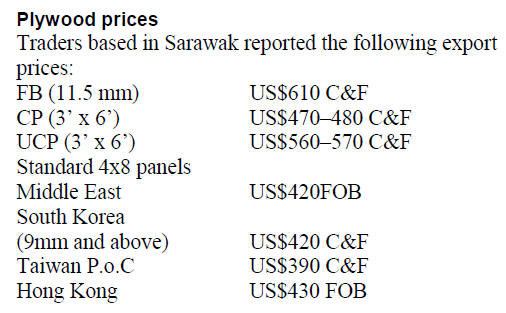 4. INDONESIA
Indonesia's lightwood potential for export to Europe
During the fourth Indonesian Lightwood Cooperation
Forum (ILCF) which involved stakeholders and academics
from various universities, Marolop Nainggolan, the
Director for Export Development Cooperation in the
Ministry of Trade said Indonesia has the potential to meet
the demand of lightwood for the international market,
especially in the European countries.

Marolop urged the private sector and the universities to
work together to determine what the market will accept
and how to competitively manufacture products for export.

Government relief on VAT and SVLK for exporters
The government plans to provide some value added tax
(VAT) relief as well as relief on legality requirements for
wood products in order to boost exports. Indonesia's
Minister of Trade has reported that, on instructions from
the President, he will prepare proposals for relieving some
of the burden of SVLK certification which the timber
industry has been requesting for some time.

The approach being considered is to require SVLK
certification only of upstream segments of the timber
industry and eliminate the SVLK requirement for
downstream industries. Airlangga Hartarto, Minister of
Trade indicated a revision of the VAT will be made for the
benefit of wood product exporters. According to the
Minister this new policy is intended to boost the
competitiveness of the furniture industry.

The Ministry of Industry also plans to offer incentives for
wood product exporters.

See:
https://ekonomi.bisnis.com/read/20191017/12/1160313/pemerintah-siapkan-insentif-keringanan-ppn-dan-svlk-untuk-eksporproduk-kayu
Strong performance of non-wood sector
The Production of non-timber forest products (NTFPs)
between January and August this year increased sharply.
Data from the Directorate General of Sustainable
Management of Forest Products (PHPL) in the Ministry of
Environment and Forestry, NTFP production in the eight
month to August increased over 80% to 263,000 tonnes,
compared to the same period last year.

Johan Utama Perbatasari, Director of Environmental
Services and Non-Timber Forest Products Business, said
that the increase of the NTFP production was supported by
application of an information system linking producers
and end-users.

See:
https://ekonomi.bisnis.com/read/20191014/99/1158626/produksihasil-hutan-nonkayu-indonesia-melejit

Forging links between furniture designers and
manufacturers
The Ministry of Industry has launched a programme to
encourage the development of the Indonesia's furniture
manufacturing sector. Abdul Rochim, Director General of
Agro Industry in the Ministry of Industry said government
support will focus on creative and innovative design
concepts for the industry.

The programme will seek to bring together designers, for
example those associated with the Indonesian Furniture
Designers Association (HDMI), with businesses. An
extensive support pack is envisaged covering compiling
furniture design catalogues, conducting market
assessments through prototyping and market intelligence.

See:
https://www.gatra.com/detail/news/452770/ekonomi/pengembangan-desain-agar-furnitur-rambah-pasar-global

Businesses welcome news of second term for Forestry
Minister, Siti Nurbaya
Siti Nurbaya Bakar's appointment as Minister of
Environment and Forestry for a second term has been
widely welcomed by businesses. The Association of
Indonesian Forest Concessionaires (APHI) Executive
Director, Purwadi Soeprihanto, commended her
contribution to forestry and the timber industries over the
past 5 years saying she laid the foundation for improving
forest governance and provided direction for accelerating
investment, especially the development of industrial
timber plantations.

2019 forest fires more than in 2018
The area in Indonesia consumed by fire up to September
this year has exceeded the total burnt during all of 2018
according to official data.

Raffles Panjaitan, Forest Fire Management Acting
Director in the Ministry of Forestry and Environment
reported that by the end of September 2019 a total of
857,756 hectares had been destroyed.

See:
https://www.channelnewsasia.com/news/asia/indonesia-forestfire-area-burned-haze-exceeds-2018-12020974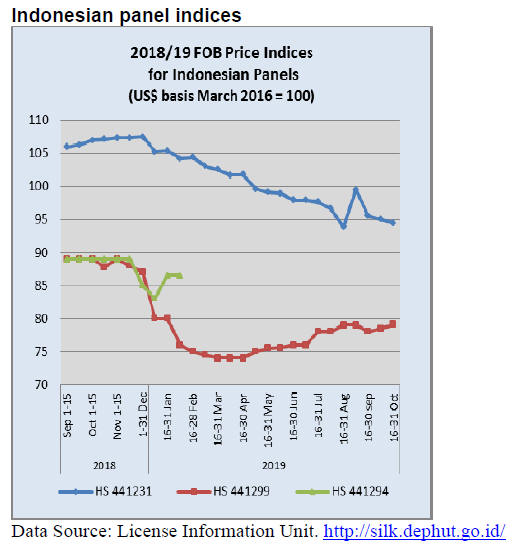 5. MYANMAR
Illegal chainsaw felling an issue in Kayah State
According to the Forest Department, some 44,000 tons of
illegally harvested teak and other hardwoods were seized
over the past 11 months.

Of the total, over 11,250 tons, mostly teak, were seized in
Kayah State in eastern Myanmar. Kayah State is bounded
on the north by Shan State, on the east by Thailand's Mae
Hong Son Province and on the south and west by Kayin
State.

Ohn Win, Minister of Natural Resources and
Environment, has urged the Forest Department to take
effective measure against illegal logging especially that
carried out by small time operators with chainsaws. He
encouraged greater use of the Community Monitoring and
Reporting System.

Thilawa Special Economic Zone promoted at
investment forum in Japan
During a recent visit to Japan, State Counsellor Daw Aung
San Su Kyi, attended the Second Myanmar Investment
Conference. In her address to the meeting she cited the
example of a major Japanese automobile manufacturer that
recently announced its intention to invest in an assembly
plant within the Thilawa Special Economic Zone which
she said demonstrates investor confidence in Myanmar.

Since its opening in 2015 there have been 113 investment
projects approved and 76 companies have started
commercial operation according to the Myanmar-Japan
Thilawa Development Ltd, which oversees development
of the zone.

In August, Myanmar, Japan and the US jointly announced
efforts to promote responsible and ethical investment for
the benefit of all the people of Myanmar and for the
county's economic development.

AMRO's 2019 Annual Consultation Report on Myanmar
Myanmar's economy picked up in the 2018/19 financial
year after slowing during the six-month transition in
FY18. The turn-around was supported by an improvement
in business sentiment amid renewed reform momentum
according to the ASEAN+3 Macroeconomic Research
Office (AMRO), a regional macroeconomic surveillance
organisation that aims to contribute to macroeconomic and
financial stability in ASEAN.

However, AMRO says on its website risks to growth stem
mainly from continued ethnic tensions, uncertainties in the
global economy related to trade protectionism, geopolitical
risks and energy prices.
The weak banking system remains a key vulnerability in
the economy. At the same time, Myanmar also stands to
gain from investment inflows due to the accelerating
relocation of manufacturing into the country. AMRO
concludes "Sustaining reform momentum with timely
implementation is crucial".

See: https://amro-asia.org/amros-2019-annual-consultationreport-on-myanmar/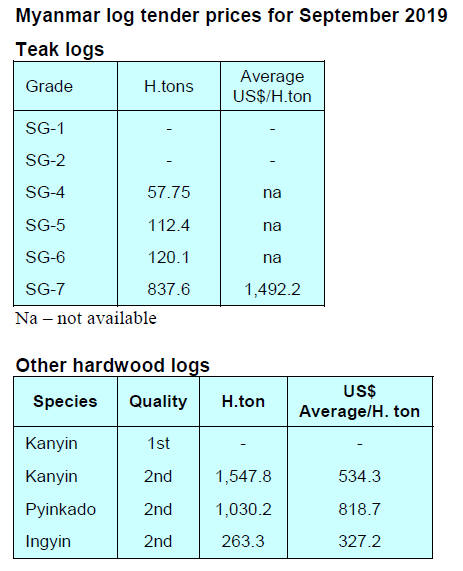 6. INDIA
An all-out effort to boost growth – tax cuts welcomed
by industry
The Indian government is considering changing the
personal tax structures which, along with the recent cut in
corporate taxes, the lowering of levies on foreign funds,
relaxed foreign investment rules and reorganisation of
state run financial institutions is aimed at boosting growth
which has dropped to the slowest pace in nearly six years.

The IMF regional representative for India has said the
Fund is optimistic that India's economic growth will
rebound in the next financial year in response to the
measures introduced by the government.

Benign inflation makes for dull trading
The official Wholesale Price Index for 'All Commodities'
(Base: 2011-12=100) for September 2019 declined to
121.3 from 121.4 for the previous month. The index for
the group 'Manufactures of Wood and of Products of
Wood and Cork ' declined to 134.0 from 134.1 for the
previous month due to lower price of composite panels
and sawnwood.

The annual rate of inflation based on monthly WPI in
September 2019 stood at 0.33% compared to 5.22% in
September 2018.

The press release from the Ministry of Commerce and Industry
can be found at: https://eaindustry.nic.in/pdf_files/cmonthly.pdf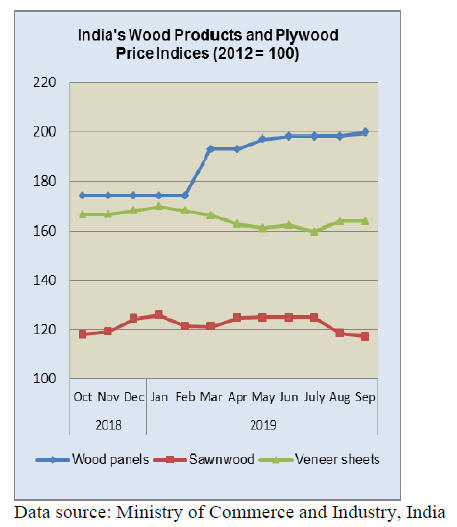 Imported plantation teak
Analysts report that the timber sector has become resigned
to the fact that their efforts to have the government lower
the GST rates for wood products have failed for the time
being.

Under the present economic conditions in the country the
government and the GST Committee is in no mood to do
anything that will cut government revenues, particularly as
a raft of tax cuts and other measures have been
implemented to try and boost growth prospects.

C&F prices for imported teak at Indian ports from various
other sources continue within the same range as given
earlier.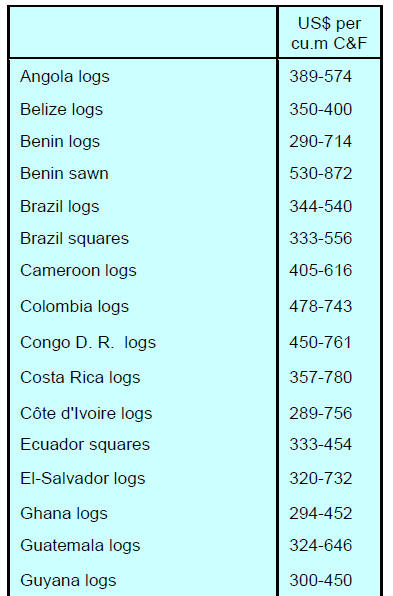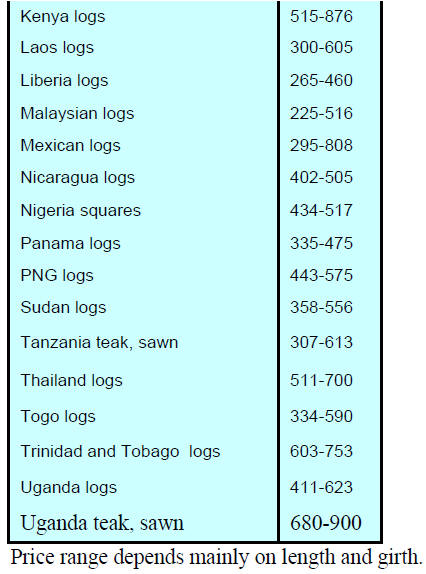 Locally sawn hardwood prices
Prices have been maintained as previously reported.
Recent statements by the Malaysian Prime Minister on the
Kashmir issue have attracted criticism from the Indian
government which has hinted of possible retaliatory
economic measures aimed at Malaysia. While such
measures have not been introduced, analysts report that
Indian importers have cooled on imports from Malaysia.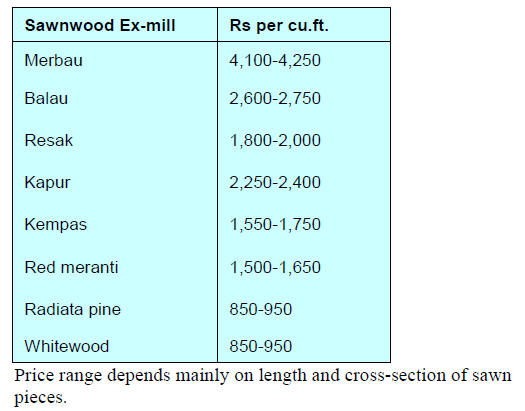 Myanmar teak prices
While demand is at best only stable traders report that
there have been improvements in that they are now more
able to secure loans and credit facilities.

In addition interest rates have fallen and the recent round
of economic stimulus measures could boost consumer
spending and drive up demand.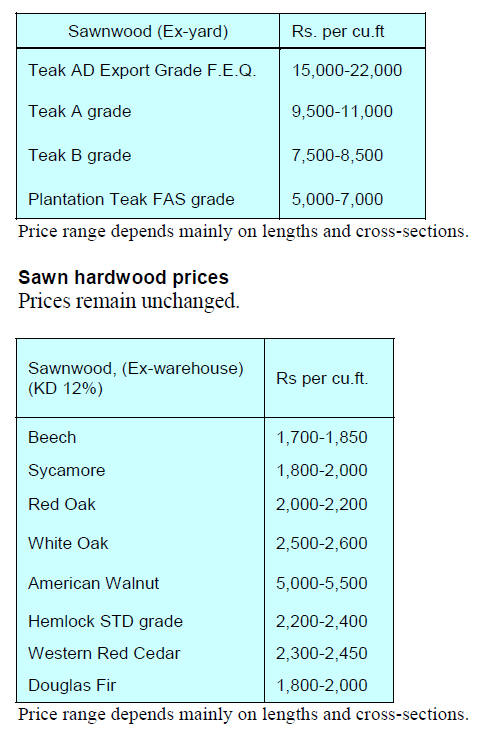 Plywood
Imports of competitively priced plywood manufactured in
China continue to rise as mills in China seek alternative
markets for plywood which previously went to the US.

Indian mills that rely on log imports for plywood
manufacturing have begun to look for alternative sources
shunning Malaysia because of comments made by
Malaysia's Prime Minister. Analysts say local mills are
looking to other South East Asian suppliers for logs.

On the business front, in an interview with the Indian press
Keshav Bhajanka, Executive Director of Century Ply said
his company is anticipating double-digit growth this fiscal
year. He said the MDF and particleboard sectors of the
business have been doing well and that the new MDF
plant in Hoshiarpur is now operational. Bhajanka
commented that demand for woodbased panels will
depend on an improvement in the real estate sector.

Analysts note that, until recently, the Indian plywood
industry was dependent on Myanmar, Indonesia and Laos
for its face veneer requirements but that today the industry
is turning to African shippers.

See:
https://www.thehindubusinessline.com/companies/centuryplyboards-looking-at-double-digit-growth-thisfiscal/article29774729.ece#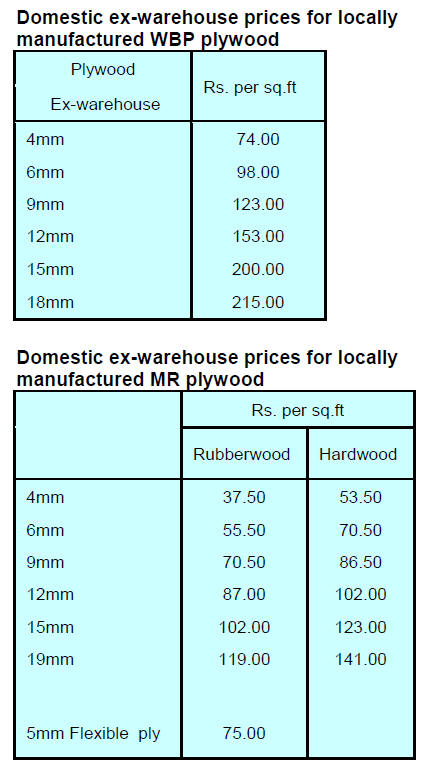 'Bamboonomics' – an initiative to provide jobs
The Minister for Tribal Affairs, Arjun Munda, said his
ministry will launch an initiative aimed at boosting
employment in rural areas.

The focus will be on bamboo cultivation and utilization
and will be managed by the government's
Entrepreneurship Development Programme through the
Pradhan Mantri Van Dhan scheme. The Van Dhan
Scheme, launched by the Prime Minister in 2018, aims to
establish skill development centres for the so-called tribal
groups.
7. VIETNAM
Growing opportunities to forge new business links in
the US
Vietnam's exports of wood products increased
significantly in the first 9 months, most notably exports to
the US rose by a third. The General Department of
Customs has reported exports of wood products in
September reached US$862.2 million, up 21% over the
same period in 2018.

The cumulative value of wood product exports in the first
three quarters of 2019 was US$7.52 billion, up nearly 18%
over the same period in 2018. The United States, Japan,
China, South Korea and the United Kingdom are the major
export markets for Vietnam's wood and wood products.

Vietnam's wood processing industry is taking advantages
of US demand for wood products from sources other than
China in an effort to minimise the impact of tariffs.
Exports to the US topped US$3.64 billion between
January and September this year.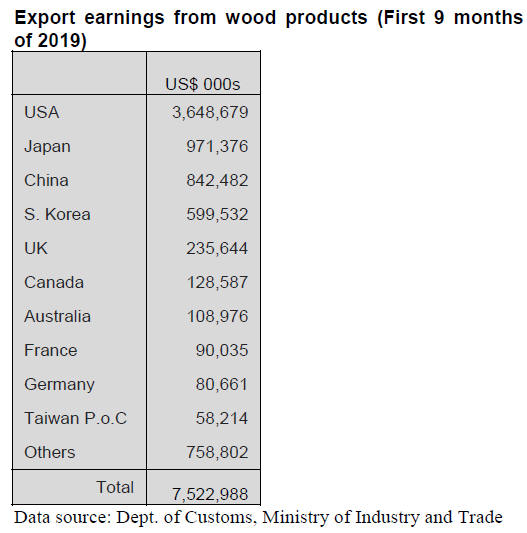 Greater US surveillance of trade practices likely
Opportunities to promote exports of wood and wood
products to the US market continue but so do the
challenges in eliminating commercial fraud. The
Vietnamese timber sector is concerned that the growing
trade deficit between the US and Vietnam will lead to the
US increasing its surveillance of trade practices in to
protect its domestic timber industry from unfair
competition.

There has been an increase in Vietnam's wood products
exports to other markets such as Japan (+17.5%), the UK
(+12.5%), Canada (+11%), Germany (+13%) and Taiwan
P.o.C (+26%).

Foreign investments surging ahead
According to the Foreign Investment Agency (Ministry of
Planning and Investment) foreign investment into Vietnam
in the first 9 months of 2019 was US$29 billion, up 4.3%
compared to the same period in 2018. Of this, some
US$16 billion has already resulted in new capacity being
installed. 3,094 new projects were granted investment
registration certificates, an increase of 26% year on year.

FDI flows from China and Hong Kong increase sharply in
the year to September with investments from China
doubling and those from Hong Kong quadrupling
compared to the same period last year due, say analysts,
mainly to the impact of the US-China trade conflict.

For the year to September the number of delegations
visiting Vietnam was up 30% with most being from Japan,
South Korea, China, Hong Kong and Singapore.

8. BRAZIL
Steady year on year increase in output from forest
plantations
According to a survey on the extractive sectors by the
Brazilian Institute of Geography and Statistics (IBGE) the
value of Brazilian forest production was R$20.6 billion in
2018, an increase of 8% compared to 2017. There has
been a steady year on year increase in the value of output
driven by forest plantation output. However, extraction
from natural forests fell 2.7% year on year in 2018.

The area of Brazil's planted forests totalled 9.9 million
hectares in 2018 comprising 7.5 million hectares of
Eucalyptus and 2.0 million hectares of pine, the balance
being a range of species.

Wood product output expanded 8.5% in 2018 compared to
a year earlier. There was a decline in 2018 output values
for wood for energy generation. However, there was a rise
of about 19% in the value of charcoal production.

Export update
In September 2019, the total Brazilian exports of woodbased
products (except pulp and paper) decreased 21.6%
in value compared to September 2018, from US$ 269.6
million to US$ 211.3 million.

The value of Pine sawnwood exports in September 2019
fell 35% year on year to US$32.5 million from US$50.4
million in September 2018. In terms of volume, exports
declined 31% over the same period, from 237,700 cu.m to
164,300 cu.m.

Tropical sawnwood exports in September 2019 declined
38% in volume, from 55,700 cu.m in September 2018 to
34,400 cu.m in September 2019 and the value of exports
dropped 47% from US$23.5 million to US$12.5 million,
over the same period.

The value of pine plywood exports declined 49% in
September 2019 in comparison with September 2018,
from US$63.7 million to US$32.4 million. At the same
time export volumes dropped 24% from 188,200 cu.m to
142,800 cu.m.

As for tropical plywood, exports decreased in volume (-
56.4%) and in value (-58.2%), from 11,700 cu.m (US$ 5.5
million) in September 2018 to 5,100 cu.m (US$ 2.3
million) in September 2019.

Furniture exports – 85% wooden
The Brazilian Furniture Industry Association
(ABIMÓVEL) and the Brazilian Trade and Investment
Promotion Agency (APEX-BRAZIL) recently released
furniture export data. This shows there was a year on year
3% fall in export earning in September.

Between January to September 2019 export earnings grew
by 0.6%, year on year but on an annualised basis there was
an over 4% rise in export earnings. Over 85% of Brazil's
furniture exports are of wooden furniture. The main
markets for furniture exports are the United States
followed by the United Kingdom and Uruguay.

Brazil/ Mexico business round
During the mid-September 'International Timber Week'
held in Curitiba, the Brazilian Association of
Mechanically Processed Timber Industry (ABIMCI), in
partnership with the Brazilian Export and Investment
Promotion Agency (Apex-Brazil) and the Paraná
Federation of Industries (FIEP), organised business
contacts for a trade mission from Mexico seeking to
develop partnerships with Brazilian wood product
manufacturers.

This type of event provides an opportunity for direct
communication between the customer and the vendor
making the path easier and speeds up the trade expansion
process. Brazil's relationship with Mexico has grown.
There are high expectations from both parties for
expanded trade as Mexico's domestic production of wood
products is not high so must import much of its timber
requirements.

The National Association of Mexican Forest Products
Importers and Exporters expressed a keen interest in
strengthening its relationship with Brazilian companies
exporting wood products.

ABIMCI intends to replicate this experience with other
countries such as South Africa and countries in the
Caribbean. Marketing internationally has become a
challenge given the state of the global economy but such
events can help forge new business links.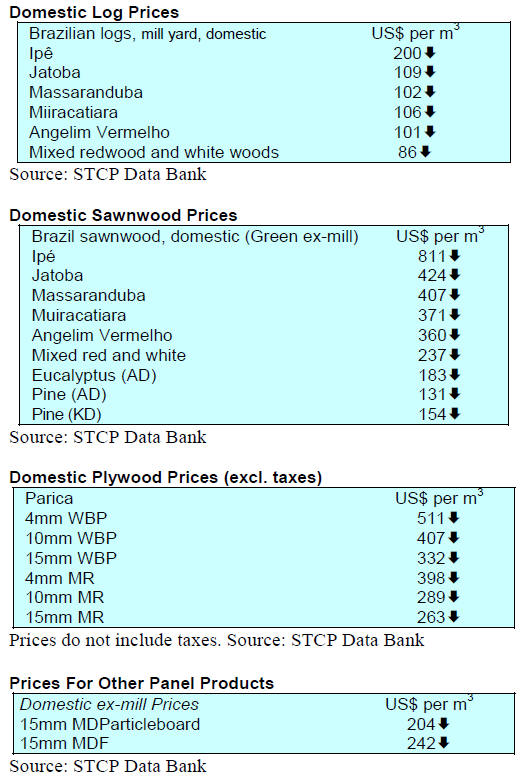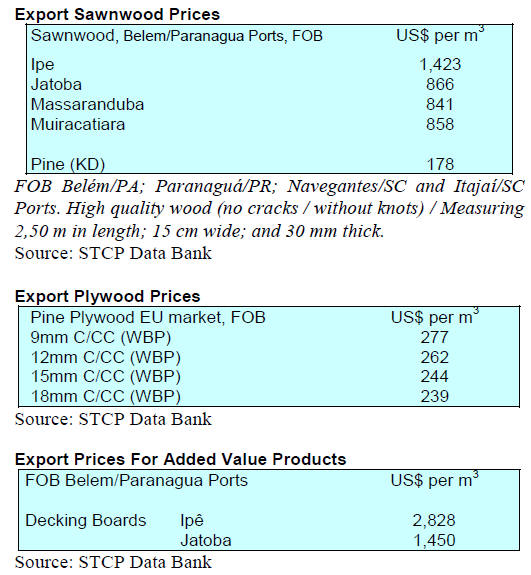 9. PERU
Timber exports to Mexico rising steadily
According to the Association of Exporters (ADEX), in the
first eight months of the year Peru's wood product exports
totalled US$80.1 million (FOB), unchanged from the same
period in 2018.

China continues to be the main market for the wood
products industries with a 39% share of all wood product
exports but this year exports to China fell just over 9%.
Mexico was the second export market accounting for 11%
of exports and in the first eight months there was an
almost 9% rise in the value of exports to this market.

Other markets include France and the US. In both markets
demand fell in the first eight months of the year compared
to a year earlier.

Dominican Republic and Mexico the main markets for
sawnwood
Sawnwood exports between January and August of this
year were valued at US$14.5 million (FOB), down around
2% year on year. The main markets for sawnwood was the
Dominican Republic with a 37% share of total sawnwood
exports followed by Mexico with a 34% share.

Exports of sawnwood to the Dominican Republic
expanded 17% year on year in the first eight months of
2019 and there was a 9% rise in exports to Mexico over
the same period. China ranks third in terms of sawnwood
exports.

SERFOR presents guide on wood products
The National Forest and Wildlife Service (SERFOR) has
published an 'Explanatory Guide and Catalogue for the
Identification of Wood Forest Products'.

This contains an updated list of wood products classified
in terms of the origin of the product, the level of
manufacturing and the suggested end-uses.

The Guide is divided into six groups: fuel and wood
waste; round, squared and rough wood; sawn wood, sheets
and boards based on wood; semi-finished products and
other manufactured products.

This Guide was prepared with the technical support of the
FOREST, USAID programme and the US Forest Service
with participation of regional governments, the National
Superintendence of Tax Administration (SUNAT), the
Ministry of Production (PRODUCE) and the private
sector.

Seminar addresses due diligence in international
timber trade
Last month ADEX and the NGO NEPCon held a seminar
on "Legality in International Trade in Wood". The seminar
address issues such as the system of due diligence of the
wood, international timber market regulations, presenting
supply chain information and evaluations, risk assessments
of illegality in Peru and how these can be mitigated.

The seminar was based on the due diligence system of
NEPCon which NEPCon says is recognised by the
European Union (EU).