Report from North America
Tropical sawnwood imports fell in August
US imports of sawn tropical hardwood slowed in August, falling 25% from July¡¯s strong volume. Imports dropped to 15,970 cubic metres in August, 3% lower than that of August 2018. Despite the decline, imports remain ahead of 2018 by 19% year to date.

Imports from Ecuador fell by 56% in August and are now down 11% from 2018 year to date. Imports from Ghana and Cote d¡¯Ivoire also declined sharply in August and are now down by about one-third year to date. Despite also seeing weaker volume in August, imports from Brazil, Cameroon, and Malaysia remain well ahead of 2018 year to date.

Weaker Balsa and Sapelli imports drove the decline. Balsa imports fell by 57% in August and lag 2018 volume by 11% year to date. Sapelli, acajou d¡¯Afrique, and teak imports also slowed in August, but still lead their 2018 pace year to date. Jatoba imports fell slightly in August but continue to more than double 2018 volume year to date.

In contrast, Canadian imports of sawn tropical hardwood in August more than doubled compared to July, rising to their highest level in 12 months. The surge, which saw strong gains among most wood types, helped bring 2019 imports more in line with last year¡¯s numbers. Import volumes, year to date, are now down only 6% from 2018.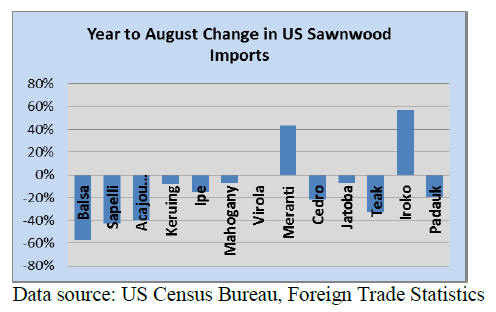 Hardwood plywood imports fail to sustain growth
After impressive gains in July, US imports of hardwood plywood retreated by 17% in August to a level still better than most of this year, but about 20% lower than August 2018.

Imports from Russia rose by 10% in August but declined by more than 10% from every other major trading partner.

Imports from Indonesia fell by 41% in August and are now down 35% year to date. Year-to-date imports from China have fallen to just above half of what they were in 2018. Total import volume is down 9% year to date and the value of imports is down by 19% in US dollars terms.

A group of US plywood producers have filed a lawsuit against two certifying entities and the accrediting agency responsible for certifying 35 Brazilian mills as meeting structural grade requirements for plywood panels.

According to the suit, tests commissioned by the plaintiffs and carried out by the American Plywood Association showed that the panels experience high failure rates when tested under the PS1-09 standard.

See:
http://nahbnow.com/2019/09/u-s-plywood-producers-file-suit-over-brazilian-wood-certifications/

Tropical veneer imports from China and Cameroon falling
Imports of tropical hardwood veneer fell by 16% in August despite a rare bounce in imports from China. While imports from China more than doubled in August versus July, numbers have fallen off so steadily throughout 2019 that imports were still more than 40% below August 2018.

Imports from China are down 60% year to date. Imports from Cameroon have also been falling steeply this year and continued to do so in August, down 88%. Imports from Ghana also fell in August but remain 46% ahead of 2018 year to date.

Imports from Italy fell by 17% in August and now stand roughly even with 2018 year to date. Total US imports of hardwood veneer are down 19% year to date.

Flooring imports from Vietnam down over 60%
US imports of hardwood flooring fell by 20% in August, declining for a third straight month. Imports fell from nearly all trading partners with imports from Vietnam slipping 73%. Imports from Vietnam are down 63% year to date. Imports from China are down 58% year to date after falling 11% from July to August.

Despite a drop of 16% in August, imports from Brazil remain more than double that of 2018 year to date. Overall imports are ahead of 2018 by 6% year to date, due to a strong spring.

Imports of assembled flooring panels stayed level in August and remain up 4% year to date. Gains in imports from Indonesia and Thailand were offset by lower imports from China, Canada and Vietnam.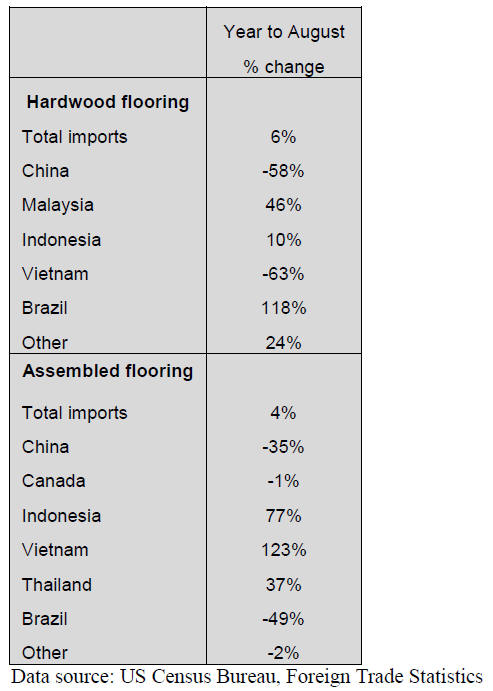 Across the board decline in year to date moulding imports
US imports of hardwood mouldings rose by 15% in August, fueled by a 40% gain in imports from China. Despite the one-month rebound, imports from China trail 2018 by 49% year to date.

Imports from Brazil trail 2018 by 54% year to date but gained 2% in August. Overall US imports of hardwood moulding are down 27% year to date.

Cabinet sales dip
US cabinet manufacturers reported a decrease in cabinet sales of 3.4% for August 2019 compared to the same month in 2018. According to the Kitchen Cabinet Manufacturers Association (KCMA)¡¯s monthly Trend of Business Survey, participating custom sales increased slightly at 1.2%, but both semi-custom and stock sales were down 7.6% and 1.3% respectively.

Year-to-date cabinet sales are up just 0.3% with custom sales down 1.2%, semi-custom sales down 4.8%, and stock sales up 4.5%.

See https://www.kcma.org/news/press-releases/august-2019-trend-of-business

Sustainably top green features for millennials
According to the National Association of Home Builders' recent "What Home Buyers Really Want" report, it was components using certified sustainably harvested timber that was among the top ¡®green¡¯ features that millennials want in a home. 53% of respondents rated components built using sustainably harvested lumber as either "essential/must have" (17%) or "desirable" (36%).

Energy efficiency certifications such as Energy Star-rated appliances and Energy Star ratings for the whole home were the most in-demand features, desired by 75% and 71% of respondents, respectively.

See: http://eyeonhousing.org/2019/10/top-green-features-millennials-want-in-a-home/