US Dollar Exchange Rates of 10th October 2019
China Yuan 7.1165

Report from China
Manufacturing Purchasing Managers Index
China¡¯s official manufacturing Purchasing Managers¡¯ Index inched up in September to 49.8 according to the National Bureau of Statistics from 49.5 in August.

The index has been below 50 for almost six months indicating activity was still cooling amid uncertainty caused by the protracted trade dispute between China and the US. The 50-point level separates contraction from expansion.

A sub index measuring total new orders received by manufacturers in China rebounded to above 50 in September, the first time the new order sub index showed an expansion since May.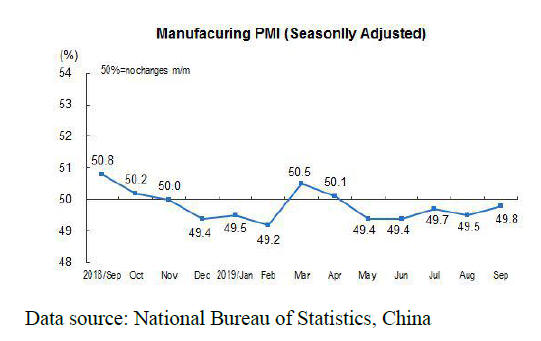 China-Russia timber processing centre established
A China-Russia timber processing and trading centre was recently established in Suifenhe City, Heilongjiang Province. The centre occupies an area of 380,000 square metres and cost around RMB600 million.

The aim is for the Centre to be an industrial cluster for the itmber industry and become a timber distribution centre bringing together e-commerce, supply chain finance, logistics, cross-border trade as well as production and processing.

It is estimated that the total annual log volumes required for enterprises in the Centre will be around 2 million cubic metres and the value of imports will be as much as RMB2.2 billion.

Trial production of pre-fabricated buildings
Yuan Niu Wood Industry in Hubei Province will begin trial production of pre-fabricated buildings later this year. This project covers 5.6 hectares with a total investment of RMB200 and has 20 production lines with annual output of about 9 million building components. After completion, the project will provide around 300 jobs and will generate an annual output of RMB300 million.

The wooden components produced by the company are mainly for modern building construction.

¡®Vanuatu¡¯ National Forest Wood Processing Project
An investment agreement for a ¡®Vanuatu¡¯ National Forest Wood Processing Project was recently signed between the Guangxi Beihai Municipal Government and Vanuatu National Forest Resources Industrial Co., Ltd. (a wholly Chinese entity). The facility will be in the Beihai Tieshan East Port Industrial Zone, Guangxi Province. The total investment is said to be around RMB1.53 billion.

This wood processing project will comprise a log yard, sawmill and veneer mills and a redwood processing plant. Also planned is a biomass fuel processing plant.

...

Output of wood-based panels rise slightly
It has been reported that the output of wood-based panel products in China was about 299 million cubic metres in 2018, a year on year increase of 1.43%.

Of the total, output of plywood, fibreboard, particleboard and other wood-based panel was 179 million cubic metres, 62 million cubic metres, 27 million cubic metres and 31 million cubic metres respectively, accounting for 60%, 21%, 9% and 10% in 2018.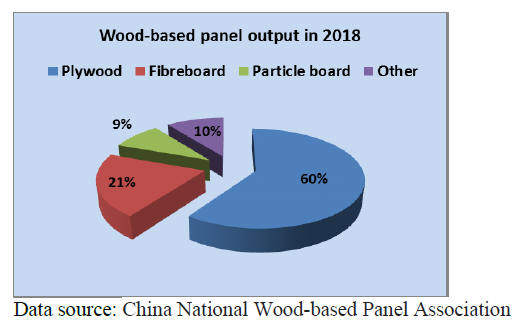 The average annual growth rate of wood-based panel consumption in China was about 13% over the past 10 years and growth in consumption is still positive but the pace of growth has slowed. While consumption of plywood increased slightly in 2018 consumption of other wood based panels declined.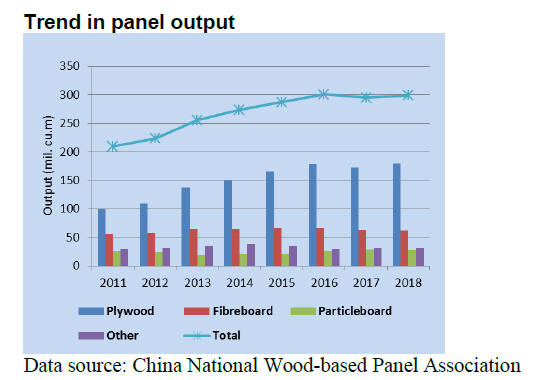 Development of panel sector continues
In 2018 the volume of China¡¯s wood-based panel exports totaled 14.23 million cubic metres, an increase of 2.1% over the previous year. The value of China¡¯s wood-based panel exports was about US$6.773 billion, up 6.8% over the previous year, reversing the declining seen in the previous three years.

The export volume and value of plywood products account for 80% and 82% respectively of the total volume and value of wood-based panel exports.There has been rapid development of the wood-based panel sector in China and this continues with a number of large enterprises investing in production capacity.

From the point of view of products, most leading enterprises have expanded the range of wood-based panels produced and developed into multi-product enterprises making plywood, fibreboard and particleboard.

...