Japan Wood Products Prices
Dollar Exchange Rates of 10th October 2019
Japan Yen 107.97

Reports From Japan
¡¡
Trade disputes weigh on corporate sentiment
Data from Japan¡¯s Cabinet Office showed that August machinery orders, an indicator of capital spending in the coming six to nine months, fell 2.4% from the previous month adding to other gloomy data suggesting businesses are experiencing the effects of global trade friction. The US/China trade dispute has weakened global demand and has set back the modest recovery in the Japanese economy.

Machinery orders
One encouraging piece of news has been the increase in capital expenditure by companies investing in automation to address the tight labour market which has helped offset weak spending by manufacturers. Analysts now expect the Bank of Japan (BoJ) to further ease monetary policy when it meets late October.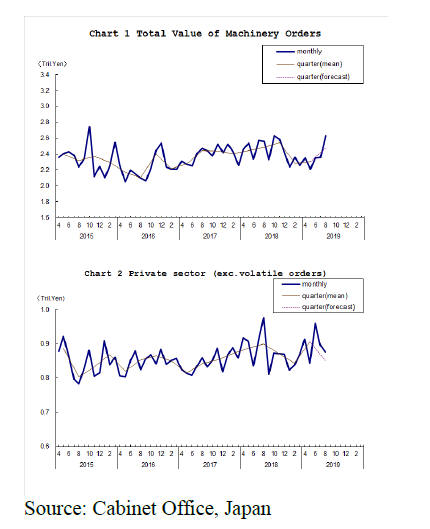 While businesses are holding back household spending rose for the ninth consecutive month in August. But all eyes will be on October data as the impact of the rise in consumption tax will become clear.

First economic downgrade by government in four months
Weak industrial output, shipments and employment data for August resulted in the government downgrading its assessment of the economy, the first downgrade in four months. A Cabinet Office statement said the economic prospects are ¡°worsening" because of sluggish production and exports. After using the word "worsening" in March and April the Cabinet Office reported that this weakness had been overcome in May only to find it had dipped again.

As "worsening" hints that a recession is possible the assessment seems to contradict the government's view in its monthly economic report that the economy has been recovering at a moderate pace.

Economy relying more heavily on personal spending
Data from Japan¡¯s Cabinet Office for September is showing consumer confidence fell again, dropping to the lowest level in more than eight years. The decline was not unexpected coming just before the 1 October consumption tax increase.

The question is, for how long will the tax increase hold down personal consumption? Personal expenditure is a key driver of Japan¡¯s economy and growth prospects rely heavily on personal spending as export earnings have been falling because the US and China cannot agree on ways to address the trade deficit which would open the way for a lifting of tariffs.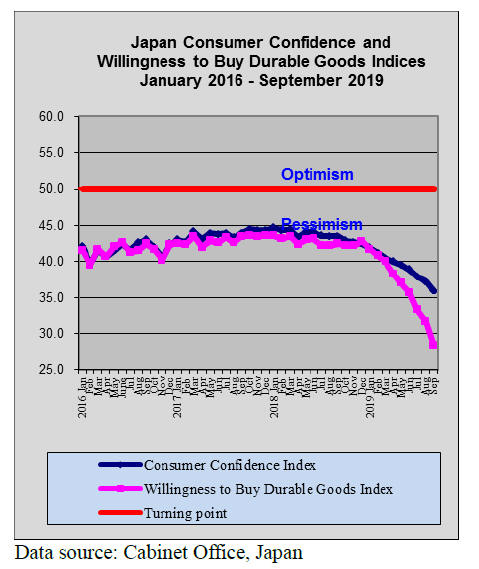 Early trade deal fails to lift dollar ¨C yen unmoved
The US dollar failed to gain any upward momentum from the announcement that the US and China had agreed a ¡®first stage¡¯ trade deal. A downward pressure on the dollar was reinforced by weaker than expected US consumer inflation which could mean another US interest rate cut.

The Japanese yen strengthened immediately after the trade deal news but soon reverted back to around 107/108 to the US dollar.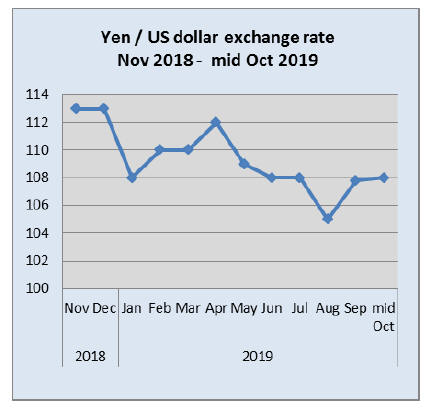 Second catastrophic typhoon of 2019 ¨C extensive damage to homes reported
The 19th typhoon of 2019 made landfall in Japan¡¯s main island of Honshu on the 12 October with winds of over 200 km/hr. Intense and extremely heavy rain caused water levels in dozens of rivers to rise and many burst their banks and flooded residential areas.

Especially affected were the prefectures of Saitama, Miyagi and Niigata, prefectures that rarely experience such severe storms.

As of Sunday 13 October more than 200,000 households in eastern and central Japan were without power. Among those, about 86,100 households in Chiba Prefecture, which was heavily damaged by Typhoon number 15 last month, were also without power. The home repair costs for affected households will be staggering.

For images see:
https://www.japantimes.co.jp/news/2019/10/13/national/photo-gallery-typhoon-hagibis/#.XaPDB0IzbIU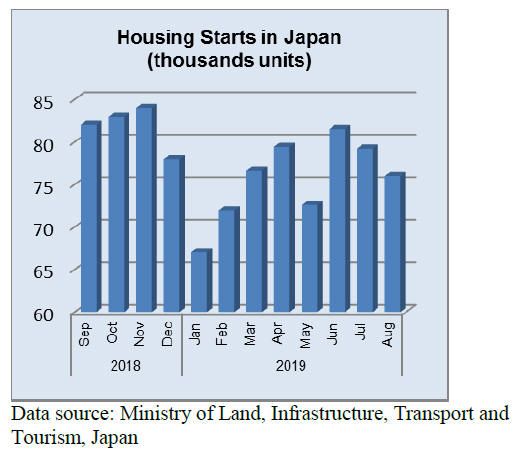 Import update

Wooden door imports
After 3 months of gains the value of Japan¡¯s imports of wooden doors (HS441820) dipped in August compared to July dropping around 4%. In August the top two shippers, China and the Philippines, accounted for over 80% of arrivals. The other major shippers in August were Indonesia and Malaysia.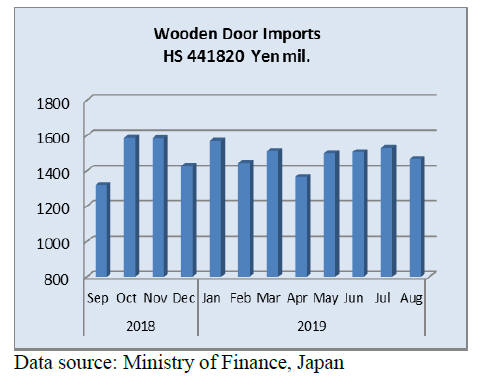 Wooden window imports
The steady rise in imports of wooden windows (HS 441810) which began in May this year came to an end as August imports dropped almost 11% month on month but compared to August 2018 there was an increase of about 18%.

The top three shippers in August were China (44% of imports) the US (20%) and the Philippines which contributed a further 18% to August window imports.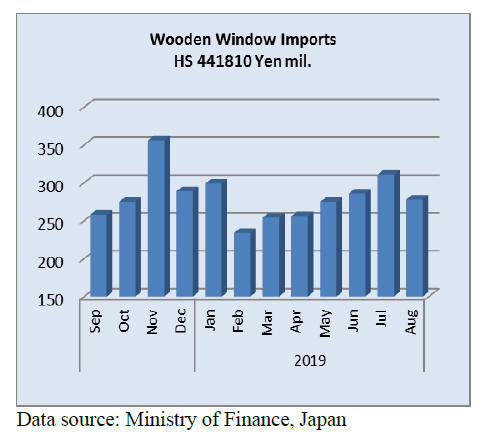 Assembled wooden flooring imports
The value of Japan¡¯s assembled wooden flooring imports continued the see-saw trend witnessed for the entire year. In August the value of imports dipped back to the same level seen in June.

The bulk of August assembled wooden flooring imports were of HS441875 with China and Malaysia being the main shippers in August. In previous months Indonesia had been a more prominent shipper but not so in August this year.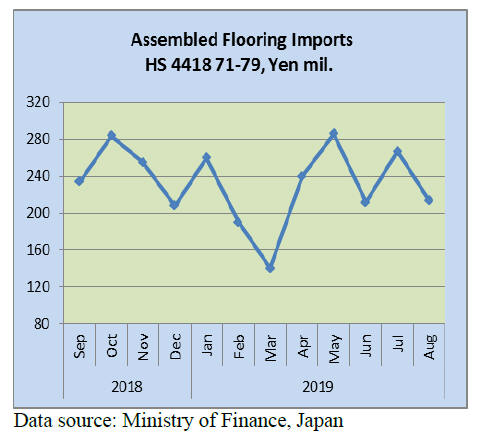 Plywood imports
As in previous months HS 441231 dominated Japan¡¯s plywood imports. In August HS 441231 accounted for around 90% of all plywood imports by volume, most of which was shipped by suppliers in Malaysia and Indonesia.

Japan¡¯s imports of tropical hardwood plywood from Malaysia and Indonesia have fallen dramatically. Year on year August arrivals from Malaysia were down 28% and there was a month on month decline of around 5% in arrivals from Malaysian shippers.

In contrast, August arrivals from Indonesia were at almost the same level as in August 2018 and compared to July arrivals there was a 17% rise.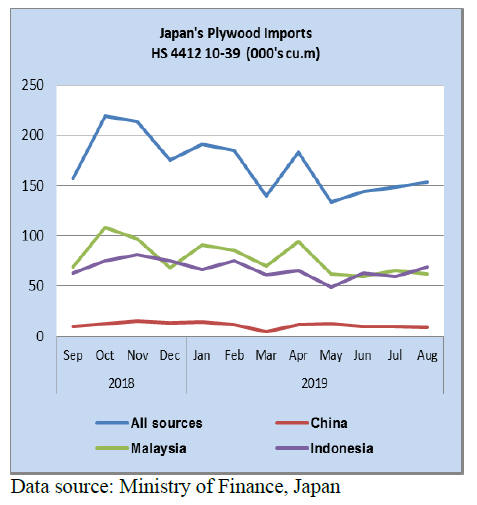 Trade news from the Japan Lumber Reports (JLR)
The Japan Lumber Reports (JLR), a subscription trade journal published every two weeks in English, is generously allowing the ITTO Tropical Timber Market Report to reproduce news on the Japanese market precisely as it appears in the JLR.

For the JLR report please see:
http://www.n-mokuzai.com/modules/general/index.php?id=7

Self-sufficiency rate in wood products in 2018
In wood products supply and demand, industrial wood demand, particularly for lumber declined so total demand for industrial wood was 73,180 M cbms, 0.8% less than 2017 but demand for fuel increased to 9,020 M cbms, 15.6% more so total demand maintained over 8,000 M cbms. Self-sufficiency rate was 36.6%, increase for eight straight years.

The rate of industrial wood increased by 0.8 point from 2017 because of decline of imported wood while the rate of wood for fuel decreased by 8.1 points because imports increased by 1.5 times. By increase of biomass power generation plants by FIT particularly since 2014, total demand increased by increase of fuel wood.

Self-sufficiency rate in total exceeded 30% for the first time in 2014 to 31.2% (2.4 points more from 2013). 33.2% in 2015 (2 points more). 34.8% in 2016 (1.6 points more). 36.1% in 2017 (1.3 points more). 36.6% in 2018 (0.4% more) so the increase was kept but growth rate is dropping.

The rate of fuel wood was 69.3%. As share of imported fuel wood continues growing, self-sufficiency rate would continue declining in coming years.

While demand of industrial wood decreased, the rate climbed because of decrease of imported logs and lumber and increase of domestic logs for plywood manufacturing.

In 2018, the prices of North American logs and lumber and European lumber soared and the supply was unstable so log import for lumber manufacturing dropped down to 13,150,000 cbms, 4.3% less than 2017.

Domestic log supply was 12,560,000 cbms, 0.5% less than 2017 so the rate of logs for lumber moved up to 48.9%. However, it is uncertain if the rate would hit 50% in 2019 because the prices of foreign logs and lumber dropped and the supply is becoming stable now.

Demand of logs for plywood expanded as new plywood mill started in 2018 and LVL is newly added in the statistics so the rate increased. The rate of logs for plywood would move up further as two more new plywood mills and one LVL plant start in 2019.

Oversupply of wood recycled chip
Kanto Wood Resource Recycle Association announced estimated wood chip demand for fuel in Kanto (Tokyo) region. This is to forecast supply and demand balance by comparing association members¡¯ chip supply and 15 major fuel users¡¯ demand.

According to the announcement, supply of fuel wood in October would exceed the demand by 3,300 ton and total supply for both thermal and material would surpass demand by 47,000 ton.

The forecast is based on members¡¯ supply, which covers 70-80% in total including non-members. Considering non-members¡¯ supply and inventory of wood chip plant and users, the balance seems to be way off with heavy supply.

Building scrap supply is over supply nationally because there have been so much waste wood as a result of natural disasters such as flood and landslide in many areas besides normal building scrap by torn down houses.

Total supply is excessive but good quality wood chip to manufacture wooden board is tight. In Kanto region, fuel chip demand for the fourth quarter 2019 is 465,400 ton while total supply would be 525,900 ton then for the first quarter 2020, the demand would be 494,600 ton while the supply would be 481,000 ton.

Nisshin resumes long panel supply
Nisshin group Ltd. (Tottori prefecture) stopped long length plywood production after rotary lathe was damaged by fire in last August at its Sakai Minato plant. It restarted running the lathe on October 1 after the repair.

Initially restart was scheduled in middle of October but by machinery company¡¯s full support, repair was done by the end of September. Nisshin produces 4,000-5,000 cbms of 9 feet and longer plywood.

In Japan, there are only three other manufacturers have long plywood manufacturing lines. By this accident, supply shortage was feared but by other manufacturers¡¯ effort, there was no serious shortage. There was a chance that other substituting materials like particleboard and MDF replace long length plywood but supply disruption was only for two months so there is not much change in the market.

Plywood
There is difference of market reaction between domestic and imports. Domestic softwood plywood market continues active and manufacturing mills¡¯ October production is almost all sold out.

Meanwhile imported plywood market continues slow with dull movement and there is no sign of getting out of such depressed situation.

Precutting plants¡¯ operations in August and September were very firm and orders from precutting plants continue rushing in. Trucks are now hard to secure so that there are delays of deliveries so not only thick panel but standard 12 mm panel¡¯s delivery takes a week to ten days. However, due to delay of construction works by labour shortage, there is no panic of short supply yet.

If this shortage of trucks continues serious supply shortage may occur since orders from precutting companies are very active in October.

Bearish mood continues on imported plywood market. In port inventories, there are some short items but the dealers are not able to place future orders to the suppliers because of large gap of prices between export prices and market prices. August arrivals from Malaysia were only about 60,000 cbms, which proves there are no new orders.

September is book closing month for mid-term so normally to reduce inventory, dumping sales are often seen and the market prices would be down but this year is different with limited inventory with high cost. With uncertain futures, buyers are cautious and maintain purchase restraint.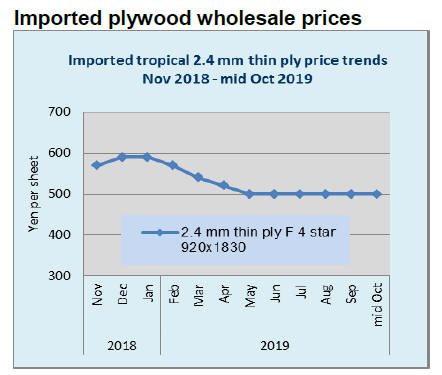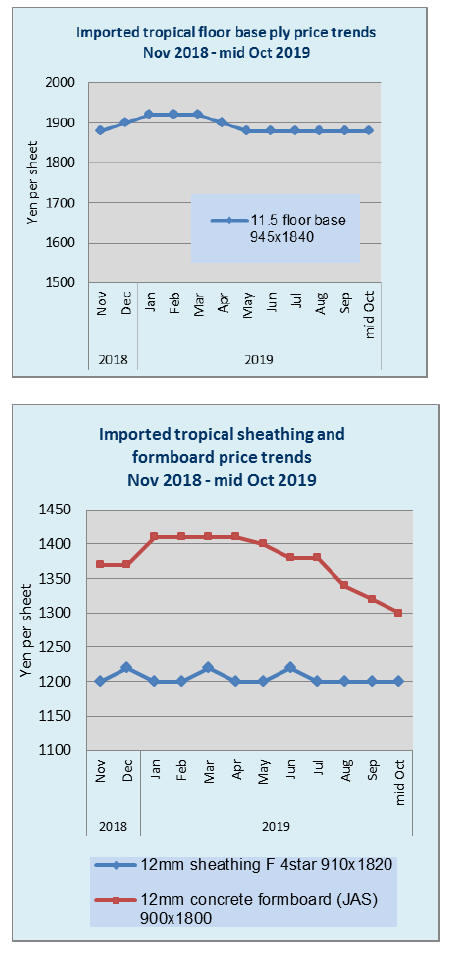 Changing floor base materials - tropical plywood edged out by domestic softwood
In composite floor production in July, percentage of domestic softwood plywood used as base material is 32.2%, 7 points more than July 2018. The percentage in 2015 was less than 10% so there is big change of floor base material in last three years.

Production of composite floor with domestic softwood plywood and MDF in last May exceeded for the first time production of traditional imported hardwood plywood and MDF.

The Japan Forest Journal made survey through questionnaires to major floor manufacturers and found out that use of domestic softwood plywood would further increase. Daiken Corporation, the largest composite floor manufacturer, reports that percentage of domestic softwood plywood with MDF is now 33%, 3 points more than last survey in March 2018.

Falcata plywood with MDF decreased by 3 points to 27%. Tropical hardwood plywood base is 19%, one point down. Target to use domestic materials is 45% by 2021.

Eidai Co., Ltd. reports that use of domestic base material is 35%, 3 points more than last survey so percentage of South Sea hardwood plywood with MDF decreased to 39%, 3 points less. Target of use of domestic materials is 50% by 2025.

Noda¡¯s domestic base is 50%, 17 points more so single MDF base is 26%, 8 points less and single tropical hardwood plywood base is 24%, 9 points less.

Ikuta¡¯s use of domestic base is the largest with 80% which was 30% in last survey and balance of 20% is tropical hardwood plywood, which was 60%.

Asahi Woodtech¡¯s use of domestic base is only 5% now but the plan is to increase domestic softwood plywood with particleboard to 35%. At present other base materials are 50% of single meranti plywood and combination of tropical hardwood plywood with MDF, 10 points less than last survey.

Single particleboard base is 25% and planted species plywood like falcate and eucalyptus with MDF is 20%, both 5 points more.

Up until 2000, base material was mainly imported tropical hardwood plywood but by climbing export prices of South Sea plywood and unstable supply, floor manufacturers started looking for substituting materials.

In early 2000, planted species for plywood like falcate increased then since 2013, domestic softwood plywood base started growing.

Major house builders changed specifications to domestic materials after price hike of composite floor with tropical hardwood plywood in last spring.