Report from North America
Bill could ban timber imports from Brazil
On 10 September thirteen Democrats in the US House of
Representatives introduced H.R. 4263, the Act for the
Amazon Act.

This proposal seeks to prohibit the importation of several
products from Brazil, including timber products classified
under heading 4403 of the Harmonized Tariff Schedule of
the United States, and prevent the Trump Administration
from negotiating a free trade agreement with Brazil due to
Brazil's "failure to aggressively fight the fires in the
Amazon rainforest and deforestation tactics more
generally."

The bill also targets imports of beef, soy, sugar, pulp and
paper, tobacco, corn, and energy products.

See:https://www.congress.gov/bill/116th-congress/housebill/4263/text?q=%257B%2522search%2522%253A%255B%2522hr4263%2522%255D%257D&r=1&s=1
US housing starts soared to a 12-Year high in August
US homebuilding surged to more than a 12-year high in
August as both single- and multi-family housing
construction increased, suggesting that lower mortgage
rates were finally providing a boost to the struggling
housing market.

Housing starts jumped 12.3% to a seasonally adjusted
annual rate of 1.364 million units last month, the highest
level since June 2007, the Commerce Department
reported. Data for July was revised to show homebuilding
falling to a pace of 1.215 million units, instead of
decreasing at a rate of 1.191 million units as previously
reported.

Single-family homebuilding, which accounts for the
largest share of the housing market, increased 4.4% to a
rate of 919,000 units in August, the highest level since
January. Single-family housing starts increased in the
West, Midwest and the populous South, but fell in the
Northeast.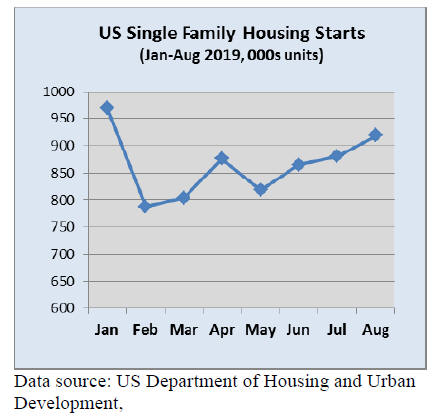 The housing market, the most sensitive sector to interest
rates, had until now shown few signs of benefiting from
the Federal Reserve¡¯s monetary policy easing, which has
pushed down mortgage rates from last year¡¯s multi-year
highs.

Sales of existing homes edge up
Existing-home sales inched up in August marking two
consecutive months of growth according to the National
Association of Realtors. Three of the four major regions
reported a rise in sales, while the West recorded a decline
last month.

Total existing-home sales rose 1.3% from July to a
seasonally adjusted annual rate of 5.49 million in August.
Overall sales are up 2.6% from a year ago (5.35 million in
August 2018).

Lawrence Yun, NAR¡¯s chief economist, attributed the
increase in sales to falling mortgage rates. ¡°Sales are up,
but inventory numbers remain low and are thereby
pushing up home prices,¡± said Yun. ¡°Homebuilders need
to ramp up new housing, as the failure to increase
construction will put home prices in danger of increasing
at a faster pace than income.¡±

See: https://www.nar.realtor/newsroom/existing-home-salesincrease-1-3-in-august

Manufacturing growing but at a slower pace
While the overall US economy grew for the 124rd
consecutive month, economic activity in the US
manufacturing sector contracted in August for the fifth
straight month according to the nation¡¯s supply executives
in the Manufacturing ISM Report on Business.

Comments from the ISM panel reflected a notable
decrease in business confidence. Manufacturing supply
executives reported contracting exports and imports, with
executives from the wood products industry reporting the
largest decrease in imports among the 16 ISM sectors.
However, the wood products sector did show growth in
August.

US wood product distributors and manufacturers saw
sales rise in line with firm single-family housing starts
which have been given a boost by low mortgage rates.

See:
https://www.instituteforsupplymanagement.org/ismreport/mfgrob.cfm?SSO=1

NAFTA split ruling in US-Canada softwood dispute
A "Chapter 19" dispute panel convened under the North
American Free Trade Agreement issued a decision in part
upholding the US International Trade Commission's
findings on imports of softwood sawnwood from Canada.

The panel upheld the finding that Canadian imports are
causing adverse impact on US industry while also
remanding the ITC's final determination due to how it
addressed elements that address the business cycle and
condition of competition, interim 2017 data,
substitutability conclusions, volume analysis, price effects
analysis and specific aspects of the price suppression
analysis.

The panel instructed the ITC to submit its redetermination
within 60 days.

See:
https://www.federalregister.gov/documents/2019/09/10/2019-19533/north-american-free-trade-agreement-nafta-article-1904-binational-panel-review-notice-of-nafta-panel