Japan Wood Products Prices
Dollar Exchange Rates of 25th September 2019
Japan Yen 107.54

Reports From Japan
¡¡
Bank of Japan sees external factor as risk to growth
The Economy, Trade and Industry Minister, Yasutoshi
Nishimura, said at a news conference that he relies on the
Bank of Japan (BoJ) to make appropriate decisions to
maintain the economy on its growth track.

The BoJ has given an explicit signal that it was concerned
about risks to the economic recovery and promised to
review what action is required at its next meeting due after
the consumption tax rises.

At a press conference, Haruhiko Kuroda, BoJ Governor
said ¡°With the slowdown in overseas economies
continuing and downside risks on the increase, we judged
it¡¯s becoming necessary to pay closer attention to the
possibility of losing momentum towards our price stability
goal.¡±

He went on to say the cut in US interest rates may drive
yen appreciation thus undermining exports. Fortunately for
the BoJ the US Federal Reserve did not signal further cuts
leaving the yen/dollar exchange rate at around yen 108 to
the dollar, a rate the BoJ is comfortable with.

Some relief in Japan after trade agreement with US
A ¡®limited¡¯ trade deal between US and Japan which cuts
tariffs on US farm goods coming into Japan has been
signed. This could expand trade between the US and Japan
by around US$7 billion say analysts as Japan will lower
tariffs on US farm goods and the US will lower tariffs on
Japanese machine tools .

The Japanese government and Japanese business leaders
have welcomed this interim agreement which offers shortterm
security for Japanese auto exports. But, given the
unpredictability of the current US administration all
remain cautious.

Consumers bracing for the 1 October tax hike
The Japanese economy has grown for the past three
quarters, though the pace was slower than initially
estimated in April-June period as business spending
slipped but the latest assessment is positive as strength in
domestic demand is counterbalancing weakness in
international trade. However, the question is will the
increase in consumption tax from 8% to 10% on 1 October
herald in another downturn as happened after the past rise?

In this latest tax change food and drink (with the exception
of alcohol and eating out) will stay at an 8% tax rate. But
daily use products will attract a 10% tax.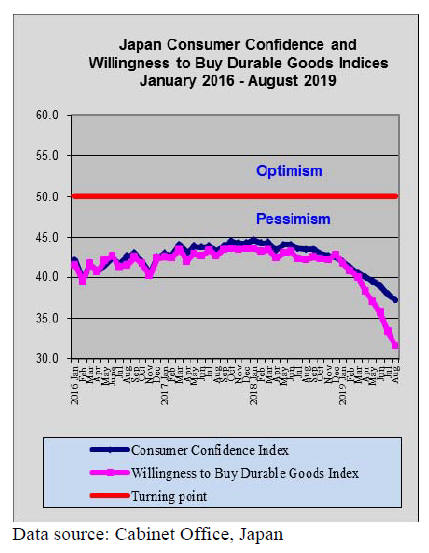 Yen steady at 107-8 to the US dollar
According to the latest Cabinet Office Economic Report it
is the government¡¯s view that the economy is recovering at
a moderate pace but weakness in exports is of concern.
Exports in August dropped 8% year on year according to
Ministry of Finance data.

While the report maintained its positive outlook there were
cautionary words on the housing sector where growth
prospects were downgraded for the first time in more than
18 months due to the decline in new home construction.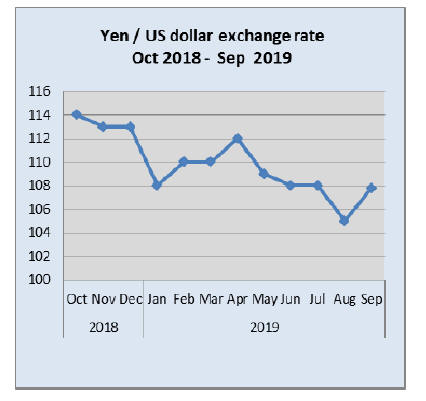 20,000 homes damaged in typhoon
A powerful typhoon, the 15th of the year in Japan, hit the
Tokyo area in September and it is only recently that the
full extent of the damage to homes and businesses has
been known.

Chiba Prefecture, encompassing Tokyo's eastern outskirts
and the rural B¨­s¨­ Peninsula, was worst affected and the
local government has reported that over 20,000 homes
sustained damage. In addition over 500 public schools in
Chiba Prefecture (some 40%of the total) have confirmed
damage.

The Japan Lumber Reports (see page 18) says many
warehouses along Tokyo Bay were affected by the storm
surge and inundated in salt water and goes on to say the
renovation and rebuilding work will require large volumes
of wood products.

August marked the third consecutive decline in housing
starts. Year on year August starts were down around 7%
while month on month there was a 4% drop.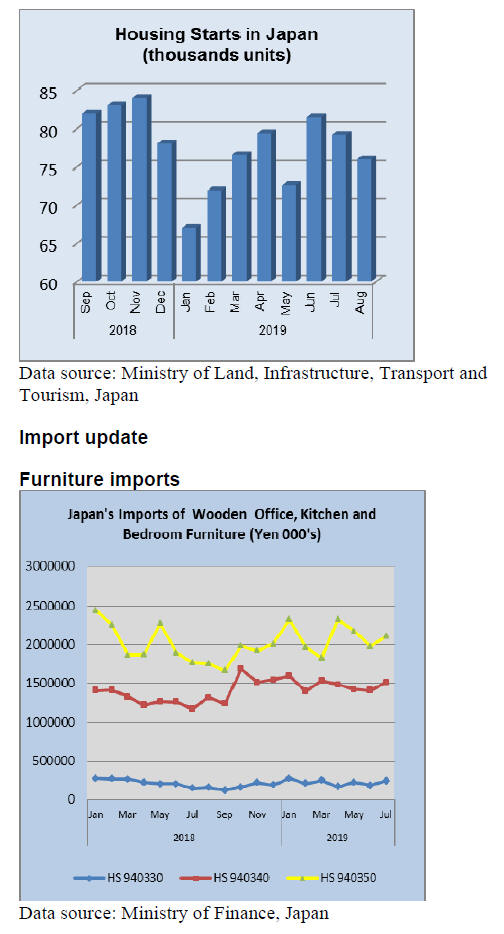 As anticipated Japanese consumers have been on a
spending spree in advance of the 1 October consumption
tax increase and it could be that it was in preparation for
the rush to buy furniture items that imports of furniture
rose so sharply in July. When August figures become
available a further rise in imports it is likely these will
show further increases in imports before a September
decline.

Many families have made last-minute purchases while the
tax is still 8%, but this strategy may not be as sound as it
appears as retailers are joining a government-sponsored
reward point system that smart shoppers can use to receive
discounts on goods and services that may be even lower
than the current tax rate.

In the month before the last tax increase spending on
household soared but early sales figures from some major
retailers are signaling that the extent of rush buying is not
so pronounced this time.

Office furniture imports (HS 940330)
Year on year, the value of July imports of wooden office
furniture (HS 940330) rose a dramatic 64% and month on
month, July were up 34%.

As was the case for most of the year three shippers
accounted to over 80% of Japan¡¯s imports of wooden
office furniture. China was the top supplier at 68% of all
July shipments followed by the US (9.5%), a new comer
to the top league of wooden office furniture suppliers. The
third ranked supplier in terms of value shipped was
Poland.

Kitchen furniture imports (HS 940340)
In July exporters in the Philippines and Vietnam
maintained their huge share of Japan¡¯s imports of wooden
kitchen furniture. For the second consecutive month
shipments from the Phillipines were marginally above
those from Vietnam. Over 90% of Japan¡¯s July imports of
wooden kitchen furniture came from 3 suppliers, the
Philippines (48%), Vietnam (38%) and China (8%).
Year on year July wooden kitchen furniture imports were
up 29% while compared to June imports rose 8%. For the
first time in several months arrivals of wooden kitchen
furniture from German manufacturers jumped above those
from Malaysia.

Bedroom furniture imports (HS 940350)
The year on year value of shipments of wooden bedroom
furniture into Japan in July expanded 19% but month on
month the rise was more modest at 6.5%.

China¡¯s dominance of Japan¡¯s imports of wooden
bedroom furniture continued into July as over 50% of all
wooden bedroom furniture was shipped from Chinese
suppliers.

Manufacturers in Vietnam held onto their second rank in
term of the value of shipments to Japan and in July
accounted for 32% of all wooden bedroom furniture
imports. The other two significant but small shippers in
July were Thailand (4%) and Malaysia (3%).

Trade news from the Japan Lumber Reports (JLR)
The Japan Lumber Reports (JLR), a subscription trade
journal published every two weeks in English, is
generously allowing the ITTO Tropical Timber Market
Report to reproduce news on the Japanese market
precisely as it appears in the JLR.

For the JLR report please see:
http://www.nmokuzai.com/modules/general/index.php?id=7
South Sea logs and lumber
Supply and demand of South Sea log are well balanced.
Log supply from PNG has declined due to rainy season
but log users in Japan carry two to three month inventory
so there is little influence.

Movement of laminated free board is firm. Harvest of
mercusii pine is delayed by foul weather so free board
production did not increased as much as initially expected
so forecasted over supply did not happen. In Japan,
demand for interior works of commercial facilities has
been active so the prices have not changed much.

In imported LVL, demand for Chinese popular LVL is
steady for use of core of interior fittings but movement for
crating and stud of condominiums is not growing.

Revision of JAS rules
The Ministry of Agriculture, Forestry and Fisheries made
an official announcement of revision of JAS rules on CLT,
lumber, flooring and structural panel on August 15. They
will be effective since November 13, 2019. New grading
method by quality management record in manufacturing
process is added on top of former method of random
sample check of finished products.

Former inspection of random sample of finished products
takes time and until result is cleared, inventories pile up so
the manufacturers have been demanding grading by
quality management record in manufacturing process.

Regarding CLT, use of waney lamina is allowed. To
correspond to standard strength set by the Building
Standards Act, bending strength is revised and shear
capacity is classified by species.

The point of lumber rules revision is to allow up to 1 mm
in length of difference between indicated size and actual
size.
Regarding young modulus, it is measured by machine on
kiln dried lumber for grading and green lumber is now
excluded. On hardwood lumber, split on the end was
allowed as 50% of length but now whole length of split is
taken.

As to flooring, board by shrinking process is excluded as it
may swell up by moisture so data of swelling is necessary.
Decorative composite flooring needs to show used species.
Bark seam, pitch pocket and pitch steak used to be
considered defect but now they are considered decorative
factor so as long as it is used as decorative sheet, they are
not considered as defects. 455 mm is added as standard
width of composite floor to deal with demand for wider
flooring.

Distribution system of domestic wood products
The Ministry of agriculture, forestry and fisheries
announced the investigation of domestic wood products in
2018.

On domestic logs, percentage of logs sold to sawmills
through trading firms and wholesalers is 63.1%, 4.9 point
more than 2016.On plywood, percentage sold through
trading firms and wholesalers is 80.1%, 23.1 points more.

On laminated lumber, the volume sold through distributors
is 40.6%, 17.3 points more. In short, trading increased
through using intermediate dealers. On domestic lumber,
volume through auction market and wholesalers decreased
to 50.2%, 11 points less. The Ministry investigates once
every five years through domestic mills and wholesalers
on purchase and sales volume.

Domestic logs sold without going through auction market
doubled, which means logs go direct to sawmills without
going through public auction market but through large
trading firms then also logs shipped to auction market are
sold without auction direct to sawmills. The volume
handled by large trading firms increased.

Purchase and sales amount of logs direct to sawmills from
national forest and private log supplier took 33.5% in total
while the volume was 36.9% so average prices are low.

Meanwhile, the volume through intermediate dealers was
43.2% in total but the amount was 47.5% so sales through
trading firms is higher than direct deals. Distribution of
laminated lumber through public market increased by
about seven times but direct sales from the manufacturers
to precutting plants decreased. One thinkable factor is that
laminated lumber took some share of solid wood lumber.

Increase of domestic wood laminated lumber
manufacturing influences distribution of domestic solid
wood lumber. Direct sales from sawmills to precutting
plants remain almost unchanged but sales to laminated and
CLT manufacturing plants increase by 1.5 times. This
means lamina manufacturing by sawmills has been
increasing. CLT volume was 14,000 cbms, seven times
more than 2016.

Sales used to be direct to builders but now 8.5% of sales is
going through trading firms. Wood chip sold to the most to
paper manufacturing plants with 61.8% then others are for
power generation and for heat utilisation.

Wood pellet production
The Forestry Agency announced production of domestic
wood pellet in 2018. Total production was 131,401 ton,
3.8% more than 2017.Demand increased by small scale
biomass power generation, wood stove for heating and
vinyl house for agricultural products. Compared to
imported wood pellet, growth is small.

By use, 126,127 ton for fuel, 3.4% more and 2,422 ton for
agriculture, 14.5% more. Number of manufacturing plant
is 154, 7 more than 2017 and workers are 396, 58 more.

By prefecture, Okayama is the top with 27,651 ton, 4%
less. Miyazaki with 12,756 ton, 8.8% less. Kochi with
6,747 ton, 34.1% more. Hokkaido with 6,305 ton, 0.3%
less.

Raw materials are 66,601 ton of lumber mills¡¯ residue,
17% more than 2017. This takes 51% in total. Second is
leftover fiber in the woods with 40,326 ton, 12.2% less
and building scrap wood with 21,831 ton, 0.8% more.

Imported wood pellet in 2018 was 1,059,542 ton, 109.2%
more so share of domestic wood pellet is down to 11%. It
was 56.6% in 2014 then it has been decreasing year after
year by rapid increase of imported wood pellet. Imported
wood chip for fuel increased by 2.5 times from 2017. t will
keep increasing this year and next.

Number of operating wood biomass power generation
plant approved by FIT as of end of 2018 is 110, 29 more
than December 2017. Total power output is about
1,230,000 kw, 330,000 kw more.

The Forestry Agency announced that use of domestic
thinning and fiber left in the woods are about 2,740,000
BDton, 4.2% more than 2017. This is equivalent to about
6,040 M cbms in log volume. Pitch of increase is slowing
compared to 2015-2017. This type of fiber is mainly
consumed by the plants classified as user of unused
resources but number of approved plant of this type is not
increasing because of difficulty of acquiring this type of
fuel and license of some approved plants is cancelled
because the plants have not started up yet.

Meantime, volume of building scrap and pruned branches
decreased. Building scrap was over-supplied and purchase
was restricted by the buyers.

Imported wood chip was about 330,000 BD ton, 145.4%
more. Main of imported wood fuel is wood pellet. Last
year¡¯s import was 1,060,000 ton, 109.2% more. Imported
PKS was about 1,270,000 to, 11.2% more. Both surpassed
one million ton.

Strong typhoon hit Tokyo Bay
Typhoon number 15 hit Tokyo region on September 9.
This was one of the strongest recorded typhoons to hit the
region. Chiba prefecture, east side of the Tokyo Bay is the
hardest hit and fell many electric poles and even high steel
power transmission towers so power outages in many
areas.

Many trees are fallen and block the road or lean onto
electric lines. Since the damaged area is so extensive and
with limited manpower to make repairs, blackout
continues and more than 60,000 households in Chiba
prefecture are still without power after ten days. Water
supply stations also lost power so that water supply is also
disrupted.

Removing blowdown trees in remote area is not
progressing as heavy machines like cranes are needed but
road is blocked with fallen electric poles and blown down
trees.

The power company has been working hard to restore
electricity supply and complete repair will take another
week so many people still suffer life without electricity
and water.

Warehouses along Tokyo Bay also suffer floor by high
tide and cargoes are inundated in salt water. Detail of how
much damages local forests suffer is unknown yet.

There is no serious landslide this time as rain fall was not
much but the damage of blowdown by strong wind is the
main. Many houses¡¯ roof tile were blown away. Building
materials manufacturing plants did not have much damage
by rain or wind but power outage is the main problem.
There will be restoration demand for damaged houses of
plywood, lumber and roof tiles.