Report from North America
Imports of wooden furniture dropped in first quarter
2019
US imports of wooden furniture slowed by 13% in June
and have now fallen behind 2018 totals for the first time
this year. At US$9.17 billion through June, total imports
are down 2% year to date.

Imports from China account for most of the slowdown,
falling 18% both for June and for the year to date. Imports
from Vietnam, while falling 11% in June, are up 28% year
to date.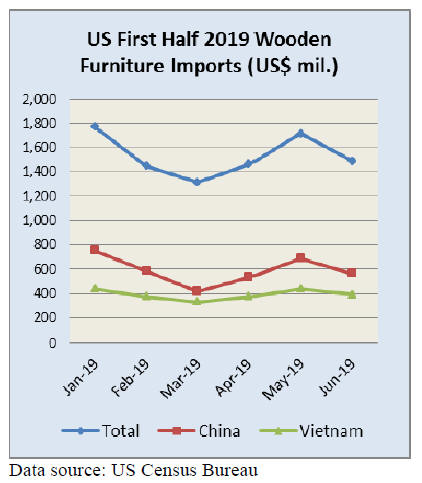 US removes some tariffs - furniture exporters to
benefit
The United States Trade Representative's (USTR) office
has announced that tariffs will be removed from some
Chinese imports. The majority of the removed tariffs are
those on furniture products including wooden chairs and
children¡¯s furniture.

"Certain products are being removed from the tariff list
based on health, safety, national security and other factors
and will not face additional tariffs of 10 percent," said a
USTR press release. As part of USTR¡¯s public comment
and hearing process it was determined that these tariffs
should be delayed until December.

EPA publishes correction to formaldehyde rule
The Final Technical Corrections Rule that makes technical
fixes to the US Environmental Protection Agency's (EPA)
Formaldehyde Emission Standards for Composite Wood
Products regulation was published in the Federal Register.

The International Wood Products Association (IWPA) is
working with EPA to schedule a webinar on the technical
fixes following the Labor Day holiday.

Weakness in US apartment building
US new-home construction unexpectedly fell in July for a
third month on another drop in starts of apartment
buildings that masked a gain in single-family units.

Residential starts dropped 4% to a 1.19 million annualised
rate after a downwardly revised 1.24 million pace for June.

Multifamily home construction slumped for a second
month, while starts of single-family housing increased to
the highest level since January.

Starts for multifamily homes, a category that tends to be
volatile and includes apartment buildings and
condominiums, decreased 16.2% after a 16.4% decline in
June, while permits increased 21.8% last month.

Single-family starts climbed 1.3% to an 876,000
annualized rate, and permits rose for a third month. Singlefamily
housing starts rose in the Northeast, West and
Midwest, but dropped 3.9% in the populous South.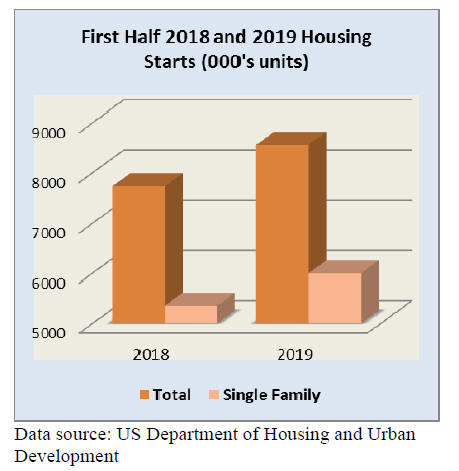 Record high employment, but 2018 figures revised
down
Payroll growth rose in line with expectations in July and
the unemployment rate remained at 3.7% amid a sharp
jump in the size of the labour force to its highest level
ever.

The Labor Department reported that payrolls increased
164,000 during the month, just 1,000 below the 165,000
Dow Jones forecast. This also was about the average
monthly gain for the year.

Economists had expected the unemployment rate to drop
to 3.6%, which would have tied a 50-year low, but an
influx of 370,000 new workers to the labour force brought
the participation rate up to 63%, its highest since March.
The total labor force of 163.4 million set a record high.

This positive news was offset by a Labor Department
announcement that it was revising down total job gains
from April 2018 to March 2019 by 501,000, the largest
downward revision in a decade.

The agency¡¯s annual benchmark revision is based on state
unemployment insurance records that reflect actual
payrolls while its earlier estimates are derived from
surveys. The large change means job growth averaged
170,000 a month during the 12-month period, down from
the 210,000 initially estimated.

Manufacturing still growing but at a slower pace
Economic activity in the US manufacturing sector
expanded in July and the overall economy grew for the
123rd consecutive month, say the nation¡¯s supply
executives in the Manufacturing ISM Report on Business.

The ISM manufacturing index continued to show
expansion, but slipped lower for the fourth straight month.
Manufacturing supply executives reported contraction in
both imports and new export orders.

However, the wood products industry was the only one of
the 18 ISM sectors reporting growth in imports in July.
Wood products led the nine industries that reported growth
in July, although some respondents credited that to
seasonality.

US consumer confidence falls to lowest level for 2019
US consumer sentiment fell to 92.1 in August, the lowest
indicator since the start of 2019. The dip points to further
uncertainty in the US economy, as consumers navigate
wild market swings and a constantly shifting trade
environment.

The University of Michigan¡¯s preliminary August reading
came in well below Wall Street estimates. The August
losses spanned all index components, according to the
report. Businesses across all sectors have curtailed
spending amid efforts to counteract the impact of
reciprocal US and China tariffs. Poor consumer sentiment
suggests those efforts haven¡¯t fully staved off concern.
Disclaimer: