3. MALAYSIA
Increased exports of plantation logs from Sarawak
Logs from industrial plantations are fast becoming a major
export for Sarawak as production from the natural forest
has been reduced drastically. According to Sarawak
Timber Industry Development Corporation (STIDC), in
the first half of 2019 Sarawak exported over 399,000 cu m
of plantation logs, mainly acacia mangium, most of which
was shipped to Indonesia.

Of the total log export volume of 731,758 cu.m in the first
six months of 2019, plantation logs accounted for about
half. Acacia mangium exports have expanded rapidly
since 2013 when some 147,100 cu.m was exported.

Records show there are 43 licensed forest plantation
owners in Sarawak with around 420,000 ha. However,
expansion of the planted area has fallen far short of the
State target of one million ha. for 2020. A new target data
2025 has been adopted.

Trade analysts report that some Japanese companies have
been testing acacia mangium and falcata as alternative raw
material sources.

Sabah export earnings plummet
Data released by the Sabah Statistics Department for the
first half of the year showed Sabah's wood product exports
were worth RM540,331,476, a decline of 23% from the
corresponding period last year. In 2018 first half exports
were RM705,887,110.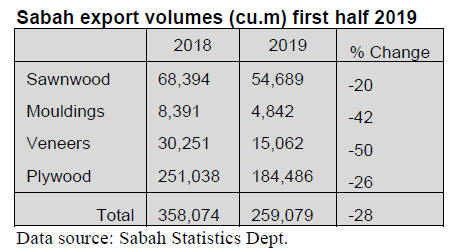 The national tree - Merbau
The Prime Minister, Dr. Mahathir Mohamad, has
confirmed Malaysia will maintain at least a 50% forest
cover in accordance the commitment made at the Rio
Earth Summit in 1992. Speaking at a recent exhibition the
Prime Minister announced that merbau Intsia bijuga is
now the national tree of Malaysia. Intsia bijuga, locally
known as ifit, is also the official tree of Guam.

See:
https://www.nst.com.my/news/nation/2019/08/515369/merbaunow-
malaysias-national-tree

Non-timber forest products
Urban Planning, Land Administration and Environment
Assistant Minister, Len Talif Salleh, has reported that the
Sarawak Forest Department was collaborating with
various national and international agencies on research and
development of species such as gaharu (agarwood).

Through a project in Ulu Menyang in Batang Ai the local
community plants gaharu to produce gaharu tea. The
Department and NGOs assist in supplying seedlings,
technical advice, monitoring and maintenance.

In related news there is a proposal to plant bamboo in
Undop, near Sri Aman. There is already a pilot project
where 25 hectares have been planted with 13 species of
bamboo.

Sabah mangrove project with support from Japan
private sector
The Sabah Forestry Department (SFD) has signed a MoU
with the International Society for Mangrove Ecosystems
(ISME) for a mangrove rehabilitation project funded by
Tokio Marine & Nichido Fire Insurance Co Ltd (TMN),
Japan.

Plywood prices
Plywood traders based in Sarawak reported the following
July export prices.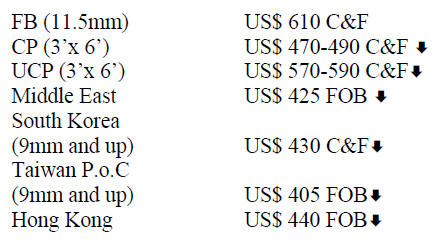 4. INDONESIA
Investment in furniture manufacturing slows - export
target slips
The Secretary General of the Association of Indonesian
Furniture and Crafts Industry (HIMKI), Abdul Sobur, said
while initially entrepreneurs predicted that furniture
production could grow 8% this year, conditions in the
domestic and export markets are seriously challenging
which has impacted investment and competiveness. As a
result industry growth is now estimated only 5% - 6%.

He said if Indonesia wants a furniture sector like
Vietnam's which continues to expand conditions must be
created that stimulate domestic investment as well as
foreign investment.

Sobur said he is convinced Indonesia has the potential to
attract the relocation of manufacturers from China but the
investment climate in the country must be improved.

See:
https://surabaya.bisnis.com/read/20190820/532/1138814/tanpainvestasi-
masuk-industri-mebel-cuma-tumbuh-5-persen

Las Vegas furniture show a success for Indonesian
producers
In a press release the Ministry of Trade reported the
success of Indonesian companies at the recent Las Vegas
Market Exhibition.

Indonesia's participation in show was encouraged by the
Indonesian Trade Promotion Center (ITPC) for the
Chicago and Los Angeles areas and 3 Indonesian
exporters exhibited their products at the Indonesian
Pavilion.

The Head of ITPC (Chicago), Billy Anugrah, said the
Indonesian Pavilion received a lot of attention and
business enquiries were worth around US$500,000.

See: https://pressrelease.kontan.co.id/release/furnitur-danproduk-
dekorasi-rumah-indonesia-memikat-di-las-vegas-market-
2019

Authorities step up efforts to fight forest fires
The authorities have stepped up efforts to control forest
fires because the number of 'hot spots' has risen in recent
week causing smoke to blanket large parts of the country
and neighbouring countries. The media report more than
600 fires were detected between 31 July and 6 August and
there were another 150 outbreaks in a few days after 6
August.

An emergency response team has deployed extra
helicopters for water bombing bringing the total to 36
according to the National Disaster Management Agency.

Indonesia- South Korea trade deal to be signed
After a meeting with the South Korean Minister of Trade,
Industry and Energy, Myung Hee Yoo, Enggartiasto
Lukita, Indonesia' Minister of Trade, said Indonesia and
South Korea are set to finalise a Comprehensive Economic
Partnership Agreement (IK-CEPA) during the November
ASEAN-Korea Summit to be held in South Korea.

Central Statistics Agency (BPS) data shows total trade
between the two countries was US$18.6 billion in 2018
with Indonesia enjoying a surplus of US$443.6 million.
South Korea is the seventh largest destination for
Indonesia's exports which include mineral, natural rubber,
plywood and manufactured goods.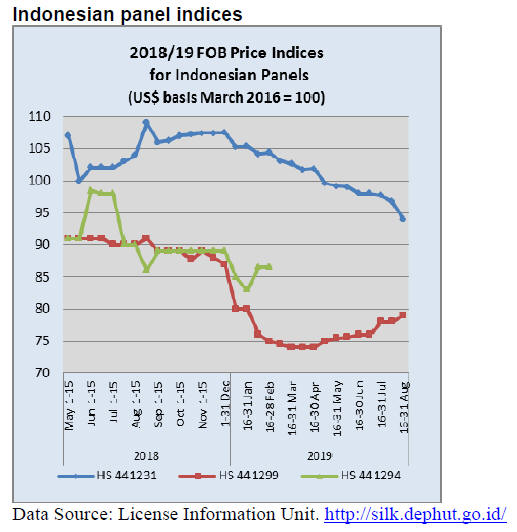 5. MYANMAR
MEITI report praised for boosting transparency
Art Blundell and Khin Saw Htay, writing for the online
media 'moderndiplomacy' a platform for assessing and
evaluating complex international issues that are often
outside the boundaries of mainstream Western media and
academia, acknowledge the improved transparency in
Myanmar specifically mentioning the latest
Myanmar Extractive Industries Transparency Initiative
(MEITI) report as an important contribution to improved
transparency and accountability in Myanmar's forest
sector.

See: https://moderndiplomacy.eu/2019/08/20/in-myanmar-betteroversight-
of-forests-a-vital-step-in-transition-to-rule-of-law/ )

Analysts in Myanmar write "the recent launching
ceremony of the MEITI report on the forestry sector is a
really significant development in the transparency history
of forestry sector of Myanmar".

Myanmar-Japan-US investment forum
A Myanmar/Japan/US Forum on 'Fostering Responsible
Investment' was held recently in Yangon.
The Forum was organised by the Ministry of Investment
and Foreign Economic Relations in collaboration with the
US Embassy, the Embassy of Japan, the American
Chamber of Commerce, the Japan Chamber of Commerce
and Industry, the Myanmar Federation of Chambers of
Commerce and Industry, the Japan International
Cooperation Agency, the Japan External Trade
Organization and US Commercial Services. The aim was
to highlight Myanmar's investment potential against a
background of Asian growth potential.

The Directorate of Investment and Company
Administration (DICA) has reported that investment flows
into the country from Japan and the US totaled US$1.6
billion as of the end of June 2019.

New voice for entrepreneurs
With the creation of the Myanmar Entrepreneurs
Association (MEA) entrepreneurs in the country can more
effectively voice their concerns and share knowledge and
experience among members. The MEA was inaugurated
on 22 August with U Ko Ko Htwe as the chair of the
association.

It is understood MEA will seek to be a platform for
entrepreneurs to share their knowledge and experience in
areas such as human resource management, technology
and financing.

Log tender schedule announced
The Myanma Timber Enterprise (MTE) has announced the
tender schedule for 2019-20. MTE says 8,000 tons of teak
logs and 150,000 tons of hardwood logs will be auctioned.
The harvesting season usually begins in
October/November.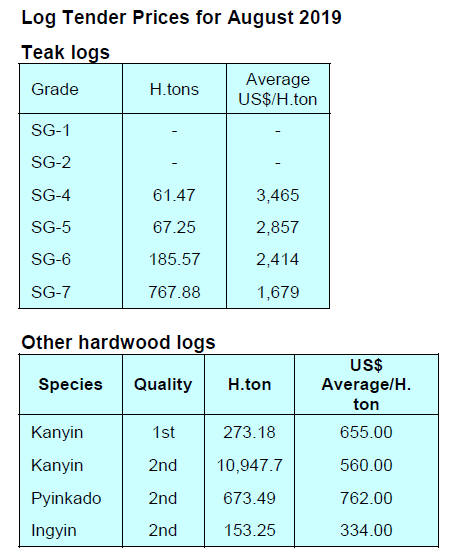 6. INDIA
Only plywood prices on the rise
The official Wholesale Price Index for 'All Commodities'
(Base: 2011-12=100) for July 2019 declined to 121.2 from
121.5 in June. The index for the group 'Manufactures of
Wood and of Products of Wood and Cork ' declined to
134.2 from 134.6 for the previous month due to lower
prices for wooden splints and veneer sheets. However,
prices for plywood were higher.

The annual rate of inflation based on monthly WPI in July
stood at 1.08% compared to 5.27% in July in the previous
year.

The press release from the Ministry of Commerce and Industry
can be found at: http://eaindustry.nic.in/cmonthly.pdf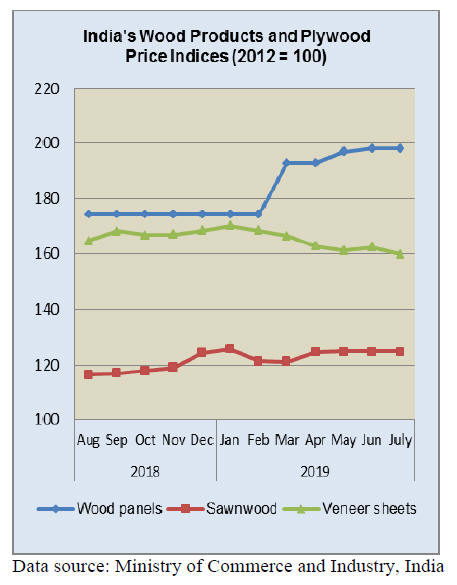 Plantation teak imports
Serious efforts are being made by importers' to get the
government to ease the advance payment conditions for
GST. The timber sector is not the only one affected
adversely by the GST implementation and in some other
sector industrial action has been taken to draw attention to
the issue.

The rupee is slipping against the US dollar and dropped to
Rs.71, per US dollar, the year's lowest. A firm dollar,
weak domestic equity markets and asset outflows from
India as the super-rich move money to avoid the recent tax
hike weakened the rupee.

C&F prices for teak imports continue within the same
range as reported previously.

Locally sawn hardwood prices
Ex-mill prices for sawnwood milled from imported logs
remain unchanged in what analysts write is a stable
market.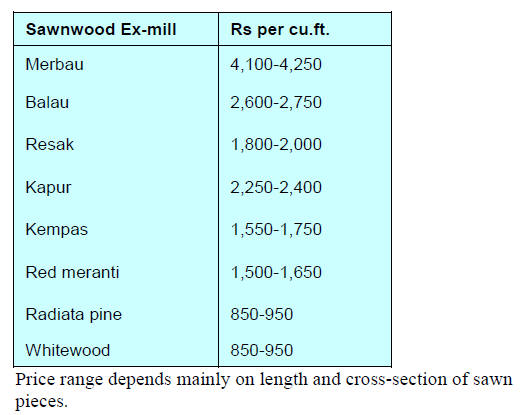 Importers cut back on Myanmar teak
Due to weakening demand for Myanmar teak, importers
have started to reduce the volumes being imported. The
main reason for the slowing demand is the dull housing
market and consumer concerns on the economy and
current political issues.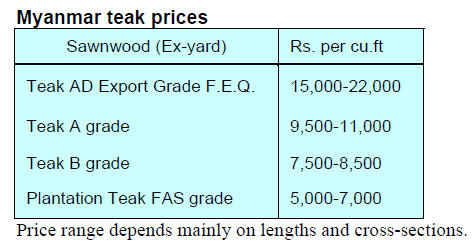 The government is actively promoting construction of
affordable housing but real estate observers report home
sales and starts have declined. In fact, according to a
report from PropTiger.com, affordable housing accounts
for half of the unsold housing stock in key cities.

PropTiger says" while home sales in the affordable
category fell 7% during the quarter ending June, new
launches declined by 56% compared to the same quarter of
2018".

For more see: https://housing.com/news/proptiger-com-realinsightreport/?
utm_source=internal&utm_medium=email&utm_campai
gn=subscribersDigest

Sawn hardwood prices
Prices for imported European and US hardwoods remain
unchanged at the moment as importers are absorbing the
higher costs due to exchange rate changes.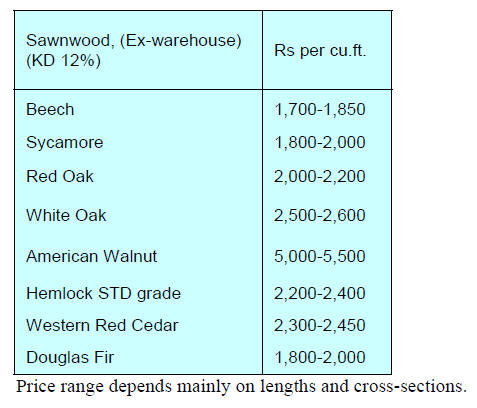 Plywood
Traders report that the price increases introduced earlier in
the month have been accepted in the market but the dull
housing market has impacted sales.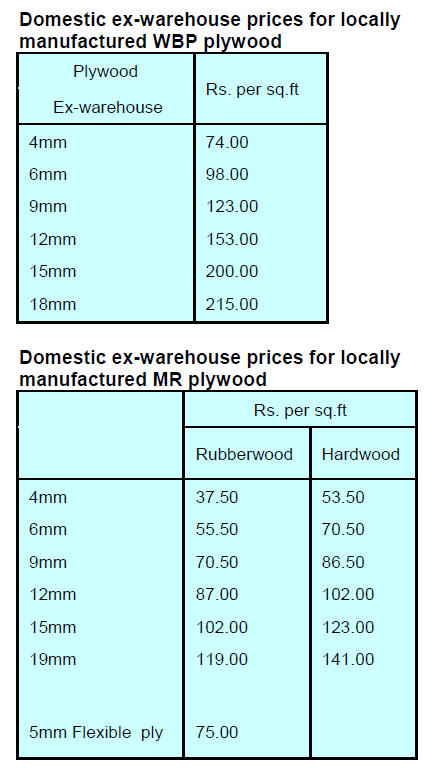 Local manufacturers have noted an increase in imports of
birch plywood from Russia which has gained market
acceptance and the volume of imports from Russia is
expected to increase.

Production of hardwood plywood in Russia and the EU
has increased to such an extent that these countries are
having to diversify markets. (See EU report )

The market for face veneers is undergoing change say
analysts. Suppliers in SE Asia are facing growing
competition from shippers, many of which are SE Asian
companies, operating in Gabon. This is benefitting Indian
mills as face veneer prices have fallen.

Forest Rights Act – government pledges to protect
forest dwellers rights
On a purely domestic issue, 'Down-to-Earth', an Asian
think tank on politics, the environment and development
supported by the Indian Centre for Science and
Environment recently focused on a decision from the
Indian Supreme Court ordering the authorities in 21 states
to explain why evictions, under the Scheduled Tribes and
Other Traditional Forest Dwellers (Recognition of Forest
Rights) Act (FRA) 2006, had not been implemented. The
government acted immediately a secured a stay-order
promising to protect the rights of forest dwellers.

This issue has become a major test for the government
which in it election campaigning promised to protect the
rights of forest communities.

'Down-to-Earth' says "Several empirical studies including
works of the Tata Institute of Social Sciences, Centre for
Science and Environment and Indian School of Business
show that wherever properly implemented, community
forest rights have improved conservation".

For the full story see:
https://www.downtoearth.org.in/blog/forests/forest-rights-act-alitmus-
test-for-govt-to-protect-forest-dwellers-65816
7. VIETNAM
Not all plain sailing for companies relocating to
Vietnam
The prospect of a long drawn out US/China trade conflict
is seen as an opportunity for Vietnam to capture more of
the US market share and this has been happening but it is
not plain sailing. Many Chinese manufacturers have
relocated to Vietnam but face problems.

One Chinese manufacturer in Vietnam pointed out that in
China the company could get all the goods and services
necessary to keep the factory running but in Vietnam the
engineering service sector, for example, is not well
developed and does not have the latest technology.

There are also problems, for example, with securing
educated and skilled workers and the infrastructure is not
well developed.

However, despite the problems many big corportations
have relocated creating a golden time for Vietnam to
develop the domestic industrial service sector and for the
Vietnamese companies to improve their positions in the
global supply chains.

See: https://nhipcaudautu.vn/thuong-truong/wsj-viet-nam-se-canthem-
nhieu-nam-nua-de-tro-thanh-cong-xuong-cua-the-gioi-
3330083/

Walmart wants to widen range of Vietnamese goods in
its stores
Vietnamese products continue to attract foreign retailers
and recently representatives of Walmart were in Vietnam
to explore opportunities to expand its network of
Vietnamese suppliers.

Walmat executives participated in a workshop "Enhancing
participation of Vietnamese enterprises in global
distribution networks" chaired by the Minister of Industry
and Trade.

The workshop was informed that Walmart now has stores
in 28 countries with total turnover of over US$500 billion
2018 and the stores are visited by an average of nearly 270
million people per week.

To meet consumer demands Walmart reported that it
wants to widen the range of Vietnamese goods in its stores
and is willing to provide technical assistance, capacity
building, productivity improvement and advice on legal
compliance for the various markets.

Cambodia and Vietnam discuss cooperation to halt
cross-border illegal timber trade
During a recent visit to Vietnam, Cambodia's National
Assembly Foreign Affairs Commission Chairman,
Chheang Vun, discussed with his hosts how the two
countries could cooperate to curb the trade in illegal
timber from Cambodia.

Cambodia's National Committee for Forest Crime
Prevention recently seized nine trucks as they made their
way toward the Trapaing Sre checkpoint in Kratie
Province apparently on their way to Vietnam.

See: https://www.khmertimeskh.com/50635603/kingdom-seeksvietnams-
help-to-curb-timber-trade/

EU/Vietnam trade deal may boost opportunities in
German furniture market
Trade between Vietnam and Germany should expand due
to the recently agreed EU-Vietnam Free Trade Agreement
(EVFTA) and the EU-Vietnam Investment Protection
Agreement (EVIPA).

Vietnamese furniture is popular in the EU but Vietnamese
firms say their market share in Germany is small. In the
first quarter of 2019, Vietnam's furniture exports to
Germany were only US$80.8 million, a fraction of
Germany's furniture imports.
8. BRAZIL
Forest concessions effective tool for sustainable use
of public forests
The Brazilian Forest Service (SFB) and Madeflona
Industrial Madeireira Ltda. recently signed a forest
concession agreement for the Forest Management Unit IV
in the Jamari National Forest in Rondônia State. Officials
stressed that such partnerships are one of the most
effective tools for the preservation and sustainable use of
public forests as they prevent encroachment and help
combat illegal activities.

The total forest area granted was 32,294 hectares. The
company, which won a competitive bidding process in
2018, will be able to exploit the area for 40 years. Harvests
will be limited to trees over 50cm diameter and the
company plans to develop non-wood forest product
harvesting and ecotourism. The company estimates annual
revenue could reach R$2.2 million.

Currently, around one million hectares of forest
concessions have been granted to ten companies for 40
years. According to the SFB the goal is to allocate 4
million hectares as forest concession by 2022 in the states
of Amazonas, Amapá and Pará and it is estimated that
about 25,000 direct and indirect jobs would be generated.

The forest concession agreement authorises logging and
controlled use of wood and other forest products but does
not allow access to genetic resources, use of water
resources, exploration of mineral resources, fisheries or
wildlife or commercialisation of carbon credits.

The land title remains with the government for the
concession period as the concessionaire is only entitled to
forest management. In addition, the local community is
assured of access to the concession area.

Madeira /Wood 4.0 Program promotes improvement of
production and managerial performance
The so-called 'Madeira/Wood 4.0 Program' developed by
the Brazilian Support Service to Micro and Small
Businesses (Sebrae-MT) and the Center for Timber
Producers and Exporters of Mato Grosso State (CIPEM),
will soon begin studies on stock/inventory and process
management and energy efficiency in collaboration with
companies associated with CIPEM.

A forest stock management study will focus on control,
traceability, material flow, consumption and purchasing
strategies. The purpose is to provide technical
recommendations for the improvement of production and
managerial performance of the participating companies.

The study on energy efficiency aims to increase the energy
efficiency of production systems through an analysis of
processes and will develop solutions based on ISO 50001.

The 'Madeira/Wood 4.0 Program' will also offer
workshops on financial management, commercial
management, diagnosis of competitiveness and
technological assessment of the productive area for
entrepreneurs associated with the forest trade unions of the
Alta Floresta, Guarantã do Norte, Juína and Sinop regions,
major timber producing clusters.

Export update
In July 2019, the value of Brazilian exports of wood-based
products (except pulp and paper) increased 4.4%
compared to July 2018, from US$213.9 million to
US$223.3 million.

The value of pine sawnwood exports declined 9.4% in
July this year compared to a year earlier (July 2018,
US$41.7 million and July 2019, US$37.8 million).
However, in terms of volume exports increased 17% over
the same period, from 163,400 cu.m to 190,900 cu.m.

In contrast, the volume of tropical sawnwood exports
increased almost 50% from 0,800 cu.m in July 2018 to
46,100 cu.m in July 2019. In value, exports increased 27%
from US$13.7 million to US$17.4 million over the same
period.

The value of pine plywood exports fell 35% in July 2019
in comparison with July 2018, from US$47.7 million to
US$30.8 million and export volumes also fell from
136,200 cu.m in July 2018 to 129,000 cu.m in July 2019.

Tropical plywood exports declined in volume (-29%) and
in value (-37%), from 11,600 cu.m (US$5.1 million) in
July 2018 to 8,200 cu.m (US$3.2 million) in July 2019.

The same negative result was seen for wooden furniture
exports which fell from US$48.3 million in July 2018 to
US$45.5 million in July 2019,an almost 6% drop.

Exports of panels to Asian markets dip
There was a drop in first half 2019 woodbased panel
exports from Brazil. According to the Brazilian Tree
Industry (IBA), in the period January to June 2019,
598,000 cubic metres of panels were exported, a drop of
3.5% compared to the volume exported in the same period
of 2018.

While there was a rise in panel exports to China, exports
to Asian markets and Oceania dropped sharply (-72%).
Exports to Europe also fell by 71% in the first half of
2019.

In contrast, domestic sales of panels rose over 3% year on
year in the first half of 2019. According to IBÁ, apparent
consumption of wood panels was at its highest this year.

9. PERU
Sharp drop in sawnwood exports to China
According to the Association of Exporters (ADEX), first
half 2019 timber exports were worth US$60.9 million
FOB, just over half a percent higher than in the first
quarter of 2018. Sawnwood exports in the first half
dropped by almost 14% to US$9.8 million, FOB.

China continues to be the main export destination market
for Peruvian exporters accounting for around 11% of all
exports in the first half, a rise of over 15% year on year. In
the first half 2019 France was the second highest export
destination and there was a significant year on year rise in
exports to France.

The Dominican Republic remained the main export market
for Peru's sawnwood accounting for almost 40% of all
sawnwood exports. Mexico is the second ranked market
followed by China. In the first half 2019 sawnwood
exports to China dropped over 60%.

Extra cash to check forest management plans
The Ministry of Economy and Finance (MEF)has
transferred around US$1.4 million to the Forest and
Wildlife Resources Supervision Agency (OSINFOR) so it
can boost monitoring of forest management plan
implementation in areas most affected by illegal logging.

Slight drop in imports of wooden furniture
In the first six months of 2019, Peruvian imports of
wooden furniture totalled US$25.67 million, a slight year
on year decline to US$25.94 million.

Brazil remained the main supplier of wooden furniture
shipping almost US$17 million in the first quarter 2019.
China was the second largest supplier at US$3.69 million
followed by Malaysia with US$1.1 million.

The main Peruvian importers of wooden furniture in the
first half of 2019 were Sodimac (ACE Peru SAC), the
Falabella Group, Saga Falabella and Homecenters
Peruanos.

July a bad month for forest fires
The National Institute of Civil Defence reported that the
142 forest fires reported across the country up in July
alone were caused mainly by farmers. In late August only
one fire was reported and this was in the district of
Tamburco in Apurimac.

The largest number of forest fires were reported in the
Department of Cusco, with a total of 32; followed by
Ayacucho, with 14 events; Huánuco and Puno, with 12
each and Ancash 10. In the Amazon, six fires were
reported while in Madre de Dios there were three. Loreto
and Ucayali reported only one fire.