US Dollar Exchange Rates of 10th August 2019
China Yuan 7.0582

Report from China
July marked first month-on-month improvement in PMI
growth in four months
Chinese manufacturing activity remains depressed due to
the combination of the ongoing US-China trade conflict as
well as slowing domestic demand. The National Bureau of
Statistics has reported that in July the manufacturing
purchasing managers index (PMI) was 49.7, slightly up on
June marking the first month-on-month PMI growth in
four months. A reading above 50 indicates expansion,
while a reading below reflects contraction.

Among the five sub-indices comprising the PMI, the
production index and supplier distribution time index were
higher than the threshold, while the new orders index,
main raw materials inventory index and employment index
were lower than the threshold.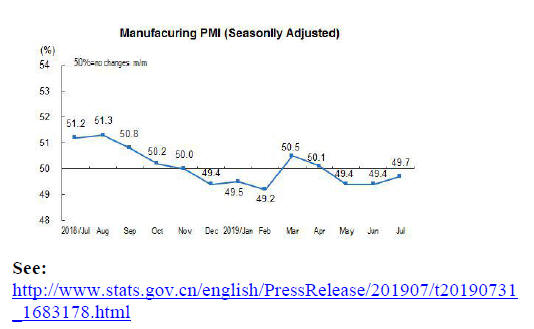 Manzhouli Port cancels maintenance fee to support
traders
The management of Manzhouli Port has announced the
cancellation of maintenance fees levied on traders in order
to implement the current policy to lower import and export
costs. This is in response to the on-going trade friction
with the US.

Surge in wood furniture export through Huizhou city
According to Huizhou Customs the value of wooden
furniture exports from Huizhou City surged nearly 200%
to US$887 million in the first half of 2019 setting a new
record high. Wooden furniture exported from Huizhou
City is mainly tables and chairs, cabinets, sofas and panel
furniture and is exported to 156 countries with Japan,
South Korea and Australia the main markets.

In the first half of 2019 furniture from Huizhou City was
exported to Brunei, Iraq and other countries along the
"Belt and Road Initiative" route. New markets were found
in Liberia, Lesotho and other African countries.

According to Huizhou Customs, thanks to the construction
of Guangdong-Hong Kong-Macau Greater Bay Area,
Huizhou City has become a top choice for the manufacture
of furniture attracting enterprises from Shenzhen and
Dongguan.

In the first half of 2019 there were 84 newly registered
wooden furniture enterprises in the Huizhou area of which
about 40% were relocated from Shenzhen and Dongguan.

In order to ensure the smooth production and export of
wooden furniture and promote international trade,
Huizhou Customs set up a special group for enterprise
registration and assessment because of the high demand
for enterprise registration.

Huizhou Customs actively assists enterprises in improving
quality management systems, formulating self-inspection
and self-control plans, strengthening the whole production
management and environmental controls.

First home designed fully automated mill for China
The first fully automated sawmill has been commissioned
in Lanzhou the capital of China¡¯s northwest Gansu
Province.

The mill has automatic feeding and optimal cutting
capacity with virtually no manual input. The mill was
operational in April 2019 and is the first ¡®intelligent¡¯
automated production line in China. With the exception of
some machines imported from Germany, the other
machines in the mill were all designed and manufactured
by the company.

See: http://www.lzbs.com.cn/szyw/2019-
07/29/content_4515243.htm

Wood chips sales expanding 10% annually
Over the past few years the wood chip processing market
in China has expanded by about 10% annually. The
number of enterprises in the wood chip processing sector
is larger and there are more than a thousand production
enterprises in the country but the number of enterprises
with a turnover of more than RMB20 million is small.
Domestic raw material for wood chip production is
insufficient such that mills are highly dependent on the
imports.

Factors affecting China¡¯s Wood Market
China¡¯s economic downturn is impacting sales of wood
products and under present market conditions there is
growing over-capacity in the sector. Consumption of wood
products has declined and supply exceeds demand.
Analysts suggest that mill capacity utilisation has fallen to
only 50% in many plants.

Much of the weakened demand is the result of lower
housing starts brought on by tighter credit conditions. This
is especially noticeable in the economically developed
coastal areas such as Shandong, Jiangsu and Guangdong
Povinces where house prices have fallen. Timber
consumption has also been impacted by lower investment
rural housing as many low cost housing projects have
suffered budget cuts.