Japan Wood Products Prices
Dollar Exchange Rates of 10th August 2019
Japan Yen 106.74

Reports From Japan
¡¡
Economy gets a boost from holiday spending
Japan's economy grew faster than expected in the second
quarter driven higher by consumer spending over the 10
day public holidays to celebrate the new imperial era. Is a
welcome boost to the government as it intends to raise the
consumption tax in October. The last time Japan raised the
consumption tax in 2014 there was a decline in
consumption and this especially affected spending on
durable goods such as furniture.

Some economists have warned that now is not the time to
raise taxes because of uncertainty over global trade and the
possibility of a ¡®no-deal¡¯ Brexit. However, the government
seems determined to go ahead and has planned measures
to cushion the impact on the economy.

Expansion of capital investment forecast
The Cabinet Office has just released data on machinery
orders in June, 2019 and its forecast for the third quarter.

The total value of machinery orders received by 280
manufacturers operating in Japan increased by 6.3% in
June from the previous month which translates to a 1.1%
rise in the April-June period compared with the previous
quarter.

In the July-September period the total amount of
machinery orders is forecast to increase by around 7% but
private-sector orders have been forecast to drop by 6%
from the previous quarter.

Machinery orders, while a highly volatile data series, are
regarded as an indicator of capital spending in the short
term.

See: https://www.esri.cao.go.jp/en/stat/juchu/1906juchu-e.html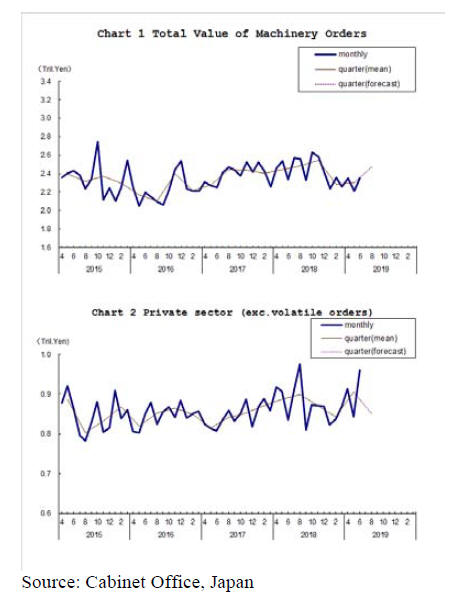 Consumer spending at all time low
While over the past month household spending has risen
over the past decade there has been a steady decline as
households spend less and less of their disposable income.

Data just released by the ministry of internal affairs shows
that the percentage of income spent dropped to 64% in
June, the lowest on record. The reluctance to spend is
reflected in the consumer confidence survey data which
reported that consumer confidence in July fell to its lowest
level in more than five years.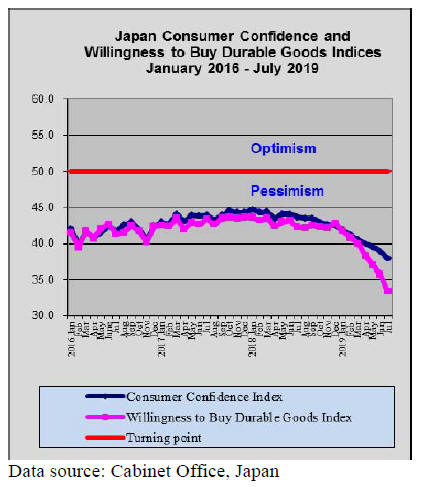 Yen set to strengthen further
From a high of 114 to the US dollar in November 2018 the
yen is now 7% lower at 106 to the dollar and it is forecast
to strengthen further which will undermine the actions of
the Bank of Japan (BoJ).

If the yen strengthens to 100 to the US dollar this would
be a serious blow to exporters and is likely to result in
further monetary easing by the BoJ. Last month, the BoJ
said it would act without hesitation if the stability of the
economy is threatened.

Over the past six years, the BoJ has been trying to achieve
a 2% rate of inflation but is yet to succeed.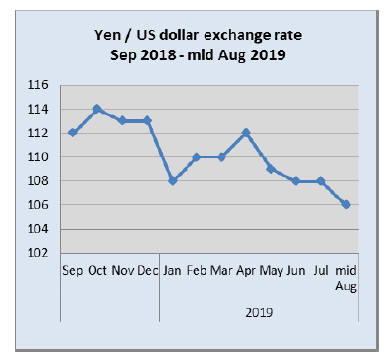 Overseas investors pour money into Japanese real
estate
Japanese real estate companies have once again reported
that US and British investment firms are very active in the
Japanese real estate market, being attracted by the very
low cost of borrowing.

It is reported that British firm plan to invest in housing for
the elderly, clearly a growth market given Japan¡¯s aging
population. Several Japanese finance companies are
teaming up with overseas investors in a yen 100 billion
rental housing scheme.

The surge of interest in Tokyo properties has caused
analysts to caution that the market could be ¡®overheating¡¯.
Sales on buildings in Tokyo according to Daiwa Real
Estate Appraisal were the highest since before the 2008
financial crisis.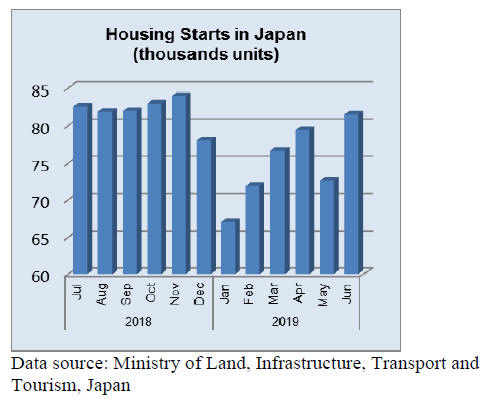 Import update

Wooden door imports
The value of Japan¡¯s first half 2019 imports of wooden
doors (HS441820) were up around 5% on the same period
in 2018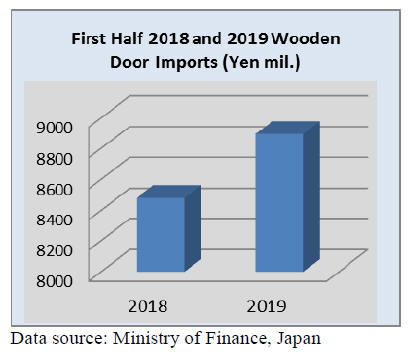 The value of Japan¡¯s June imports of wooden doors
(HS441820) rose around 3% from May, the third
consecutive monthly increase.

As in previous months the top four shippers accouted for
over 80% of June imports with manufacturers in China
accounting for 67% of Juneimports followed by the
Philippines (19%). A further 3-4% was shipped from both
Indonesia and Malaysia .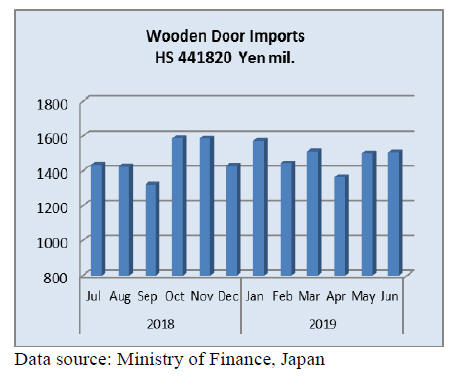 Wooden window imports
The value of Japan¡¯s first half 2019 imports of wooden
windows (HS441810) were up around 3% on the same
period in 2018.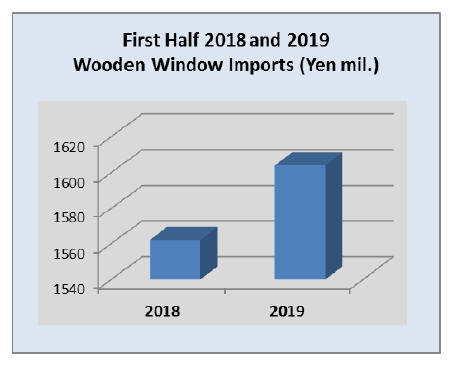 Since February this year there has been a steady rise in
Japan¡¯s imports of wooden windows (HS441810).
The value of June imports were up almost 6% year on year
and month on month June imports rose around 4%.

The top three in June were China (36% of imports) the US
(28%) and there was a sharp rise in imports of wooden
windows from the Philippines which contributed over 20%
to total window imports.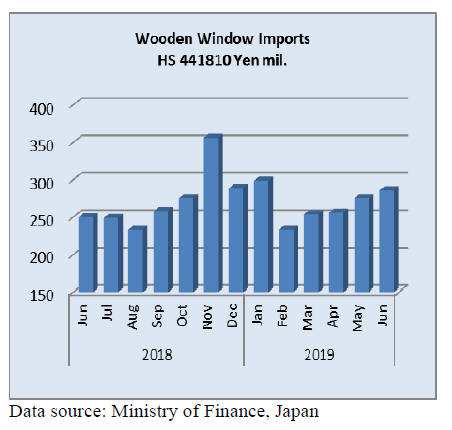 Assembled wooden flooring imports
The value of Japan¡¯s first half 2019 imports of assembled
wooden flooring (HS441871-79) dropped 6% from the
same period in 2018.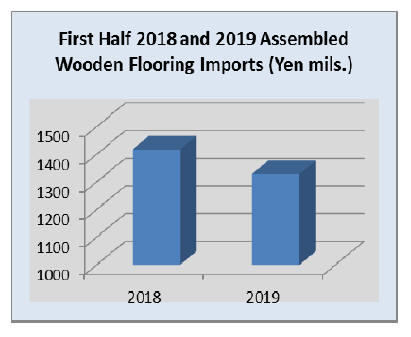 Of the range of categories of assembled wooden flooring
imported into Japan, HS441875 accounts for the largest
proportion with China, Indonesia, Malaysia and Thailand
being the top shippers in order of magnitude. June 2019
imports of assembled wooden flooring were down 8%
year on year and down a massive 25% compared to the
value of May imports.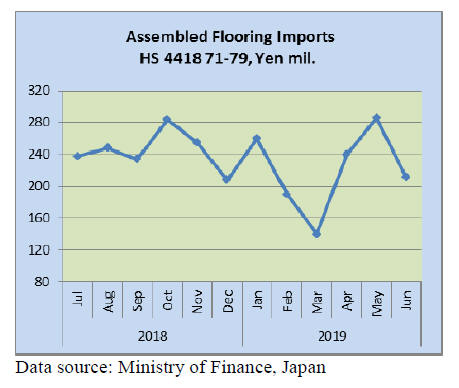 Plywood imports
The volume of Japan¡¯s first half 2019 imports of plywood
(HS441210-39) dropped 15% compared to the same
period in 2018. There has been a downward trend in the
volume of imports since November 2018. The volume of
imports from the main suppliers Malaysia, Indonesia and
China have fallen with Malaysia and Indonesia posting the
largest declines.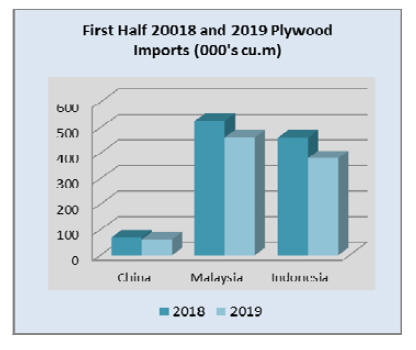 One category of plywood, HS441875, dominates Japan¡¯s
plywood imports and in June, as in the previous months,
accounted for well over 60% of all plywood imports. The
changes reported in Japan¡¯s plywood importing sector
continue to emerge.

Year on year the volume of June imports of plywood were
down a massive 23% . Year on year shipments from
Malaysia were down 23% in June, shipments from
Indonesia dropped 21% in June and there was a 25% drop
in June shipments from China.

As in previous months plywood imports were dominated
by HS 441231, accounting for 88% of all June imports.
HS441233 and HS441234 contributed 5% each with
another 2% being HS441239.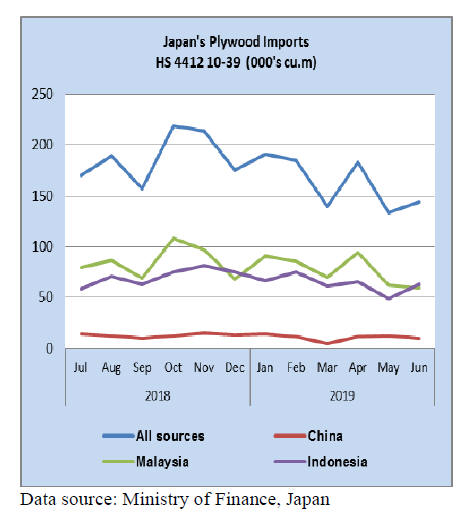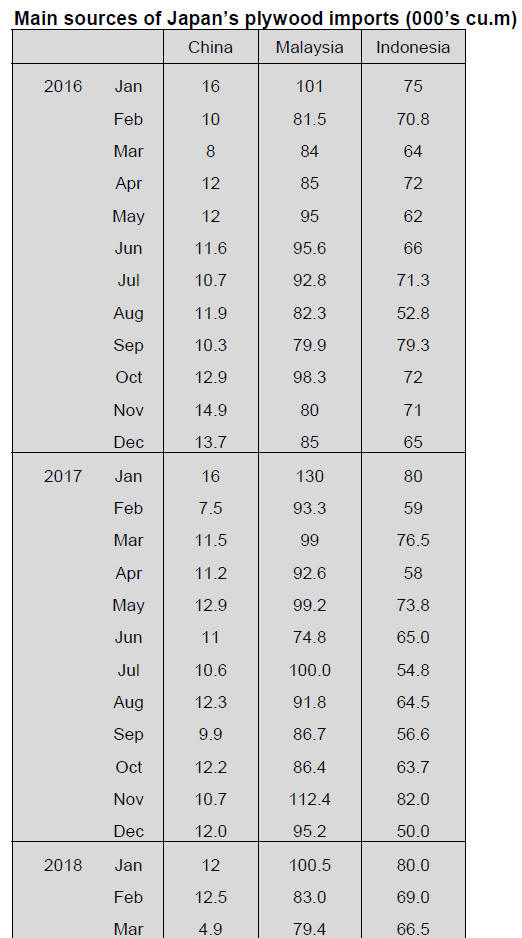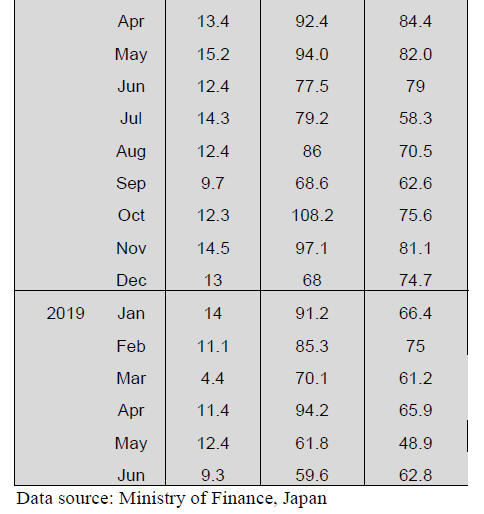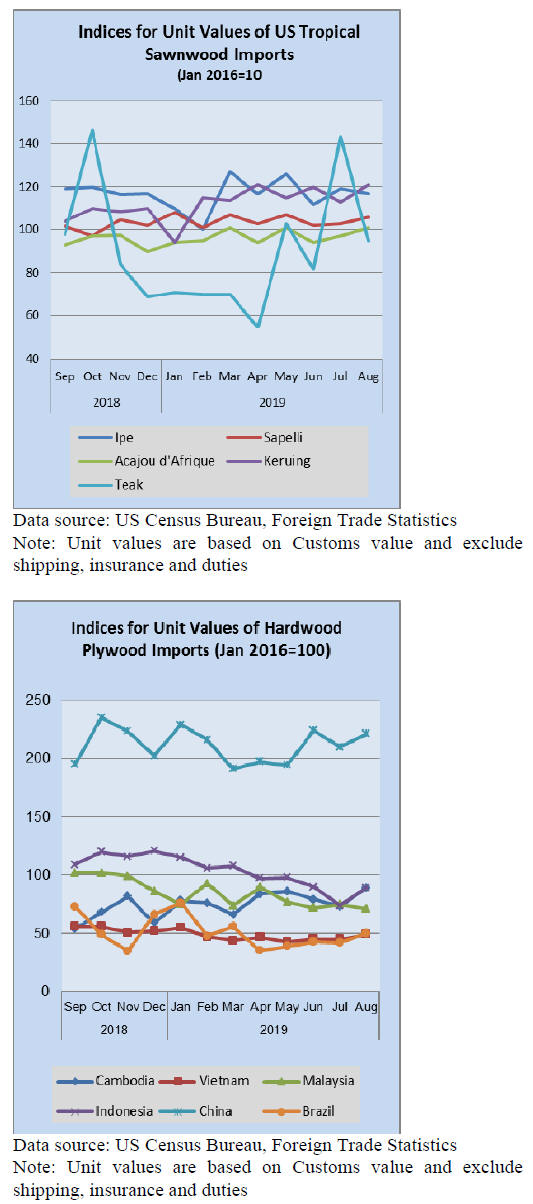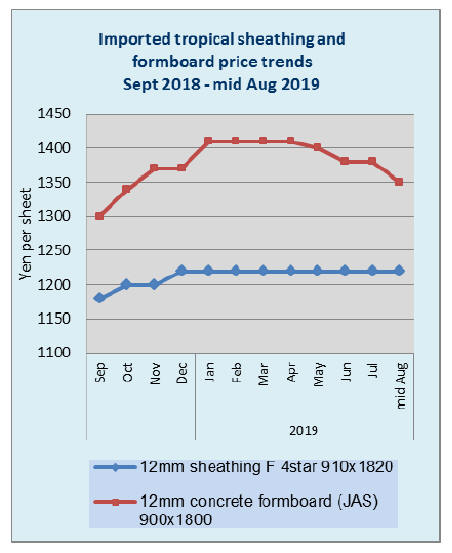 Trade news from the Japan Lumber Reports (JLR)
The Japan Lumber Reports (JLR), a subscription trade
journal published every two weeks in English, is
generously allowing the ITTO Tropical Timber Market
Report to reproduce news on the Japanese market
precisely as it appears in the JLR.

For the JLR report please see:
http://www.nmokuzai.
com/modules/general/index.php?id=7

South Sea (tropical) logs
Log supply from PNG is steady. May arrivals from PNG
were 4,162 cbms. Total arrivals during January and May
were 49,305 cbms, 2.5 times more than the same period of
last year.

Japanese plywood mills are able to build up log inventory
of two to three months but the demand for South Sea
hardwood plywood remain weak and there is pressure to
reduce the sales prices as imported South Sea plywood
prices are softening but log cost is high so the mills cannot
afford to reduce sales prices.

Laminated free board market is slow but the prices are
unchanged by sporadic orders. The supply seems to be
increasing as the Indonesian suppliers are anxious to ship
more to take advantage of weak Rupiah so future seems
shaky.

Chinese LVL is firm for core use but crating use is
dropping by weak orders as a result of U.S./China trade
war.

Review of energy saving standard
The Ministry of Land, Infrastructure and Transport and the
Ministry of Economy, Trade and Industry held committee
meeting to review energy saving standard. Obligation to
keep the energy saving standard for detached house is left
over but explanation to house owner may be
institutionalised. Then top runner standard, which has been
for major house builders to build units for sale only, is
now fit to major house builders and rental unit builders as
well.

The committee revises a part of the law of energy saving
performance of buildings by two steps. In November,
widen subject to fit top runner standard system then in
2021, obligation to explain energy saving performance
should be entered into force in two years. The committee
meeting will be held in August and September then invites
public comments and finalized in late October.

At revision of the law this time, the reason why obligation
to conform to energy saving standard for detached
building is left over is about a half of architects and
smaller contractors are not able to make energy saving
calculation so only about 60% of newly built houses fits to
the standard so revision at this time will promote
simplifying calculation of energy saving performance
(evaluation).

Present energy saving standard consists of primary energy
consumption of a house and outer shell like roof, wall,
window and for small contactors, it is hard to figure out
such calculation so simple evaluation to calculate by
specifications only should be made.

European lamina market
Market of structural laminated lumber in 2017-2018
suffered high export prices as the U.S.A. and China
market was booming.

Imported European lamina prices soared and Japanese
laminated lumber manufacturers struggled to pass high
lamina cost onto sales prices. In particular, imported
laminated post lost market share because many domestic
wood laminated lumber mills started up and existing mills
expanded the production so it was hard to pass high import
lamina cost onto the products.

According to the Ministry of Agriculture, Forestry and
Fisheries, total consumption of lamina for laminated
lumber manufacturing in 2018 was 2,691,000 cbms, 2.3%
less than 2017. In this, imported lamina was 1,640,000
cbms, 11.2%less and domestic wood lamina was
1,051,000 cbms, 15.7% more.

Laminated beam¡¯s material is mainly European redwood.
As competing North American Douglas fir solid wood
beam prices increased in 2018 by higher export log prices,
higher imported redwood laminated beam prices could be
passed onto sales prices to some extent but the market
prices started softening since spring of 2018 because of
oversupply so domestic redwood laminated lumber
manufacturers had hard time to come out.

When the U.S. and China markets were booming, lamina
cost stayed high until middles of 2018 then after the both
markets skidded, lamina prices started weakening and this
trend should continue this year.

Present lamina prices by the European suppliers are about
Euro 240 per cbm C&F on both whitewood and redwood.
Based on exchange rate of 122 yen per Euro, imported
cost would be about 34,000 yen per cbm FOB truck port
yard.

Peak of export prices of whitewood lamina was Euro 255-
260 in the fourth quarter of 2017 and of redwood was Euro
265-270 in the first quarter of 2018. Peak of imported cost
of whitewood was about 39,000 yen and redwood was
about 42,000 yen so compared to the peak time,
whitewood lamina cost is down by Euro 15-20 (5.9-7.7%)
and landed cost is 5,000 yen (12.8%) less. Redwood
lamina cost is down by Euro 25-35 (9.4-12.7%) and the
landed cost is down by 8,000 yen (19.0%).

On top of reduction of Euro based prices, strong yen and
reduction of import duty by EPA agreement contribute
drop of yen cost.

Market prices on both whitewood and redwood lumber are
weakening in Japan and it is obvious that sellers¡¯ market
of European lamina now turned to buyers¡¯ market so drop
of market share of European lumber should slow down.

Whitewood laminated post prices are still higher than
domestic cedar laminated post but Chugoku Lumber, a
major manufacturer of laminated cedar post, announced
2,000 yen per cbm price increase in last April so if
whitewood lamina prices drop some more, both prices
become almost even.

However, share of domestic cedar laminated post should
continue solid without any risk of exchange rate. Redwood
laminated beam continue to compete with solid wood
Douglas fir KD beam. After the second largest Douglas fir
lumber manufacturer, To last fall, supply of Douglas fir
beam is not as stable as before then orders by local
contractors to prefer solid wood beam are declining, which
is another favorable factor to European redwood beam.

As long as Douglas fir lumber prices stay up high, there is
chance for European redwood laminated lumber for other
use such as rafter and girder. Shortage of domestic larch
supply, redwood laminated lumber is replacing for sill use.

Looking at domestic lamina market, when laminated
lumber mills rely on lamina supply from outside suppliers,
they were not able to compete by higher lamina cost but
after laminated lumber manufacturing mills started
manufacturing its own lamina, lamina cost dropped and
the cost of cedar laminated post dropped.

Market prices of cedar laminated post are about 53,000
yen per cbm delivered (about 1,750 yen per piece) so it is
overwhelmingly advantageous to European whitewood
laminated post, which prices are 1,880 yen per piece.

What about log supply for laminated lumber mills? Large
laminated lumber manufacturing mills have its own
biomass power generation plant so the mills can utilize
any type of logs.

They buy class A logs, which are suitable to recover
lumber, B class logs, which are suitable to recover lamina
and even class C logs, which are used for wood chip. Log
suppliers do not have to make any sorting by use so the
cost is reduced that much.

Mills can select some class C logs for lamina recovery,
which reduce lamina cost. In other words, cedar laminated
lumber supply is becoming monopolized by large
manufacturers, which is why European whitewood
laminated lumber manufacturers cannot use domestic
cedar lamina.

Reason why domestic cedar laminated post market share
expanded is sizable increase of imported wood products in
2017 and 2018. Many house builders started using less
costly cedar laminated post to reduce overall cost, which is
less costly than whitewood laminated post.