US Dollar Exchange Rates of 25th July 2019
China Yuan 6.8792

Report from China
Developers scaling back land purchases
The pace of growth in the mainland housing market
slowed in the first six months of this year largely because
builders have found it harder to access credit as the
government has put in place measures to try and bring
down debt levels in the sector.

The tight credit environment and slower buyer interest
have meant Chinese property developers are having a
tough time. The People¡¯s Court Daily, a state-owned
publication has reported that over 270 building companies
have filed for bankruptcy, 50% more than in the first half
of 2018.

The National Bureau of Statistics has reported investment
in real estate development in the first six months of 2019
rose by 10.9% reflecting a year on year decline.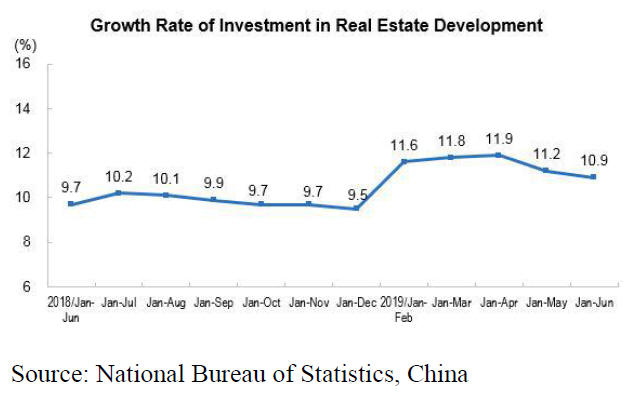 Between January and June this year land area purchased
by developers was down by close to 30% year-on-year.

See:
http://www.stats.gov.cn/english/PressRelease/201907/t20190719
_1677190.html

Trade with ¡®Belt and Road¡¯ countries outpaces others
The growth in China's foreign trade remained stable in the
first half of 2019 and the total foreign trade value reached
RMB14.67 trillion, up 3.9 % year-on-year.

Customs data showed that exports expanded 6.1 % while
import rose 1.4 %. China saw its trade surplus widen by
41.6 % year-on-year to RMB1.23 trillion during the first
half of 2019.

The value of trade between China and the EU, ASEAN
and Japan rose in the first half to RMB2.3 trillion,
however, the value of trade between China and the US fell
9% to RMB1.75 trillion year on year. China's trade with
countries participating in the ¡®Belt and Road Initiative¡¯
outpaced of expansion in other areas rising 9.7% year on
year.

It has been reported that China intends to further lower
overall import tariff levels, refine export tax rebate
policies and speed up the tax rebate process.

For its part, China Customs plans steps to further simplify
customs clearance procedures, support cross-border ecommerce,
share effective reform practices in free trade
zones and promote diversification of export markets.

Revised standard for laminated floors
The standard for laminated floors has recently been
revised by the Wood Industry Research Institute in the
Chinese Academy of Forestry and will be implemented as
soon as possible.

The revisions mainly deal with the terms and definitions,
classification, requirements, inspection methods and
inspection rules. Quality requirements for the non-flat
impregnated paper laminated wood flooring have been
added and the quality requirements for flat impregnated
paper laminated wood floor have been modified.

The performance indices such as the expansion rate of
water-absorption, locking strength and formaldehyde
emission, have been upgraded.

The implementation of the new standard for laminated
floors is intended to promote safe, exquisite and durable
impregnated paper laminated wooden floor in China
domestic market and improve the image and reputation of
the products in international markets.

Dachang county - the largest redwood producer in
North China
It has been reported that Dachang county has become the
largest redwood products production base in northern
China. There are 134 redwood registered enterprises, 800
private traders and 40,000 employees in the sector in
Dacheng county of Hebei province. The annual output
value is in the region of RMB8 billion accounting for
more than 85 % of market share in North China.

Reduced panel production causes prices to rise
In order to improve air quality and the environment
producers of woodbased panels in many cities in
Shandong province will be closed or required to undertake
refurbished to new environmental standards.

The number of enterprises stopping production is rising
mainly because production costs have risen because the
government has strengthened environmental standards and
is applying these vigorously.The impact on production
costs of rising raw material costs is also a factor.

As mills close analysts write that it is expected that prices
for panels will rise and some shortages are likely in the
short-term.