Japan Wood Products Prices
Dollar Exchange Rates of 25th July 2019
Japan Yen 108.67

Reports From Japan
¡¡
Consumption tax likely to go ahead as planned
The Japanese economy is less likely to dip into recession
when the consumption tax is increased in October say
analysts after assessing recent retail sales and the pace of
housing sales, neither of which are showing signs of pretax
rise panic buying.

In an effort to avoid any shock to the economy the
Japanese government plans a range of measures to offset
any negative effects of the tax hike on household spending
including tax breaks on car purchases and homes and
rebates for those making cashless payments. The planned
2% rise in tax will not apply to most food stuff.

Some observers note that the Japanese economy is more
vulnerable now than it was when the tax was raised before
and that already households are very pessimistic (see
falling consumer sentiment data) so the possible impact on
spending, especially for durable goods such as furniture,
should not be underestimated. Household purchases of
durable goods have fallen to the lowest level since April
2014 when the tax rate went up last time.

Would more leisure time boost spending by young
workers?
In an economic assessment earlier this year the Japanese
government reported that the economy was in one of the
longest periods of expansion for almost 70 years being
driven by new job creation and rising wages, however, a
recently released review makes no mention of this
focusing on the uncertainties in international economic
policies, in particular the US/China trade conflict and
Britain's exit from the European Union.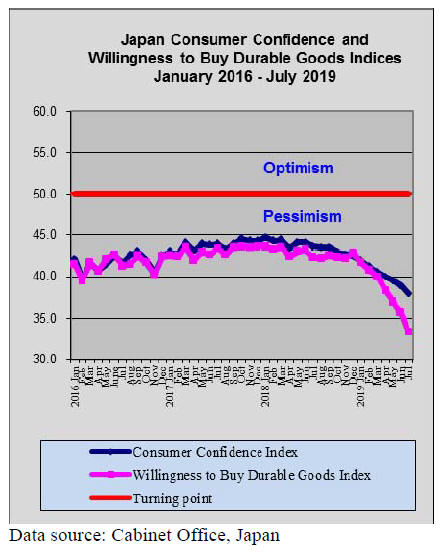 With respect to the consumption tax rise, which is almost
certain to go ahead in October this year, the review says
there is a danger that household spending, a pillar of the
Japanese economy, could falter even further.

The review notes that spending by younger workers
remains especially weak and that efforts should be made to
reduce long working hours to create more leisure time
which could encourage spending.

Exports impacted by slow-down in China
Data from Japan¡¯s Ministry of Finance is showing that
June exports were down almost 7% year on year, the
seventh monthly decline. Exports to China, Japan¡¯s
biggest trading partner, fell just over 10% in June the
fourth consecutive monthly year on year decline.

Falling exports, along with falling factory output, is
undermining capital expenditure. Policymakers are
pinning their hopes on a rise in domestic consumption but,
against the backdrop of a looming tax hike, this seems
optimistic.

Officials from the Bank of Japan have reiterated that they
remain ready to expand monetary easing if the economy
falters. The impact of such easing would be a weakening
of the yen from its current 108 exchange rate against the
dollar. Just 4 months ago the yen was 112 to the dollar.
Any weakening of the yen would be a boost to exports.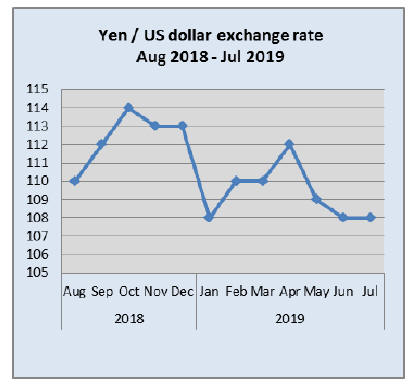 Good use for abandoned homes
It is probably not widely known but the poverty rate
among single mothers in Japan is the highest of all 34
OECD countries. A local non-profit organisation ¡®Little
Ones¡¯ is helping to address the poverty and discrimination
faced by single mothers and at the same time help address
the problem of abandoned houses in Japan.

The approach by the NPO is simple, it acquires an
abandoned house, undertakes renovation and offers it to
single mothers who face considerable discrimination when
it comes to finding rented accommodation.

Since 2013, ¡®Little Ones¡¯ has housed more than 200 single
mothers using this approach, turning problematic
abandoned houses into much-needed homes for a
vulnerable group of women and children.

The NPO has gained international recognition for its work
and was awarded top honours at the World Habitat
Awards.

For more see:
https://translate.google.com/translate?hl=en&sl=ja&u=https://w
ww.npolittleones.com/&prev=search
and
https://www.world-habitat.org/world-habitat-awards/winnersand-
finalists/affordable-safe-housing-single-mothers/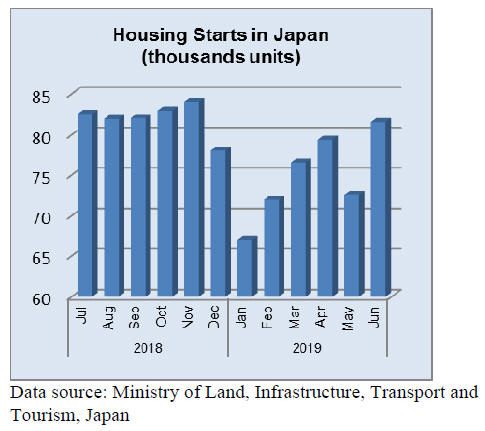 Import update

Introducing the Japan Furniture Association (JFA)
Although Japan is regarded as being an economic and
technological power and a country with rich traditions and
culture, it is little known that it is also one of the top
furniture producers in the world with an annual shipment
value of yen 1,400 billion generated by approximately
10,000 furniture manufacturers.

In recent years, Japanese furniture has begun to appear in
international furniture trade shows, such as those in Milan
and Cologne. The JFA writes ¡°Japanese furniture is a
reflection of Japan's distinctive culture and environment
the designs are fresh and stylish and offer the chance for
customers to create new living styles.

The Japan Furniture Association (JFA) pursues a wide
range of activities aimed at promoting exports of Japanese
furniture including surveys of overseas market trends and
coordination between Japanese furniture manufacturers
and foreign sources of raw materials.

To balance its furniture import promotion activities, the
Association continues to study and propose export
promotion measures for the domestic industry¡±.

SEE: http://www.jfa-kagu.jp/en_export.html

Opportunities for EU companies in the Japanese
furniture market
A recent report from the EU-Japan business centre
focusses on the Japanese furniture and home fashion
market, including key industry players, current market
trends and future direction of the market.

The report offers a critical discussion of distribution
channels on the Japanese market ideas on new ways to
rethink strategy and market entry into the Japanese
furniture and interior market.

See: https://www.eubusinessinjapan.eu/sites/default/files/2018-
04-the_japanese_furniture_and_home_fashion_market-glisbyeubij.
pdf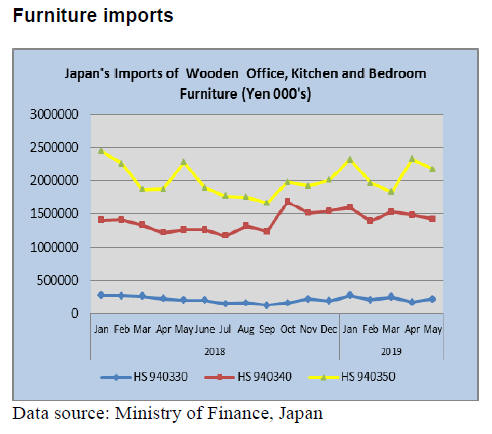 Office furniture imports (HS 940330)
Year on year, the value of May imports of wooden office
furniture rose 10% after the 25% decline in April and
month on month May imports rose over 30% compared to
the previous month.

The value of May shipments from China jumped 30% and
China accounted for over 70% of all wooden office
furniture imports to Japan in May. Exporters in Portugal
re-enter the Japanese market saw a sharp rise in shipments.
Portugal accounted for 8.5% of Japan¡¯s wooden office
furniture imports in May. The other major supplier in May
was Poland which contributed a further 6% to total import
values.

Kitchen furniture imports (HS 940340)
Year on year the value of May imports of wooden kitchen
furniture rose 13% adding to the over 20% rise seen in
April, however, 2019 May imports were barely different
from the previous month.

Shippers in Vietnam and the Philippines maintain their
grip on the Japanese market for imported wooden kitchen
furniture and in May Vietnam edged out the Philippines
accounting for 42% of the value of imports compared to
the 39% share captured by shippers in the Philippines.

Exporters in China consistently command third place in
the ranking of Japan¡¯s imports of wooden kitchen furniture
suppliers and in May accounted for almost 10% of
imports. The top three shippers consistently account for
around 80% of the value of Japan¡¯s wooden kitchen
furniture imports.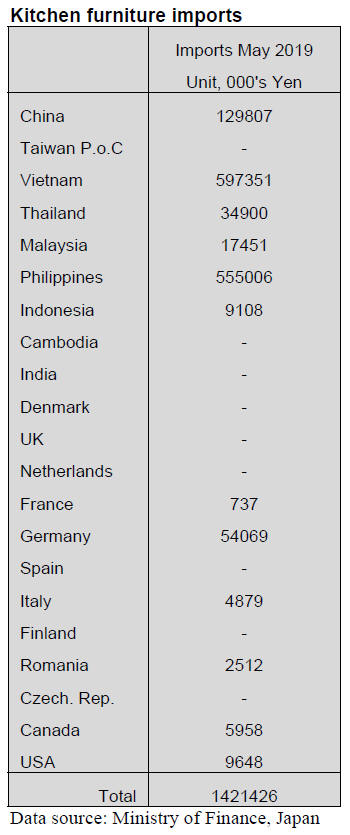 Bedroom furniture imports (HS 940350)
While it appeared the steady decline in wooden bedroom
furniture imports had been arrested in April when there
was a slight rise imports in May slipped back into negative
territory dropping 4% year on year and by 6% month on
month.

China and Vietnam accounted for 90% of Japan¡¯s wooden
bedroom furniture in May. Shipments from China were
about the same as in April but May shipments from
Vietnam dropped almost 20%. Of the balance 20% of
imports Thailand, Malaysia and Poland accounted for
about 3% each of May imports to Japan.

Trade news from the Japan Lumber Reports (JLR)
The Japan Lumber Reports (JLR), a subscription trade
journal published every two weeks in English, is
generously allowing the ITTO Tropical Timber Market
Report to reproduce news on the Japanese market
precisely as it appears in the JLR.

For the JLR report please see:
http://www.nmokuzai.
com/modules/general/index.php?id=7

Forestry white paper
The government disclosed 2018 forestry white paper in
June. In chapter 1 special edition of theme of manpower.
It is critical issue to secure enough man power for forest
industry. In last December and January this year,
questionnaires are sent to young students and trainees and
received 378 responses.

Desired jobs are 30.9% of forest and forestry and 9.8% of
wood industry. The most important factor in selecting job
is job satisfaction (74.5%), wage and bonus (69.2%) and
working hours and vacation (62.2%).

For the question what was the largest issue when acquiring
the job, the most concern is condition of treatment or
working condition.

For the first time in the White Paper, this issue contains
income of forest workers to show that the working
condition, particularly wage is the largest concern. Others
are trend of number of forest workers and what type of
workers are the most demanded. In other chapter, the most
recent issue of wood product export like cedar fence for
the U.S. market and use of wood for non-residential
buildings.

On wood biomass materials, cellulose nanofiber is now
largely used. For energy use of biomass, consumption of
fuel wood is increasing and utilization of left-over fiber in
the wood increased to 19% in 2016 from 9% in 2014.

Demand projection meeting
The Forestry Agency held the first wood demand
projection meeting for fiscal year 2019 on June 25.
Housing starts forecast by 13 private think tanks are
912,000 units in average, about 40,000 units less than
2018. The last forecast in March was 920,000 so 8,000
units less in six months.

Wood products demand during July and December this
year would be less than the same period of last year.
Demand of imported products like lumber, plywood, logs
and laminated lumber would be all less than the same
period of last year.

Meantime, the supply of domestic logs and softwood
plywood would be up so some items may be over
supplied. Think tanks commented that reaction of
consumption tax increase in October this year to 10%
would be much smaller than the increase of last time from
5% to 8%.

Supply of domestic logs for lumber in the third quarter
would be 5.8% more than last year but the particular
demand for 2x4 lumber, which was active last year, would
be less this year.

Supply of domestic softwood logs would increase by
11.5% for the third quarter because new plywood mills
start up and increase by 4% in the fourth quarter but the
demand for softwood plywood would peak in the third
quarter and decline in the fourth quarter.

North American logs and lumber for the second half of
this year are available with much lower prices this year but
with uncertain future demand with withdrawal of one large
Douglas fir lumber mill, both demand and supply would
remain low like last year or lower.

Import of North American lumber would be 1,896 M
cbms, 8.2% less than 2018. Both imported and domestic
structural laminated lumber and European lumber would
be the same as last year or less. Russian log import would
largely decrease due to export duty increase and total
arrival is estimated about only 91,000 cbms, 28.3% less
than 2018 while lumber import would be the same as last
year despite high prices.

On radiate pine logs and lumber, demand for crating has
been sluggish because of trade war between China and the
U.S.A. Domestic log export for the first four months of
this year was 13.4% more than 2018 and lumber export
was also up by 10.5%.

Forestland purchases by foreign capital
The Ministry of Agriculture, Forestry and Fisheries
disclosed result of the investigation on forestland purchase
by foreign capitals in 2018. Total purchase was thirty of
373 hectares. In this three cases of purchase of 260
hectares by the American capital with purpose of solar
power generation. The purchase of the same purpose is
reported in 2017 for 90 hectares. The investigation has
been done since 2006 and trend is gradual increase year
after year. Between 2006 and 2018, total purchase is 223
cases with 2,076 hectares.

The investigation is made through each prefectures based
on purchase report required by the Forestry law.
Purchasers are nonresident foreign corporation or private.

By the area of the purchase, Hokkaido is the top with 178
cases of 1,577 hectares. Others are well known resort areas
like Hakone and Karuizawa with the purpose of building
summer house or investment. There are only three cases
with large purchase over 100 hectares.

In 2009, some corporation registered at British Virgin
Island purchased 292 hectares in Hokkaido for the purpose
of grazing field then 163 hectares were purchased by Hong
Kong corporation for the purpose of development or
investment in 2013.

There is another one with 125 hectares for the purpose of
developing summer house property.

In 2018, 118 hectares and 140 hectares in Hyogo
prefecture were purchased by the American corporation
for the purpose of building solar power generation facility.
This is new with different purpose. Total of forestland
purchase by the foreign capitals is 6,787 hectares, which is
0.03% of total forestland of 25 million hectares in Japan.

Plywood
There is different move between domestic and imported
plywood market. Movement of domestic softwood
plywood is getting active as precutting plants get busy
with more orders while imported plywood market
continues weak with slow demand despite bottoming
mood.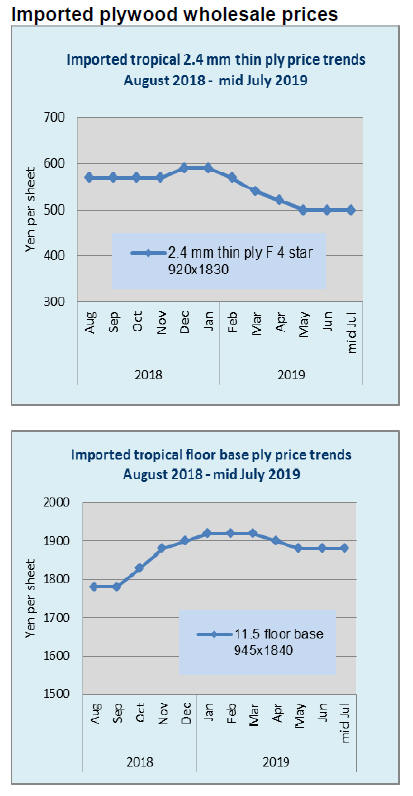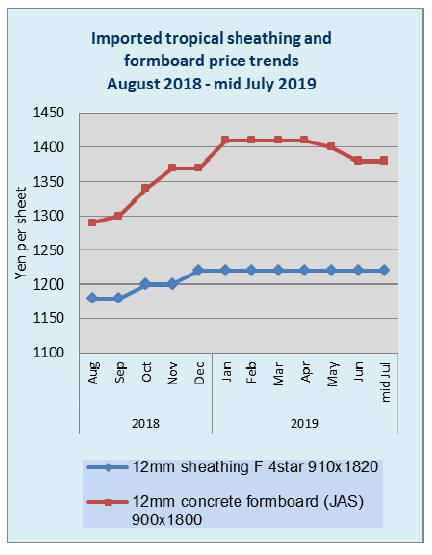 Orders for precutting plants are increasing and trading
firms say that plywood orders have been increasing month
after month and some plywood manufacturers have full
orders for month of July.

Because of shortage of trucks, deliveries after 20th of
every month are delaying. Almost all the domestic
plywood manufacturers carry less than two weeks¡¯
inventory despite full production. They are not able to
increase the production because of man power shortage,
which stops overtime and week end operation. Particularly
thick panel supply is tight.

Major plywood manufacturers in Eastern Japan are asking
higher prices to cover higher cost of logs and trucking.
Market of imported plywood in Tokyo region lacks
vividness. June has more working days than May and
weather was favorable but demand of concrete forming
panels is slow with less number of concrete
condominiums.

The inventories continue declining and there are some
short items but the importers are not able to make future
purchase by sluggish movement in Japan and higher
export prices. The suppliers in Malaysia and Indonesia are
stuck with high cost and are not willing to make sales with
lower sales prices. The importers are attempting to
increase the sales prices in Japan so there are no more
extreme low offers.

Trucking industry
It has been last five years that shortage of truck drivers
became serious problem for wood products industry and it
is getting serious year after year. Number of registered
truck operators is 62,200 in 2016. According to the Japan
Truck Association, labor environment of truck drivers
continues severe. For large truck drivers, annual working
hours are 2,580 and for smaller truck drivers, it is 2,568
hours in 2018.

Average working hours of all the industry are 2,144 so
large truck drivers work 456 hours a year more than other
industry while annual income of large truck drivers is
4,570,000 yen and of smaller trucks is 4,170,000 yen,
which are lower than average of other industry of
4,970,000 yen.

Number of people engaged in truck transportation in 2018
is 1,930,000 in 2018 but 41.5% is over 50 years old while
drivers under 40 years old are 26.9%.Under this
circumstances, trucking industry is trying to improve
working condition.

It is important to make working hours less and to increase
wage to attract younger people so the government is
assisting by changing laws.

In the past, time for cargo loading and unloading or
waiting was a part of trucking cost but these make
working hours longer so now these are charged on top of
trucking cost.

Wood industry is facing difficulty of securing enough
trucks with higher cost. Large laminated lumber
manufacturers are charged 15-20 % higher cost for
trucking. Local manufacturers need to transport lumber to
large consuming market like Tokyo, which force drivers
longer working hours so it may become necessary to have
costly relay point.