Report from North America
Housing starts fell in May after flooding
US home building unexpectedly fell in May, but data for
the previous two months was revised higher. Building
permits also increased suggesting the housing market was
drawing some support from a sharp decline in mortgage
rates.

Housing starts dropped 0.9% to a seasonally adjusted
annual rate of 1.269 million units in May amid a decline in
the construction of single-family housing units, the
Commerce Department reported.

Data for April was revised up to show home building
rising to an annual pace of 1.281 million units, instead of
increasing to a rate of 1.235 million units as previously
reported. Housing starts in March were also stronger than
initially estimated. Economists polled by Reuters had
forecast housing starts edging up to a pace of 1.239
million units in May.

The building of single-family homes, which accounts for
the largest share of the housing market, dropped 6.4% in
May. Single-family housing starts fell in the Northeast, the
Midwest and West, but rose in the South, where the bulk
of home building occurs.

Some of the weakness in groundbreaking activity probably
reflects heavy rain and flooding in some parts of the
country.

Canadian housing starts fell in May compared with the
previous month as groundbreaking tumbled by 18.5%. The
seasonally adjusted annualized rate of housing starts fell to
202,337 units in May from a revised 233,410 units in
April, the Canadian Mortgage and Housing Corporation
(CMHC) said. Economists had expected starts to fall to
205,000.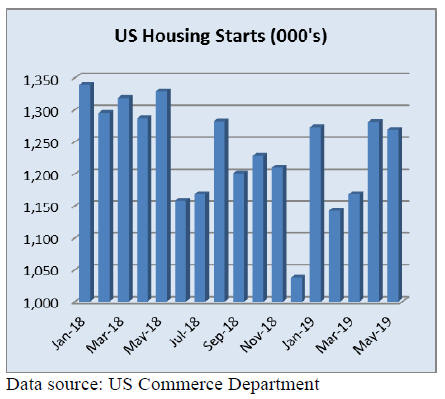 In related news, existing-home sales rebounded in May
recording an increase in sales for the first time in two
months, according to the National Association of Realtors.
Each of the four major US regions saw a growth in sales,
with the Northeast experiencing the biggest surge.

Total existing-home sales jumped 2.5% from April to a
seasonally adjusted annual rate of 5.34 million in May.
Total sales, however, are down 1.1% from May 2018.

US job growth slows ¨C blamed on trade tensions
US job growth slowed sharply in May and wages rose less
than expected, raising fears that a loss of momentum in
economic activity could be spreading to the labour market.
Non-farm payrolls increased by 75,000 jobs last month,
the government said. This was the second time this year
that job gains dropped below 100,000. Economists polled
by Reuters had forecast payrolls rising by 185,000 jobs
last month. Job growth in March and April was revised
down by 75,000.

The broad cool-off in hiring reported by the Labor
Department was before a recent escalation in trade
tensions between the United States and two of its major
trading partners, China and Mexico. Analysts have warned
the trade fights could undermine the economy, which will
celebrate 10 years of expansion next month, the longest
sustained expansion on record.

Federal Reserve - willing to cut rates if economy falters
The US Federal Reserve did not change interest rates in
June, but strongly signaled a willingness to cut soon to
prevent the economy from slowing further. The US
President has, for months, urged the central bank to cut
rates to boost growth.

Business investment is slowing, uncertainty has increased,
and the US economy is growing only at a ¡°moderate¡±
pace, the Fed announced after its June meeting, a notable
downgrade from last month when the central bank
characterised the economy as ¡°solid.¡±

The Fed indicated it would take action ¡°as appropriate¡± if
the economy shows any more signs of decline.

Manufacturing continues to expand
Economic activity in the US manufacturing sector
expanded in May and the overall economy grew for the
121st consecutive month, say the nation¡¯s supply
executives in the latest Manufacturing ISM Report on
Business.

Comments from the panel reflect continued expanding
business strength, but at soft levels consistent with the
early-2016 expansion. Demand and consumption
continued to expand while inputs ¨C expressed as supplier
deliveries, inventories and imports ¨C were lower in May.
Prices remain at a relatively stable level.

Tariff threat on Mexico withdrawn
Following a commitment by Mexico to deploy additional
resources along its southern border, the US announced that
escalating tariffs he had threatened are "indefinitely
suspended." Before the deal was announced, Cindy
Squires of the International Wood Products
Association stated ¡°Tariffs paid by US importers,
manufacturers and ultimately consumers are not the way
to address the crisis at the border."

Trade talks to resume
After a hostile month-long standoff, the United States and
China will restart trade talks when President Trump and
Chinese leader Xi Jinping meet on the sidelines of the G20
summit in Osaka, Japan.

After months of fruitless negotiations and increasing
tariffs, Chinese officials are increasingly cautious and
many experts believe the chances for a breakthrough in
Osaka are slim.

Deforestation-Free procurement bill moves to
California Senate
The California Deforestation-Free Procurement Act has
been approved by the California Assembly and sent to the
state's Senate for further consideration.

If enacted, this legislation would require entities that
contract with the State of California to provide so called
"forest-risk commodities" such as wood and wood
products to certify that the products were not derived from
land where deforestation occurred after January 1, 2022.

The bill defines deforestation as "direct human-induced
conversion of tropical forest to agriculture, a tree
plantation, or other non-forest land use, or severe and
sustained degradation of a tropical forest resulting in
profound change in species composition, structure, or
ecological function of that tropical forest."

To become law, it must be approved by both chambers of
the California Legislature and signed by California¡¯s
governor. See: International Wood Products Association at
https://www.iwpawood.org/