Report from North America
Sawn tropical hardwood imports rebound in April
US imports of sawn tropical hardwood rose by 22% in
April, returning to the strong import volume seen in the
first two months 0f the year. April volumes of 22,960
cubic metres were the second highest in more than two
years, with only this January being higher.

Import volumes are ahead of 2018 by 23% year to date.
Imports from Brazil, Cameroon, Congo (Brazzaville), and
Malaysia all gained in April and are well ahead of 2018
year to date.

Imports from Ecuador, which had been outpacing last
year¡¯s volume, fell by 26% in April to now lag behind
2018 by 4% year to date. Imports of Acajou d¡¯Afrique
were up 61% in April and are more than doubling 2018
volume year to date.

Sapelli, teak, ipe, keruing, and virola imports all improved
in April and are outpacing 2018 totals year to date.
Imports of Balsa fell by 27% in April and are now 4%
behind 2018 year to date.

Hardwood plywood imports fall 5%
US imports of hardwood fell by 5% in April. Total import
volume is now down by 4% year to date. Volume from
most major trade partners fell in April with imports from
Russia, Indonesia and Cambodia all not meeting March
levels and lagging behind 2018 year to date.

Imports from China, which have been steadily declining
for the past several months, rebounded somewhat (32%)
from a historically bad March, but are still one-tenth of the
volume we saw two or three years ago. Imports from
Vietnam, which had been strong in the first quarter,
declined by more than one third in April, but are still
strongly outpacing last year¡¯s totals.

Tropical veneer imports remain weak
Despite a 12% rise in US imports of tropical hardwood
veneer in April, sales for the month were only two-thirds
that of April 2018.

Year-to-date total imports are down 19% with Chinese
imports at less than half the level of 2018 year to date after
declining by 48% in April.

Imports from India fell by 30%, but remain up 81% year
to date after a strong 1st quarter. Imports from Italy and
Ghana both saw encouraging gains in April but still are
not up to their 2018 pace year to date

Flooring imports show steady improvement
US imports of hardwood flooring improved for the third
straight month, rising by 14% in April. Despite a
prolonged slide in imports from China, overall imports are
up 12% year to date with Malaysia, Brazil and Indonesia
all gaining from China¡¯s loss. Imports from China fell by
25% in April and are down 44% year to date.

Imports of assembled flooring panels also continued their
steady rise, improving by 7% in April. Imports from China
more than doubled in April to rebound from a dismal
March but are still 33% behind 2018 year-to-date. Imports
from Brazil and Thailand, which have been gaining
strongly from declining US/China trade, both fell sharply
in April.

Moulding imports continue to fall
US imports of hardwood moulding fell by 8% in April
following an already weak first quarter of the year.
Imports are down 28% year to date from last year with
imports from China and Brazil both 49% behind 2018 year
to date. Imports from Brazil did pick up strongly in April
(36%), as did imports from Malaysia.

The 41% rise in imports from Malaysia in April nearly
brought numbers even with 2018 year to date after a very
weak March.

Furniture orders flat in first quarter
The results of the Smith Leonard survey of residential
furniture manufacturers and distributors for March showed
new orders in March 2019 down 3% from March 2018
following a 5% decline in February. This decline in orders
brought the year-to-date results to a flat order rate for the
full quarter. Only 42% of the participants posted increased
orders year to date.

Shipments were 1% lower than March 2018 following a
3% decrease reported last month. So, after a fast start in
January, year-to-date shipments only increased 3% for the
quarter. Backlogs remained steady from February as the
dollar amount of orders was about the same as the dollar
amounts shipped. Backlogs remained 4% ahead of March
2018.

Wooden furniture imports rose in April
US Imports of wooden furniture grew by 11% in April,
bringing sales roughly in line with 2018 levels for the year
so far. Imports from Vietnam were up 14% in April and
are up 27% above 2018 year to date. Imports from China
rebounded somewhat in April, rising 29%, yet remain
down 15% year to date from 2018.

Consumer confidence gains despite trade war
US consumer sentiment remained at very favorable levels
but eroded somewhat in the last two weeks of May due to
fears about tariffs. The University of Michigan¡¯s sentiment
index rose to 100 in May from the prior month¡¯s 97.2.
While that is an eight-month high, escalation of the trade
war with China weighed on the outlook for the overall
economy, paring gains that previously showed a 15-year
high.

Unfavorable references to tariffs more than doubled in late
May from the first half of the month, with 35% of
consumers spontaneously mentioning the levies. That
matched a peak recorded in July 2018 when the US began
its initial round of duties on Chinese goods. Consumer
sentiment remains high due to unexpectedly strong
economic growth and the lowest US unemployment in 49
years.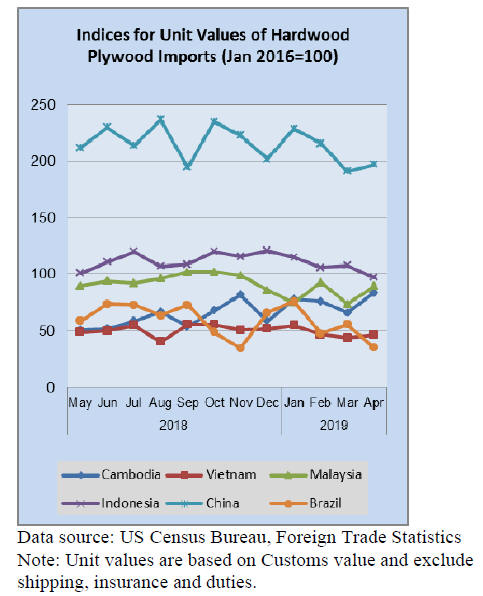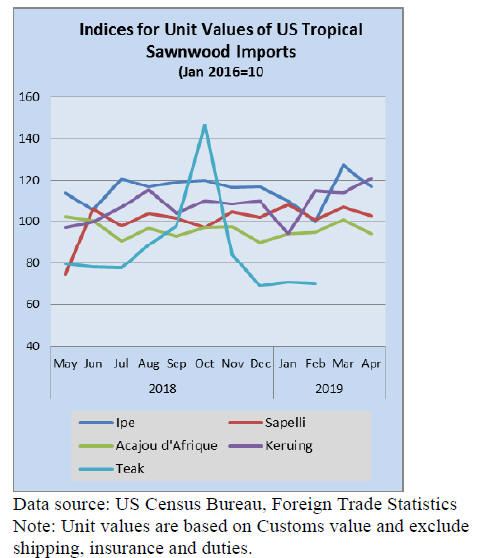 Unit values: Please note the unit values in the tables on
last report 16-31 May 2019 TTMR are US Dollars
except for plywood which is cubic metres.