US Dollar Exchange Rates of 10th June 2019
China Yuan 6.7042

Report from China
China¡¯s wood products trade continues to expand
According to the data of China Customs, the total value of
China¡¯s wood products trade rose 6% to US$163.5 billion
in 2018. Of the total, the value of wood products exports
rose 3% to US$81.6, and imports grew 8% to US$ 83.7.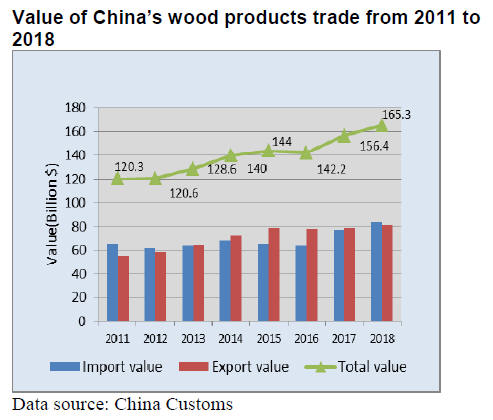 Around 27% of the total value of trade in 2018 was nonwood
products (US$45.2 billion) a year on year increase
of 4%. Of the total, the value of non-wood product exports
rose 8% to US$20 billion, accounting for 25% of the total
national wood product exports. Imports increased 2% to
US$25.2 billion, making up 30% of the total national
wood products imports.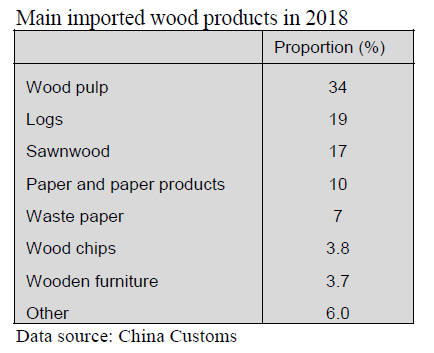 China imported wood pulp, logs, sawnwood, paper,
paperboard and paper products in 2018. Wood pulp
imports were about 25 million tonnes valued at US$19.7
billion, a year on year increase of 4% in volume and 29%
in value. China¡¯s log imports in 2018 totaled 59.75 million
cubic metres valued at US$10.984 billion, a year on year
increase of 8% in volume and 11% in value. 2018
sawnwood imports totalled 36.74 million cubic metres
valued at US$10.13 billion, a year on year decline of 2%
in volume and a slight increase (1%) in value.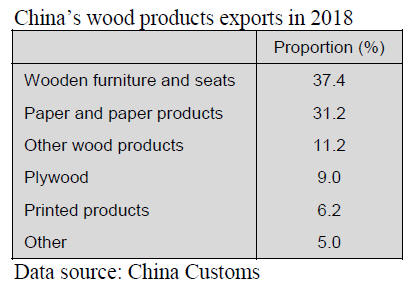 China mainly exported wooden furniture, paper,
paperboard and paper products, other wood products and
plywood. The value of China¡¯s wooden furniture exports
rose 1% to US$22.9 billion.

The value of other wood products such as flooring exports
grew 12% to US$6.9 billion .China¡¯s plywood exports
were 11.33 million cubic metres valued at US$5.546
billion, a year on year increase of 5% in volume and 9% in
value.

Transformation of the Nanxun wood industry
Major changes have taken place in the Nanxun timber
industry over the past few years. The main change has
been the shift from family workshops to modern factories,
from single product lines (plywood and veneers) to
diversified solid wood flooring, home furnishing and the
adoption of ¡®clean green¡¯ manufacturing.

Nanxun District of Huzhou City in Zhejiang Province has
become one of the most important flooring production
bases in China. More than 300 flooring manufacturers are
located there.

The old style manufacturing created pollution. In
particular, the use of volatile organic compounds (VOCs)
was not well managed. To address this a ¡®Special Action
Plan for Environmental Pollution Control in Wood
Industry¡¯ was formulated in Nanxun District in 2017.

This says no production shall be allowed if the production
processes do not meet the requirements of environmental
protection standards. Nanxun District government has
acted to close or relocate many industries. Of the 3,922
wood enterprises listed in the City, over 80% have been
forced to close, the balance have undertaken renovation
measures.

The changes have promoted the development of industrial
clusters and the surviving enterprises have become bigger
and stronger and the environment continues to improve.

Data show that the emission of volatile organic
compounds (VOCs) from wood product enterprises in
Nanxun districts has been reduced by more than 2,000
tonnes and the tax revenue has increased by more than
RMB600 million.

Nankang - the largest solid wooden furniture
manufacturing base
Furniture production is a leading industry in Nankang
District, Ganzhou city, Jiangxi Province. There are more
than 7,600 furniture enterprises. Of the total, 938 furniture
enterprises have revenues of RMB 20 million or more with
more than 400,000 employees and output value of
RMB130 billion.

Nankang District has been awarded the title of ¡®Central
China Furniture Industry Base¡¯ by the China Furniture
Association.

It has been listed as a National E-Commerce
Demonstration Base by the Ministry of Commerce and a
National New Industrialisation Demonstration Base by the
Ministry of Industry and Information Technology.

R&D centres look outwards
Chengdu furniture enterprises have broken tradition and
have encouraged R&D entities to expand outside Sichuan
Province and even overseas. A close look at the Chengdu
furniture R& D reveals a pattern of outward home
furnishing industry expansion.

As more and more enterprises pour into the customised
home furniture industry R&D is embracing change and
adopting systems and ideas from Italy, Germany, Japan
and other countries so as to upgrade to international
standards and high-quality design.

The total value of Chengdu furniture industry output was
RMB95 billion in 2018. There are nearly 8,000 furniture
manufacturing enterprises in Chengdu.

After 20 years of development, the pattern of "exhibition
and industry" created by Chengdu furniture exhibition has
promoted vigorous development of Chengdu furniture
industry. Chengdu has become one of 4 major furniture
manufacturing bases and the largest panel furniture and
soft furniture manufacturing base. "Chengdu made
furniture" has also earned a good reputation in domestic
and international markets.

Innovative virtual reality is used during sales so
consumers can see how an item looks in a home.
Consumers can choose the shape, size and colour of the
furniture before ordering custom made items.