3. MALAYSIA
Long holidays bring business to a standstill
Business activity in Malaysia was very slow in early June
due to the long public holidays to celebrate Gawai
(Harvest Festival) and Hari Raya (marking the end of the
Muslim fasting month). Plywood traders reported no sales
were processed during the holiday period.

April export data was encouraging as there was positive
growth suggesting, say analysts, that second quarter GDP
could be robust. First quarter GDP expanded by 4.5%
from a year earlier.

Opportunities from US/China trade dispute
Malaysian business sentiment has been unsettled as the
trade dispute between the US and China has impacted
Asian exports. However, some segments of the economy
are finding opportunities from these disputes. Two
Malaysian companies have been exploring opportunities
stemming from the escalating US-China trade war. A
Johor-based furniture maker is said to be in talks with a
Chinese company keen to use its facilities in Malaysia for
their future business.

Malaysian companies are seeing a growing number of
enquiries from US buyers looking to purchase South East
Asian products which are now more competitively priced
compared to Chinese products.

Sarawak worker shortage
Ta Ann Holdings, a timber and oil palm plantation
conglomerate in Sarawak, is facing a labour shortage and
is working closely with the government to find alternative
sources of recruitment. An executive from Ta An
commented that a shortage of workers might impact its
operations.

Ta An timber division, is reportedly facing several
challenges including rising production costs, emergence of
substitute products and competition from producers in
Vietnam and Indonesia.

World shipping record
The shipping magazine Container News has reported that
Tanjung Pelepas Port in Peninsular Malaysia has set a new
world record dispatching a vessel with over 19,000
twenty-foot equivalent units (TEUs). This was achieved
when the Maersk ship, Monaco Maersk left the port with
19,284 TEUs, beating the previous record of 19,190
TEUs.

Tanjung Pelepas recorded a total throughput volume of 9
million TEUs in 2018 and was projected to handle a total
throughput of 9.5 million TEUs this year.

See news and phot at: https://container-news.com/port-tanjungpelepas-
maersk-world-record/

Plywood prices
Traders based in Sarawak reported the following export
prices in April: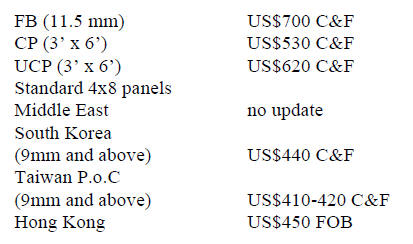 4. INDONESIA
US-China trade conflict could give Indonesian furniture
exporters a boost
According to Wang Sutrisno, Director of PT Integra
Indocabinet, the Indonesian furniture industry has the
opportunity to expand exports to the US as Chinese made
furniture has become more expensive because of tariff
increases and antidumping duties.

Wang said the US-China trade conflict could give
Indonesian furniture exporters a boost in the US market
which is a major destination for Indonesian furniture.

See: https://www.jpnn.com/news/saatnya-industri-furniturgenjot-
ekspor-ke-amerika-serikat?page=3

Indonesian light wood products do well at Interzum
Indonesian light wood (plantation timber) products were
well received at the Interzum Furniture Exhibition held in
Cologne, a fair that attracted orders worth over US$5
million.

Participation of Indonesian manufacturers was supported
by the Ministry of Trade in order to introduce Indonesian
wood products that carry the domestic SVLK certification
and satisfy the EUTR.

At Interzum 2019 the Indonesian Pavilion featured three
companies; PT Hasil Albizia Nusantara producing
plywood and blockboard products; PT Pinako Rotari
Permai producing three-layer door core products,
barecore, blockboard and decking and PT Rama Gombong
Sejahtera which produces barecore, blockboard, plywood,
door core, three layer board and LV, LV / LVB and cross
grain face products.

See: https://www.medcom.id/ekonomi/mikro/dN62MvyNpotensi-
transaksi-produk-kayu-indonesia-di-jerman-usd5-64-juta

In related news one of the winners of the "Interzum
Award: Intelligent Material & Design 2019" was Karuun a
German company (https://www.karuun.com/#!/profile)
working with Vivere an Indonesian company on rattan as a
substitutes for plastic in furniture making.

See: https://www.dw.com/id/produk-rotan-kerja-samaperusahaan-
indonesia-dan-jerman-raih-penghargaan-bergengsi/a-
48899177

Forestry Corporation profits soared in 2018
Perhutani, the state Forestry Corporation, recorded a net
profit of Rp654 billion in 2018, up almost 50% compared
to 2017. Asep Rusnandar, Secretary of Perum Perhutani,
said the good performance was due to process redesigning
processes with a focus on improving quality, speed and
cost to support various business lines. The second income
earner was tourism development as well as expansion of
agroforestry efforts.

SVLK auditing needs strengthening
The Minister of Environment and Forestry, Siti Nurbaya
Bakar, has said that while supervision of timber trade has
been tightened through implementation of the timber
legality verification system (SVLK) illegal logging
continues in some areas.

Purwadi Soeprihanto, the Executive Director of the
Indonesian Forest Concessionaires Association (APHI),
considers that the timber legality verification system is
functioning but must be strengthened to ensure that the
system is implemented correctly in the field. He pointed
out that the capacity of auditors who verify the processes
and tracking must be strengthened.

See:
https://ekonomi.bisnis.com/read/20190606/99/931194/penguatan
-sistem-verifikasi-untuk-menekan-pembalakan-liar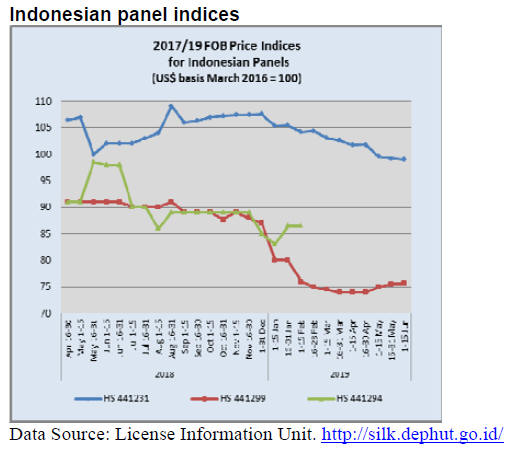 5. MYANMAR
Plantation log export allowed
The authorities in Myanmar have officially announced that
logs, poles and posts harvested from plantations can be
exported without further processing. The export of logs
harvested from the natural forest has been banned since
2014. Private plantations were first allowed in 2016 and
some are now at the stage of first thinning.

According to the official website of the Forest
Department, 143,000 acres of teak and 104,000 acres of
other hardwoods have been planted by the private sector.
This move by the Forest Department appears intended to
allow those who have invested in plantations to secure
some early cash flow.

Following the announcement from the Forestry
Department there was speculation that the export of logs
from the natural forest may also be allowed. This is highly
unlikely according to analysts.

The Forest Department will apply strict export control of
plantation timbers which are clearly distinguishable from
natural forest timbers.

The many hurdles to attracting investment
U Aung Naing Oo, Permanent Secretary in the Ministry of
Investment and Foreign Economic Relations has said a
lack of coordination between the central government
(Union) and regional governments on development
policies, excessive 'red tape' and poor implementation of
new laws have hampered the flow of foreign investment
into Myanmar.

Additional problems for investors include political
uncertainty, poor physical infrastructure, a lack of skilled
labour, an underdeveloped capital market, high taxes and a
confusing legal system discourages investment.

In the first-half of the current fiscal year, Myanmar only
received US$2.5 billion in foreign investment and the
government target may not be met for the year despite
efforts to promote investment.

Data from the Directorate of Investment and Company
Administration shows that Singapore, with US$21.3
billion or around 27% of total approved investments was
the largest investor followed by China.

Fear of hardship for landless farmers
The new Vacant and Fallow Land law has raised concern
among land-rights activists as they contend it may
criminalise millions of farmers who do not have land
permits.

Estimates put the area of all farmers likely to be affected at
20 million hectares or 30 percent of Myanmar's land area.
Three-quarters of the land area is home to ethnic
minorities.

In 2012, the government passed the law referring to such
farmland as "vacant, fallow and virgin" and in September
2018 parliament passed an amendment that imposed a
two-year prison sentence on anyone found living on
"vacant, fallow and virgin land" without a permit. Most
farmers are unaware of this new law and the new
amendment. Analysts are fearful that this law could result
in extreme hardship for landless farmers in Myanmar.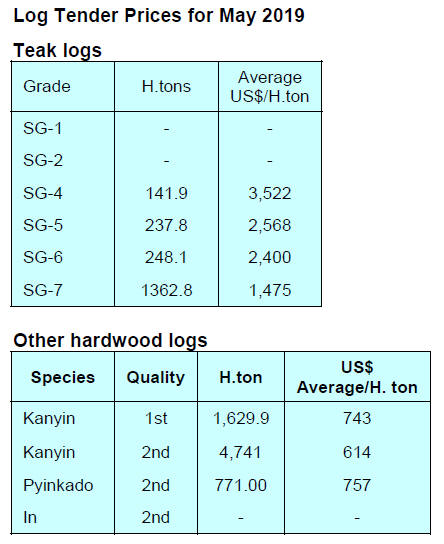 6. INDIA
Panel product prices fall, driving down index
The official Wholesale Price Index for 'All Commodities'
(Base: 2011-12=100) for April 2019 rose to 120.9 from
120.0 for the previous month.

The index for manufactures of the wood and products of
wood and cork group declined to 133.6 from 135.7 for the
previous month due to lower prices for particleboard,
wooden crates, plywood and veneer sheet and mouldings.
However, price for sawnwood rose.

The annual rate of inflation based on monthly WPI in
April 2019 stood at 3.07%, slightly down on the previous
month.

The press release from the Ministry of Commerce and Industry
can be found at: http://eaindustry.nic.in/cmonthly.pdf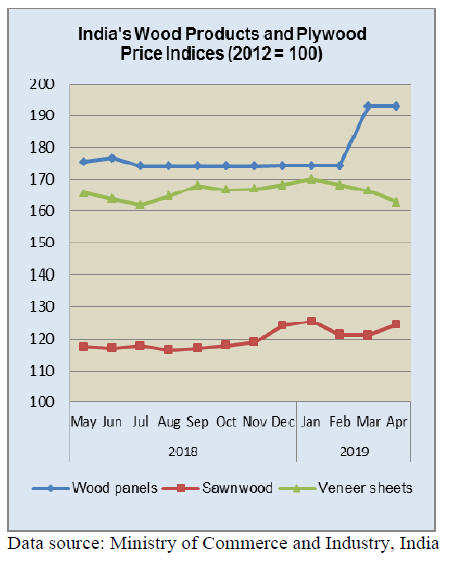 Business community has welcomed election results
India's manufacturing sector expanded at its quickest pace
in three months in May according to a private business
survey which also showed a rise in new job creation.
Analysts write that the business community has welcomed
the recent election results which resulted in the Bharatiya
Janata Party being given the mandate for a second term.

While orders in the manufacturing sector continue to be
robust the biggest concern in the timber sector is the large
stock of unsold homes even in the major cities. Slow home
sales to middle income families are driving builders to
look more closely at homes for singles and low income
earners.

Adapting to changes in the Indian real estate sector
The changing face of the Indian real estate sector has
driven Mittal Realty, a domestic real estate company in
business for over 50 years, to join with Painterior (India)
LLP to deliver compact homes.

For more on current business sentiment see:
https://www.reuters.com/article/us-india-economy-pmi/indiafactory-
activity-grows-at-fastest-pace-in-three-months-in-maypmi-
idUSKCN1T40HX

Plantation teak imports
The firm and stable US dollar/rupee exchange rate is
encouraging importers who are maintaining a steady flow
of deliveries of plantation teak from multiple sources.

Analysts report that exporters in Colombia and Ghana
have increased shipment volumes but this has not driven
done prices which for all suppliers are within the ranges
shown above.

Locally sawn hardwood prices
Demand for imported hardwoods remains steady and the
recent price increase have been accepted by the market.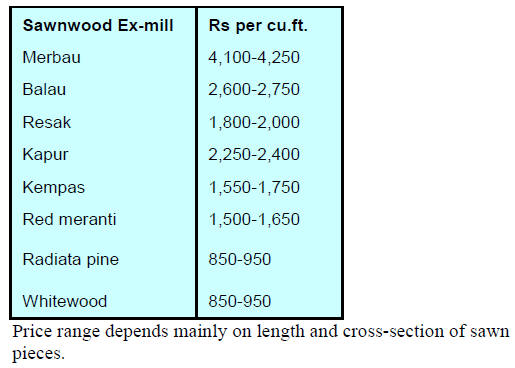 Myanmar teak prices
The steady demand for Myanmar teak has consolidated the
recent ex-yard price increases.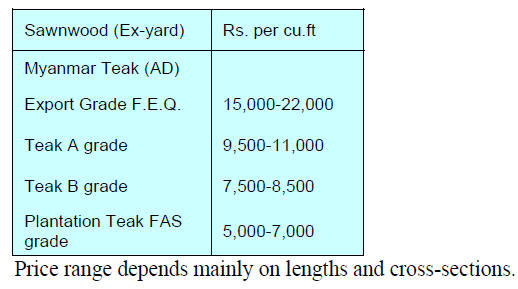 Sawn hardwood prices
The firming demand for sawnwood has lifted prices for
imported European and US sawn hardwoods.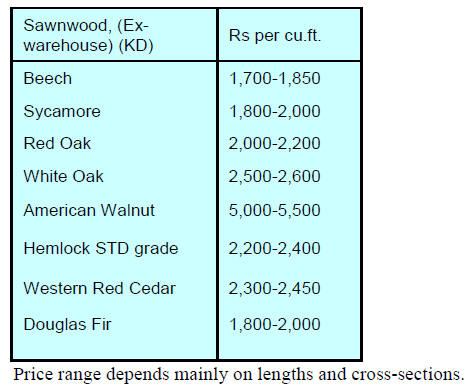 Plywood prices
Ex-warehouse plywood prices are unchanged but retail
prices are under pressure.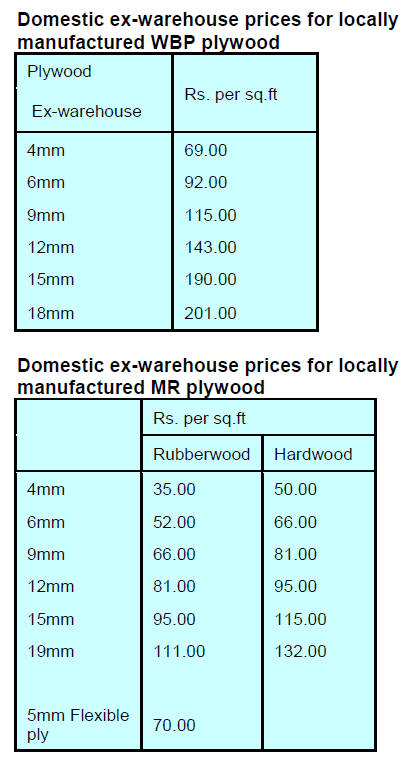 7. BRAZIL
Programme for micro and small enterprises utilising
native wood species in Mato Grosso
The Center for Timber Producers and Exporters of Mato
Grosso State (CIPEM), its associated Unions and the
Brazilian Support Service for Micro and Small Businesses
(SEBRAE-MT) have established a 'Wood Program 4.0',
building on the concept of Industry 4.0, a term used to
characterise modern processes in the production in the socalled
'fourth industrial revolution'.

The 'Wood Program 4.0' includes development of
business management, improvement of quality, promotion
and expansion of participation of companies in the market
and strengthening the governance of employers in the
forestry sector of the state of Mato Grosso.

The programme focuses on the environmental, economic
and social sustainability of sector and will involve 80
micro and small enterprises utilising native wood species
in Mato Grosso.

CIPEM's aim is to offer entrepreneurs state of the art
'tools' in business management and product development
and production to deliver the best service to consumer
market. Mato Grosso is home to about 6,000 forest
enterprises creating 90,000 direct and indirect jobs.

Brazilian Forest Service and Brazilian Coalition
partnership
The Brazilian Coalition on Climate, Forests and
Agriculture (Brazilian Coalition), which brings together
some 200 private companies and entities reaffirmed the
partnership with the Brazilian Forest Service (SFB).

The Brazilian Coalition is a multi-sector movement
composed of entities that lead agribusiness in Brazil, civil
organizations in the area of environment and climate,
representatives of academia, industry associations and
leading companies in the areas of timber, steel, pulp and
paper industry, among others.

The Brazilian Coalition´s representatives recently met
with the SFB to discuss advancing the partnership.

Representatives of the Brazilian Coalition requested the
SFB consider the possibility that Public forests without
defined objectives be allocated for harvesting. In response
the SFB explained that a pilot project already underway,
citing the Castanho land plot in the state of Amazonas.

Furniture exports to Canada and UAE
The Brazilian Furniture Industry Association
(ABIMÓVEL) and the Brazilian Trade and Investment
Promotion Agency (APEX-BRASIL) recently released
data on furniture exports up to April 2019. While April
exports of furniture dropped over 4% for the four months
January to April exports remained at around the same level
as in 2018.

The accumulated growth in exports over the past 12
months expanded almost 9% compared to the
corresponding 12 month period in 2018. The main
segment of Brazilian furniture exports is wooden furniture
which accounts for over 85% of all furniture exports. The
main markets are the US at US$59.7 million in the first
four months of 2019 (24.4% higher than the same period
in 2018), followed by the UK and Uruguay.

One of the highlights in April 2019 was exports to Canada
which totalled US$2.1 million, representing a growth of
141% compared to April 2018. Another highlight was
exports to the United Arab Emirates.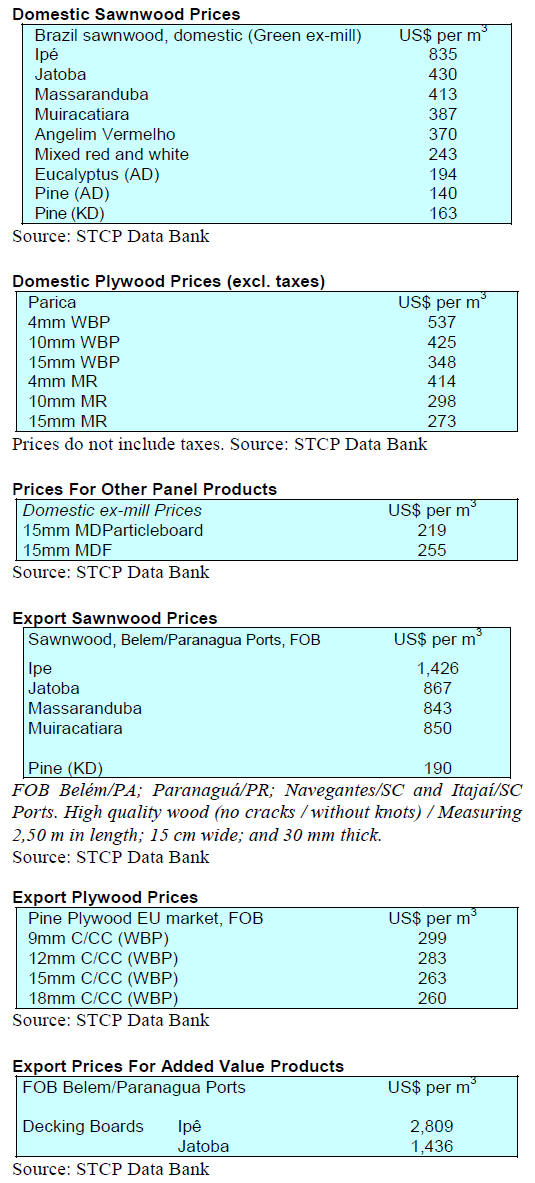 8. PERU
SERFOR promotes utilization of forest residues
At the recently concluded 'V International Exhibition for
Design and Architecture - EXPO DECO 2019' held in
Lima the National Forest and Wildlife Service (SWRFOR)
displayed collection of furniture made from cedar forest
residues.

This furniture was produced as the result of a project
funded by SERFOR's Applied Research Fund which is
investigating opportunities to use the roots, stumps and
branches of the much sought after cedar.

This project was implemented by the Boca Manu
community of Madre de Dios. The furniture collection
exhibited called 'Manu 3' captured the imagination of the
international interior design community attending the
EXPO.

Atalaya communal forest governance progresses
Several indigenous communities in the Atalaya Province,
Ucayali, have managed to secure approval from the
regional Forestry Authority's Headquarters of Atalaya
(SODA) for a variety of activities under the Amazon 2.0
project implemented by ECO REDD in Peru (an initiative
that is implemented in six countries of the Amazon Basin,
led by IUCN South America) in coordination with the
project promoted by FAO FLEGT.

The aim of these initiatives is to consolidate communal
forest governance over almost 200,000 hectares of forest.

Regional governments strengthen oversight in the
forestry sector
The regional governments of Loreto, Madre de Dios, San
Martin and Ucayali and the Forest and Wildlife Resources
Oversight Agency (OSINFOR) signed an agreement to
strengthen oversight in the forestry sector. This agreement
paves the way for regional governments to conduct
assessments before granting authority for the
establishment of wood processing plants. OSINFOR will
continue to support capacity building and technical
assistance to upgrade skills and oversight systems.

Elisban Ochoa Sosa, Regional Governor of Loreto;
Francisco Pezo Torres, Regional Governor of Ucayali and
Nohemí Petronila Aguilar Puerta, Vice Governor of the
San Martín Region, said "Guaranteeing the sustainable use
of forest resources, through oversight, contributes to
improving the wellbeing of all citizens and control should
not only be punitive but also address prevention".