Report from North America
Hope for quick end to trade deal wanes
Talks to end the trade dispute between the US and China
have hit a roadblock and relations between the economic
superpowers have deteriorated. President Trump followed
up on earlier threats and increased tariffs from 10% to
25% effective May 10 on US$200 billion of Chinese
imports. China responded by upping tariffs on US$60
billion of US goods starting June 1.

China¡¯s State Council Customs Tariff Commission
announced that 2,493 US products will be subject to a
25% tariff, 1,078 products will be hit with a 20% tariff and
974 products will be subject to a 10% tariff. A 5% tariff on
595 products will also remain in place.

Tariffs have already had an impact. Over the six-month
period ending in March, wood product exports from the
US to China dropped by US$700 million or 42% percent.
Industries affected included firms that buy logs of
hardwoods like walnut, maple and cherry.

US furniture imports dip in March
US imports of wooden furniture fell by 9% in March.
Declining imports from China was the main cause of the
decline as imports of wooden furniture from China were
down 29% from February.

Imports from China for March 2019 were 28% below that
of March 2018 and finished the quarter down 17%.
Imports from Canada, Mexico and Indonesia rose in
March and all are now ahead of 2018 numbers for the first
quarter.

Imports from Vietnam were down by 12% from January
but remain well above March 2018 levels. Vietnamese
imports have gained the most in the 1st quarter, up 24%
year to date.

Housing starts on the rise
Housing starts rose 5.7% to a seasonally adjusted annual
rate of 1.235 million units in April, driven by gains in the
construction of both single- and multi-family housing
units. Groundbreaking was also likely boosted by drier
weather in the Midwest.

Data for March was revised up to show homebuilding
rising to a pace of 1.168 million units, instead of falling to
a rate of 1.139 million units as previously reported.
Building permits rose 0.6% to a rate of 1.296 million units
in April, after three straight monthly declines. Singlefamily
building permits, however, fell for the fifth straight
month.

But - sales of existing home slide
Existing-home sales saw a minor decline in April,
continuing March¡¯s drop in sales, according to the
National Association of Realtors. Two of the four major
US regions saw a slight dip in sales, while the West saw
growth and the Midwest essentially bore no changes last
month.

Total existing-home sales fell 0.4% from March to a
seasonally adjusted annual rate of 5.19 million in April.
Total sales are down 4.4% from a year ago (5.43 million in
April 2018).

Consumer sentiment highest in 15 years
US consumers appear optimistic as the Index for
Consumer Sentiment surged in early May to its highest
level in fifteen years. All of the May gain was in the
Expectations Index, which also rose to its highest level
since 2004, while the Current Conditions Index was
virtually unchanged and well below the cyclical peak set
in March 2018.

Consumers viewed prospects for the overall economy
much more favorably, with the economic outlook for the
near and longer term reaching their highest levels since
2004. The gains were recorded mostly before the trade
negotiations with China collapsed and China responded
with their own tariffs.

See: http://www.sca.isr.umich.edu/

Manufacturing still expanding but at a slower pace
The overall economy grew for the 120th consecutive
month and economic activity in the US manufacturing
sector expanded in April, according to the nation¡¯s supply
executives in the latest Manufacturing ISM Report on
Business.

Comments from respondents reflect continued expanding
business strength, but at the softest levels since the fourth
quarter of 2016. Export orders contracted for the first time
since February 2016.

The wood products sector was among six of the 18
manufacturing industries surveyed to report contraction in
April, but it also reported growth in new orders.

US distributor coalition to fight cabinetry anti-dumping
decision
A coalition has been launched to fight the recent unfair
trade allegations against ready-to-assemble cabinetry
imports from China.

The formation of the American Coalition of Cabinet
Distributors (ACCD), a group made up of US distributors,
dealers, contractors, installers and importers, was in direct
response to the antidumping and countervailing petition
filed March 6 by the American Kitchen Cabinet Coalition.

The petition alleges the Chinese government's
"manipulation and unfair trade practices" have led to a
more than 75 percent rise in Chinese imports of kitchen
and bath cabinetry since 2015 and created a threat to the
US$9.5 billion American industry.

According to its website, (American Cabinet
Distributors.org,) the small and medium-sized businesses
represented by ACCD represent less than 10 percent of the
US domestic cabinet industry sales, while employing tens
of thousands of American workers. The ACCD claims
imposition of proposed duties could effectively eliminate
the RTA option from the US marketplace.

Although an April 19 preliminary vote by the US
International Trade Commission determined that "there is
a reasonable indication" that American cabinetry
manufacturers are being harmed by Chinese imports of
wooden cabinets and vanities, the ACCD said it is
"encouraged" by the commission's views on the industry.

For more see:
https://www.woodworkingnetwork.com/news/woodworkingindustry-
news/us-distributor-coalition-set-fight-trade-case-rtacabinetry-
imports

Largest US grocery chain pursues No-Deforestation
policy
The largest grocery chain in the US will develop and
implement a new plan to improve its protection of tropical
forests.

See:
https://www.greencentury.com/kroger-to-adopt-deforestationpolicy-
following-green-century-engagement/
https://www.treehugger.com/corporate-responsibility/krogercommits-
no-deforestation-policy.html

Two years ago, the Union of Concerned Scientists released
a report that ranked 13 major food companies on their
deforestation-free beef commitments and practices,
highlighting that fact that, "beef is the largest driver of
tropical deforestation ¨C and companies that buy beef from
tropical countries could be doing a lot more to stop it."

Kroger, the United States' largest grocery chain and the
country's largest second-largest general retailer behind
Walmart, received zero points out of 100 in the rating of
deforestation-free beef policies and practices. But now the
company will be developing and implementing a nodeforestation
policy that will cover its private label "Our
Brands" products, according to a statement from Green
Century Funds.

US imports, Q1 2019 compared to Q1 2018

Highlights

Plywood


An overall decline from the main shippers


Imports from China fall further


Surge in imports from Viet Nam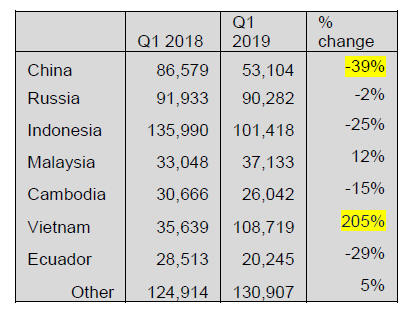 Veneer


Top shippers, Italy and China, saw declines in
Q1 2019


Strong export performance from India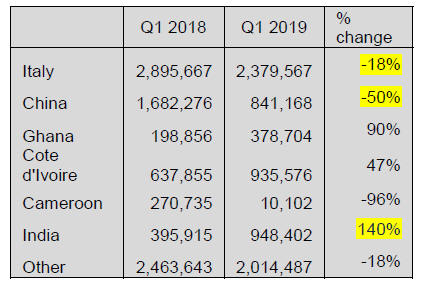 Mouldings


Two main shippers, China and Brazil, saw
quarter on quarter declines in Q1 2019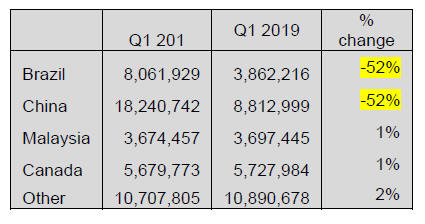 Assembled flooring


Shipments from China continue down


Strong export performace by Indonesia and Viet
Nam


No shipments from Brazil in Q1 2019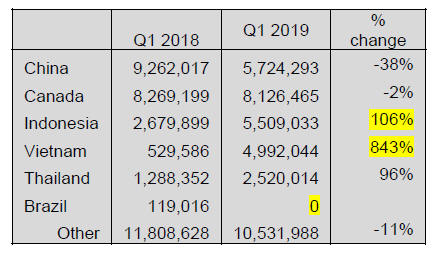 Wooden Furniture


All main shippers saw increased exports in Q1
2019 compared to Q1 2018 except China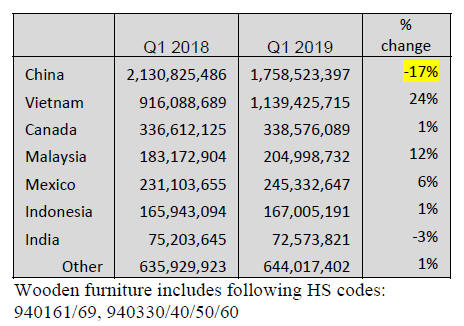 Hardwood sawnwood


Strong export performance by Cameroon, Brazil
and Indonesia


Sharp drop in shipments from Cote d¡¯Ivoire