Report from North America
Sawn tropical hardwood imports dip after the strong
January
U.S. imports of sawn tropical hardwood remained ahead
of 2018 volumes in March despite an 8% dip from
February. Imports are up 21% through the first quarter
compared to last year.

Imports of most hardwoods declined in February and
March after a very strong starts to the year.

Ip¨¦ and keruing imports both fell by nearly a third in
March but remain well ahead of 2018 year-to-date totals.
Balsa imports rose by 25% in March and sapelli rose 61%.
Both are 10% up year to date.

Imports from Brazil remained steady in March and are up
by 30% for the year, while imports from Ecuador gained
by 25% in March and are up 10% for the year.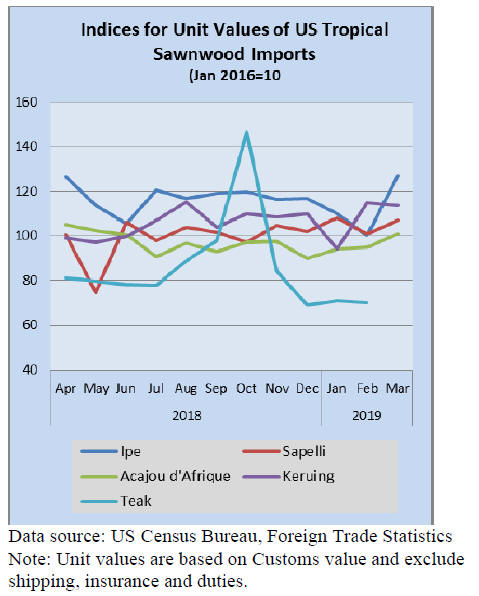 US turning to Viet Nam for hardwood plywood
While U.S. imports of hardwood plywood are flat, imports
from Viet Nam are growing rapidly amid declines in the
China trade.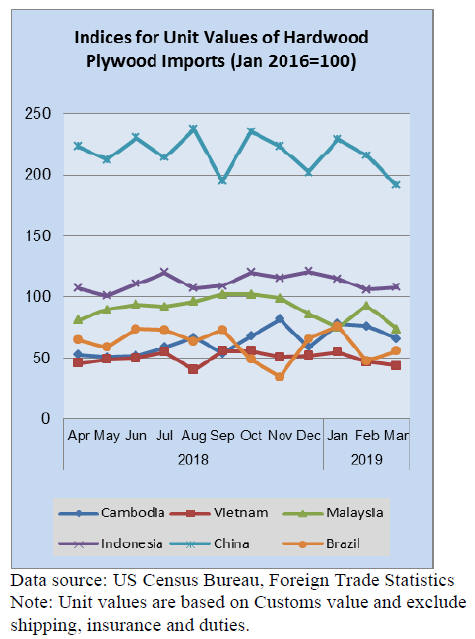 Total plywood imports rose 3% in March to 189,486 cu.
metres, while imports from China fell by 39% from
February and are less than half that of March 2018.
Imports from China are down 39% year to date.

Imports from Viet Nam in the first quarter 2019 are at
levels three times that of 2018 and are surpassing that of
any other country. Imports from the other largest
suppliers, Indonesia and Russia, were down 25% and 2%,
respectively in the first three months of the year.

Tropical veneer imports recover in March
After a sluggish start in 2019, U.S. imports of tropical
hardwood veneer jumped by 19% in March to a level
some 25% better than March 2018. Imports from China
and Italy gained in March but are still well behind last year
to date.

Imports from Ghana were down 19% in March but are still
well above those of last March. Imports from Cote
d¡¯Ivoire grew sharply after a weak February.

Moderate growth in flooring imports
U.S. imports of hardwood flooring grew by 3% in March
but are about 2% behind March of last year. Imports from
China fell by 45% to the lowest level since April 2017.

Year-to-date imports from China are down by 41% and
imports from Malaysia also fell sharply after several
strong months. Imports from Brazil gained 59% in March
and are up nearly 150% year to date, while Malaysian
imports are up nearly 60%.

Imports of assembled flooring panels improved by 19% in
March with Canada, Indonesia, Viet Nam and Thailand all
gaining strongly as trade with China declines. Imports
from each of the four countries rose by around 30% while
imports from China dropped 61% in March.

Moulding imports remain in slump
U.S. imports of hardwood moulding rebounded only
mildly after historically weak numbers in January and
February. Imports rose 4% in March to a level about 20%
below that of March 2018.

Imports from Malaysia fell by nearly 60% in March but
were offset by gains from nearly all other trading partners.
Imports are behind that of 2018 by 29% through the first
quarter of the year.

Economic growth - startling
The U.S. economy grew at a faster pace than expected in
the first quarter and posted its best growth to start a year in
four years.

First-quarter gross domestic product expanded by 3.2%,
the Bureau of Economic Analysis said in its initial reading
of the economy for that period.

It was the first time since 2015 that first-quarter GDP
topped 3%. Exports rose 3.7% in the first quarter, while
imports decreased by 3.7%.

Unemployment at lowest in 50 years
Hiring in the U.S. was strong for the second straight
month in April and unemployment fell to a new 50-year
low, easing concerns that a slowing global and U.S.
economy could dampen job growth.

Employers added a booming 263,000 jobs according the
U.S. Department of Labor, beating forecasts of 190,000.

The unemployment rate fell from 3.8% to 3.6%, lowest
since December 1969, but that was because nearly
500,000 Americans left the labour force, which includes
people working and those looking for jobs.

Fed leaves rates unchanged, says ¡°it will remain
patient¡±
.S. Federal Reserve Chairman Jerome Powell played down
recent weakness in U.S. inflation as possibly ¡°transitory,¡±
and gave no indication officials were weighing an interestrate
cut despite pressure from the White House.

Powell, who¡¯s been slammed by President Donald Trump
for not doing more to support the economy, told reporters
after the Fed left its main rate unchanged that the policy
stance is ¡°appropriate right now¡± and ¡°we don¡¯t see a
strong case for moving in either direction.¡±

The Federal Open Market Committee instead repeated
language from its previous meeting, saying it ¡°will be
patient as it determines what future adjustments to the
target range for the federal funds rate may be appropriate.¡±
The unanimous 10-0 decision left the target range for the
benchmark federal funds rate at 2.25 percent to 2.5
percent.

Boost from tax overhaul has run its course
U.S. consumer sentiment dipped in April as consumers¡¯
economic outlook weakened and as they considered that
the positive impact of the tax overhaul has run its course.
The University of Michigan¡¯s preliminary consumer
sentiment survey slid to 96.9 in April, from 98.4 the
previous month.

Despite the modest decline, sentiment over the past 30
months remains higher than any other time since the 1997-
2000 US economic expansion. The report also showed the
impact of the 2018 US tax overhaul on consumer
sentiment has ¡°all but disappeared.¡±

See: http://www.sca.isr.umich.edu/