US Dollar Exchange Rates of 10th May 2019
China Yuan 6.7042

Report from China
Wood product exports hit by US tariffs
On 13 May China's State Council announced
increased tariffs on US$60 billion of US imports (some
5,140 products) which are already attracting retaliatory
tariffs. The new tariffs will come into effect 1 June. This
follows the decision by the US to raise tariffs on
US$200bn of Chinese products.

In setting a 1 June deadline for the introduction of the
higher tariffs both sides have created a window for
negotiations as there are nearly three weeks until the tariffs
would apply to shipments leaving each country.

Analysts in the UK have assessed the likely cost to US
importers of the tariff increases. Top of the list is
telecommunications equipment where tariffs could add
US$19 billion to the cost of imports. The cost increase on
wooden furniture imports could be as much as US$3
billion and that on seats with wooden frames around
US$2.5 billion.

For more see: https://www.bbc.com/news/business-48196495

Softwood logs dominate at Taicang port
Log imports through Taicang Port in Jiangsu Province
totalled 7.85 million cubic metres in 2018 and were valued
at US$1.2 billion.

Of the total, 98% were softwood logs, mainly imported
from New Zealand (39%), Canada (19%), USA (13%) and
Russia (10%). The main softwood log species were radiata
pine (43%), spruce and fir (11.5%), douglas fir (11.4%)
and larch (4%).

Russia sawnwood dominates imports at Taicang Port
Sawnwood imports through the port in 2018 amounted to
500,000 cubic metres valued at US$106 million, mainly
imported from Russia (89%) and Canada (10%).
The main sawnwood species were spruce and fir (58%)
and pine (33%).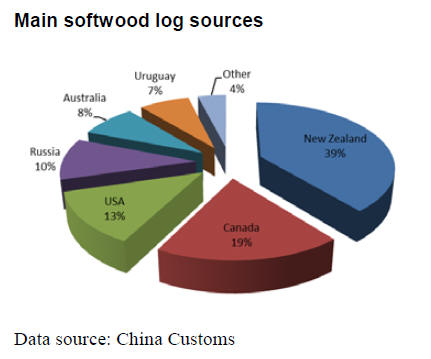 Plans for timber mills in Russian Far East
It has been report that the China Forestry Group
Corporation (CFGC) will build mills in the Russian Far
East to supply wood products for China. The project is
expected to consume around 3 million cubic metres of logs
and export finished products to China. Russia¡¯s
Khabarovsk will be considered as one of the possible
production bases.

The CFGC is a large scale wood processing enterprise set
up by nine enterprises directly under the State Forestry
Administration in 1996.

The Group is supervised by the State-owned Assets
Supervision and Administration Commission of the State
Council (SASAC), its business covers the whole process
from forest resources, exploitation and utilisation. The
Group delivers tree seeds and seedling and has also
entered the forest tourism sector.

Currently the Group has more than 150 international
forestry enterprises and has cooperated with New Zealand,
Russia, Canada and some South East Asian countries.

See: http://www.cfgc.cn/

Changzhou laminate flooring sells well on "Belt and
Road Initiative" markets
According to the latest statistics from Changhzou
Customs, the value of Changzhou laminate flooring
exports in the first quarter of 2019 rose 20% to US$31
million, accounting for 30% of the national total.

Changzhou city is one of the important bamboo, wood and
grass product exporting bases and there are more than 200
laminate flooring and wooden moulding enterprises.

The shortage of high-quality wood, domestic overcapacity
and international market barriers have become a serious
problem for the Changzhou flooring industry in recent
years. In response more flooring is being exported to ¡® Belt
and Road Initiative¡¯ countries.

Rise in China¡¯s wood chips imports
China¡¯s wood chips imports were 12.84 million tonnes
valued at US42.264 billion in 2018, a year on year
increase of 12% in volume and 19% in value.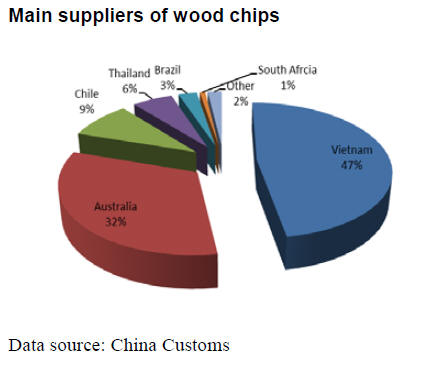 Vietnam became the largest supplier shipping 6.13 million
tonnes valued at US$918 million, up 30% in volume and
32% in value year on year. Australia was been the second
largest supplier shipping 4.17 million tonnes valued at
US$863 million, a year on year increase of 8% in volume
and 21% in value. These two countries account for about
80% of total imports.

Decline in China¡¯s plywood exports to US
China¡¯s plywood exports in 2018 were 11.34 million cubic
metres valued at US$5.55 billion, a year on year increase
of 4% in volume and 9% in value.

China¡¯s plywood is exported to more than 200 countries
and markets have become more diverse. The proportion of
China¡¯s plywood exports to the top 9 countries made up
just 51% of the national total in 2018. China¡¯s plywood
exports to US fell in 2018 as did exports to S. Korea.