Report from North America
U.S. and Peru resolve PTPA dispute
The United States and Peru have successfully resolved the
concerns raised in the first-ever environment consultations
under the United States ¨C Peru Trade Promotion
Agreement (PTPA).

In January, the U.S. requested consultations under the
2009 trade treaty¡¯s environmental chapter to oppose Peru¡¯s
decision to place its forest monitor, OSINFOR, under the
environmental ministry, despite a provision requiring
OSINFOR to be an independent agency.

Following technical consultations in January and
deliberations by the PTPA environmental affairs council in
February, Peru reversed course, annulling the December
decision on April 9.

https://ustr.gov/about-us/policy-offices/press-office/pressreleases/
2018/april/ustr-successfully-resolves-concerns

ITC - U.S. producers harmed by China wooden cabinet
imports
The U.S. International Trade Commission (ITC) has
determined that there is a ¡°reasonable indication¡± that
imports of wooden cabinets from China are harming
American producers, keeping alive a trade investigation
that could lead to tariffs on the products.
The preliminary findings by the trade panel mean the U.S.
Commerce Department will move ahead with an
investigation into whether Chinese wooden cabinets,
vanities and component parts are unfairly subsidised or
sold in the U.S. market at less than fair value.

If the Commerce Department determines the products are
unfairly subsidised or dumped on the U.S. market and if
the ITC upholds its preliminary finding of harm, the
United States would impose tariffs on the imports for a
period of five years.
The United States imported some US$4.4 billion worth of
wooden cabinets, vanities and their component parts from
China in 2018. The trade investigation was launched in
March based on petitions from the American Kitchen

https://www.usitc.gov/press_room/news_release/2019/er0419ll1088.htm

Housing starts approach two-year low
U.S. homebuilding dropped to a near two-year low in
March, pulled down by persistent weakness in the singlefamily
housing segment, suggesting the housing market
continued to struggle despite declining mortgage rates.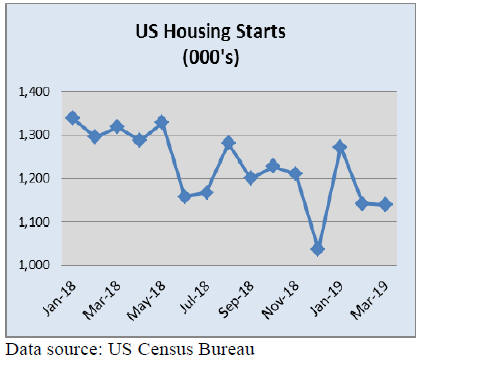 Some of the weakness in homebuilding likely reflected
disruptions caused by massive flooding in the Midwest,
with housing starts in the region declining to levels last
seen in early 2015. The report bucked a recent tide of
upbeat data that indicated the economy regained speed as
the first quarter ended.

Housing starts fell 0.3% to a seasonally adjusted annual
rate of 1.139 million units last month, the lowest level
since May 2017.

Data for February was revised down to show
homebuilding tumbling to a pace of 1.142 million units
instead of the previously reported 1.162 million-unit rate.
Housing starts in the Midwest, which was devastated by
floods during the month, dropped 17.6%.
Single-family homebuilding, which accounts for the
largest share of the housing market, dropped 0.4% to a rate
of 785,000 units in March, the lowest level since
September 2016.

Single-family homebuilding in the Midwest tumbled
21.2% last month to the lowest level since February 2015.
Single-family starts also fell in the populous South. But
they rose in the Northeast and West.

Building permits fell 1.7% to a rate of 1.269 million units
in March, the lowest in five months. Building permits have
now declined for three straight months.
Permits for single-family housing dropped to a more than
1-1/2-year low in March.

https://www.usitc.gov/press_room/news_release/2019/er0419ll1088.htm

In related news, existing-home sales declined in March,
following February¡¯s surge of sales, according to the
National Association of Realtors. Each of the four major
U.S. regions saw a drop-off in sales, with the Midwest
enduring the largest decline last month.
Existing-home sales fell 4.9% from February to a
seasonally adjusted annual rate of 5.21 million in March.
Sales were down 5.4% from a year ago (5.51 million in
March 2018).

March existing home sales fell 7.9% in the Midwest and
were off 8.6% from a year ago. Existing-home sales
decreased in the Northeast by 2.9%, trailing behind March
2018 sales by 1.5%. Sales fell by 3.4% in the South and
are down 2.1% from last year. In the West, existing home
sales fell by 6.0% and are 10.7% below a year ago.

Manufacturers report improving wood products sector

Economic activity in the U.S. manufacturing sector
expanded in March, and the overall economy grew for the
119th consecutive month, say the nation¡¯s supply
executives in the latest Manufacturing ISM Report on
Business.

Comments from respondents surveyed by the Institute of
supply Management reflected continued expanding
business strength, supported by gains in new orders and
employment. Demand expansion continued, with the New
Orders Index and the Customers¡¯ Inventories Index both
improving, and the Backlog of Orders Index softening to
marginal expansion levels.

While the wood product sector reported only average
growth in March among the 18 manufacturing industries
surveyed, the sector reported the highest growth in
imports, new orders, and new export orders. The wood
products sector also reported the second highest levels of
employment growth.
https://www.instituteforsupplymanagement.org/ismreport/mfgrob.cfm?SSO=1