3. MALAYSIA
Plantation expansion in Sabah to get Federal help
Primary Industries Minister, Teresa Kok, said the Federal
government will assist Sabah in its reforestation efforts.
She said her ministry and the Sabah Forestry Department
have identified a site in the east coast for part of the
reforestation programme.

In advance, the two agencies will undertake a wildlife
survey in the area proposed for plantation development.
She also referred to the Federal government's decision to
limit further oil palm cultivation and to ban the conversion
of forest land for oil palm cultivation as well as a ban on
planting oil palm on peatland.

Revised Pahang tax levels to stay say Chief Minister
The Pahang Chief Minister, Wan Rosdy Wan Ismail, said
Pahang state has no intention of lowering its timber tax
which was raised in June last year.

The Chief Minister said the latest increase was the first for
31 years and was considered reasonable and is lower than
in some other states. Perak, Terengganu and Kelantan
have raised their tax rates three or four times over the
same period. The tax increase will raise State income from
timber to around RM200 million from RM100 million.

Timber sector wants to be included in foreign worker
regularisation programme
The Sabah Timber Industries Association (STIA) has
indicated it hopes that the state government will consider
applying the 'Regularisation Programme' for illegal
foreign workers in the plantation and agricultural sectors
to all sectors in Sabah, particularly wood-based
manufacturing.

STIA President, Chua Yeong Perng, said the conditions of
the new regulation should be applied to all so that
employers in other sectors have the same benefits as
plantation and agriculture sectors. STIA welcomed the
decision of the Government to require the Immigration
Department to introduce the new rules. Chua said local
manufacturers in the wood-based sector cannot attract
local workers and that the level of automation in the
industry is still very low.

Tallest tropical tree
Scientists in the UK and Malaysia reported they have
discovered the world's tallest tropical tree measuring more
than 100m (328ft) high. The yellow meranti was found in
Sabah by a team from the University of Nottingham last
year.

https://www.nationalgeographic.com/environment/2019/04/worl
ds-tallest-tropical-tree-discovered-climbed-borneo/

Sarawak timber sector suffering reduced margins
Sarawak timber companies are seeing margins decline
because of higher production costs of logging and the
introduction of new tax structures in the timber sector.

According to the Sarawak Timber Association (STA) the
increase in hill timber rehabilitation and development cess
(tax), at RM55 per cu m has pushed up operating costs
significantly.

In addition, rising wages, reduced harvest levels and
implementation of forest management certification scheme
had contributed to the current high cost of production.

By 2022, the Sarawak Forest Department wants all longterm
forest timber licensees to achieve forest management
certification to ensure sustainable management. Against
this background the STA said the state forest industry is
going through a period of transformation and a change
from raw material supply from natural forests to supply
from planted forests.

Bintulu Port expansion planned
Bintulu Port plans to expand capacity at its Bintulu
International Container Terminal (BICT) to cope with
rising demand. There has been a double-digit growth in
container throughput for three consecutive years.

The BICT handled 349,792 TEUs (twenty-foot equivalent
unit) last year, representing a 13% growth over 2017 and
the highest ever traffic according to Mohammad Medan
Abdullah the Bintulu Port chief executive. A feasibility
study on the expansion is currently under way.
4. INDONESIA
Indonesia and UK discuss trade agreement
anticipating Brexit
Indonesia and the UK are beginning discussions on
bilateral cooperation in anticipation of the UK leaving the
European Union. Dino Kusnadi, Director (Europe) in
Indonesian Ministry of Foreign Affairs said that one of the
trade agreements being explored was for timber traded
under the FLEGT-VPA between the EU and Indonesia.

Soewarni, the Chairman Indonesia Sawmill and Wood
Working Association (ISWA), welcomed the
government's move to expand timber and wood products
trade with UK as this could boost exports of wood
products.

See:
https://ekonomi.bisnis.com/read/20190401/99/906829/asosiasikayu-
olahan-siap-optimalkan-pasar-inggris

APKINDO seeks unified tariffs for meranti/seraya
plywood
The plywood industry has complained that import duties
for Indonesian and Malayasian wood products in the EU
should be unified.

Gunawan Salim, Marketing and International Relations
Executive in the Indonesian Wood Panel Association
(Apkindo) said the issue of import duty differences
between meranti plywood from Indonesia and seraya
plywood from Malaysia to the EU needs to be addressed
as Indonesian exporters are at a disadvantage.

He stated that the import duty on meranti plywood from
Indonesia is 7%, while the import duty on seraya plywood
from Malaysia is 3.5%. Gunawan explained that these two
names are commercial names for the same timber.

See: https://ekonomi.bisnis.com/read/20190401/99/906911/flegtvpa-
lebih-efektif-bila-bea-masuk-sama

Furniture industry – please relax regulations
Indonesian furniture entrepreneurs have asked the
government to relax a number of rules affecting
production of processed wood saying the Ministry of
Trade Regulation No. 110/2018 concerning imports
without a Limited Prohibition (Lartas) license and SVLK
implementation are some rules that need to be revised.

Trade Ministry Regulation 110/2018 regulates imports and
this is a problem say manufacturers. If the regulation was
removed, furniture entrepreneurs could more easily obtain
production materials and would not have to wait for
permits to be approved for the import of accessories used
in furniture production.

In addition, the implementation of SVLK to downstream
industries hampers the performance of furniture sector.
The certificate should only be applied to the upstream
industry as it is intended to prevent illegal logging.

China's domestic furniture consumption an
opportunity for Indonesia
Abdul Sobur, Secretary General of the Indonesian
Furniture and Handicraft Industry Association (HIMKI),
has projected that furniture consumption in China could
reach US$225 billion annually and this represents an
opportunity for Indonesian exporters if they are smart.

He said a product that can be immediately promoted for
the Chinese consumer is rattan furniture, a segment where
Indonesia has an advantage. In addition to exporting to
China the furniture industry should also seek cooperation
with Chinese enterprises to invest in the country.

See:
https://ekonomi.bisnis.com/read/20190408/257/909172/chinajadi-
pasar-mebel-terbesar-dunia#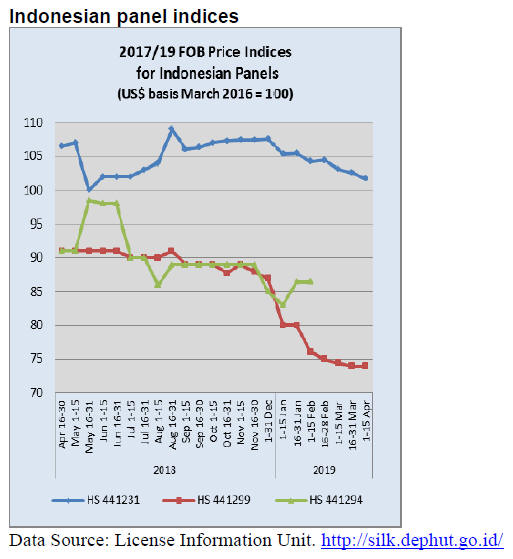 5. MYANMAR
Anti-Corruption measures highlighted
In 2018, the Myanmar parliament enacted a tough forest
law that threatens violators with up to 15 years in prison in
a bid to conserve the country's fast-dwindling forest
resources.

Under the new law, which was enacted on September 20
2018, forestry staff can also be punished for accepting
bribes or for being involved in the extraction, transfer or
possession of illegally harvested logs or forest products.

U Nyi Nyi Kyaw, Director General of the Forest
Department under the Ministry of Natural Resources and
Environmental Conservation, said an education campaign
would be conducted to inform the public on the new law.

Union Minister for Natural Resources and Environmental
Conservation U Ohn Win called for greater efforts to
eliminate corruption in the country's forestry sector.

FDI on the rise after 2 year slump
According to Myanmar Investment Commission (MIC)
the flow of foreign investment into Myanmar has started to
rise after declining for the past two years. Between
October 2018 and March 2019, Myanmar received US$1.9
billion in approved FDI. During the period October 2017
to March 2018 the equivalent number was US$1.3 billion
for over 80 projects.

Singapore has overtaken China as the major investor in
Myanmar. In February last year, Singapore invested
US$20.88 million for 302 projects and China invested
$20.41 million for 314 projects, according to DICA
figures.

Myanmar is attracting more investment spurred by the
new Myanmar Investment Promotion Plan and
establishing a new ministry, the Ministry of Investment
and Foreign Economic Relations with the objective of
raising local and foreign investments and creating
opportunities for entrepreneurs.

A UN-mandated Fact-finding Mission on Myanmar
(UNFFM) recommended that all business enterprises
active in Myanmar, trading with or investing in businesses
in Myanmar should demonstrably ensure that their
operations are compliant with the United Nations Guiding
Principles on Business and Human Rights (UNGPs).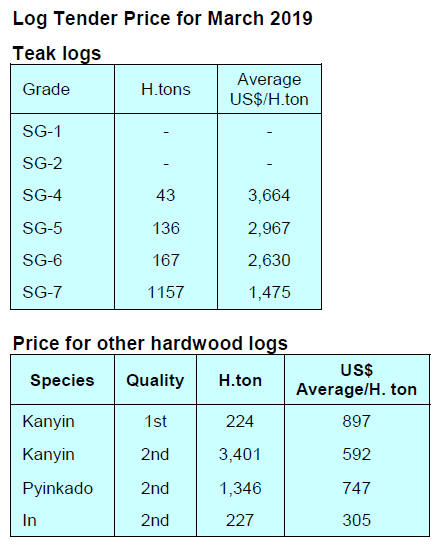 6. INDIA
Higher particleboard prices lifts price index
The official Wholesale Price Index for 'All Commodities'
(Base: 2011-12=100) for the month of February, 2019 rose
to 119.5 from 119.2 for the previous month. The index for
manufactured wood and cork products rose due to higher
prices for particleboard. However, prices for sawnwood
dropped pushing down the index.

The annual rate of inflation based on monthly WPI in
February 2019 stood at 2.93% compared to 2.76% for
January.

The press release from the Ministry of Commerce and Industry
can be found at: http://eaindustry.nic.in/cmonthly.pdf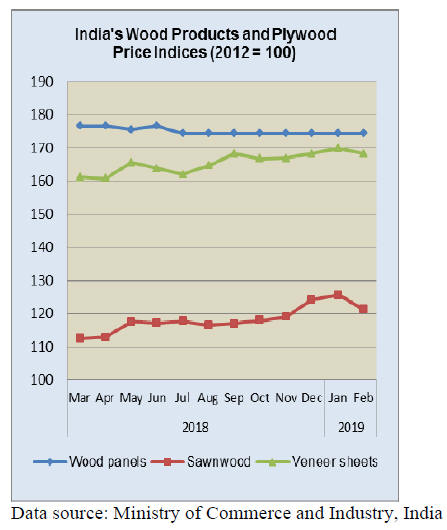 India not a DIY country - IKEA changes business
format
The online retailer IKEA is changing its business model to
suit the market as India is not a DIY market but rather a
serviced market. IKEA will open mall style retail outlets
and will address servicing by teaming up with Indian
companies. The Swedish retail firm has been clear that it
sees India as a long-term market and has made significant
investments in the country.

The Indian retail industry is expected to grow to US$1.1
trillion by 2020 according to a report by Deloitte and the
Retailers Association of India.

Gloomy prospects for home prices
According to a recent report by Liases Foras, a Mumbaibased
housing research company, because home sales are
unlikely to improve in the short term, construction
companies are finding it difficult to escape the debt trap
they are in as they cannot service their debt obligations
because of low sales and high inventory.

In recent years access to credit and funding has become a
major problem for builders as the advances on homes from
buyers and financing from investors is insufficient to
service loans.

This problem has been made worse since the Reserve
Bank of India (RBI) changed its guidelines to banks on the
risks associated with loans to builders which resulted in
banks offering less support to the sector.

According to a report from Liases Fores there is a housing
inventory of about 41 months in the top eight cities in
India and this has created a crisis for developers.

Plantation teak prices
The Rupee continues to firm against the dollar bringing
cheer to importers. Traders still anticipate further
strengthening of the Rupee.

Analysts report that demand for imported plantation teak
is firm and recent delivers have been of good quality
especially those from South American and African
shippers.

C&F prices for plantation teak landed at Indian ports are
within the same range as shown in the previous report.

Locally sawn hardwood prices
Prices for imported sawn hardwoods remain unchanged.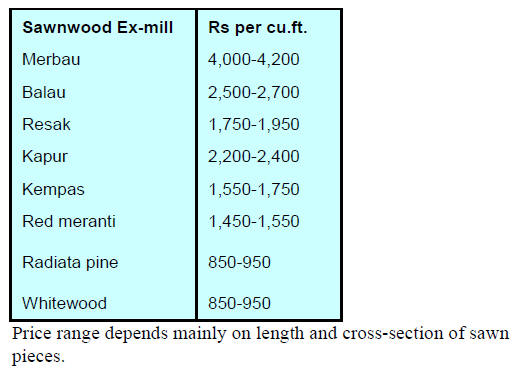 Myanmar teak prices
The pace of import growth from Myanmar is being
sustained but demand is getting ahead of supply say
analysts. The importers in India are appealing for greater
output and exports from Myanmar.

Middle East demand for teak products from India is
weakening as importers there have switched to iroko as a
good substitute for Myanmar teak.

Prices continue as previously reported.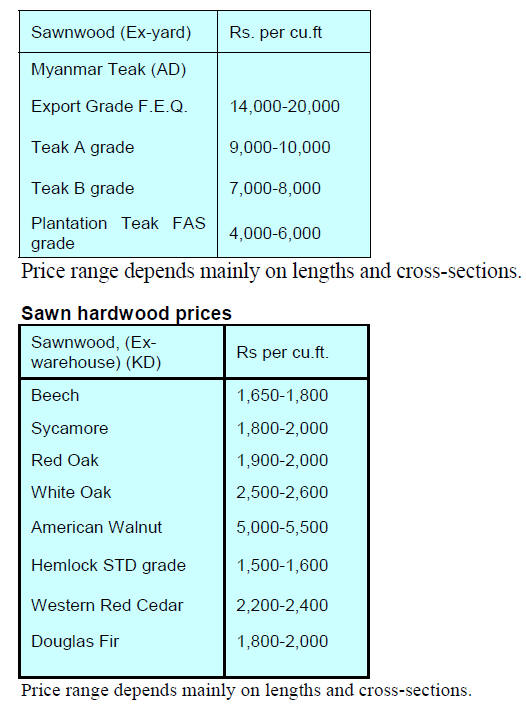 Indian importers are showing more and more interest in
hardwoods from the US, Canada and some European
countries such as Finland and Sweden.

This is helping to stimulate demand as buyers have wider
range of timbers to choose from. Indicative prices for
some imported timbers are shown above.

Increased capacity pushing up plywood log prices
Situation in the plywood sector is unsettled at the moment.
Many new manufacturing licenses have been offered in
various states such that production capacity has risen
significantly without a corresponding increase in demand.

There has been a rise in the log raw material price and
mills seek logs to sustain output and this, along with a
shortage of labour and supervisory staff is testing the
profitability of manufacturers which has resulted in
plywood prices being increased. But whether the new
prices can be sustained is questionable as demand is not
expanding. Manufacturers have raised prices by about
10%.

Plants in Gabon continue to ship veneer to India.
Production is increasing as more Indian companies invest
in veneer production in Gabon.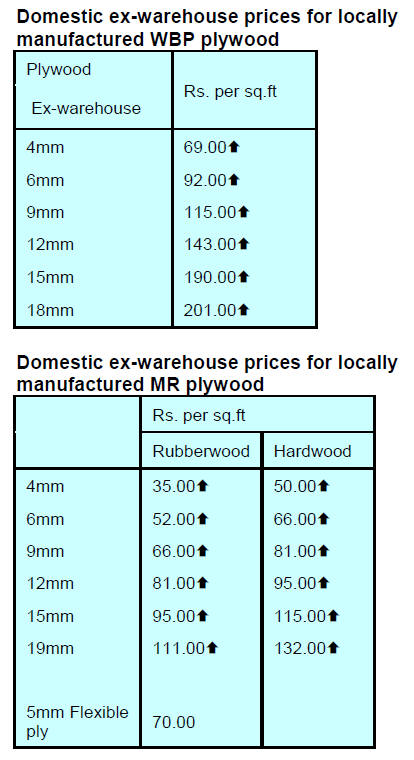 7. BRAZIL
Rising log demand for export production
Against the background theme of "Forests and Log
Market", a workshop, arranged by the Brazilian
Agricultural Research Corporation (EMBRAPA) and the
Paraná State Forest Based Companies Association
(APRE), concluded that there has been a sustained rise in
demand for logs for domestic processing.

Demand for roundwood is high despite the low level of
domestic economic growth and this is because more
companies are exporting. Log consumption is estimated at
around 14 million cu.m annually.

Most log consumers are vertically integrated but also
purchase between 30% and 40% from the open market.
Participants at the workshop reported some problems with
supply as logs have become of smaller diameter and
transport distance are rising.

Paraná and Santa Catarina states have expanded
eucalyptus plantations by 190,000 hectares because of
demand from forestry companies that prefer eucalyptus
which offers shorter rotations and increased yields
comaperd to pine.

Increasing planted forests areas
The National Forest Development Plan prepared by the
Brazilian Agricultural Research Corporation (Embrapa
Florestas) aims at a 20% increase in the area of planted
forest to achieve a national target of 20 million hectares of
commercial forests by 2030.

Currently, according to the Brazilian Tree Industry (IBA),
the planted forest area is 7.8 million hectares of mainly
eucalyptus, pine and acacia. The area with planted forests
occupies only 1% of the national territory but accounts for
91% of all wood produced for industrial purposes. The
planted forest productivity averages of 35.7 cu.m/ha./year.

New measures from the Brazilian Forest Service and the
National Plan for Development of Planted Forests (known
as PlantarFlorestas) were discussed at a recent meeting of
the Production Chain of Planted Forests at the Ministry of
Agriculture, Livestock and Food Supply (MAPA).

One issue raised was the need to preserve and protect
natural vegetation in some 5.6 million hectares of natural
forests under private ownership.

2019 Furniture Fair BtoB events yield results
An "International Buyer Project" has been developed by
the Brazilian Furniture Industry Association
(ABIMÓVEL) and the Brazilian Trade and Investment
Promotion Agency (APEX - Brazil) and this was
introduced at the 2019 Furniture Fair (Movelpar) arranged
with the support of the Union of Furniture Industries of
Arapongas (SIMA) and EXPOARA.

Movelpar brought together 60 Brazilian industries and 30
importers from 11 countries including North America and
the Middle East to build business and commercial
partnerships.

According to ABIMÓVEL, 740 business rounds were held
of which 60% were new commercial contacts between
Brazilians and international buyers. The projections are of
orders for US$13.6 million of Brazilian products.

So far this year two events under the International Buyer
Project have already been carried out by ABIMÓVEL and
APEX-BRASIL.

Exports increase from in São Bento do Sul
In 2018 a furniture industrial center in São Bento do Sul
municipality, in Santa Catarina State, one of the main
furniture export regions, registered an increase in exports.
2018 export revenues from industries in São Bento do Sul,
Campo Alegre and Rio Negrinho region reached US$165
million, up 30% compared to 2017. São Bento do Sul is a
top Brazilian municipality for furniture exports with a
16% share of national exports.

Export revenues in the region represented 58% of the total
furniture exports from Santa Catarina State and 23% of the
national total. The country's furniture industries exported
US$723 million, up 9.9% over the previous year and Santa
Catarina state US$283 million, up 19.5.

According to the Union of Construction and Furniture
Industries of São Bento do Sul (SINDUSMOBIL) export
growth was mainly driven by two factors; the exchange
rate has been favourable to exports and over the last few
years more companies started to export because of weak
domestic market.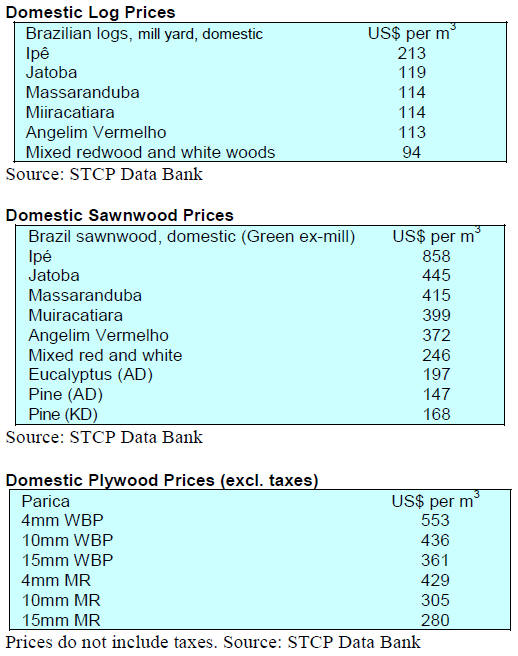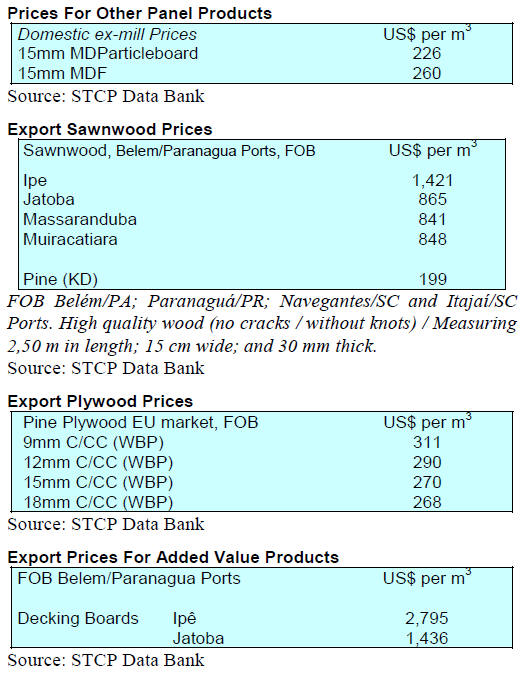 8. PERU
Responsible utilisation the key to sustainability
During a recent Spain/Peru Business Meeting, Erik
Fischer, Vice president of the Association of Exporters
(ADEX), emphasised the economic strengths of the
country and the Government's commitment to further
development of the forestry and timber sectors as a new
driver of growth.

Fischer commented that the development of forest
plantations and the responsible and sustainable use of
Peru's extensive natural forests can be effectively
managed through closely monitored forest concession
models.

Fischer pointed out that it has been observed by several
agencies that most of the deforestation in Peru is due to
shifting agricultue which is not sustainable.

January exports at new high
According to ADEX, January 2019 exports of Peruvian
wood products totalled US$11 million FOB. This
compares to the US$7.1 million exports in January 2018.

Of the US$11 million exported in January 2019, China
was the main destination with a 34% share but demand in
China has fallen sharply (-60%) compared to 2018. France
was the second placed market with 15% share.

Sawnwood exports in January this year were US$1.9
million FOB, up 4.3% on the previous year.

The main destination for export sawnwood was the
Dominican Republic with a 32.4% share; second was
Mexico followed by China.

SERFOR and WWF cooperation in promoting SFM
The National Forestry and Wildlife Service (SERFOR) of
the Ministry of Agriculture and Irrigation and WWF Peru
have signed an agreement for cooperation in promoting
mechanisms for sustainable management of forests and
wildlife in Peru.

This cooperation will strengthen coordination of work
between both institutions with the aim of contributing to
scientific research, promoting the restoration of degraded
landscapes, supporting the development of local capacities
and promoting the management and sustainable use of
flora and fauna resources, through alliances with our
indigenous people and other stakeholders.

Transport control system improved
In order to improve the supervision and control of the
Forest Transport Guides (GTF) the National Forestry and
Wildlife Service (SERFOR) has introduced a computer
application that will improve the tracking of wood from its
origin to mill gate.

The tool is called the 'Application for the Issuance and
Registration of GTF' and the system is compatible with
cell phones and tablets and has been tested in the
departments of Madre de Dios, Puno, Arequipa and Lima
(Pucusana) whose Regional Forestry and Wildlife
Authorities (ARFFS) and Technical Forestry and Wildlife
Administrations (ATFFS) have been trained.

With this system, it will be possible to track the transport
of the wood in real-time and recover data on the type of
product, the volumes, the species, the destination and
transport used and the point extraction.