US Dollar Exchange Rates of 10th March 2019
China Yuan 6.7070

Report from China
Manufacturing index weakens further
In February 2019 China's manufacturing purchasing
managers index (PMI) was 49.2 percent, a decline from
the previous month.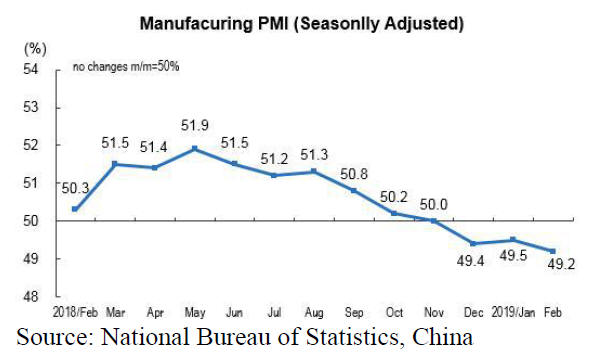 The official PMI of large-sized enterprises was 51.5%, a
slight improvement on the previous month but for
medium and small enterprises the index was below 50
signalling a worsening situation.

This is the third straight month that the PMI has fallen
below 50 for the SMEs. A reading above 50 signals
expansion in the sector, while one below 50 indicates
contraction on a monthly basis.

At the opening of China's parliament, Li Keqiang warned
the country faces "a tough struggle," forecasting slower
growth of 6% - 6.5% this year, down from a target of
around 6.5% in 2018.

Growth in China is affected by the trade dispute with the
US and to deal with the slowdown the government plans
to boost spending, increase foreign firms' access to its
markets and cut taxes. Li said the government would cut
around 2 trillion yuan in taxes and company fees as well as
reduce the VAT for the transportation and construction
sectors.

See:
http://www.stats.gov.cn/english/PressRelease/201903/t20190301
_1651561.html

Calls to eliminate consumption tax on wood flooring
At a seminar in Nanxun, Zhejiang Province on 26
February 2019 hosted by the China Timber and Wood
Products Distribution Association (CTWPDA),
representatives from the Zhejiang Flooring Association
and Nanxun District Flooring Association called for the
elimination of consumption tax on wooden flooring.

Many leading flooring companies took part in the seminar
and their reasoning behind the call for elimination of
consumption tax on wooden flooring was because the
original intention behind the tax was to help save and
protect natural forest resources in China but now there is a
country wide ban on logging natural forest.


This tax played a role in protecting China¡¯s natural forest
resources but continued collection of the consumption tax
on wood flooring has deviated from its initial intention
because flooring is now made of imported wood and
domestic plantation timber.

At present, the profitable operation of wood processing
plants is of concern because of rising production and
labour costs, high taxes and fees and declining sales.
Abolishing the consumption tax on wooden flooring
would boost sales and help enterprises improve
international competitiveness, expand international market
share and compete with foreign companies.

Up-dated China-Chile FTA
The up-dated China-Chile Free Trade Agreement (FTA)
and Supplementary Agreement on Trade in Services came
into effect on 1 March 2019. The first China-Chile FTA
was signed in 2005 and aimed at promoting cooperation in
services and investments again in November 2016 the
FTA was upgraded.

China will gradually eliminate tariffs on wood products
over the next three years and Chile will has abolished
tariffs on textiles, clothing, home appliances and sugar
products.

In all, some 98% of these products will eventually be tariff
free. This FTA with Chile is the most recent after the
China-ASEAN FTA and the first with a Latin American
country.

Under the agreement further bilateral economic and trade
cooperation will be explored to enhance the level of trade
liberalisation and build a stronger strategic partnership
between the two countries.

See:
http://fta.mofcom.gov.cn/article/zhengwugk/201903/39902_1.ht
ml

Consumption of sawn rubberwood
The annual consumption of sawn rubberwood in China is
estimated at around 6 million cubic metres with some 80%
being imported from Thailand. The imported rubberwood
is sawn, treated and dried in Thailand before being
shipped to China.

Secondary processing takes place in China for the
production of joinery and furniture. Some finger jointing
processes are completed in Thailand.

Analysts suggest that 45% of the imported rubberwood is
used for furniture manufacturing with 24% for wooden
doors and 26% for cabinets. Most of the balance is said to
be used for flooring.