Report from North America
November cabinet sales drop
According to the Kitchen Cabinet Manufacturers
Association (KCMA)¡¯s monthly Trend of Business
Survey, participating cabinet manufacturers reported an
increase in cabinet sales of just 0.3% for November 2018
compared to the same month in 2017. Stock sales
increased 7.4%; semi-custom sales decreased significantly
at 8.1%; and custom sales increased 2.2% compared to
November 2017.

Compared to last month, sales decreased 9.4%. Every
category took a hit with stock sales down 4.1%, semicustom
sales down 12.2%, and custom sales down 10.4%
compared to October.

Year-to-date cabinetry sales through November 2018 are
up slightly (2.1%) according to participating
manufacturers. Stock sales are up 4.7%; semi-custom
sales continue to decrease with a downturn of 1.5%; and
custom sales up 4.6%.

See: http://www.kcma.org/news/pressreleases/
November%202018%20Trend%20of%20Business%20P
ress%20Release.

Wooden furniture imports consistent for most of 2018
US imports of wooden furniture gained less than 1% in
November rising to US$1.78 billion. Wooden furniture
imports have been consistent for most of 2018 and are up
7% year-to-date. Imports from China, which accounts for
nearly half of US imports, were also up 7% year-to-date
and were up 2% in November.

Imports from Vietnam, Indonesia and Mexico are all up
between 7% and 9% year-to-date, while Canadian imports
are nearly identical to where they were at this time in
2017. While imports from India were down 12% in
November, India has had the highest percentage of growth
in 2018, up 13% year-to-date.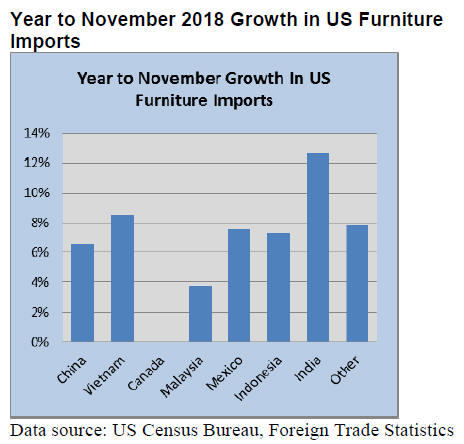 US manufacturing still growing but exports slowing
Economic activity in the US manufacturing sector
expanded in January, and the overall economy grew for
the 117th consecutive month, say the nation¡¯s supply
executives in the latest Manufacturing ISM Report on
Business.

Comments from the panel reflect continued expanding
business strength, supported by strong demand and output.
Consumption continued to strengthen, with production
expanding strongly and employment continuing to expand
at previous-month levels.

¡°Exports continue to expand, but at the lowest level since
the fourth quarter of 2016. Prices contracted for the first
time since the first quarter of 2016. The manufacturing
sector continues to expand, reversing December¡¯s weak
expansion, but inputs and prices indicate fundamental
changes in supply chain constraints,¡± said Tim Fiore,
Chair of the ISM Manufacturing Business Survey
Committee.

California targets deforestation
This week a group of legislators introduced a bill in the
California State Assembly titled AB-572, the California
Deforestation-Free Procurement Act.

If enacted, the legislation would require firms contracting
with the State of California for the procurement of ¡°forestrisk
commodities¡± such as wood, paper, pulp, palm oil,
soy, beef, leather, coffee, cocoa, and rubber to certify that
those products do not contribute to tropical deforestation
or illegal land conversion. Initial consideration of this
legislation in the California State Assembly is expected in
mid-March, and it could be enacted by fall 2019.

For details see:
https://leginfo.legislature.ca.gov/faces/billNavClient.xhtml?bill_i
d=201920200AB572

Government shutdown drives up unemployment
Both the US unemployment rate and the number of
unemployed persons, at 6.5 million, edged up in January.
Total nonfarm payroll employment increased by 304,000
in January, and the unemployment rate edged up to 4.0
percent, according to the US Bureau of Labor Statistics.

US consumer sentiment rebounded by more than forecast
from a two-year low, suggesting recent weak retail sales
will be a temporary blip after the government shutdown
ended and the US Federal Reserve signaled it would hold
off on interest-rate hikes.

The University of Michigan¡¯s preliminary February
consumer sentiment index rose to 95.5, exceeding the
median forecast in a Bloomberg survey for an increase to
93.7. The measure of current conditions rose 1.2 points
while the expectations gauge jumped 6.3 points, indicating
the rise in sentiment was concentrated in the outlook.

Confidence remains elevated compared with historical
levels, though it¡¯s below average for the period since
Donald Trump was elected president. The gauge may
stabilise as the government avoided another shutdown and
US trade negotiators work toward a new deal with China.

Sentiment may be getting a boost from muted expectations
for prices and rate hikes, as fewer respondents saw
borrowing costs rising. Consumer expectations for
inflation in the next five to 10 years fell to 2.3 percent,
matching the lowest in the past half century, while the
expected rate in the coming year dropped to the lowest
since 2017.