Japan Wood Products Prices
Dollar Exchange Rates of 25th February 2019
Japan Yen 111.06

Reports From Japan
¡¡
Exports nosedive
Data from the Ministry of Finance points to a more than
8% decline in exports over the past 12 month. This is
focusing attention on the impact of slowing global demand
and trade frictions on business confidence and investment.
Foreign purchases of Japanese machinery, another
indicator of business prospects, have dipped to the lowest
for the past 10 years.

Sentiment amongst Japanese businesses is at a two-year
low, raising a question on the continuing rosy economic
outlook promoted by government agencies. Many analysts
warn that economic growth this year will not be as good as
last year. The Cabinet Office, in its latest monthly
assessment of industrial output, downgraded its
assessment for the first time in three years.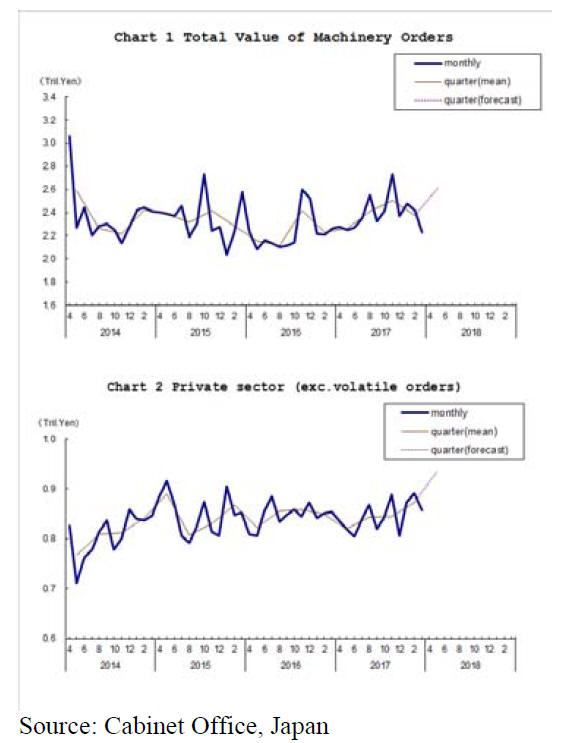 In introducing the January to March forecast for
machinery orders the Cabinet Office says: ¡°In the January-
March period the total amount of machinery orders was
forecasted to decrease by 13.0% and private-sector orders,
excluding volatile ones, were forecasted to fall by 1.8%
from the previous quarter respectively.

This forecast was basically made by summing up the
figures from 280 machinery manufacturers.¡±

See: https://www.esri.cao.go.jp/en/stat/juchu/1812juchu-e.html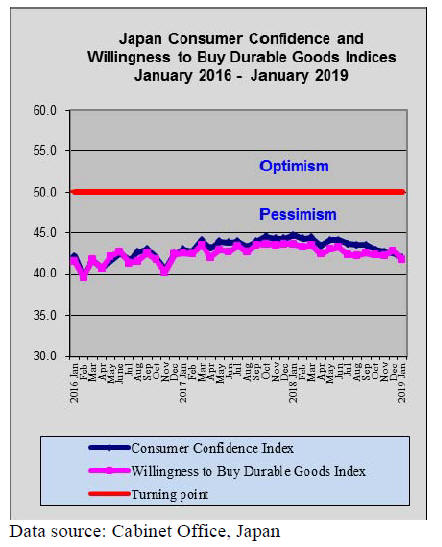 Bank of Japan mulls more fiscal stimulus if yen
strengthens
In a rare explicit coupling of policy and the yen, Bank of
Japan (BoJ) governor, Haruhiko Kuroda, surprised
analysts but explicitly pointing to the possibility of more
fiscal stimulus if exchange rate movements start to
undermine Japan¡¯s inflation target and the wider and
economy.

This statement had an immediate impact on the US
dollar/Yen exchange rate bringing the Yen back to 110 to
the US dollar. In recent weeks some ex-BoJ officials had
warned that if the Yen strengthened sharply there would
be little the BoJ could do but Kuroda said the BoJ could
influence bond yields and increase asset purchases.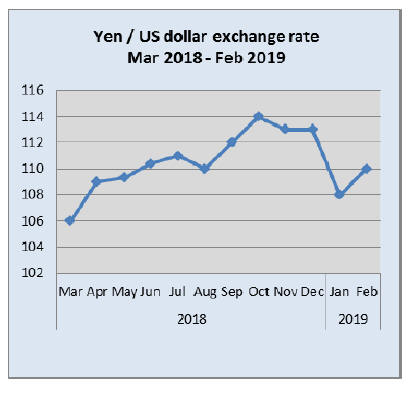 Poor start to year for housing starts
January housing starts dipped a surprising 12% year on
year, matching the decline seen in January 2016 and
setting a new record low for January.

The harsh winter weather always drives down construction
activity in January but at just 67,000 starts this year has
not started well. Compared to a month earlier, January
housing starts were down around 14%.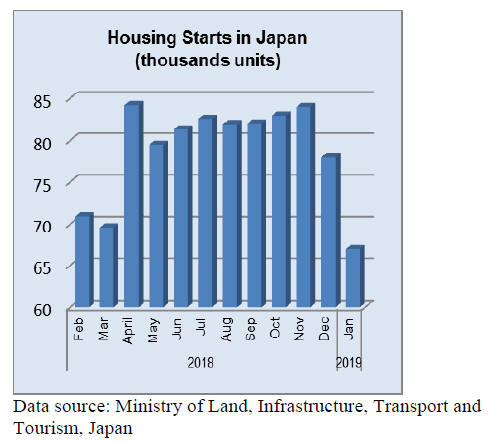 Furniture imports
Details of full year 2018 wooden furniture imports into
Japan are given below. The tables for imports of Wooden
Office, Kitchen and Bedroom furniture (HS 940330/40/50)
are shown below along with indications of the main
suppliers. It will be noted that for all three categories of
furniture the top 3-5 suppliers account for well over 80%
of all wooden furniture imports.

Office furniture imports (HS 940330)
2018 wooden office furniture import values were down
16% from a year earlier. In 2018 the top suppliers in order
of rank were China (62%), Poland and Italy (6% each), the
USA (5%) and Portugal (4%).

2018 imports from China were down around 5%, Poland
scored a 40% rise in 2018 shipments over 2017. In
contrast shipments from Italy fell more than a quarter.
Shipments from both the USA and Portugal were
significantly higher than in 2017.

The top five shippers of wooden office furniture accounted
for 83% of all Japan¡¯s imports of this category of
furniture.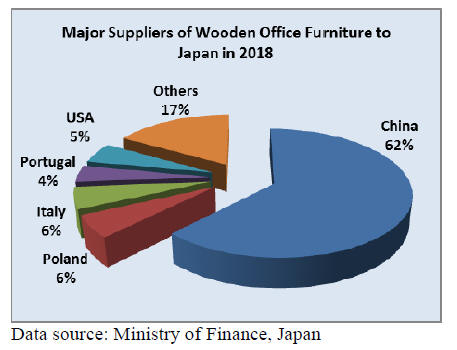 Kitchen furniture imports (HS 940340)
The value of Japan¡¯s imports of wooden kitchen furniture
in 2018 was some 15% up on levels in 2018 and shipment
were dominated by three shippers the Philippines,
Vietnam and China which provided 47%, 35% and 11%
respectively.

The value of shipments of kitchen furniture from the
Philippines in 2018 was significantly higher than in 2017,
rising over 40%. The value of shipments from the second
largest supplier, Vietnam, was unchanged from a year
earlier and there was a modest 10% increase in the value
of shipments from China.

Amongst the ¡°others¡¯ group shipments from Thailand,
Malaysia, Germany and Italy were significant.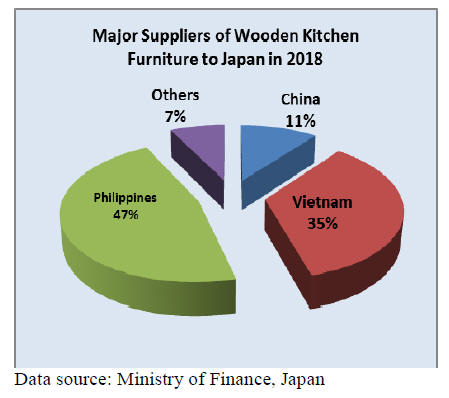 Bedroom furniture imports (HS 940350)
Compared to a year earlier there was only a modest rise
(5%) in Japan¡¯s 2018 imports of wooden bedroom
furniture. The top five shippers China, Vietnam, Thailand,
Malaysia and Poland accounted for a massive 97% of all
wooden bedroom furniture imports in 2018.

Shipments from China in 2018 were about the same value
as in 2017, this was also the case for Malaysian and Polish
suppliers. The big winners in 2018 were Vietnam for
which shipments rose 11% and Thailand which saw a 12%
in the value of shipments.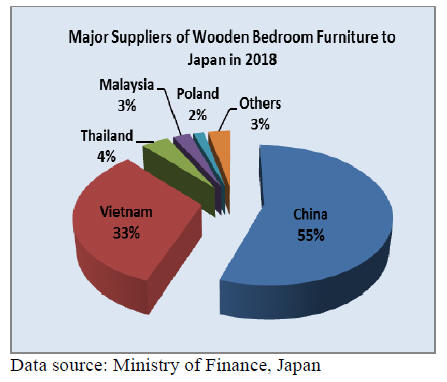 Trade news from the Japan Lumber Reports (JLR)
The Japan Lumber Reports (JLR), a subscription trade
journal published every two weeks in English, is
generously allowing the ITTO Tropical Timber Market
Report to reproduce news on the Japanese market
precisely as it appears in the JLR.

For the JLR report please see:
http://www.nmokuzai.
com/modules/general/index.php?id=7

Change of duty with EPA
On February 1, 2019, EPA between EU and Japan takes
effect. Import duty on European softwood lumber,
structural laminated lumber, OSB and particleboard will
be reduced step by step and they will be totally abolished
after eight years.

Time to start is February 1, 2019 and April 1 of every
year. Reduction rate is equal every year .For instance,
lumber duty is 4.8% which is reduced by 0.6% every year
but some items like laminated lumber of 3.9% cannot be
divided by eight so 0.5% is reduced every year except for
fourth year at which year, reduction rate is 0.4%. Wooden
board rate is6.0% which is reduced by 0.7 and 0.8 %
alternately.

Review of 2018
Problem in last two years is how high cost of lamina is
passed onto sales prices of finished products.
On laminated whitewood post, based on lamina cost,
sales prices need to be 2,000 yen per piece delivered but
due to low cost domestic cedar laminated post of about
1,700 yen, laminated whitewood post prices had been
1,860-1,880 yen.

With rigid high lamina cost, supply of imported laminated
post and domestic production were curtailed in early stage
then the demand and movement improved since last fall so
the prices have been firming and 1,900 yen seems possible
in January.

Meantime, redwood laminated beam prices climbed up to
63,000 yen per cbm delivered in early 2018 but with
competition with Douglas fir solid wood KD beam, which
prices had been held at 58,000 yen, further increase of
redwood beam became impossible with 5,000 yen price
spread. However, the supply continued robust so
oversupply resulted in drop of market prices.

Based on lamina cost, 65,000 yen should be sales prices of
redwood beam but the market prices dropped down to
61,000 yen as future prices of imported beam dropped.

Imported volume of structural laminated lumber for the
first ten months of 2018 was 381,350 cbms of small size,
7.7% less than the same period of 2017 then 302,032 cbms
of medium size, only 1.2% less than 2017. Export prices
of lamina and genban had stayed up high due to high cost
of logs in Europe and busy other markets.

Lamina prices were Euro 250-260 per cbm C&F and
genban prices were Euro 280-290.Redwood prices
climbed to Euro 270-280 through the third quarter then the
demand dropped. At the same time, North American
lumber market sharply weakened and purchase by China
slowed down so supply side bullishness is fading.

Based on the statistics, LVL production in 2017 was
179,000 cbms out of which 55% was used as structural
materials.

There is new LVL plant was built in Aomori and with old
plant, total of 300,000 cbms of cedar is consumed a year.

Plywood
Total estimated softwood plywood production in 2018
based on January through November figures is 3,093 M
cbms, 1.6% less than 2017 out of which structural
plywood production was 2,866,700 cbms, 4.8% less. The
shipment would be about 3,042,800 cbms, 0.5% less
despite one additional plywood mill started running in
April. Reason of why total production decreased even with
one additional new plant is labor shortage and log supply.

Labor shortage is becoming serious problem. In local
regions, securing young labor force is becoming awfully
hard so the mills change working rules. Mills used to run
overtime or week end when the demand was busy but now
mills stop such extra works to tie up young people. There
will be two more new mills staring up this year but total
supply would not increase much by the above reason.

Then there is log supply problem. Total demand for
domestic logs has been climbing for lumber, laminated
lumber and biomass but the supply has not increased to
meet increasing demand so if mills want to expand
production capacity, stable log supply becomes hurdle.

Another change is increasing production of non-structural
plywood used for floor base. The production of nonstructural
plywood continues increasing year after year
because main material of imported South Sea hardwood
plywood for floor base is becoming hard to secure.

Malaysian and Indonesian plywood mills suffer log supply
shortage so that shipments continue delaying. Japanese
floor manufacturers cannot count on stable supply from
South Sea countries so they are shifting to domestic
softwood non-structural plywood.

Also concrete forming plywood has mainly supplied from
Indonesian mills but the supply has been dwindling so
production of softwood concrete forming panel in Japan
has been increasing and last year¡¯s production was almost
50% more than 2017.

Movement of softwood plywood is steady and there are
constant orders for imported plywood. December
softwood plywood production was 252,800 cbms, 2.5%
less than December last year and 3.0% less than
November, first time to have less than 260 M cbms in
three months.

The shipment was 258,300 cbms, 0.4% more and 8.8%
less. The inventories were 155,600 cbms, 4,200 cbms less
than November, three straight months decline. Shortage of
trucks continues so that deliveries are delayed. This did
not cause much trouble because construction activities are
also delayed by labor shortage. Overall demand and
supply are balanced.

Export prices of South Sea hardwood plywood continues
firm and climbing. Production cost is up after Malaysia
raised minimum wage and log harvest tax in Sarawak is
increased. This is middle of rainy season and log
availability is extremely tight and plywood mills are afraid
of further increase of log prices. Plywood mills are not so
anxious to secure new orders.

In Japan, arrivals late last year rushed so delayed contract
balances are largely solved. In the second half of last year,
the dealers hesitated to place new orders because of high
export prices and dull movement in the market so future
supply will definitely drop down.

Total port inventories are ample now but some items like
concrete forming panels and structural panels are scarce
without any hope of recovery. The dealers plan to hold onhand
inventories and keep selling preciously.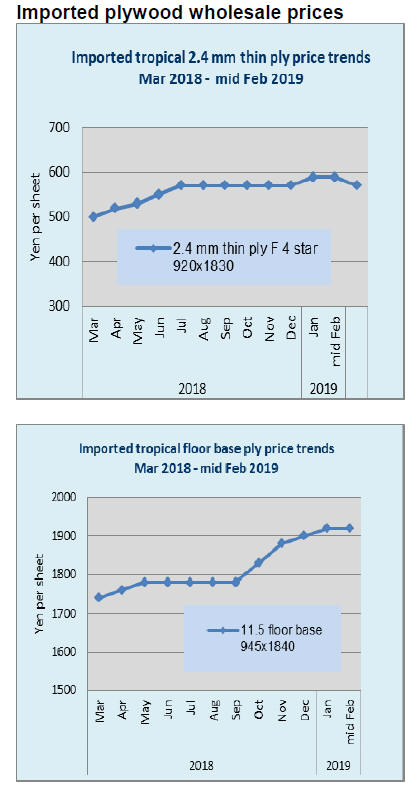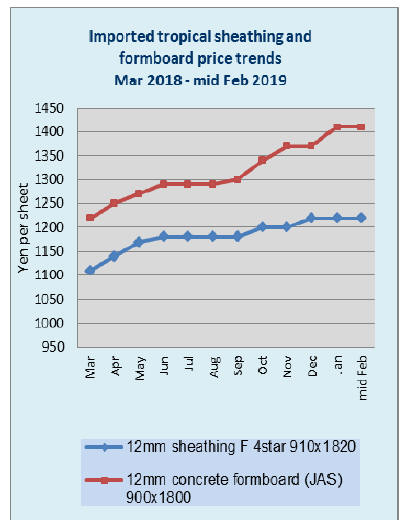 Russian log export duty
The Russian government imposes 40% export duty on
spruce, fir and larch from Russian Far East but for the
companies which exported processed products in last three
years, log export duty is reduced to 6.5%.

The Russian government announced names and allocated
volume of companies. Total quota of logs for export is
four million cubic meters.

Total of 18 companies are approved. RFPG is the largest
company with allocated volume of 2,608,000 cbms, 65%
of total. Terneyles has 638,000 cbms. Rimbnan Hijau
(RH) MDF has 438,000 cbms. RH International has
105,000 cbms.

They are top five approved companies for 6.5% log export
duty. Actually majority of Far East logs are exported to
China and Korea so the volume for Japan is very little.
Japan mainly buys veneer, laminated lumber and cut stock
of hardwood species from Terneyles and veneer from
RFPG and some whitewood lumber.