3. MALAYSIA
MTIB to assist private sector boost exports
The Malaysian Timber Industry Board (MTIB) Deputy
Director-General, Norchahaya Hashim, has said MTIB
will offer assistance to exporters in diversifying markets
and, because of the strong demand in India, Malaysia's
exports of wood products are expected to grow to RM23
billion in 2019 from RM22.30 billion in 2018. Currently
around 17% of wood product exports go to the US with
about the same destined for Japan.

Certified sawnwood accounted for half of all certified
timber exports
Malaysia has certified 4.38 million hectares of tropical
forests and certified sawnwood accounted for almost half
of all certified timber exports in 2017. Mouldings and
plywood manufactured from certified forest raw materials
accounted for a further 28% and 18% respectively. The
total volume of certified timber exported in 2017 was
237,981 cubic metres according to Malaysia's statistics.

The Netherlands was the main importer of Malaysia's
certified timber taking just over 86,000 cubic metres in
2017 followed by UK at 38,000 cubic metres and
Germany at 18,000 cubic metres.

Calls for Sabah to have its own Timber Council
Sabah Timber Industries Association (STIA), Kota
Kinabalu branch Chairman, Tan Peng Juan, said the State
Government should have its own marketing agency for
promoting timber products and certification similar to the
Malaysian Timber Council (MTC) in Peninsula Malaysia.

He also urged the State Government to offer solutions to
problems faced by the industry. He recommended:
creating viable policies for the sustainable supply of raw
material; ensuring priority is given to local mill operators
when harvesting licenses are allocated; setting up a log
auction platform to facilitate transparent sales; upgrading
port facilities; lowering electricity tariff to improve
competitiveness; investing in infrastructures and most
importantly, reducing the administrative burden and 'red
tape' to improve the business environment in Sabah.

Sarawak – production from natural forest drops
Sarawak recorded RM5.44 billion in wood product exports
last year, a decline of 11% year on year. In an annual
assessment the Sarawak Timber Industry Development
Corporation (STIDC) General Manager said over 90% of
exports comprised primary products such as logs (RM773
million), sawn timber (RM673 million), medium-density
fbireboard (RM332 million) and veneer (RM3.19 billion).

Sarawak's export markets in 2018 were Japan (RM2.69
billion), India (RM545 million), South Korea (RM424
million), Middle East countries (RM385 million), Taiwan
P.o.C (RM358 million) and Asean countries (RM666
million).

Production from natural forests in Sarawak continues to
slow and is forecast to stablise at around 2 million by 2030
according to the STIDC. Against this backdrop plantation
developments would need to be stepped up so annual
harvests of four million cubic metres are feasible.

Sabah seeks investment in wood processing
The Malaysian Investment Development Authority
(MIDA) recently held a seminar in Kota Kinabalu on the
theme 'New Era of Manufacturing for Furniture & Wood-
Based Industry'. This attracted attention from companies
operating in Peninsular Malaysia that would like to secure
timber raw materials in Sabah.

To follow up on interest in resources, MIDA arranged
discussions with Yayasan Sabah, POIC Lahad Datu and
Sabah Softwood Berhad (SSB) towards strategic
collaborations. MIDA's Deputy Chief Executive Officer,
Datuk N Rajendran, said "With abundant natural
resources, Sabah is poised for more investments in the
wood-based industry."

The Sabah State Government set up POIC Lahad Datu in 2005 to
spearhead the development of palm oil downstream processing to
add value to its 1.55 million hectares of oil palm plantations, to
create jobs and business opportunities.

SSB is 70% owned by Innoprise Corporation Sdn. Bhd., the
investment arm and holding company of Yayasan Sabah Group.
Its core business is in timber, oil palm, milling and woodchip
production.

See: http://www.mida.gov.my/home/announcement-mediarelease/
posts/

Record investment approvals in manufacturing sector
Malaysia attracted a total of RM139.3 billion investments
in the manufacturing, services and primary sectors for the
first nine months of 2018. This was an 18% increase from
the RM118.1 billion approved in the same period last year.
The investments were in some 3,240 projects and are
expected to generate over 90,000 job opportunities.

Approved foreign direct investments (FDI) increased by
10% to RM64.1 billion in the period January-September
2018 from RM30.5 billion in the same period in 2017
mainly driven by the manufacturing sector which recorded
a strong increase of almost 250%.

See: http://www.mida.gov.my/home/7743/news/malaysiarecords-
rm139.3-billion-of-approved-investments-for-januaryseptember-
2018/

Plywood traders based in Sarawak reported the following
export prices for mid-January 2019: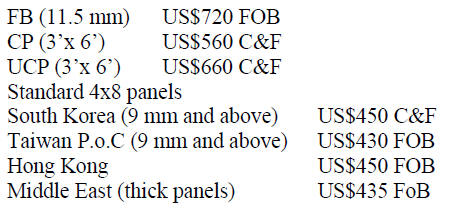 4. INDONESIA
Furniture makers urged to target US market
Considering that Indonesia is one of the top 10 countries
in terms of forest area in the world, the output of the
furniture sector is way below its potential according to the
Minister of Industry, Airlangga Hartarto. This was the
theme of his address at the opening of the Polytechnic for
the Furniture and Wood Processing Industry in the Kendal
Industrial Area, Central Java.

The Minister continued saying Indonesia's furniture
exports can grow and the government urges exportoriented
industries to pay more attention to the US market
so the national target for furniture exports of US$5 billion
in the next two years can be achieved.

Hartarto noted that between January and October 2018 the
national furniture trade balance was a surplus of US$99.1
million with exports totalling US$1.4 billion.

In related news the Secretary General of the Association of
Indonesian Furniture and Handicraft Industry (HIMKI)
Abdul Sobur, has said that the Indonesian domestic market
in 2019 could be worth as much as Rp15 trillion up around
10% from 2018 driven mainly by the buoyant housing and
office building markets.

However, Sobur pointed out that competition from imports
in the domestic market is severe and that imported
furniture has a major slice of the domestic market.

Exporters continue to enjoy GSP status in the US – for
now
Trade Minister, Enggartiasto Lukita recently met with US
Trade Representative Robert Lightizer to discuss the
importance to Indonesia and to US manufacturers of
maintaining the GSP status for Indonesian wood products
such as plywood which are raw material for many US
industries.

Enggartiasto told a media gathering that the meeting with
US officials was constructive and both sides understood
that the GSP for Indonesia actually benefits both countries
and they agreed to further discuss the GSP in order to
reach a positive and equally beneficial result and that until
a deal is reached Indonesian exporters can continue to
enjoy GSP status in the US.

See: https://www.thejakartapost.com/news/2019/01/18/tradeministry-
secures-us-gsp-for-now.html

Export boost to beat back trade deficit
According to Coordinating Minister for Economic Affairs,
Darmin Nasution, wood and horticultural products will be
a focus of exports so as to reduce the trade deficit that
Indonesia suffered over the past year. Indonesia posted
wider-than-expected trade deficit in December, bringing
the gap for 2018 to the largest ever.

The Central Bureau of Statistics has reported that
Indonesia posted a record trade deficit of almost US$$9
billion in 2018 in sharp contrast to the US$12 billion
surplus in 2017. Suhariyanto, the Bureau Head said data
shows that in 2018 exports slowed at a time when imports
surged due to a recovering domestic economy.

Businesses ready to support strengthening of SVLK
certification
In response to statements from the Ministry of
Environment and Forestry to the effect that there were
suspicions that the SVLK system was being circumvented
by some in the timber sector, the Chairperson of the
Indonesian Forest Entrepreneurs Association (APHI),
Indroyono Soesilo, affirmed that APHI members comply
with the SVLK regulations.

He confirmed the Association is ready to work with the
Ministry to strengthen the monitoring of SVLK
compliance.Indroyono further said that none of the
Association members had complained about the
administrative system for applying for SVLK certification.

Indonesia's SVLK certification system serves to ensure
wood products and raw materials come from sources
whose origins and management fulfill the legal
requirements of the regulation.

See:
https://ekonomi.bisnis.com/read/20190120/99/880503/legalitaskayu-
pengusaha-siap-sumbang-masukan-penyempurnaan-svlk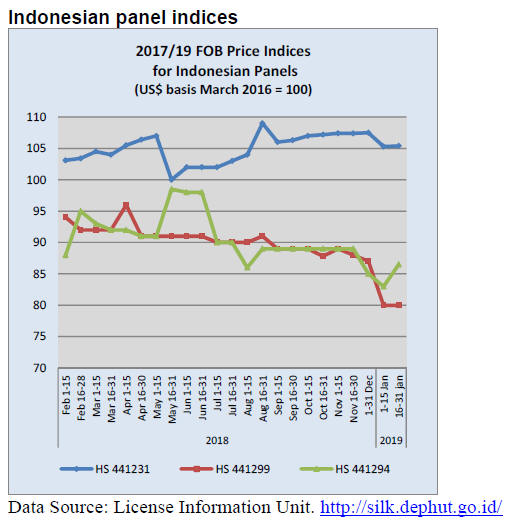 5. MYANMAR
2018-19 harvesting target announced by MTE
The Myanma Timber Enterprise (MTE) has announced its
harvesting target for 2018-19. MTE plans to harvest 7,657
teak trees from the 19,210 trees defined in the Forest
Department's Annual Allowable Cut (AAC). In addition,
173,529 non-teak hardwoods will be harvested from the
592,330 trees in the AAC.

This equates to approximately 10,400 H.tons of teak and
330,000 H.tons of non-teak hardwoods. This openness and
transparency by MTE has been warmly welcomed by its
critics.

When logging resumed after the nation-wide moratorium
in 2016-17 MTE suspended private sector logging
contracts. For 2018-19 harvesting will be undertaken by
MTE but, because of a lack of capacity, MTE has said it
may need to conclude contracts with the private sector for
the use of logging trucks.

The 'home of teak' Bago Mountain Range at risk from
illegal logging
Despite the efforts of the government and Forest
Department to protect forest resources and ensure
sustainable harvesting it has been reported that illegal
logging is still rampant in the country even in the Bago
Mountain Range.

In late January a member of parliament presented pictures
taken along the road used by illegal loggers in the Bago
Mountain Range and said these demonstrate weak law
enforcement and called for more effective measure to
combat illegal activities.

The Forest Department has admitted it does not have the
capacity to tackle the widespread illegal activities.
Commentators suggest that other law enforcement
agencies should be brought in to assist the Forest
Department.

This problem will not be easy to solve as local
communities are deeply involved in the illegal logging
network. To address this many are suggesting civil society
organisations operating in the area could play an active
role to persuade the local people not to become involved.
This is easier said than done when people in the areas
affected by illegal logging have few opportunities to earn
money.

Change to land law threatens to turn smallholder
farmers into trespassers
The needs of people to earn a living are also driving
conflict over land as well as deforestation. The Myanmar
media has reported that illegal immigrants from Yunnan
Province have cleared land in Myanmar to produce
bananas and water melons.

An investigation by a Kachin-based civil society
organisation has suggested the area of illegal farms is very
large. In support of this a coalition called the Land
Security and Environmental Conservation Group has
analysed satellite imagery and conducted field trips and is
preparing to present its findings in the hope that action
will be taken against illegal plantations.

Subsistence and smallholder farming is a very sensitive
issue in Myanmar. A recently amended law governing
vacant, fallow and virgin land has, say local observers,
threatened to turn millions of smallholder farmers into
criminal trespassers.

Government statistics show that over 80% of the land now
classified as vacant, virgin or fallow is in states populated
mainly by Myanmar's ethnic communities. Much of this
land, that now falls under the revised law, is being used for
farms, gardens, orchards, productive forests and
communal village land – often in accordance with
customary law and practices.

An article in the magazine Frontier Myanmar says "Far
from being informal, ill-disciplined and inefficient, these
systems (of land-use) are often intricate, closely regulated
and uniquely well adapted to marginal, ecologically fragile
upland areas. The amended law, enacted on September 11,
requires all those occupying land classified as vacant,
fallow or virgin to apply for a land use permit from a
management committee made up of government
departments, or risk falling foul of a new trespassing
offense."

See: https://frontiermyanmar.net/en/why-a-land-law-change-issparking-
fears-of-mass-evictions

Single window to lower investment transaction costs
Myanmar Investment Commission Chairman, U Thaung
Htun, has been quoted as saying that a single window
system will be applied for investment applications to
eliminate red tape. The World Banks' Ease of Doing
Business Index for Myanmar is currently a low of 171 out
of all 190 countries.

Vice President, U Myin Swe, has been meeting with the
business sector every month under the auspice of the
Union of Myanmar Federation of Chambers of Commerce
and industry (UMFCCI). The Private Sector is understood
to have urged the Vice President to reduce private sector
transaction costs which are higher than other ASEAN
countries they say.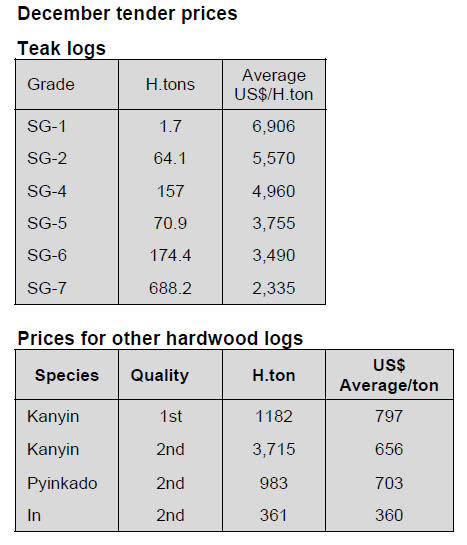 6. INDIA
Real estate sector outlines issues to be addressed to
boost housing demand
At its second 'New India Summit' held in Mysore,
Karnataka, the real estate growth potential of Tier II, III
and IV cities was the focus of discussion. The Summit
resulted in three significant policy recommendations to
government aimed at sustaining growth and development
of the Indian real estate industry:

 Review of GST
CREDAI;s view is that, because the real estate
sector is subject to both GST and stamp duties,
there is a case for the rate of GST on real estate
(currently 12%) to be reduced to 8% across all
segments and not just for houses of up to 60
square metres. The current land abatement charge
of 33% is also not appropriate in case of cities
where land costs make up to 70 % of the total
cost of the home.

 Single window for clearance and approval
Without a Single Window for clearance there are
major delays in building projects which
ultimately adds to the cost of new homes.
CREADAI recognize there have been
improvements in tackling administrative
roadblocks the implementation of the Single
Window for clearance would be a step forward
for real estate sector.

 Liquidity crisis
Demonetisation and GST administration places a
heavy burden on the sector because of the
multiple transitions in the real estate sector. The
current liquidity crunch in the Indian real estate
sector, even for loans that have been sanctioned,
is a problem. CREDAI recommended a one-time
restructuring of all real estate loans to enable the
sector to emerge successfully from the burden of
multiple transitions.

For more see:
https://credai.org/press-releases/credai-predicts-double-digitincrease-
in-gdp-contribution-by-emerging-cities-of-india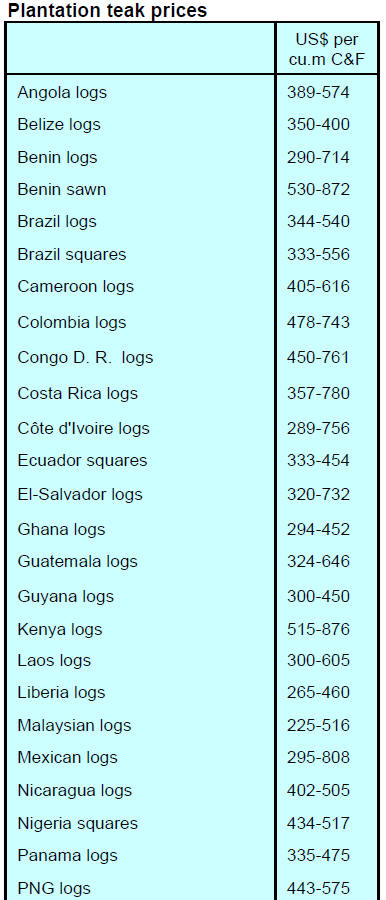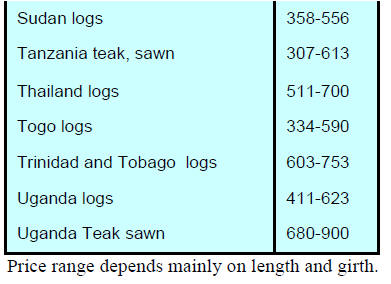 With the Rupee/US dollar exchange rate remaining steady
at around Rs.71 importers are gaining more confidenec to
forward purchase, something they avoided during the time
the Rupee exchange rate was volatile.

The main issue in the sector at present is the sluggish
building and furniture markets as consumers try to
economise.

The cautious mood on the part of consumers is having a
direct impact on demand for teak, even the lower priced
plantation teak, and analysts anticipate that this negaitive
market sentiment will eventually lead to lower prices in
order to spur demand.

The C&F prices for imported teak shown above are within
the same range as previously reported.

Locally sawn hardwood prices
Prices for imported hardwood sawnwood remain
unchanged from a month earlier but will eventually come
under the same downward pressure as anticipated in the
teak market.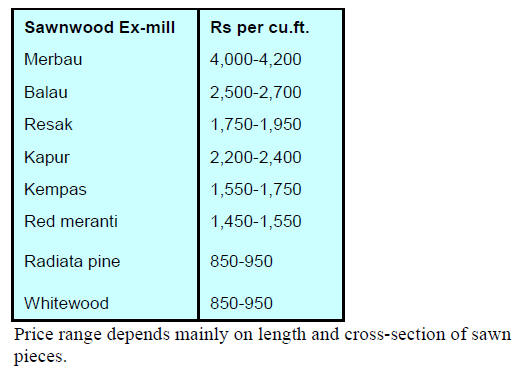 Myanmar teak prices
Traders report that demand for imported sawn teak from
Myanmar is flat. The weak housing market and the high
prices for imported Myanmar teak have combined to
weaken interest in top quality sawnwood.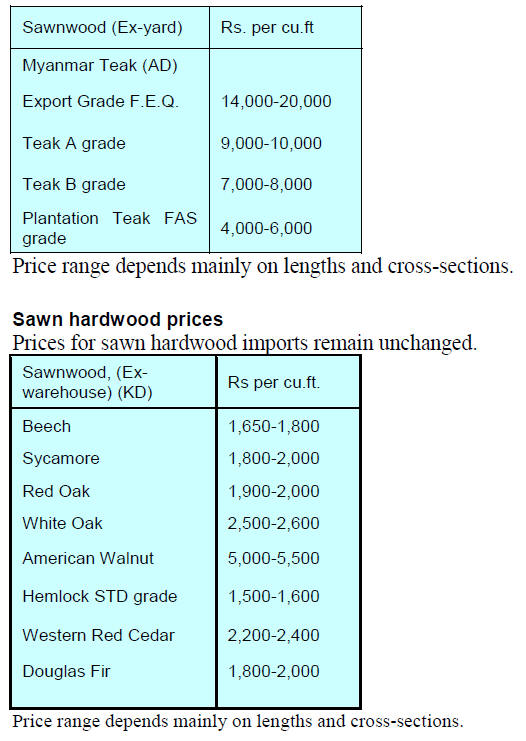 Plywood
Woodbased panel manufacturers, especially plywood and
MDF makers, are facing stiff competition from imported
panels and are considering asking the government to
investigate if some overseas suppliers are dumping panels
into the Indian market.

At the heart of the issue is that supplies are flowing faster
than the market uptake which is leading to pressure on
prices which, for domestic manufacturers who suffer
rising production costs, could be serious.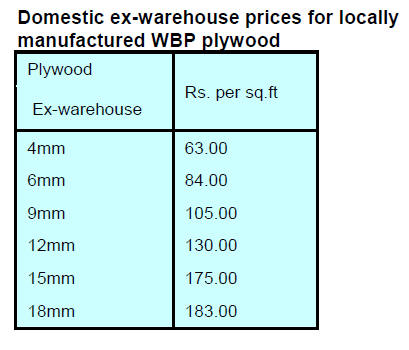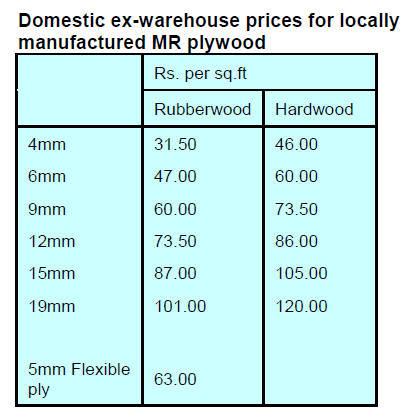 UN body says India overstates forest cover
The United Nations Framework Convention on Climate
Change (UNFCCC) has raised concerns about India's
definition of forests, which they suspect exaggerates forest
cover and masks deforestation.

India's definition of forests has been criticised in the past
on the grounds that it doesn't provide an accurate picture
of the extent of biodiversity in rich natural forests.

The government considers an area of one hectare (ha) or
more with at least 10% canopy cover, irrespective of land
use and ownership, and as such includes tree crops, fruit
orchards, bamboo and agro-forestry areas as a forest.
For more see: https://www.hindustantimes.com/indianews/
recheck-forest-cover-data-un-body-tells-india-flagsconcern-
about-definition/storyqrB51xpKlnAuYTXzstBAFK.
html
7. BRAZIL
Natural vegetation protection successes
Statistics from the Brazilian Agricultural Research
Corporation (Embrapa Territorial) show that 66% of the
natural vegetation in Brazil is under
conservation/preservation management. This was backed
up by data from the MapBiomas database, a platform that
maps landuse in Brazil.

According to the United Nations Environment Programme
report "Protected Planet Report 2016", Brazil is among the
top 10 countries with more than 2 million square
kilometres of protected territory.

New tool improves control of illegal deforestation
Yet another tool, "MapBiomas Alert", has been introduced
to allow environmental agencies a more accurate view of
real time deforestation. The system, developed in a
partnership between Brazilian Institute for Environment
and Renewable Natural Resources (IBAMA) and
MapBiomas Network, integrates information from
different sources and produces high resolution images.

More than a dozen satellite deforestation warning systems
contribute to the system allowing for real-time
observations. IBAMA is already using remote surveillance
and the new system will strengthen efforts to respond
quickly to deforestation.

For more see:
http://www.ibama.gov.br/noticias/436-2018/1795-novaferramenta-
aprimora-controle-do-desmatamento-ilegal

Export round-up
In November 2018, Brazilian exports of wood-based
products (except pulp and paper) increased 24% in value
compared to November 2017, from US$243.2 million to
US$301.1 million. This performance extended into
December 2018 when exports of wood-based products
(except pulp and paper) increased 5.2% in value compared
to December 2017.

November pine sawnwood export values increased 28%
year on year and export volumes expanded almost 25%
over the same period, from 213,700 cu.m to 266,700 cu.m.
The growth in both export values and volumes extended
into December when export values increased 9% year on
year and export volumes grew almost 10% over the same
period from 201,000 cu.m to 220,600 cu.m.

The positive market developments continued with tropical
sawnwood exports the volumes of which increased 32% in
November 2018 while export values rose almost 20%
from US$19.2 million in November 2017 to US$ 23.0
million in 2018. In December there was an even sharper
growth in export volumes (+23%) from 42,700 cu.m in
December 2017 to 52,500 cu.m in December 2018 at the
same time export values in December also rose 8%.

November 2018 pine plywood exports increased around
8% in value year on year from US$ 55.0 million to
US$59.3 million but export volume growth was lower at
around 5% from 180,100 cu.m to 188,800 cu.m. There
was a further modest increase (1.5%) in pine plywood
export values in December and export volumes grew faster
at around 8% from 177,800 cu.m to 192,300 cu.m.

The positive developments in demand did not spill over to
tropical plywood where, in November, export volumes fell
26.0% year on year 15,400 cu.m in November 2017 to
11,400 cu.m in November 2018. The value of November
exports was also down around the same level (22%) from
US$6.2 million in November 2017 to US$4.8 million in
November 2018.

There were further declines in the value and volume of
tropical plywood export in December 2018 compared to a
year earlier.

Export values for wooden furniture rose from US$41.2
million in November 2017 to US$49.0 million in
November 2018 an almost 19% rise. This upward trend
continued into December 2018 where export values rose
from US$43.9 million in December 2017 to US$50.5
million in December 2018, a 15% rise.

Furniture sector growth
The Brazilian Furniture Industry Association
(ABIMOVEL) has reported that furniture production in
November was recorded at 42 million pieces, 5% higher
than in October. For the 11 months to November 2018
there was a modest rise in production.

Furniture exports in 2018 totalled US$716.5 million
according to ABIMOVEL representing an increase of 10%
compared to 2017. Of the total, the United States
accounted for 30% of export share, an increase of 26.3%
over last year, followed by the United Kingdom with 10%
and Argentina with 7.5%.

Plantation products dominate exports
Export data for wood products show that over the past five
years there has been a steady increase in export volumes
driven mainly by exports of processed pine plantation
timbers. Pine plywood exports were a record 2,272,067
cubic metres in 2018.

Exports of pine veneer rose to 165,582 cubic metres in
2018 from 103,013 cubic metres in 2017 and pine
sawnwood exports were 12% higher in 2018 compared to
a year earlier.

The plantation sector is optimistic about the resumption of
growth in the domestic and international markets but has
identified measures necessary to restore Brazilīs
competitiveness. These include: improving infrastructure
and logistics; improving legal security; adjusting
environmental licensing to best practices and reviewing of
the taxation system to ensure competitiveness.

Against the background of expanding markets for
plantation products exports of tropical wood products have
been steadily declining. Tropical plywood exports were
only 61,016 cubic metres in 2018, about the same as in the
previous year. Exports of tropical veneer in 2018
followed a similar trend with just 13,424 cubic metres
being exported, the same as in the previous year.

Tropical sawnwood exports increased slightly in 2018
rising to 556,441 cubic metres, an18% increase compared
to 2017.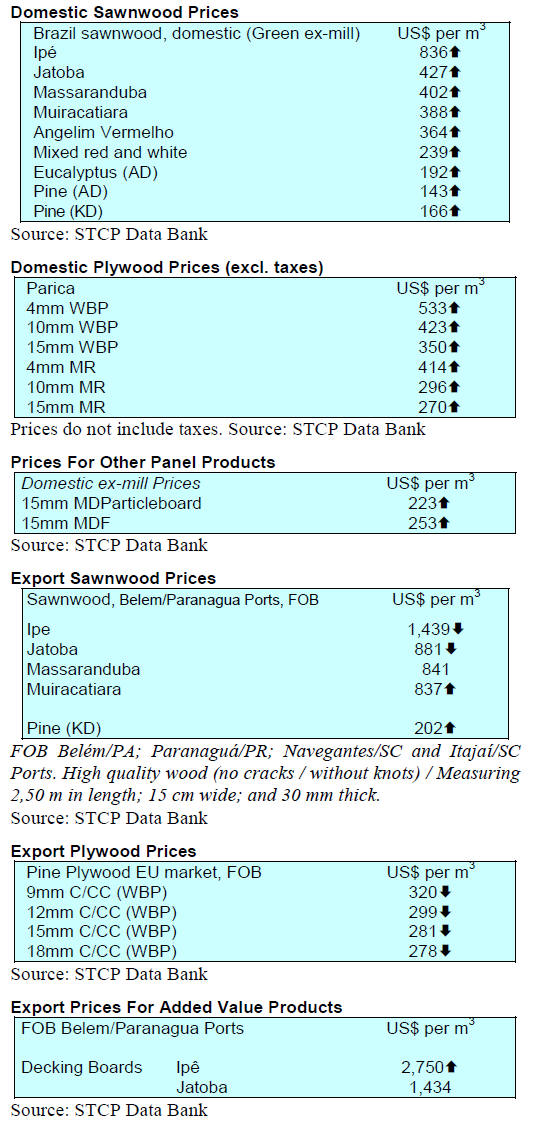 8. PERU
ADEX releases export data for first 11 months 2018
The Exporters Association (ADEX) has reported that up to
November 2018 exports of wood products were worth
US$112.6 million FOB, this compares to the US$110.7
million in the same period in 2017.

Of the US$112.6 million, exports to China were the largest
and accounted for a 42% share of total wood product
exports however this was down around 14% from 2017.

The United States was the second ranked market in terms
of export values accounting for 12%, a rise of 25% year on
year. However, exports to Mexico dropped 24% year on
year.

Exports of sawnwood between January-November 2018
were US$21.1 million FOB, a drop of 3% year on year.
The Dominican Republic was the main market with a 31%
share. The market in Mexico accounts for another 23% of
sawnwood exports followed by China at 22%.

Peru's reconstituted panel imports surge
Between January to November 2018 Peruvian imports of
particleboard and MDF were valued at US$94.17 million,
an increase of 28% compared to the same period of 2017.
Of this, Ecuador was the main supplier followed by Chile.
Imports of particleboard and MDF from Spain increased
last year and up to November 2018 shipments from Spain
grew almost 40%.

Most rise in wooden furniture imports last year
ADEX also reports that in the first 11 months of 2018
Peruvian imports of wooden furniture reached US$55.28
million, an increase of 5.5% compared to the same period
in 2017. Brazil was by far the largest supplier of wooden
furniture to Peru shipping almost US$38 million or close
to 70% of all wooden furniture imports.

Imports from China totalled USS6 million with a further
US$2.5 coming from Malaysia. The consolidated imports
of Peru's Sodimac, the home improvement chain and
Peruvian Homecenters (Promart) accounted for 51% of
total wooden furniture imports to Peru.