Report from North America
USTR requests consultations with Peru over OSINFOR
The Office of the U.S. Trade Representative has requested
consultations with Peru under the Environment Chapter of
the U.S.-Peru Trade Promotion Agreement (PTPA) to
"discuss and attempt to resolve" concerns about Peru's
decision to move its Agency for the Supervision of Forest
Resources and Wildlife (OSINFOR) under its Ministry of
Environment.

Some observers, including Democratic members of the
U.S. House of Representatives Ways and Means
Committee, believe this action goes against Peru's
commitment to maintain OSINFOR as an "independent
and separate agency."

Article 18.12.1 of the PTPA calls for consultations to
begin promptly after a request and provides 60 days for
the parties to resolve the dispute. If the dispute is not
resolved, the U.S. may trigger a range of other dispute
settlement procedures under the PTPA.

In response to this action, Democratic leaders of the
Senate Finance and House Ways and Means Committees
supported the move.

Partial shutdown of government stalls reporting of
economic and trade data
The inability of US President Donald Trump and the US
Congress to agree on funding levels has resulted in a
partial shutdown of several U.S. government agencies that
has lasted for weeks.

Among the government operations affected are the
Department of Agriculture, the Census Bureau and the
Department of Commerce, which are responsible for the
collection and reporting of extensive economic and trade
data. November data scheduled to be released January 8
on US imports including hardwood plywood, veneer,
moulding, flooring, and furniture will not be made
available until the shutdown has ended.

Additionally, crop reports, housing reports, and other US
government reports on the economy may be delayed as the
shutdown continues. The shutdown was triggered in
December due to a dispute over the Trump
Administration¡¯s demand for funds for a wall along the
U.S.-Mexico border.

US hardwood plywood imports plunged in October
The volume of U.S. imports of hardwood plywood
decreased by 79% in October to 50,876 cubic metres, by
far the lowest amount imported in any month this decade.

Declines were across-the-board, with Chinese and Russian
imports both falling over 90% from September as well as
compared with last October. Year-to-date imports by the
U.S. are down 19% versus 2017, with imports from China
down 77%.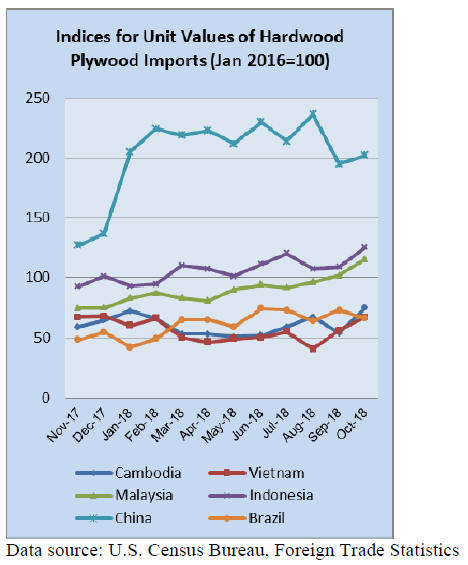 Veneer imports slide
US imports of tropical hardwood veneer fell off by 18% in
October to a level just below that of October 2017. While
the pace has slowed, year-to-date imports still outpace
2017 by 37%. Imports from China gained 31% in October
and are ahead by 51% year-to-date over 2017.

Flooring rebounds after weak September data
U.S. Imports of hardwood flooring rose by more than one
third in October, returning to strong levels after a lull in
September. Year-to-date imports are up by 37% over
2017 with Chinese imports up by 60% and Brazilian
imports up by 70%.

Assembled flooring rose more modestly in October,
gaining 10% from September. Year-to-date imports are
9% above 2017.

New furniture orders remain strong
New furniture orders in October 2018 increased 7% over
new orders reported in October 2017, according to the
most recent Smith Leonard survey of residential
manufacturers and distributors.

While September¡¯s 9% increase compared to a 10%
decrease in the previous year, the October results
compared to an 8% increase reported for October 2017
versus October 2016.

The 7% increase for October followed increases of 9% in
the last two months as well as 5% increases in the previous
three months.

Year to date, new orders remained 6% ahead of the same
period a year ago, with some 68% of survey participants
reporting increased orders year to date.

Shipments in October were 3% higher than October 2017
shipments. Shipments remain 3% ahead of last year
through October. Some 66% of the participants reported
increased shipments year to date.

Backlogs increased 5% again in October, the same
increase as reported in September. Backlogs were 14%
ahead of October 2017, the same level as reported last
month. With orders exceeding shipments through the 10-
month period and backlogs this high, Smith Leonard
expects shipments to make up some ground in the last two
months of the year.

See: http://www.smith-leonard.com/2018/12/27/december-2018-
furniture-insights/

Cabinet sales down
According to the Kitchen Cabinet Manufacturers
Association¡¯s monthly Trend of Business Survey,
participating cabinet manufacturers reported a decrease of
9.4% in November sales compared to October. Every
category took a hit with stock sales down 4.1%; semicustom
sales down 12.2%; and custom down 10.4%
compared to October.

Cabinet sales showed an increase of just 0.3% for
November 2018 compared to the same month in 2017.
Stock sales increased 7.4%; semi-custom sales decreased
significantly at 8.1%; and custom sales increased 2.2%
compared to November 2017.

Year-to-date cabinetry sales through November 2018 are
up slightly, at 2.1% according to participating
manufacturers. Stock sales are up 4.7%; semi-custom
sales continue to decrease with a downturn of 1.5%; and
custom sales up 4.6%.

See: https://www.kcma.org/news/pressreleases/
november-18-trend-business-press-release

US Job growth surges
The U.S. economy added 312,000 jobs in December. Job
growth nearly doubled from November, when the
economy added 176,000 jobs. Wages rose with average
hourly earnings up 3.2% over the previous year, up from
3.1% in November.

It was the third consecutive month that wages rose more
than 3%, strengthening evidence that the tightening
economy is delivering bigger payouts to workers.

Unemployment ticked up slightly, to 3.9%, up from 3.7%
in November, as more people began looking for work. The
labor force participation rate in December was 63.1% in
December, up slightly from 62.9% in November, signaling
that rising wages might be starting to draw prospective
workers from the sidelines.