US Dollar Exchange Rates of 10th January 2019
China Yuan 6.7885

Report from China
Purchasing Managers Index (manufacturing) for
December 2018
In December 2018, the official China manufacturing
purchasing managers index (PMI) fell below 50 for the
first time in the past 12 months reflecting a slowing of
manufacturing activity. An index of 50 is the threshold
between positive and negative sentiment.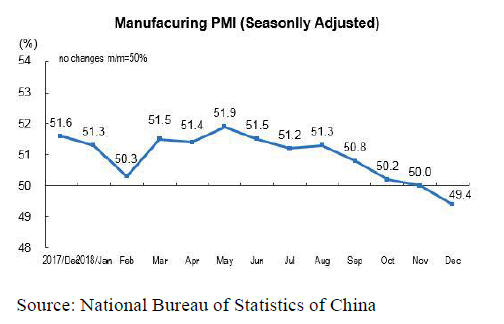 The press release from the National Bureau of Statistics
mentions that PMI for medium and small sized enterprises
were both below 50.

See:
http://www.stats.gov.cn/english/PressRelease/201901/t20190103
_1642836.html

Many of the leading indicators for the Chinese economy
continue to show weakness on both the export and
domestic manufacturing front. Weakness in domestic
demand has been much more pronounced than anticipated.

The Chinese government has in place measures aimed at
boosting disposable income through tax adjustments.
There has also been talk of incentives for SMEs to try and
avoid job losses. On the international trade front it seems
as if some import tariff will be lowered.

While many observers anticipate a protracted economic
slowdown, judgements on the direction of the economy
solely on the manufacturing PMI can be misleading as this
does not include construction which is covered in the nonmanufacturing
PMI. China¡¯s PMI for all sectors was still
above 50 in December 2018 from 52.8 in the previous
month.

See: https://thediplomat.com/2019/01/can-chinas-economyweather-
a-contraction-in-manufacturing-activity/

Huge array of new national standards released
A large number of national standards for forestry and
wood and non-wood forest products has been released by
the State Forestry and Grassland Administration and will
be effective as of 1 May 2019.

The newly published standards mainly addresses
monitoring environmental benefits, mine site restoration,
afforestation on saline and alkaline land, desertification
forest certification, research on new plant varieties, forest
fruit quality, carbon storage, fire prevention, pest control,
wood processing seedling cultivation and planting.

For more see:
http://www.forestry.gov.cn/lykj/1716/20181212/1731412612359
12.html
and
http://www.greentimes.com/greentimepaper/html/2019-
01/07/content_3328965.htm

China-Europe Wood Industry Committee established
A China-Europe Wood Industry Cooperation Summit was
recently hosted by the China National Forest Products
Industry Association (CNFPIA). A China-Europe Wood
Industry Committee was established at the Summit in
order to promote wood products trade along Belt and Road
countries and the development of the China railway
express.

European counties have abundant forest resources and the
China-Europe Wood Industry Committee aims to help tap
these resources to meet the huge demand in China for
wood products. The Committee will organise business
exchanges, exhibitions and forums as well as market
research.

At the same time it will collect, analyse and report
domestic and foreign wood industry information, provide
industrial information services to help enterprises explore
trade opportunities.

The committee will play a role as a secretariat and an
information service centre providing information on
market dynamics, price indices, stocks in Chinese ports as
well as market data analysis.

The Committee also intends to explore options for an
investment and financing platform between China and
European countries.

Weaker demand for high value ¡®redwoods¡¯
Many timber suppliers in the Shanghai Furen timber
market are complaining that demand for timber for
furniture making has suddenly become very quiet. In fact,
some have noted that furniture factories are closing early
for the New Year celebrations with workers already
heading home.

Redwood (rosewood) furniture has a high status in China
and is favored by middle-class consumers but, say
analysts, demand has slowed over the past two years
because of the slowdown in the economy. This slowdown
has affected young generation middle class consumers
who are now facing growing financial challenges.
Analysts write ¡°the Chinese redwood furniture
consumption power is now not strong.¡±

Oversupply of low quality and alternatives to rosewood
has undermined demand and even furniture made from the
top species has fallen such that demand for Myanmar
padauk, blackwood and rosewood in the Furen market has
dropped by more than 30% compared to last year.

Also, from the beginning of 2018 shipments of
sandalwood have steadily falling. There have been only a
few sandalwood shipments per month seen at the Furen
market. Most of the material which can be sold is short
and small diameter logs at price RMB80-90,000 yuan per
ton. The long logs with diameter above 30cm priced at
about RMB300,000 per ton are not moving because
manufacturers cannot pay such high prices while demand
is weak.

Some affordable redwood substitute species have
performed better such as tulipwood (Dalbergia frutescens)
(also Dalbergia decipularis)). Some merchants have
reported that the price for tulipwood is generally around
RMB10,000 per ton.

Tulipwood is recognised in China as one of the 29 national
standard redwood species and has the unique
characteristics of a true redwood say importers. Analysts
say that given the current weak demand for redwood
furniture it is the low priced tulipwood which is attracting
consumers.


Traders concerned on rising prices for US hardwoods
¨C Furniture makers know they can absorb these prices
The trade friction between China and the United States has
been on everyone¡¯s mind in 2018, especially
manufacturers which rely on US hardwoods as raw
material for their production.

The immediate impact of the trade conflict has been the
decision in China to raise import duties on US timber
which has pushed up landed costs. Also, importers
complain that Customs clearance is taking much longer
than before which results in higher container demurrage
which adds to the landed cost.

Driven by rising costs prices for US hardwoods have been
rising for example the price for red oak 2 inches thick,
FAS grade was RMB7500 per cubic metre at the
beginning of 2018 but had risen to RMB8500 yuan per
cubic metre by November 2018. Prices for ash 1-2 inches
thick, FAS grade had risen from RMB6-6800 yuan per
cubic metre to RMB7-7600 yuan per cubic metre in the
same period.

Most traders have cut their purchases of US timber and
2018 imports were 50% lower than a year earlier.

While on the one hand the increased cost of US timber has
seriously undermined the enthusiasm of some domestic
timber dealers who fear that the rise in US timber prices
will lead to a complete loss of market competitiveness,
there are others who see that domestic enterprises set up to
utilise US hardwoods have little opportunity to switch to
other species. In contrast, there are some importers who
are increasing purchases anticipating even higher tariffs in
the near future.

These importers realise that the price of the timber used in
furniture making is a very small part of the overall cost
which is mainly influenced by labour, design and overhead
costs. Against this background the rise in US timber prices
will not have a significant impact on the overall cost of
furniture making.