Japan Wood Products Prices
Dollar Exchange Rates of 10th January 2019
Japan Yen 108.42

Reports From Japan
¡¡
Business leaders anticipate a turbulent year ahead
The trade conflict between the United States and China
and the likely impact of the consumption tax increase this
year are weighing heavily on business leaders in Japan.

At a news conference the chairman of the Japan Chamber
of Commerce and Industry, said there is little companies
can do to protect against a downturn in global growth, the
result of Britain¡¯s planned departure from the European
Union or the U.S.-China trade conflict. Keidanren
Chairman, Hiroaki Nakanishi, voiced similar concerns in
his New Year news conference.

In a New Year press release the Keidanren Chairman
focused on the business groups¡¯ vision for the coming
years saying ¡°As we look back over the year just ended, it
is fair to say that although in Japan the economy continued
to grow gradually and consistently, the international
environment is undergoing a dynamic transition, and we
have entered an uncertain world in which digital
technology is bringing major changes not only to the
economy but to the foundations of society itself.

Our challenge is to create a future for Japan in the midst of
these changes. Last November, Keidanren
published Society 5.0: Co-creating the future.

(see http://www.keidanren.or.jp/en/policy/2018/095.html)

This is a proposal that aims to share wisdom and insights
and strengthen cooperation among industry, academia, and
government to create a new human-centered society. It is
also a declaration of intent for how Keidanren will act in
the years to come.

The central concept of the proposal is Society 5.0, based
on the idea that human society is moving into a fifth stage.
Following on from the Hunting Society, Agrarian Society,
Industrial Society, and Information Society, the fifth stage
will be an Imagination Society, in which a combination of
the digital transformation and the imagination and
creativity of diverse people will make it possible to solve
the problems facing society and create new values.

Some people have voiced concerns about the darker
aspects of digitalization, warning of a loss of jobs,
growing social disparities caused by data hoarding, and the
arrival of a surveillance society where there is no privacy.
But I believe that effective use of Internet of Things and
artificial intelligence will liberate people from repetitive,
mundane tasks: this will allow them to harness their true
human creativity and create a new society of the future
using cutting-edge technology.¡±

KEIDANREN (Japan Business Federation) is a comprehensive
economic organization with a membership comprised of 1,376
representative companies of Japan, 109 nationwide industrial
associations and 47 regional economic organizations.

In contrast ¨C think-tanks have positive view for 2019
According to the Bank of Japan¡¯s December Economic
Survey of Enterprises (Tankan) the overall assessment of
business conditions by large manufacturers is positive. In
the face of all the negative news it is easy to overlook the
resilience of Japan¡¯s economic growth which is currently
on track to become the longest in the postwar era.

Looking forward to 2019 the majority of the published
economic outlook reports conclude that the domestic
economy will continue to grow but by no more than 1% in
2019.

The most mentioned threat to the economy is the planned
tax hike set for October this year. If past experience is a
guide sales will surge prior to the date of increase and then
consumers will reduce spending.

For more see:
https://www.japantimes.co.jp/news/2019/01/02/business/econom
y-business/economic-outlook-2019-uncertainty-japans-economyamid-
planned-tax-rise-global-slowdown/#.XDKomyczbIU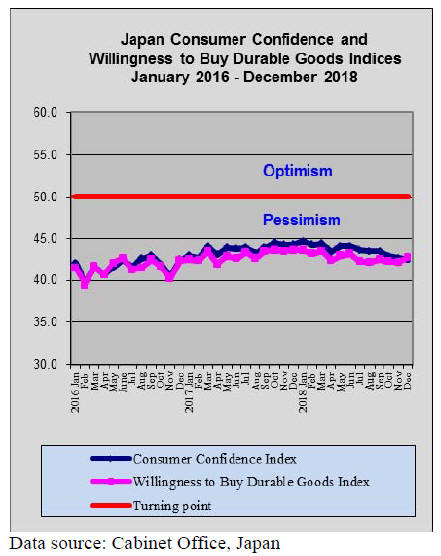 Yen strengthened as global stocks tumbled
The Japanese yen began the New Year at a high against
the US dollar and the strengthening continued through to
mid-month. The yen has surged more than 5% in the past
five weeks on concerns over the direction of the global
economy.

Once again, in times of perceived risk, the Japanese yen
becomes a safe-haven because, although overall economic
growth has not been strong, the political situation is stable
and Japan has a sizeable current account surplus.

The yen has traditionally been the¡¯ go-to¡¯ currency in
times of heightened risk because traders believe Japanese
investors with money offshore will move their funds when
markets become unpredictable.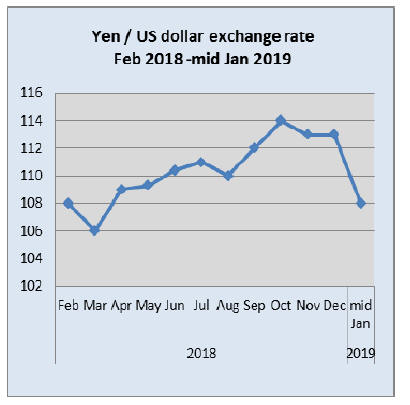 3 consecutive monthly declines in house built for rent
November housing starts were down just under 1% from a
year earlier to 84,213 units. Starts for owner-occupied
houses grew 2.5% in November and those for housing for
sale jumped 6%. While these numbers are encouraging
there was a sharp drop (almost 7%) in the starts for
housing for rent, the third monthly consecutive decline.

In an effort to avoid tipping the economy into recession
the Japanese government has announced plans for tax
breaks for housing and automobiles aimed at mitigating
the anticipated drop in sales when the consumption tax is
raised from 8% to 10% later this year.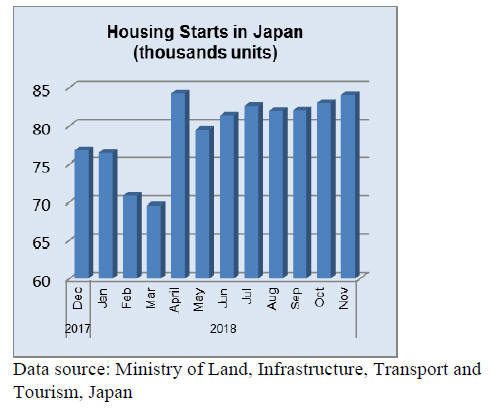 Import round up

Doors

Wooden door imports up to Nov 2018
As in previous months over 90% of September 2018
wooden door imports were from 4 sources, China, the
Philippines, Indonesia and Malaysia.

Year on year, November 2018 wooden door imports were
down 7% but there was little change in the value of
November imports compared to that in October. While the
value of December 2018 imports of wooden doors is not
yet available the indications are that the final quarter will
not deliver any surprises.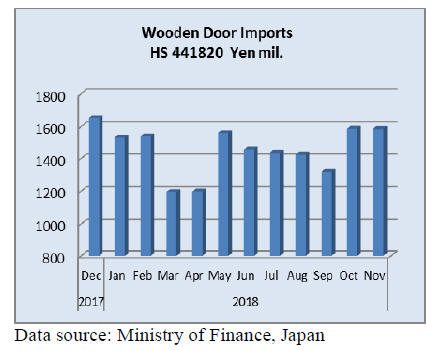 Windows

Wooden window imports up to November 2018
There was a sharp rise in wooden window imports in
November 2018. Year on year the value of imports was
up 15% and compared to a month earlier imports jumped
around 30%. In past year there has been an increase in
wooden window imports towards year end but the surge in
November imports is higher than in previous years.

Three suppliers accounted for most of Japan¡¯s imports of
wooden windows, with the US and China supplying
around 30% each of total imports followed by the
Philippines.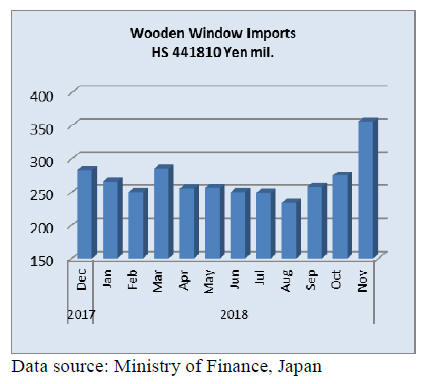 Assembled wooden flooring imports up to November
2018
Year on year the value of November 2018 imports of
assembled wooden flooring were flat but a 3% decline was
observed compared to levels in October.

As in previous months HS441875 accounted for over 70%
of all assembled wooden flooring imports with most
coming from China followed by Indonesia, Malaysia and
Thailand.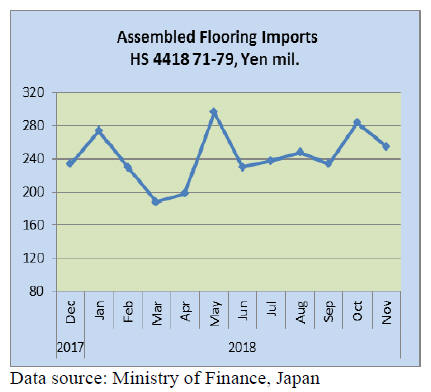 Plywood imports up to November 2018
Japan¡¯s plywood imports average around 200,000 cubic
metres monthly with most coming from Malaysia and
Indonesia. Shippers in China consistently contribute about
15% to total plywood import volumes.

In 2018 monthly shipments of plywood from Vietnam
have been consistently higher than those from China. In
2016 Vietnam was shipping around 8,000 cubic metres
monthly to Japan and this increased to monthly shipments
of around 10,000 cubic metres in 2017.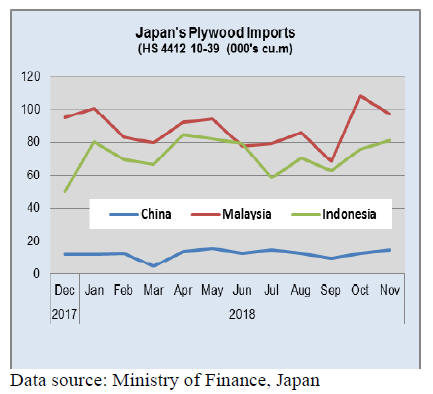 For 2018, monthly shipments topped 15,000 cubic metres
with November shipments coming in at a record 20,000
cubic metres.

HS441231 is the main category of plywood imports into
Japan accounting for over 80% of all arrivals in
November.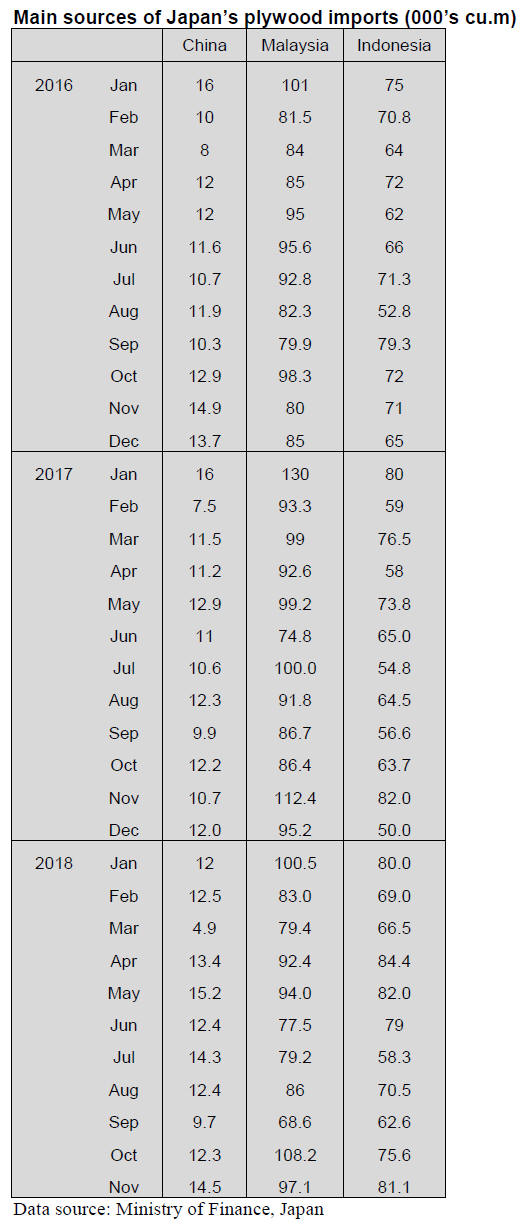 Trade news from the Japan Lumber Reports (JLR)
The Japan Lumber Reports (JLR), a subscription trade
journal published every two weeks in English, is
generously allowing the ITTO Tropical Timber Market
Report to reproduce news on the Japanese market
precisely as it appears in the JLR.

For the JLR report please see:
http://www.nmokuzai.
com/modules/general/index.php?id=7

TPP took effect on December 30
TPP (Trans-Pacific Partnership Agreement) was signed on
March 2018 by eleven countries. Import duty on Canadian
SPF lumber will drop from present 4.8% to 2.4%.

Also import duty on OSB will drop from 5-6% to 2.5-
3.0%, a 50% reduction. Malaysia is a member country but
by delay of domestic ratification, new rule will take effect
sometime in 2019. Import duty on tropical wood products
and hardwood plywood will drop from 6-10% to 3-5%.

Agreement by six countries of Canada, New Zealand,
Australia, Mexico, Japan, Singapore took effect on
December 2018 but five remaining countries of Vietnam,
Malaysia, Chile, Peru, Brunei will notify completion of
domestic procedures then will take effect after sixty days.

Canadian SPF lumber, OSB and New Zealand softwood
plywood are the items import duty is reduced by 50%
since December 30, 2018 then the same rate will continue
for next fifteen years then the duty will be totally
eliminated since April 1, 2033.

On tropical hardwood products and hardwood plywood,
the duty will be reduced by 50% since time of effectuation
then after 16 years, the duty will be abolished.

The Economic Partnership Agreement (EPA) between
Japan and EU (European Union) is targeting to take effect
on February 1, 2019.By this, import duty on European
lumber and structural laminated lumber will be reduced.

EPA between Japan and EU was signed in July 2018 and
if domestic procedures and notification are completed in
December, it will be enacted on February 1, 2019.Main
affected products are SPF lumber (4.8%), structural
laminated lumber (3.9%) and OSB, particleboard (5.0-
6.0%).

The duty will be reduced step by step for seven years then
will be totally abolished after eight years. If it takes effect
on February 1, 2019, the duty will be reduced by 0.3-0.8%
every year then will be zero on April 1, 2025.

Growing use of domestic cypress
Domestic log supply had been continuously declining
since 1968 and bottomed out in 2002 then started
climbing. Increase was mainly cedar and cypress had
continued declining and it was under 2 million cbms in
2006. Cypress log supply started increasing in 2009, seven
years after cedar started increasing. In 2017, it recovered
more than supply in 1997 when it was 2,660,000 cbms.
Reason that cedar recovered faster as cedar lumber
demand increased. Then plywood mills started using more
domestic cedar.

Use of cedar by plywood mills in 2002 was only 48,000
cbms then it has been doubling year after year and it was
1,060,000 cbms in 2007. During all these years, cypress
supply for lumber had been flat and use by plywood mills
was negligible.

It was 2007 when cypress was first appeared in statistics
with 6,000 cbms. It increased to 80,000 cbms in 2009.
Cypress logs for lumber also increased after North
American cypress supply decreased sharply. Cypress log
use for plywood continued increasing and reached 300,000
cbms in 2017.

Stock of planted trees as of March 2017 was 3,346,330
cbms out of which cedar was 1,943,600 cbms, 57.6% then
cypress was 738,985 cbms, 22.4%. Geographically, cedar
grows north end of main island of Japan but northern
limited of cypress is about 150 kilometers from Tokyo so
it is not as popular as cedar.

Domestic softwood plywood market
The manufacturers¡¯ inventories of softwood plywood
declined for the first time in nine months. As of October
end, they were 183 M cbms, 13,800 cbms less than
September end.

The demand started improving since middle of October
mainly for direct users like major precutting plants then
inn November, the orders from medium and small
precutting plant increased. The movement in wholesale
distributing channel is also improving and they expect
more active movement toward December. On top of busy
demand for structural plywood, movement of nonstructural
panel like floor base also gets busy, which
resulted in overall higher shipment. Up until middle of
October, with increasing inventories and spotty low price
offers, the market was cautious to purchase but low offers
disappeared by the end of October and the manufacturers
tried to tighten the market by holding sales prices firmly.

Plywood
Softwood plywood production in October was 263,500
cbms, 1.6% less than October last year and 4.4% more
than September. The shipment was 279,600 cbms, 2.4%
more and 15.8% more. This is the highest monthly
shipment volume. Demand increase for non-structural
panel is major reason of the increase. The inventory
dropped and further drop is expected in December. Drop
of softwood plywood inventories was the first time after
nine months.

Market of imported plywood shows some improvement in
movement but it lacks real strength yet. Distributors had
kept buying domestic inventories because of high export
prices by the suppliers but low cost inventories are all
gone now so the inventories are now all high cost items.
Therefore, the bottom prices have kept moving up little by
little but there is still large gap between actual cost and
market prices.

There is no strength in the market to push the prices up to
the cost level. The importers are now cautious to procure
future cargoes because of gap between high cost and
stagnant market prices in Japan.