Report from North America
Tropical sawnwood imports rise
US imports of tropical sawn hardwood rose in October to
its highest volume of the year but volumes still lag
behind 2017 levels. The October volume of tropical sawn
hardwood imports was up 23% over September to
20,370 cu.m. That is still more than 10% below October
of last year.

Year-to-date, tropical sawn hardwood imports were down
12% compared to 2017. Imports from Ecuador more than
doubled in October after a few weak months.

The October number is about equal to the same month last
year, but imports from Ecuador remain down 28% year to
date. Imports from Brazil were up 27% in October to draw
level with last year to date and imports from
Malaysia were up slightly continuing growth that is now
up by 50% year-to-date.

Balsa imports were up sharply in October but are still
down for the year by nearly one third. Sapelli and
Acajou d¡¯Afrique are similarlybehind year to date
and both fell even more in October. Keruing imports
declined by 24% in October but remain ahead of last year
by 37%. Jatoba imports improved again in October and are
well over doubling 2017 year-to-date.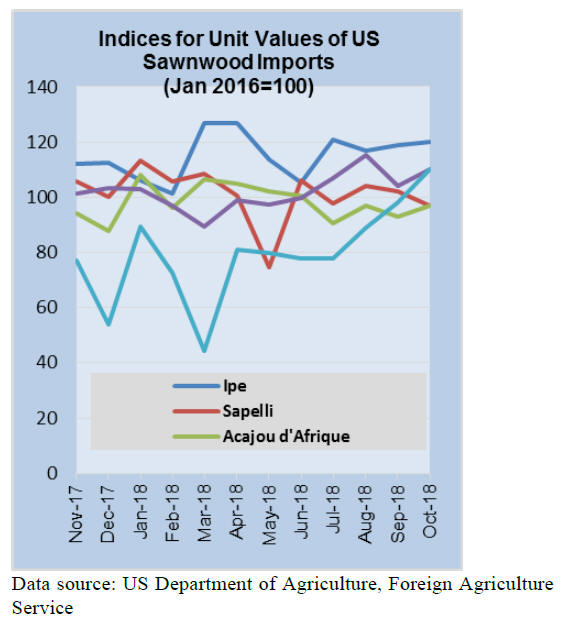 Plywood imports in steep decline
The US imported less than 51,000 cu.m. of hardwood
plywood in October, down nearly 80% from September
and less than half that of the previous worst month this
decade.

While imports from China declined in October by more
than 90% following the September 24 imposition
of increased tariffs, imports from all other trade partners
dropped by more than 50% for the month.

However, nearly every trading partner, other than China,
is ahead year-to-date indicating that US US importers may
have been increasing their inventories in anticipation
of increasing tariffs.

Feature article on US hardwood importer¡¯s China tariff
challenges
The New York Times Magazine published a recent feature
story on how tariffs on Chinese goods are harming a US
wood products company.

The story can be found at:
https://www.nytimes.com/2018/11/28/magazine/trade-wartariffs-
small-business.html

Housing starts down, home sales mixed
Privately-owned housing starts in October were at a
seasonally adjusted annual rate of 1,228,000. This is
1.5% above the revised September estimate of 1,210,000
but is 2.9% below the October 2017 rate of 1,265,000.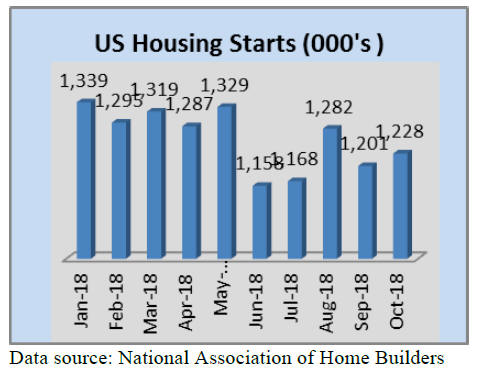 Single-family housing starts in October were at a rate of
865,000; this is 1.8% below the revised September figure
of 881,000.

Sales of newly built, single-family homes fell to a
seasonally adjusted annual rate of 544,000 units in
October after an upwardly revised September report,
according to data from the US Department of Housing and
Urban Development and the US Census Bureau.

This is the lowest sales pace since December 2016.
However, on a year-to-date basis, sales are up 2.8% from
this time in 2017. Looking at the regional numbers on a
year-to-date basis, new home sales rose 6.3% in the
Midwest, 4.1% in the West, and 3.8% in the South. Home
sales fell 17.1% in the Northeast year-to-date.

Existing-home sales increased in October after six straight
months of decreases, according to the National
Association of Realtors. Three of four major US regions
saw gains in sales activity, with the Midwest showing a
small decline. Total existing-home increased 1.4% from
September to a seasonally adjusted rate of 5.22 million in
October. Sales are now down 5.1% from a year ago.

Consumer sentiment remains high
In October US consumer spending increased the fastest in
seven months according to the US Department of
Commerce. Consumer spending, which accounts for more
than two-thirds of US economic activity, jumped 0.6% last
month as households spent more on prescription
medication and utilities, among other goods and services.

US consumer sentiment exceeded analyst estimates as low
unemployment and growing incomes kept Americans in an
upbeat mood, though the outlook soured amid concern that
the labor market will soften. The University of Michigan's
preliminary December sentiment index was unchanged
from November at 97.5 and compares with the median
estimate of 97 in a Bloomberg survey of economists.