US Dollar Exchange Rates of 10th December 2018
China Yuan 6.9127

Report from China
Legal status of wood flooring patents to be monitored
An Alliance for patent protection for floor locking systems
has been established in Beijing by the China National
Forest Products Industry Association (CNFPIA) after
approval by the State Forestry and Grassland
Administration and the National Intellectual Property
Administration (CNIPA).

As a result of patent protection for floor-locking systems
Chinese enterprises have to pay patent fees to commercial
companies which have patent protection and this increases
production costs and undermines competitiveness. This
development impacts multi-layer composite flooring,
laminate flooring and wood/plastic flooring producers.

The Patent Protection Alliance is aimed at respecting and
protecting intellectual property rights, safeguarding the
legitimate rights and interests of Chinese flooring
enterprises, promoting the healthy and sustainable
development of China¡¯s flooring industry and creating fair
competition.

The main work of the Alliance will be to assess the legal
status of patent applications and authorisations at home
and abroad and monitor development trends to avoid
patent infringement risks.

Experts of the Alliance will analyse the patent and the
technology applied to judge whether the flooring products
are breaking patent rules and provide early warnings to
Chinese companies.

For more see:
http://www.wood365.cn/Industry/IndustryInfo_258341.html

Surge in log imports from Eastern Europe
According to China Customs data log imports from
Eastern European countries surged year on year between
January and September 2018. There was an almost fivefold
increase in log imports from Poland (193,200 cu.m)
and a doubling of log imports from the Czekh Republic
(116,100 cu.m).

Log imports from Latvia, Lithuania and Estonia rose 49%,
18% and 17% respectively between January and
September this year but log imports from Ukraine dropped
over 70% to just 34,200 cu.m.

Plantations becomes the main source of China¡¯s
domestic timber output
According to China¡¯s Forestry Statistical Yearbook,
timber output is recorded as log output and fuelwood
output. Log output accounts for over 90% of timber
output.

The trend in China¡¯s log production increased between
2011 and 2014 but fell sharply in 2015 because
commercial harvesting in natural forests was halted in key
state-owned forest areas in Northeast China and Inner
Mongolia. Beginning in 2015 the statistics distinguished
between natural and plantation forests. This
reclassification is behind the rebound in China¡¯s log
production after 2015 which rose 8% to 77 million cubic
metres in 2017.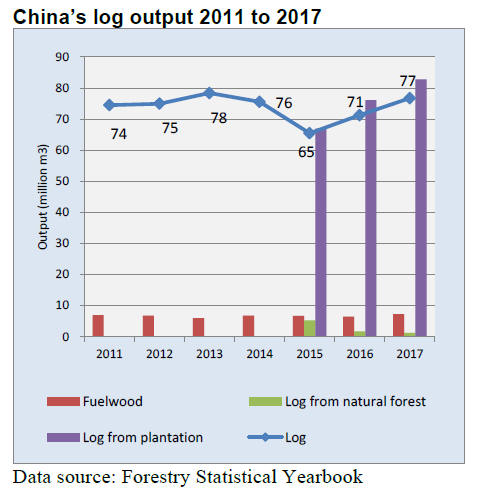 Decline in output of wood-based panel for the first time
All wood-based panel mills not meeting national
environmental protection standards had, by 2017, been
closed in 2017. As a result the production of wood-based
panels dropped by 2%.
Exports volume of wood-based panels also fell in 2017
however, imports volume of wood-based panel rose 13%
in order to fill the gap between domestic supply and
demand.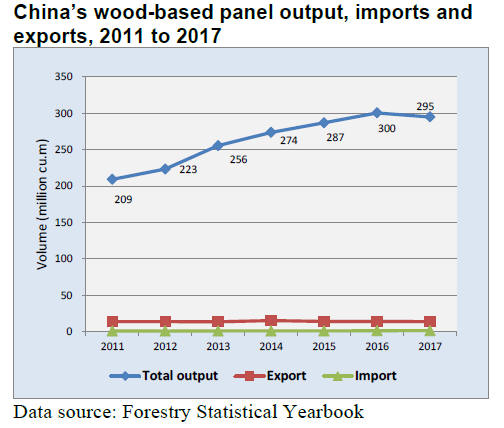 Plywood dominates wood-based panel output and exports.
The output of plywood in 2017 fell 3% which was the
main reason for the decline in the overall output of woodbased
panel. Plywood export volumes declined sharply in
2017.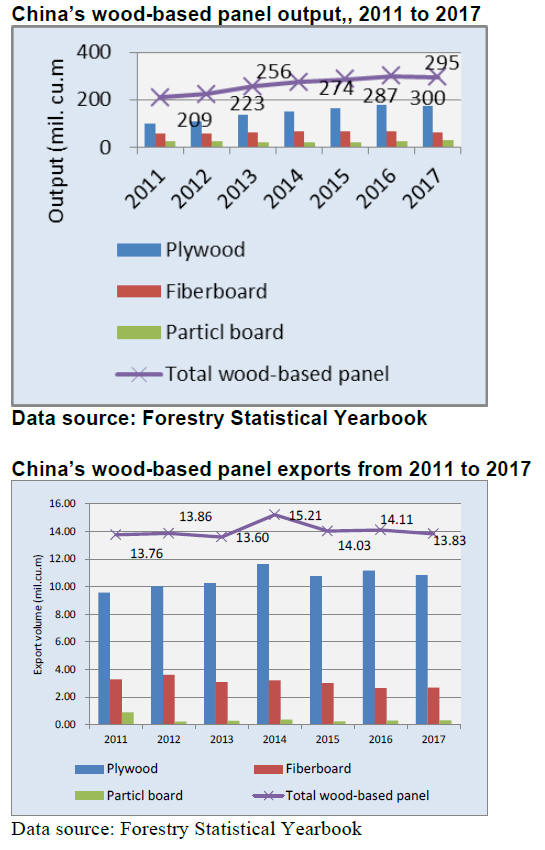 Particleboard dominated wood-based panel imports and
rose 21% in 2017 which is the main reason for the increase
in overall wood-based panel imports.