3. MALAYSIA
Certification in Sarawak
Sarawak is making progress towards having all long-term
forest timber license areas in the state certified by 2022
according to the Sarawak Forest Department Director,
Hamden Mohammad. He said this was part of the state
government's commitment to ensure that forest resources
are managed in a sustainable manner.

To-date, 4 out of 21 forest management units (FMUs)
covering a total area of 423,917 ha in Sarawak have
secured forest management certification.

Hamden said timber companies are now working to get
their forest areas certified. The State has threatened to
cancel the licenses of those who fail to secure certification.

See:
https://www.thestar.com.my/news/nation/2018/12/05/timberforest-
certification-making-inroads-in-sarawak/

In related news, the Sarawak government has announced a
commitment to increase its Heart of Borneo (HoB) project
area from 2.1 million ha. to 2.7 million ha. to around 30%

Sabah Foundation may become sole log exporter
At a function to launch the new Sabah State Forestry
Policy the Chief Minister for Sabah, Shafie Apdal, said he
was looking into permanently banning log exports by
private companies and is considering having the Sabah
Foundation (Yayasan Sabah) to extract, purchase and
export log from Sabah.

The Sabah Foundation is a state organisation that was
created to promote educational and economic
opportunities for the people of Sabah.

The reasoning behind this move, according to Apdal, is the
fear that just a few private companies in the State
dominate extraction and the export business which makes
it hard for State authorities to monitor their activities.

Any plan to permanently ban log exports from Sabah will
require careful consideration and discussion with all
stakeholders.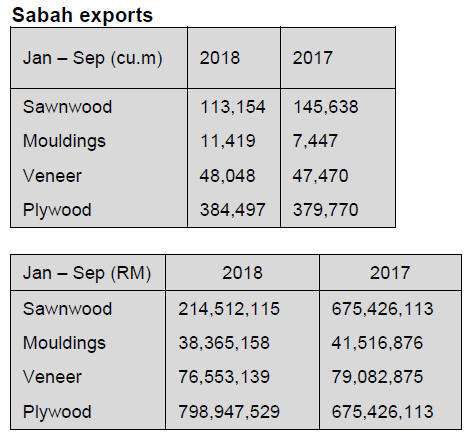 4. INDONESIA
Manufacturing expansion slows
Manufacturing activity in Indonesia continued to expand
in November 2018, but the pace of that expansion slowed,
according to Indonesia-investments.com. Based on the
latest Nikkei Indonesia Manufacturing Purchasing
Managers' Index (PMI), manufacturing activity in
Indonesia dropped from 50.5 in October 2018 to 50.4 in
November 2018 (a reading above 50 indicates expansion
in the country's manufacturing sector).

Government wants high performance panel industry
Coordinating Minister for Economic Affairs, Darmin
Nasution, says the government wants the Indonesian wood
panel industry to get back its top performance, according
to Tempo, and this would require continued synergies
between industry and entrepreneurs and a secure source of
raw materials through Industrial Plantation Forests (HTIs).

Meanwhile, the new chair of the Indonesian Wood Panel
Association (APKINDO) for 2018–2022, Bambang
Soepijanto, said APKINDO is ready to open new markets
for national plywood exports and he called on all plywood
industry players to make positive changes.

This, he said, might include changing the source of raw
materials from natural forests to plantations; changing the
scale of industries from large to small and medium-sized;
changing production machinery from large rotary spindles
to spindleless machines; and changing the types of product
from raw plywood to high-quality specialty items.

Timber entrepreneurs finding loans difficult to obtain
APKINDO has complained about the difficulty faced by
entrepreneurs in obtaining bank loans in order to develop
HTIs. The main difficulty arises because of requirements
for collateral in the form of land rights and the outgoing
APKINDO Chair, Martinas, asked the government to
simplify the policy by providing fiduciary guarantees or
the transfer of ownership rights for HTIs.

Exports of wood products reach US$11 billion
The Ministry of Environment and Forestry (KLHK) has
reported that Indonesia exported more than US$11 billion
in wood products to the end of November 2018 and this
could top US$12 billion by year end (up from about
US$10.75 billion in 2017).

KLHK Secretary General, Bambang Hendroyono, said
plywood exports could reach US$3 billion in 2019. The
Industry Ministry reported the value of 2018 furniture
exports to end October at US$1.4 billion, up by 4.83%
over the same period in 2017.

On the other hand, Bisnis.com reports that Soewarni,
Chair of the Indonesian Sawn and Woodworking Industry
Association, expects exports in his sector to remain
stagnant this year at about US$2.1 billion, blaming the
unstable global enconomic environment and a shortage of
suitable raw materials.

One Map launched
Indonesian President Joko Widodo launched the
government's One Map Policy Geoportal (KSP Geoportal)
in December, according to Indonesia-investments.com.
The One Map Policy involves the creation of a detailed
land-use map designed to help resolve overlapping tenure
claims countrywide, including in forest areas.

Darmin Nasution, Coordinating Minister for Economic
Affairs, said that, in developing the new map, the
government had found many cases of overlapping land
use, such as 10.4 million hectares of Kalimantan's land
area of 54 million hectares and 6.4 million hectares of
Sumatra.

The Indonesian government will hold high-level meetings
to decide how to resolve these overlaps.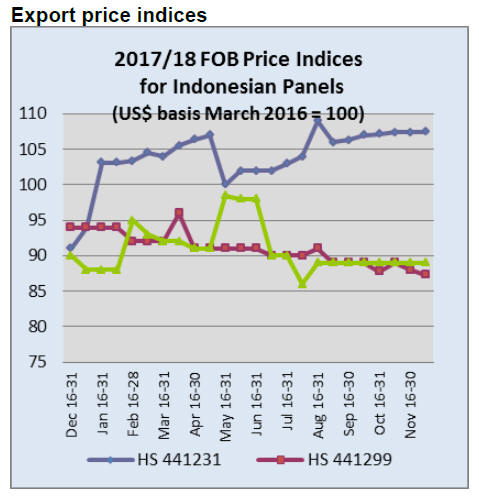 5. MYANMAR
Ten year harvesting target announced
The Forest Department has released details of its 10-Year
District Working Plan which provides the targeted Annual
Allowable Cut (AAC) for the period 2016-17 to 2025-26.
For plan period the AAC is 19,210 teak trees and 592,330
other hardwood trees to be harvested across sixty eight
working districts.

Sagaing District has the highest AAC at 170,050 trees
followed by Shan State (95,460 trees) and Kayin State
(82,570 trees). This level of AAC is, according to the
Forest Department, sustainable and in support of forest
conservation. However, environmentalists point to the
likelihood that, because of weak law enforcement, illegal
logging will continue driven mainly by poverty and a lack
of job opportunities in the forest areas.

According to the local press over 13,000 tons of illegal
timber was confiscated in the four months April to July
2018.

Export of plantation logs may be allowed
Two domestic newspapers, the Myanmar Times and the
Voice Newspaper both recently carried news that
plantation log exports may be allowed in the future
quoting U Tin Tun, Director of the Forest Department.

He said earlier this year the government discussed the idea
of allowing private investors in plantations to export logs
as an incentive.

Both local newspapers say the Forest Department has
submitted its plan to legalise private planation log exports
to the Ministry of Natural Resources and Environmental
Conservation. The Myanmar Forest Department has
plantation forests and in 2006 the law provided for private
sector investment in tree plantations but there is no
indication if and when plantation log exports will be
permitted.

According to the news reports, U Tin Lwin, an investor in
private plantations explained that there is no domestic
market for plantation thinnings so export will be beneficial
for the investor and the state. He pointed ot that it is easy
to distinguishable between logs from the natural forest and
plantation logs and this will facilitate monitoring of
exports.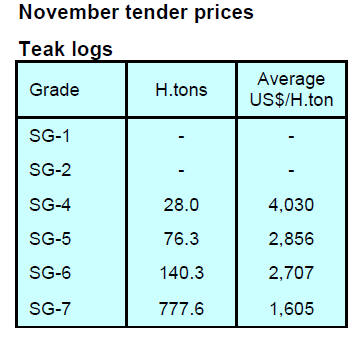 A large volume of teak logs did not attract bids at the
November auction. SG4, 32 H.ton unbid, SG5, 43 H.ton
unbid, SG6, 22 H.ton and SG7, 1,334 H.ton. The reason
reported for the lack of bids was the poor quality of logs
and the weak demand from buyers especially in the EU.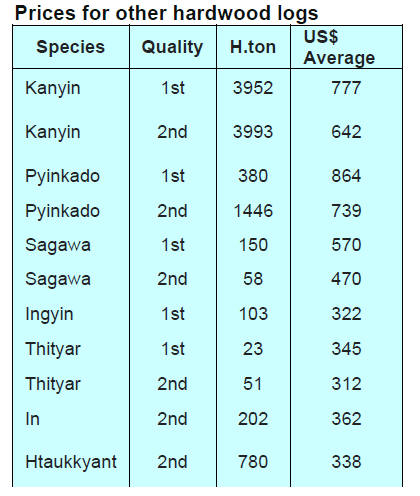 6. INDIA
Timber imports steady as rupee strengthens
As reported in the previous edition, the recent rise of the
US dollar against the rupee abated recently due partly to
the decline in oil prices bringing some relief to importers.
C&F prices for timber imports remain steady as is demand
for sawn hardwood imports.

However, the weakened by 1.2% against the US dollar in
mid-December, in the wake of the abrupt resignation of
Urjit Patel, the Governor of India's Central Bank.

According to BBC News, analysts consider that Mr. Patel's
resignation could make investors more wary of India and
hurt the economy as the country prepares for a general
election in 2019.

Plantation teak prices
The recent easing of dollar appreciation against the rupee
along with falling oil prices have served to strengthen the
rupee modestly bringing some relief to importers.

CIF prices for imported plantation teak remain at levels
reported at the end of November.

Locally sawn hardwood prices
Recent exchange rate changes will, if sustained, encourage
importers to re-enter the market to purchase logs for
milling to replenish stocks.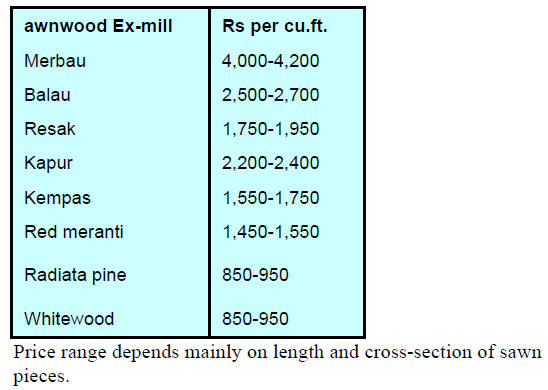 Myanmar teak prices
Demand remains strong in India for Myanmar teak, but
domestic stocks are diminishing. Producers of teak
veneers and decking need high-quality logs and they are
the main buyers of the stocks available in India. The
continued demand for and restricted supply of Myanmar
teak is leading manufacturers to seek alternative timbers.
Analysts expect prices for domestic stocks of Myanmar
teak to increase in the medium term.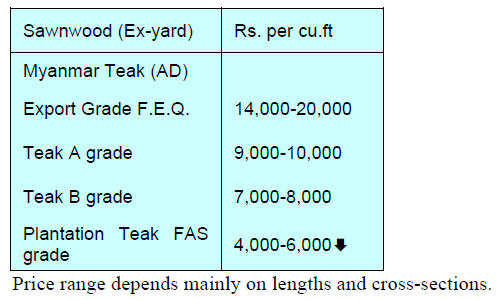 Sawn hardwood prices
Prices for sawn hardwood imports have remained steady
since the previous report, except for Western Red Cedar,
which rose slightly.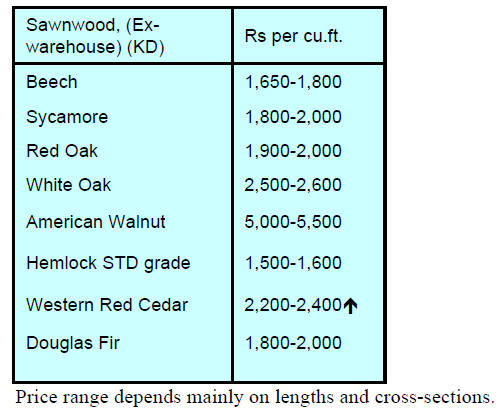 New pattern of demand impacting plywood market
The plywood market has absorbed an earlier price rise but
supplies are still increasing faster than demand. Analysts
and manufacturers remain confident that plywood supply
and demand will eventually balance out.

The housing sector is adjusting to a new pattern of
demand, including trends towards houses of a smaller size,
studio houses, weekend houses and the Indian
Government's 'Houses for All' (Pradhan Mantri Awas
Yojana) scheme.

The latter includes, most recently, approval of a project to
build 205,000 urban houses for poorer segments of the
population.

As of 26 November 2018, the Government of India had
sanctioned the construction of a total of 63 lakh (6.3
million) houses under the 'Houses for All' scheme, of
which 12 lakh (1.2 million) had been constructed and 23
lakh (2.3 million) were under construction, according to
the Financial Express.

Uttar Pradesh, Andhra Pradesh, Madhya Pradesh,
Maharashtra and Tamil Nadu together accounted for 55%
of the sanctioned houses.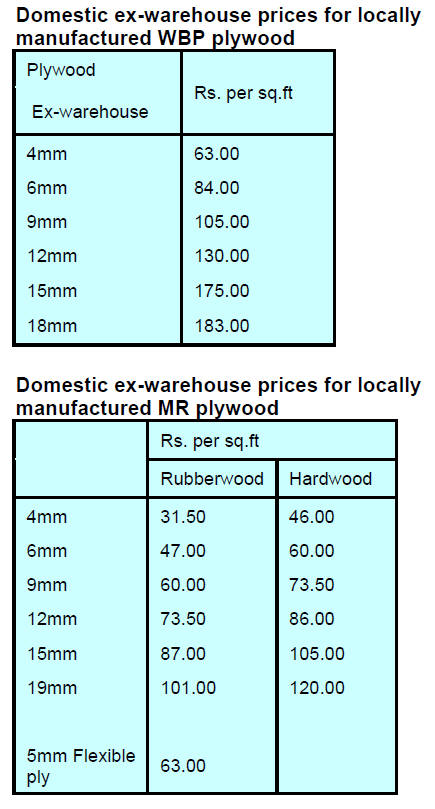 CREDAI recommends policy change
The Confederation of Real Estate Developers'
Associations of India (CREDAI), India's main agency
representing the real estate sector, made three
recommendations at its New India Summit in Mysore,
Karnataka in early December, aimed at sustaining the
growth and development of the real estate sector.

These were to: 1) reduce the goods and services tax on real
estate from 12% to 8% across all segments; 2) install
single-window clearance for Indian real estate companies
to resolve operational issues in the industry and reduce
real estate prices; and 3) undertake a one-time
restructuring of real estate loans to address the sector's
liquidity crisis.
7. BRAZIL
Brighter prospects for furniture production in 2019
September saw the production of 7.4 million pieces of
furniture in Rio Grande do Sul which represented a 2.2%
decline compared to August. However, accumulated
industrial production in the State grew 3.6% for the 12
months to September 2018 according to the Brazilian
Institute of Geography and Statistics (IBGE). Apparent
State wide consumption of furniture in September was 6.8
million pieces, down 3.5% compared to August.

According to the Furniture Industry Association of Rio
Grande do Sul (Movergs) the furniture sector is still
experiencing ups and downs in response to a variety of
negative factors that have impacted the domestic
economy. But despite the recent downturn in production it
is important to note that sales for the year are higher than
last year and the prospects are brighter for 2019.

Improved transparency in forest control systems
Entrepreneurs and technical project managers of the
forestry sector recently attended a training course on the
application of the Brazilian National System for the
Control of the Origin of Forest Products (SINAFLOR).

The training was organised by the State Superintendence
of the Environment (SEMACE) in partnership with the
Brazilian Institute of Environment and Renewable Natural
Resources (IBAMA).

The goal was to establish expertise in application of the
new forest control system (SINAFLOR), a system which
brings together in one database all wood product and nonwood
forest production data. The provision of information
to maintain this system is obligatory for those requesting
timber harvesting permits, transporting and selling wood
and non-wood products. The system is to become a tool
for monitoring administrative procedures in the
application process to ensure transparency.

The introduction of SINAFLOR is a major change in
forest control in Brazil. The fully computerised system
allows external user to view the processing of applications
process, registration and the issuance of the authorisations
and permits.

Diverse markets for Brazilian furniture
Exports of Brazilian furniture were worth US$543 million
between January and October 2018 according to the
Integrated Foreign Trade System (SISCOMEX). This
represents an 11% year to-date rise. In October alone
furniture exports earned US$60.5 million, an increase of
5% compared to September of this year (US$55.2 million)
and also 5% up on October 2017 (US$ 55.6 million).

The markets for Brazilian furniture are spread across
North America, the Mercosur region and some European
countries. Between January and October 2018, Brazil
exported US$163.6 million to the US and US$56.8 million
to the United Kingdom, its two main trading partners.

Other markets include Argentina (US$42.3 million),
Uruguay (US$35.2 million), Peru (US$33.3 million),
Chile (US$30.8 million), Paraguay (US$22.7 million) and
Bolivia (US$15.3 million). All together, South American
countries imported Brazilian furniture worth about
US$180 million as of October this year.

ABIMCI leads trade mission to UK
The Brazilian Association of Mechanically-Processed
Timber Industry (ABIMCI) has been making efforts to
promote the Brazilian timber products in international
market and the promotion campaign highlighed the
importance of Brazil as major supplier of a variety of
wood products.

Meetings between Brazilian producers and traders were
held in London in cooperation with the Plywood Club of
London, a forum for trade companies to showcase new
products or give trade members updates of manufacturing,
distribution and logistical developments.

The meeting brought together importers in the United
Kingdom for discussions on market developments,
logistics, legality issues among other topics.

Meetings were also held with the UK Timber Trade
Federation's National Panel Products Division (NPPD).
ABIMCI and members of the Brazilian trade delegation
had the opportunity to further strengthen Brazil's position
as one of the most important plywood suppliers to the UK
and Europe.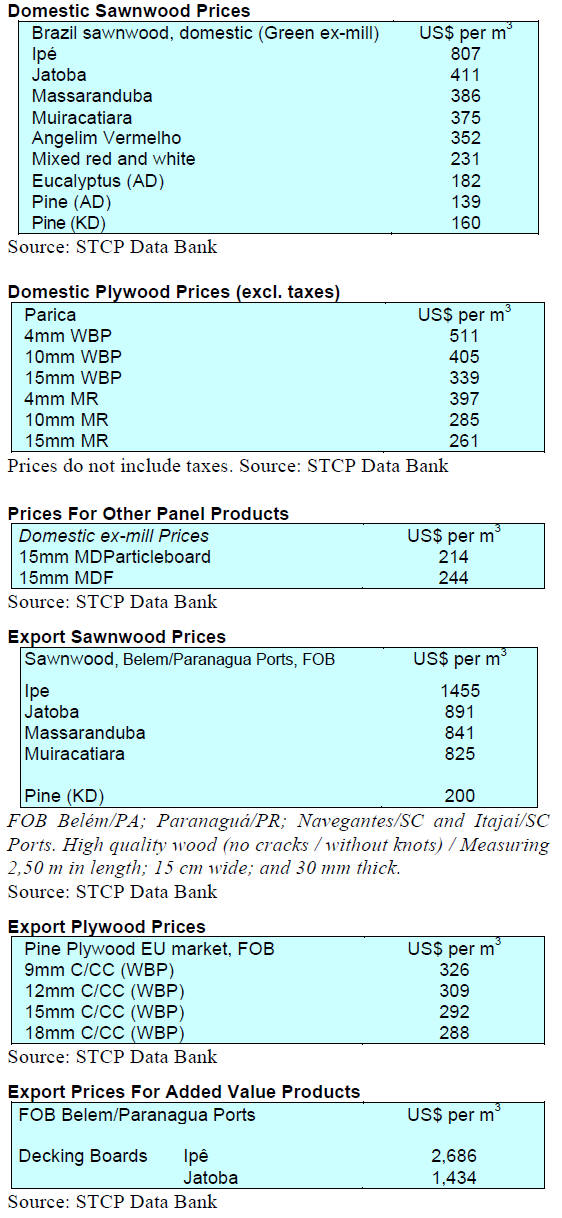 8. PERU
Interest rates on hold
Peru's central bank decided on 13 December to hold
borrowing costs unchanged, according to Bloomberg, with
a low inflation rate enabling it to keep stimulating the
economy after growth slowed in the third quarter.

The benchmark lending rate was maintained at 2.75% for
the ninth consecutive month. Earlier (on 6 December), the
central bank projected that Peru's economy would grow
by 4.9%, year-on-year, in the fourth quarter of 2018, with
a surge in public investment expected.

Peruvian wood exports up as of September
According to information provided by the Association of
Exporters (ADEX), Peru's first nine month 2018 wood
product exports were worth US$88.9 million FOB, up by
about 0.7% from the same period in 2017.

Although China has been the main destination for
Peruvian wood exports to date with a 43% share of the
total value, exports to that country were down by 14.9%
compared with the same period in 2017. The United States
and Mexico both imported 11% of the total value, up by
20% for the United States, year-on-year, and up by 20%
for Mexico.

Sawnwood exports were worth US$17.1 million FOB in
the period January–September 2018, up by 1.5%
compared with the same period in 2017. Nearly one-third
(29.8%) of this value was shipped to the Dominican
Republic (down by 3.2%, year-on-year), while China
received 23.9% (up by 4.2%) and Mexico 23.3% (down by
18.6%).

Peruvian imports of composite panels grow
Peru's imports of composite panels such as particleboard
and MDF were up by 30.1% in the period January–
September 2018, to US$77.3 million. There was a
significant increase (+26.6%) in imports from Ecuador, to
US$29.9 million, and imports from Chile rose by more
than 20%, to US$23.4 million.

Imports of panels from Spain leapt by about 62% to
US$12.6 million in the first nine months of this year,
while imports from Brazil were valued at US$10.7
million.

Capacity building in the Amazon
The National Forestry and Wildlife Service (SERFOR) is
undertaking a training and support campaign for regional
governments and Amazonian producers on the use of the
Control Module of the National Forest and Wildlife
Information System (MC-SNIFFS). This tool is designed
to generate reliable, real-time information to ensure the
legal origin of forest products from extraction in the forest
through processing to markets.

To-date, SERFOR has trained 127 specialists from the
regional forestry authorities, 333 forest producers and 347
sawmill owners in the Amazonian regions of Loreto,
Ucayali, Huánuco and Madre de Dios and the central
Peruvian regions of Pasco and Junín.

To assist in the uptake of the MC-SNIFFS, more than 50
forest centres and 24 control posts have been provided
with internet access.