US Dollar Exchange Rates of 25th November 2018
China Yuan 6.9517

Report from China
Housing still attracting investment but millions of units
unoccupied
Data from the National Bureau of Statistics shows that
investment in real estate development during the first ten
months of 2018 increased by almost 10% year-on-year but
the pace of growth is slowing. However, Reports are
emerging of the extent of unoccupied homes in China.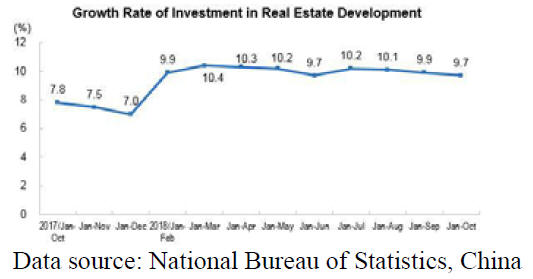 Analysts estimate that more than 20% of new homes are
unoccupied which, nationwide, translated to close to 50
million homes. No other country has such a high vacancy
rate according to Gan Li from the Southwestern University
of Finance and Economics. Residential buildings account
for around 70% of real estate development investments.

The latest housing data suggests government efforts to
reduce property speculation are having only limited
impact. Investors facing restrictions in one area are quick
to expand investment in other less restrictive cities and
provinces. In the first ten months of 2018 the land area
purchased by real estate developers increased 15% only
slightly less than in the previous eight months.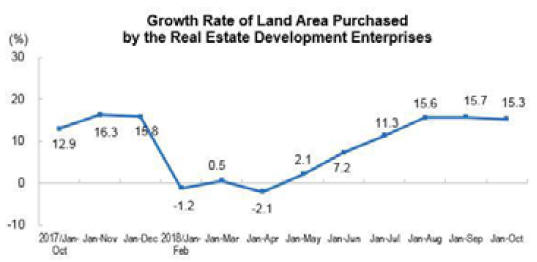 Data source: National Bureau of Statistics, China

See:
http://www.stats.gov.cn/english/PressRelease/201811/t20181115
_1633848.html

Import tariffs reduced
According to the Tariff Commission in the State Council
the most-favored-nation (MFN) import tariffs for over
1,500 items have been reduced as of 1 November 2018.
The average rate is now 7.8% compared to 10.5%
previously.

Experts say these tariff cuts are aimed at helping domestic
industries, reducing corporate costs and meeting multilevel
consumer demands and also send a positive signal to
the outside world of China¡¯s greater economic opening.

Import tariffs will be reduced on commodities that are
required for domestic production such as textiles, wood
products and building materials, base metal products and
steel. Wood products included are charcoal, miscellaneous
wood products, particleboard, fibreboard, plywood and
paper products.

Import tariffs will be reduced on some mechanical and
electrical equipment including those for textiles, light
manufacturing, engineering, general use, metal processing
instrumentation and related equipment parts and
components.

In addition, the reduced tariffs apply to some resource
commodities and primary processed products such as
minerals and commodities used for export manufacturing.

For full details see:
http://gss.mof.gov.cn/zhengwuxinxi/zhengcefabu/201809/t20180
930_3033432.html
http://finance.people.com.cn/n1/2018/1101/c1004-
30376937.html

No more log fumigation at Taicang Port
It has been reported that Taicang Port is considering a ban
on fumigating North American logs because of the risk of
water pollution. If implemented this could further limit the
supply of North American logs to China.

Supplies from North America have fallen in recent months
as a result of trade friction between China and the US. Log
imports through Taicang Port from Canada and the US fell
slightly in the first three quarters of 2018 and it is
predicted that the impact of the fumigation ban at Taicang
Port will further impact imports.

In the first three quarters of 2018 log imports through
Taicang Port were about 5.64 million cubic metres. Of the
total, 39% were from New Zealand, 32% from Canada and
the US, 11% from the Russia Federation with the balance
from Australia, Uruguay, Japan and Spain.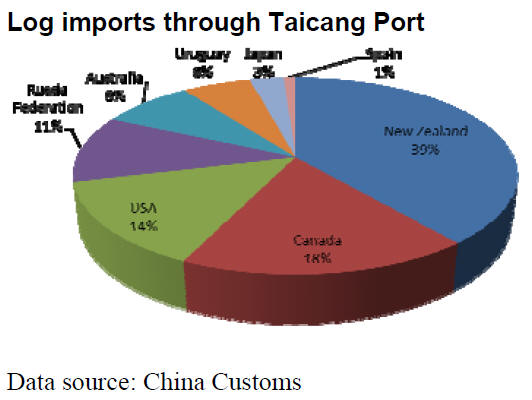 Production plywood in 2017
There are around 5,500 major enterprises manufacturing
plywood in China. The total production capacity of
plywood by these enterprises in 2017 was 189 million
cubic metres and production is distributed in 27 provinces,
autonomous regions or municipalities.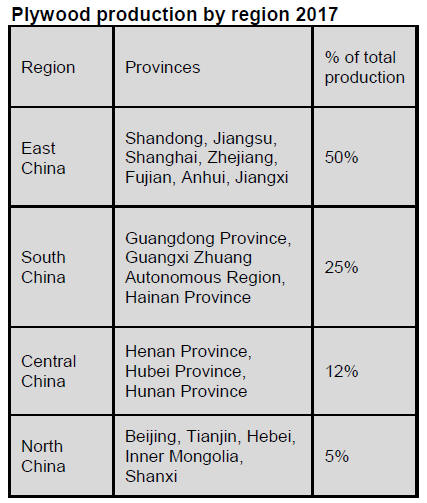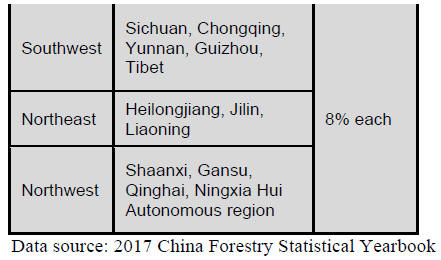 The output of China¡¯s plywood in 2017 was valued at
RMB438 billion, a year on year decline of 3%, the first
decline in ten years.

Plywood accounted for 64% of all wood-based panel
output in 2017. Of the total, production of wood plywood
was 157 million cubic metres, bamboo plywood 5.7
million cubic metres, blockboard 17 million cubic metres
and other panels 9.3 million cubic metres.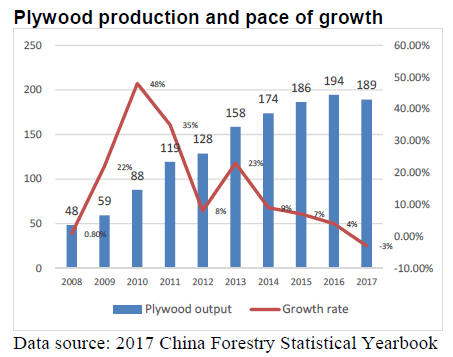 See:
http://www.forestry.gov.cn/xdly/5197/20181123/0932268046055
54.html