3. MALAYSIA
2018 exports likely to be lower than last year
Malaysia's Primary Industries Minister, Teresa Kok, has
said wood product exports are expected to decline slightly
this year from the RM23 billion recorded in 2017 due to
the impact of the trade dispute between the US and China
which has caused a weakening of the global economy.

Between January and August this year wood product
exports declined 5.7% year on year to RM14.6 billion.
This year the changeable weather was partly to blame. A
major contributor to export earnings was wooden furniture
which brought in almost RM5 billion.

Calls for more research on oil palm stem utilisation
Calls have been made for more research to be directed at
utilisation of oil palm trunks (OPTs) as an alternative
material for plywood production. It has been estimated
that Malaysia produces about 22 million cubic metres of
OPTs annually.

Current efforts to find the best use for OPTs are being
undertaken by Malaysian Timber Industry Board and the
Malaysian Palm Oil Board as well as other agencies such
as the Forest Research Institute Malaysia (FRIM) and
Universiti Putra Malaysia (UPM).

On the occasion of the signing of a memorandum of
understanding between the Malaysian Panel-Products
Manufacturers' Association (MPMA) and China's Linyi
Panel Products Chamber of Commerce the Minister of
Primary Industries called for more research on
downstream OPT products. In 2017 exports of woodbased
panels accounted for around 30% of all wood
product exports. China was the sixth largest importer of
Malaysian wood products last year.

Sabah amends forest law
The Sabah Legislative Assembly has passed a bill to
amend the Forest Enactment 1968 and the amended law
will come into effect 1 January 2019.

The new law includes reference to REDD+ initiatives and
other projects in Sabah involving production in forest
reserves, on state land or alienated land whether for either
regulated or voluntary carbon market.

When the new law comes into effect projects will be
required to secure written approval from the State
government.

Arifin Asgali, Assistant Minister to the Chief Minister, is
on record as saying this amendment could result in more
income for the state via carbon marketing.

The current price for carbon is US$5 per metric tonne in
the voluntary market but US$30 per metric tonne in the
compliance market. Sabah has been part of the REDD+
initiative since 1992 through collaboration with Yayasan
Sabah and the Face foundation from Holland. In 2013, the
EU has provided around euro 4 million for the EUREDD+
projects in Sabah.

Plywood prices
Traders based in Sarawak reported the following plywood
export prices for October: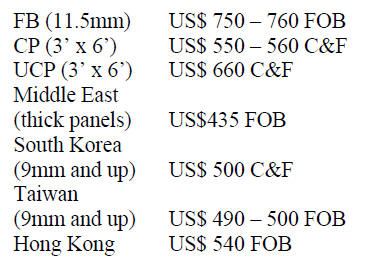 4. INDONESIA
Optimistic projection for 2019 exports from industry
association
The Chairman of the Association of Indonesian Forest
Concessionaire (APHI), Indroyono Soesilo, has forecast
an 8% increase in forest products exports next year which
would lift export earnings from the sector to around
US$13 billion.

Behind this positive assessment is the introduction of the
Indonesia Timber Exchange (ITE) an online marketing
and trading system for forest products all of which are
certified under the Indonesia Timber Legality Verification
System (SVLK).

Indroyono has expressed optimism that investment in the
forestry sector will continue to grow as the issue of forest
fires is being addressed seriously and the management of
peat lands, frequently subject to fires, has improved.

In a recent meeting with APHI, Siti Nurbaya Bakar, the
Minister of Environment and Forestry commented that
timber sector exporters performed well this year despite
global uncertainties. She noted that the value of processed
timber exports in 2017 was US$10.94 billion but that by
October this year that figure had been overtaken.

In Indonesia log production from plantations is around 6
times more than from the natural forest and was 38 million
cubic metres in 2017.

Natural forest logs come mainly from the provinces of
Central Kalimantan, East Kalimantan, North Kalimantan,
Papua, and West Papua.

Industrial plantations are found in Riau, Jambi, East
Kalimantan, West Kalimantan and Central Kalimantan
provinces.

Wood processing sectors now open to foreign
investors
The government has reduced the number of business areas
closed to foreign investment in what is viewed as a
relaxation of the list of negative investment sectors. The
Minister of Industry, Airlangga, has confirmed that those
sectors removed from the list are now open for foreign
investors.

One of the sectors eliminated from restrictions is wood
processing and this has drawn praise from local
companies. Purwadi Soeprihanto, Executive Director of
APHI reported that the sawmilling sector is now open to
FDI as are the plywood, LVL, wood chip and wood pellet
industries.

Perhutani's Corporate Secretary, Asep Rusnandar, stated
that the new policy is expected to be an incentive for
investors and that the forestry sector will benefit from the
introduction of advanced technologies.

Indonesia's President, Joko Widodo, has asked the various
ministers to review current policies on investment and tax
incentives in order to find ways to attract more investors.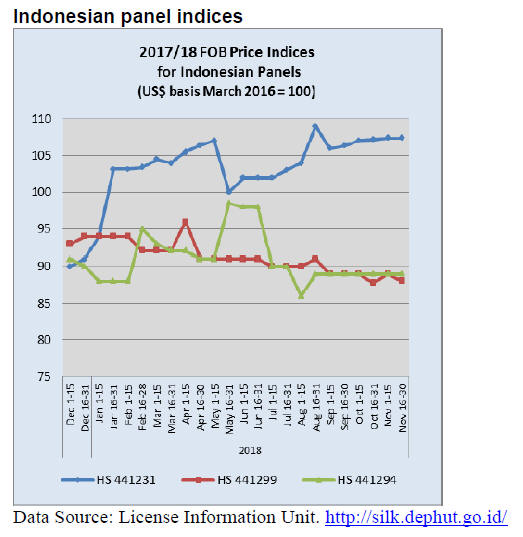 Seven trade agreements ratified
It has been reported that the government has ratified seven
bilateral and multilateral trade agreements in an effort to
boost trade.

The ratified agreements, include the ASEAN-Australia-
New Zealand FTA (AANZFTA), ASEAN-India FTA
(AITISA), ASEAN-Korea FTA, ASEAN-China FTA,
ASEAN agreement on medical device directive, the ninth
protocol of the ASEAN framework agreement on services
and the Indonesia-Pakistan preferential trade agreement
(IP-PTA).
5. MYANMAR
Settling confusion over the MTLAS and the 'Dossier'
The Myanma Timber Enterprise (MTE) recently made
available online its publication "Myanmar Timber Chain
of Custody Process, Documents and Actors", the so-called
'Dossier'. This describes the documents and procedures
applied at every step of the entire supply chain from
harvesting to port of export. The aim of making this
available was to enable exporters and authorities in
importing countries understand how Myanmar manages
information in the timber supply chain.

Some exporters expressed confusion as to whether the
Myanmar Timber Legality Assurance System (MTLAS)
and the 'Dossier' are different systems, are the same
system or inter-dependent. Their confusion stems from
the June 2018 submission of the 'Dossier' to the EU
Competent Authorities by a Myanmar Delegation.

It will be recalled that the Myanmar Timber Certification
Committee has launched a third party certification
procedure under the MTLAS.

According to Barber Cho, Secretary of the Myanmar
Forest Certification Committee, MTLAS is a system to
ensure the legality of timber while the 'Dossier' is a
comprehensive compilation of the documents applied
along the entire supply chain.

He said the MTLAS will be definitely strengthened with
the integration of 'Dossier". However, he expressed
concern that EU Competent Authorities may
misunderstand and misinterpret that all documents
mentioned in the 'Dossier' are to be provided with every
export consignment.

The 'Dossier' defines 32 tracking documents some of
which are not provided for every export consignment. It is
understood that the Myanmar Delegation informed the EU
during the June meeting that Myanmar intends to provide
11 of 32 documents with shipments and that others are
available for inspection.

FLEGT activities to continue without UK assistance
In a related development, the FLEGT-Myanmar
Secretariat Office will be closed at the end of November
because the UK agency DIFID suspended funds allocated
for FLEGT Activities.

However, Myanmar will continue with its VPA/FLEGT
activities. As the national and sub-national level MSG
(Multi-Stakeholder Groups) have been formed so FLEGT
activities in Myanmar will proceed.

To-date there is no official statement from Myanmar
Government on this matter.

Parliament has approved the formation of a new Ministry
of Investment and Foreign Economic Relations. The aim
of the new ministry is to boost domestic and international
socially and environmentally responsible investment. The
move will facilitate domestic and foreign businesses to
rapidly obtain investment-related information and data.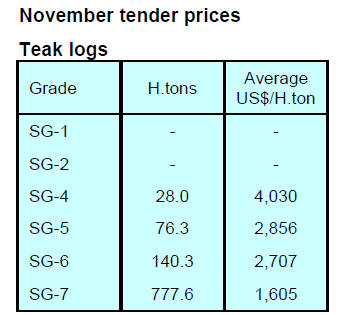 A large volume of teak logs did not attract bids at the
November auction. SG4, 32 H.ton unbid, SG5, 43 H.ton
unbid, SG6, 22 H.ton and SG7, 1,334 H.ton. The reason
reported for the lack of bids was the poor quality of logs
and the weak demand from buyers especially in the EU.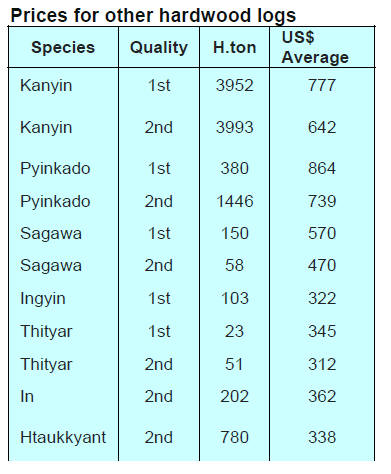 6. INDIA
Sawnwood prices higher in October but overall price
index dips slightly
India's official wholesale price index for all commodities
(Base: 2011-12=100) for October 2018 released by the
Office of the Economic Adviser to the government rose by
0.7% to 121.7 from 120.8 in September. The annual rate
of inflation based on monthly WPI in October 2018 was
5.28% compared to 5.13% for the previous month.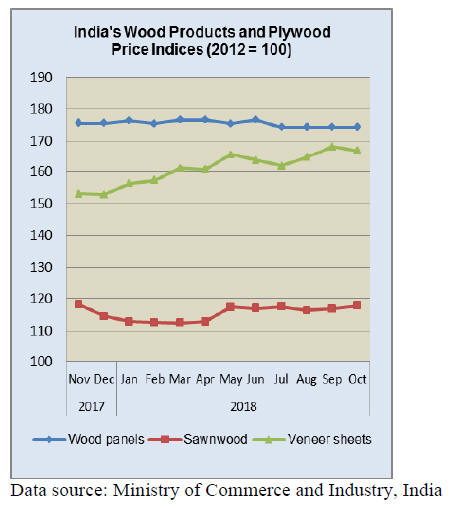 The October index for 'Manufacture of Wood and of
Products of Wood and Cork ' group declined by 0.7% to
132.7 from 133.7 for the previous month due to the lower
price of wooden box/crates, particleboard and veneer
sheets. However, prices for sawnwood rose in October
pushing up the index.

The press release from the Ministry of Commerce and Industry
can be found at: http://eaindustry.nic.in/cmonthly.pdf

Rupee firms against the US dollar, timber importers
gain respite
In the last weeks of November the rupee strengthened
against the US dollar providing some relief for timber
importers. Behind the 4% strengthening was falling crude
oil prices and an increase in foreign fund inflows. In the
seven days up to 25 November the rupee gained marking
its longest winning streak since February 2017.

Strong economic growth but widening inequality
India is now one of the world's fastest-growing major
economies but, despite impressive growth, wealth has not
been evenly distributed according to economists at IHS
Markit interviewed by CNBC. This is borne out by Credit
Suisse's Global Wealth Report which says overall
inequality appears to have increased.

Oxfam has said "On most indicators, India is now among
the countries with the highest level of inequality. But the
analysis also shows that unlike most countries which
started with high inequality, inequality in India has
continued to rise."

The strength of the Indian housing market and related
wood product consumption depends very much on an
expanding middle class but if the benefits from economic
growth are not being felt by consumers then consumption
will stall.

See: https://www.cnbc.com/2018/11/15/india-economy-modifaces-
inequality-black-money-and-taxes.html
and
https://www.oxfamindia.org/blog/15-shocking-facts-aboutinequality-
india

Importers heartened by strengthening rupee –
returning to the log market
The strengthening of the rupee against the US dollar has
brought relief to importers who are now, on the back of
improving domestic demand, beginning to open
communications with plantation teak shippers.

There are indications that on-going negotiations will result
in changes in plantation teak C&F prices which, up to the
end of November, remained unchanged from a month
earlier.

Locally sawn hardwood prices
Analysts report that while demand for hardwood
sawnwood milled locally from imported logs is good there
are no reports of millers raising prices. The recent
exchange rate changes will, if sustained, encourage
importers to expand log purchases to replenish stocks.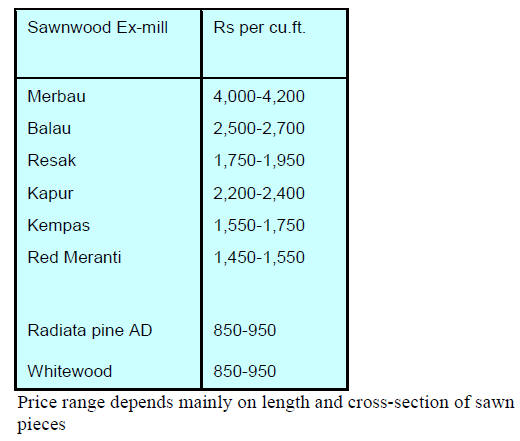 Myanmar teak prices
Myanmar teak is of a much higher quality than imported
planatation teak and as such attracts higher prices. The
demand in India for Myanmar natural forest teak is
primarily from high income earners for whom the steadily
rising prices, the result of dimininishing teak log stocks,
does not dampen demand.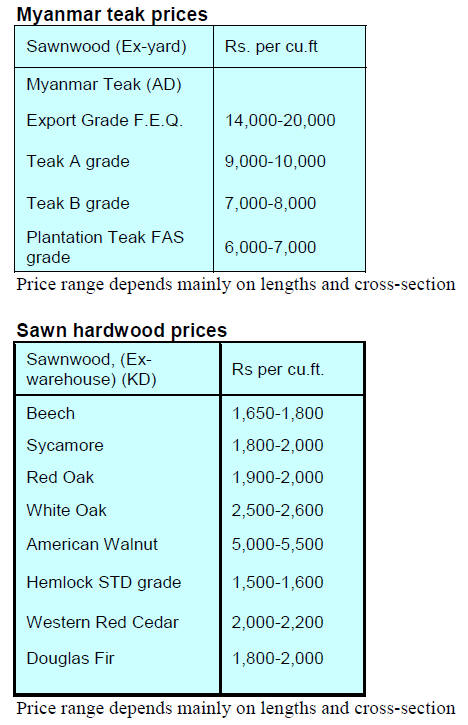 Plywood price update
Analysts report that the supply of plywood has risen faster
than demand. Plywood manufacturers anticipated a faster
pace of consumption driven by government initiatives in
the housing sector and the new middle class and singles
trend towards smaller units and studio houses.

Across the board there has been an improvement in
consumption of building materials so it is just a matter of
time before plywood supply and demand balances out say
analysts.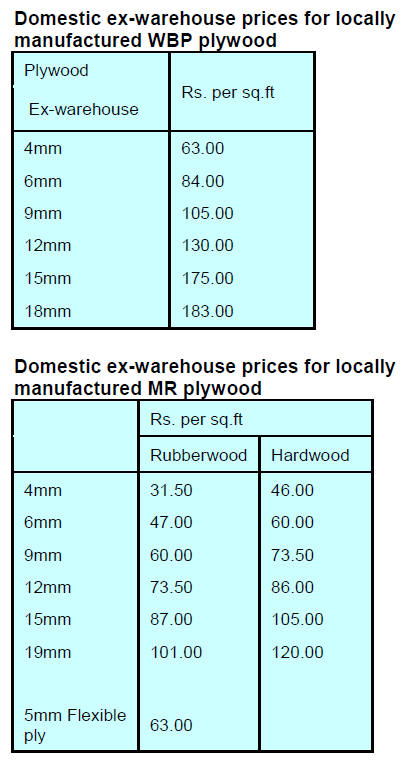 7. BRAZIL
Highest Amazon forest clearing in a decade
According to preliminary data released by the ministries of
the Environment (MMA) and Science, Technology,
Innovation and Communications (MCTIC), deforestation
in the Amazon increased almost 14% between August
2017 and July 2018. An area of 7,900 sq. km was lost, the
largest annual area loss in past ten years. The forest area
lost last year was the largest since 2008 when 12,911 sq.
km were cleared.

The states experiencing the highest rates of deforestation
in 2017 were Pará, Mato Grosso, Rondônia and
Amazonas. In the state of Pará alone, 2,840 sq. km were
deforested.

In responding to this news the Ministry of the
Environment said, in addition to expanding enforcement,
action needs to be taken to alert all levels of government,
society and the productive sector of the continuing forest
loss so as to secure support to step up the fight against
illegal activities.

CIPEM guidelines for the Mato Grosso forestry sector
The Center for Timber Producers and Exporters of Mato
Grosso (CIPEM) and the Brazilian Institute for
Environment and Renewable Natural Resources (IBAMA)
recently produced guidelines for the forest-based sector
which focuses on current environmental/forestry
legislation.

The guidebook prepared by CIPEM addresses improving
forest operations and expanding the understanding of
legislation that affects the forest sector. Topics covered
include environmental licensing, timber transportation
control, forest product commercialisation, industry
operations and enforcement processes among others.

In related news, IBAMA has taken the initiative to prepare
a similar guidebook in partnership with local unions, State
Secretariat of the Environment (SEMA-MT) and the
Forest Engineers Association of Mato Grosso state
(AMEF).

Export update
In October 2018 the value of Brazilian exports of wood
products (except pulp and paper) increased 1.8%
compared to October 2017, from US$268.9 million to
US$273.7 million.

Pine sawnwood export values increased 18% between
October 2017 (US$42.6 million) and October 2018
(US$50.4 million). In terms of volume, exports increased
by a similar amount (17.9%) over the same period, from
207,100 cu.m to 244,100 cu.m.

The volume of tropical sawnwood exports increased 20%
year on year, from 43,600 cu.m in October 2017 to 52,400
cu.m in October 2018 but there was only a 6% increase in
the value of exports from US$19.6 mil. in 2017 to
US$20.7 mil. in 2018.

The value of pine plywood exports increased almost 8% in
October 2018 year on year, from US$51.8 million to
US$55.8 million. In terms of volume, exports dropped
slightly over the same period from 172,900 cu.m to
172,400 cu.m. As for tropical plywood, exports declined
16% in volume, from 15,200 cu.m (US$6 million) in
October 2017 to 12,800 cu.m (US$5.4 million) in October
2018.

Brazil's wooden furniture exports in October 2018 rose to
US$48.3 million from US$44.5 million in October 2017,
an 8.5% rise.

ABIMÓVEL releases furniture production staistics
ABIMÓVEL (the Associação Brasileira das Indústrias do
Mobiliário) has released details of furniture production for
July and August showing that 36.2 million pieces were
produced in July, some 5% higher than in June. Between
January and July 2018 there was a 4.5% increase in
production and for the 12 months to July there was an
almost 8% rise in production.

In August 2018 exports totalled US$70.4 million up 11%
month on month. Imports also increased in August rising
19% to US$69.5 million. The trade balance in August was
positive at US$918,000. The share of imported furniture in
the Brazilian domestic market was estimated at around 3%
in July. Between January and August 2018 exports
increased 11% year on year and were worth US$461
million.

The main furniture export market was United States with a
share of 31% followed by the United Kingdom with a 10%
share. Argentina was the third ranked export market
accounting for 9% of total furniture exports.

The three southern states are the largest furniture exporters
in Brazil. Together, Santa Catarina (40.8%), Rio Grande
do Sul (26.2%) and Paraná (13.7%) accounted for over
80% of Brazi's furniture exports between January and
August 2018.

See: http://www.abimovel.com/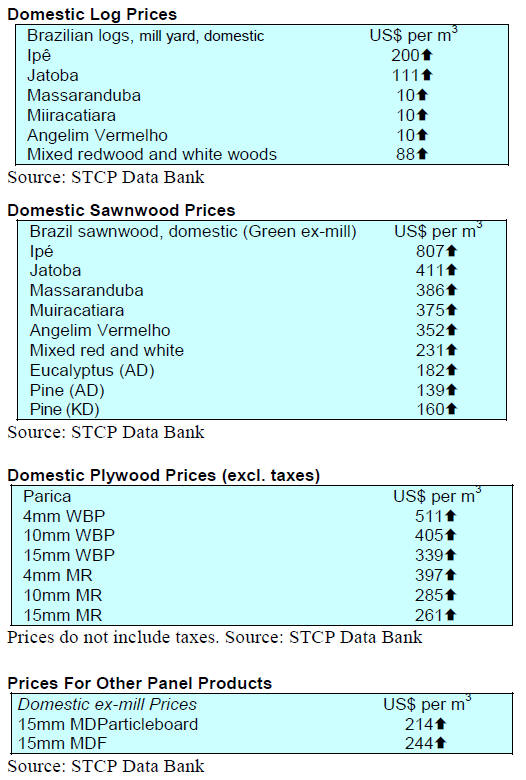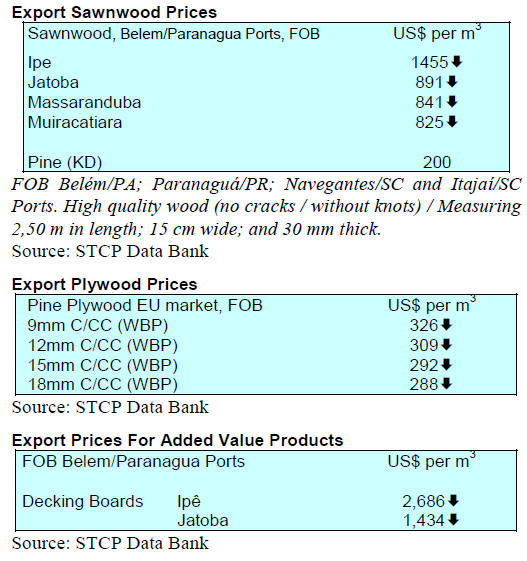 8. PERU
Exports rise but shipments to China slide
According to information provided by the Association of
Exporters (ADEX), as of August 2018 exports of Peruvian
wood products totalled almost US$80 million FOB. Over
the same period in 2017 exports were worth US$77
million.

Of the US$80 million exported up to August this year
China was the main export destination for Peru's wood
products with a 43% share but this year exports to China
dipped 11%. The United States market was the second
most important market (11% share) but in this case exports
up to August were higher by 20% year on year.

Mexico is the third ranked market just behind the US with
a 10% share of total wood product exports and as with the
S there was a rise in year on year exports of around 24%.

Exports of sawnwood in the period January-August 2018
were worth US$14.8 million FOB up just 1% year on year
with most being shipped to the Dominican Republic,
China and Mexico.

SERFOR surveys cedar and mahogany resources
The National Forestry and Wildlife Service (SERFOR) in
its capacity as CITES Management Authority inspected
nineteen applications in the Madre de Dios, Ucayali and
Loreto regions to ensure the sustainable trade in cedro
(Cedrela odorata ) and mahogany (Swietenia
macrophylla).

Inspection makes it possible to verify the origin of the
timber and can identify the forest management plan under
which the timber was harvested to guarantee the legal
origin of the products.

Authorisation for trade in 7,089 cubic metres of cedar and
2,497 cubic metres of mahogany was granted.

In related news, twenty-four SERFOR units conduct field
inspections in fifteen forest concessions and four forest
permit areas managed by native communities. This team
of professionals located 1,673 cedar trees and 313
mahogany seedlings in an area of 65,000 hectares.