US Dollar Exchange Rates of 10th November 2018
China Yuan 6.9561

Report from China
China¡¯s forestry industry in 2017
The value of China¡¯s domestic forestry output in 2017 was
just over RMB7 trillion, up 9.8% from 2016.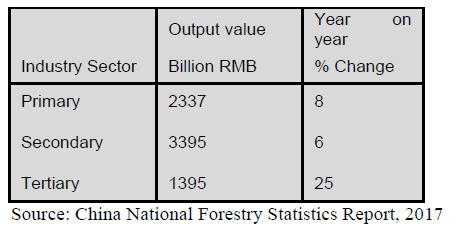 The leading sectors with an output value of exceeding
RMB1 trillion were plantations, harvesting, wood
processing, bamboo product manufacturing and the
forestry tourism and leisure sectors.

The value of the forestry tourism and leisure service
industries exceeded RMB1 trillion for the first time. The
number of people participating in forestry tourism and
leisure reached 3.1 billion in 2017.

Eight provinces had an output value exceeding RMB400
billion, namely Guangdong, Shandong, Guangxi, Fujian,
Zhejiang, Jiangsu, Hu¡¯nan and Jiangxi provinces of which
Guangdong province was the top.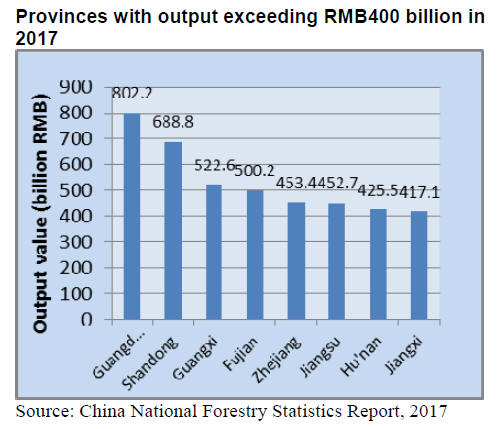 The output of national commercial timber in 2017 rose 8%
to 83.98 million cubic metres and the output of large
diameter bamboo grew 8.5%. Wood-based panel output
totalled 294.86 million cubic metres, a year on year
decline of 2%.

Of total woodbased panel output plywood was 171.95
million cubic metres, fiberboard 62.97 million cubic
metres, particleboard 27.78 million cubic metres and other
woodbased panels 32.16 million cubic metres.

For more see:
http://www.forestry.gov.cn/main/304/20180606/1532291729212
34.html

Trends in China¡¯s furniture industry
The furniture industry in China is a traditional industry
and it has developed rapidly over the past 30 years. Large
scale furniture enterprises are mainly concentrated in
Guangdong, Zhejiang, Fujian, Sichuan and Shandong
Provinces and 5 major furniture manufacturing zones have
been established in the Pearl River Delta, the Yangtze
River Delta, Circum-Bohai-Sea region, Western region
and Northern region, accounting for 50%, 15%, 10%, 10%
and 5% respectively of the total output value of national
furniture industry.

However, the number of unprofitable furniture enterprises
has been increasing in recent years due to a slowdown in
the domestic economy and to increased competition in the
sector.

The number of furniture manufacturing enterprises in
China had increased to 6,217 by the first half of 2018, but
15% of these are assessed as unprofitable. Across the
sector it has been estimated that profit fell 6% in 2017.

The output value of wooden furniture enterprises
(including solid wood furniture and wood-based panel
furniture), metal furniture and other furniture account for
64%, 19% and 17% of the national total respectively.

According to the China Furniture Association output from
China¡¯s furniture manufacturing sector rose about 1% to
435 million pieces between January and July 2018. Of the
total, the output of wooden furniture grew 2.2% to 144
million pieces, metal furniture fell 0.5% to 219 million
pieces and soft furniture increased 2.4% to 32 million
pieces. Wooden furniture manufacturers were the most
profitable according to the Association.

Wooden furniture is manufactured in 28 provinces. The
top 10 provinces are Guangdong, Zhejiang, Fujian,
Jiangxi, Shandong, Sichuan, Liaoning, Jiangsu, Henan and
Beijing in terms of output in the first half of 2018.

The output of top 3 provinces, Guangdong, Zhejiang and
Fujian are 27 million pieces, 15.7 million pieces and 14.5
million pieces respectively in the first half of 2018.

The Jiangxi Nankang furniture industry cluster continues
to maintain a high growth trend and the total output value
from the industrial cluster reached RMB73.14 billion in
the first half of 2018, up 16% over the same period last
year.

China¡¯s furniture industry is passing through some
difficult times at present especially in respect of domestic
regulations on environmental protection and safety. Many
small and medium-sized furniture enterprises are ceasing
operation or are totally re-tooling to meet the new
regulations.

China¡¯s Industrial Green Development Plan (2016-2020)
points out that the concept of green development will
become the guiding principle of the whole industry.

¡®Green¡¯ manufacturing industry has become a new engine
of economic growth and is providing an advantage in
international markets.

In summary, the furniture manufacturing industry is
changing from overcapacity, high resource consumption,
simple production to high productivity and high valueadded
production. The next step will be low carbon,
environment friendly and intellectualization of production.

¡¡

Export and import of China¡¯s wooden furniture
According to data from China Customs, in the first half of
2018 the value of China¡¯ s furniture exports was US$10.3
billion, down 5% from the same period last year.

China mainly exported wooden seats and wooden furniture
for bedrooms which accounted for 42% and 15%
respectively of exports. The value of wooden furniture for
bedrooms fell dramatically by 30% in the first half of
2018.

In the first half of 2018 the value of China¡¯s furniture
imports was US$5 billion, down 3% from the same period
of last year. China mainly imported wooden seats (24%),
wooden furniture for bedrooms (19%) and wooden
furniture for kitchens (18%). The value of wooden seat
imports declined by 10% and imports of wooden furniture
for kitchens declined by 1% in 2017.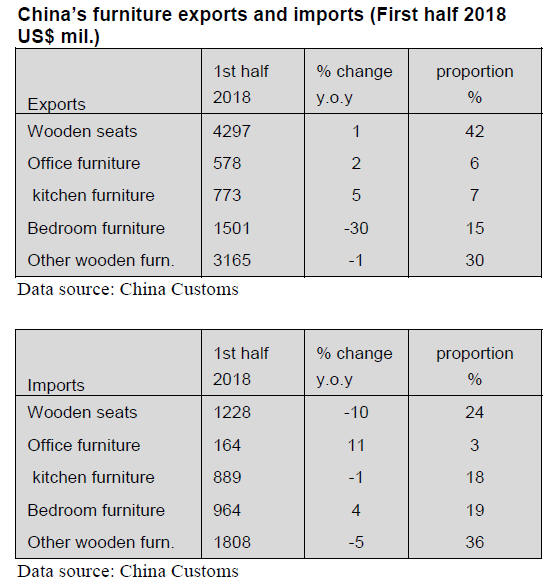 Both export and import value of natural lacquered wooden
furniture for bedroom rose dramatically in the first half of
2018. Chinese consumers now favor environmentally
friendly wooden furniture.

Chinese government has formulated strict standards for
environmentally friendly furniture to protect consumers.
The Code of Management for the Sales and After-sales
Services of Rosewood Products (SB/T 11147-2015) came
into force on 1 September 2016.

The purpose of this standard is to regulate the sales and
after-sales service of rosewood products. For example,
rosewood products should be accompanied by information
such as tree species, grade and material inspection labels.

This standard also lays down detailed requirements on the
sales personnel and sales venue for rosewood products and
there are also specific requirements on the warranty
period.

In addition a Technical Requirement for Environmental
Labelling Products - Furniture was introduced on 1
February 2017. Compared with the previous edition, the
new edition requires the classification and disposal of
wastes by furniture manufacturers. The direct discharge of
sawdust and dust is prohibited.

In the course of painting, enterprises must also take
effective gas gathering measures and carry out
standardization treatment of the waste gas collected.

China¡¯s on imported rosewoods from tropical countries.
However, more and more tropical countries have
forbidden or limited export of logs such that Chinese
furniture makers have seen a dramatic decline in
¡®redwood¡¯ furniture production.