2. MALAYSIA
Minister to industry - be innovative and create new
products
Teresa Kok, Malaysia's Minister of Primary Industries,
said that the Malaysian timber sector needs to relook at
what should be done to enhance its position in the global
marketplace to take advantage of projected global demand
for timber which, according to the World Bank, will
quadruple by 2050.

This was the message delivered at the opening of the
Malaysian Timber Council's (MTC) Malaysian Timber
Conference.

The press release from MTC on this event says the
Malaysian timber industry contributed about 1.7% to the
national GDP with export earnings of RM23.2 billion in
2017 and as at August 2018, the export figures had
reached RM14.57 billion. Wooden furniture, plywood,
sawnwood, fibreboard and joinery are the main revenue
generators for the sector.

The Minister said "I am very proud to see that Malaysia
has established itself as a major producer and exporter of
timber and timber products in over 160 countries. Our
manufacturers are also widely respected for producing top
quality products. We need to maintain our position in the
global market and for that we need to face up to challenges
by employing innovative, sustainable and market-driven
solutions."

She added that Malaysia's commitment in maintaining its
forest cover at above 50% as pledged at the 1992 Rio
Earth Summit will ensure that the timber industry remains
sustainable in the long-term.

The minister congratulated MTC on its repertoire of
programmes that are helping the export-oriented woodbased
industry players to develop their businesses
overseas.

The incentives in MTC's Import Assistance Programme
were increased from RM5 million to RM7 million this
year to enable timber-based manufacturers to augment raw
material supply. Also MTC's 'Financial Incentive for the
Purchase of Machinery' programme, which was launched
in December last year, encourages SMEs to adopt the
latest in technology by providing partial reimbursements
on machinery purchases and freight charges.

For this, MTC has allocated RM3 million which will be
disbursed over 3 years. Meanwhile, The Minister said
Malaysian timber-based manufacturers must understand
the lifecycles of their products to help them maximise
profitability.

"As time goes, our products must also change and be in
line with current market trends. Therefore, it is important
for us to change our mindset and be innovative in creating
a steady stream of new products for the market" she said.

Nine speakers from Italy, Switzerland, Finland and
Malaysia provided detailed takeaways on how to address
the full scope of the challenges the timber industry is
facing. The presentations focused on the global economic
outlook, the timber demand and supply worldwide, the
need for certification, embracing technology as well as
commercialisation of research findings.

For more see: http://www.mtc.com.my/images/media/641/Postrelease_
Timber_Conference_2018_-
_STRATEGIES_TO_EVOLVE_AND_MAXIMISE_GROWTH.
pdf

Glulam and CLT rapidly advancing technologies
The Malaysia Timber Industry Board (MTIB) will host an
International Symposium on 'Application of Engineered
Timber Products towards High Rise Buildings: Challenges
and Opportunities'.

http://www.mtib.gov.my/en/corporateinfo/
archive/annoucement/2222-international-symposium-onapplication-
of-engineered-timber-products-towards-high-risebuildings-
challenges-and-opportunities

Engineered timber products such as glulam and CLT are
rapidly advancing technology that can be utilised as a
carbon-friendly alternative to steel and concrete to frame a
variety of low, mid and high-rise buildings. The
symposium will provide a detailed look at the applications
for their use under modern building codes and examples of
projects in the Europe and Australia.

Sarawak companies suffer sharp drop in log
availability
As major logging companies in Sarawak adjust their
production in the process of getting their operations
certified, new business models are expected to emerge.

One such company adjusting production is Jaya Tiasa
Holdings based in Sibu. This company has scaled down its
downstream wood processing operations due to a sharp
decline in the supply of logs. The utilisation rate for the
group's plywood and veneer mills has fallen below 40%
according to a company spokesperson.

Analysts write "For the financial year ended 30 June 2018
plywood mills in Sarawak were operating at 39% of
annual installed capacity of 180,000 cu.m. This resulted in
a drop in production to 69,000 cu.m, down from almost
83,000 cu.m.

The latest data released by the Department of Statistics
shows total log production in Sarawak between January
and September 2018 was 3,579,000 cu.m. For the same
period last year, the total was 4,212,500 cu.m. The
majority of the logs came from hill forests.

Plywood prices
Traders based in Sarawak reported the following plywood
export prices for October:
3. INDONESIA
East Asia, Indonesia's main timber export markets
Indonesia's exports of processed wood products continue
to increase and markets in East Asia have become more
important. Japan continues to be a major importer of
Indonesian wood products. China, Korea and Japan top
Indonesia's export destinations accounting for around 70%
of all exports of wood products.

Wood product exports (HS Code 44) in 2017 reached
US$4 billion with some US$813 million shipped to Japan
and a further US$754 million to China.

https://industri.kontan.co.id/news/asia-timur-jadi-pasar-eksporutama-
kayu-indonesia

Raw rattan export ban has not spurred investment in
processing
Indonesia was once a major exporter of raw rattan but
halted raw rattan exports in 2011 in an effort to encourage
local industries to process rattan to add value. The Trade
Minister issued Decree Number 35, 2011, banning the
export of raw rattan.

The decree had an immediate impact on Indonesia's
rattan-based product exports. There was some investment
in processing and added value exports rose slightly but in
recent years rattan product exports have stalled and this
has created concern in the Ministry of Industry.

Industry Minister Airlangga Hartarto has said that if there
is no interest on the part of manufacturers to invest to
expand rattan processing then the Minstry will review the
raw rattan export ban.

Introducing furniture and handicraft design technology
In a statement to the press Airlangga Hartarto, Indonesia's
Minister of Industry, said development of the furniture and
craft industries are a national priority and that the Ministry
is doing what it can to support improvement of the
business climate in these sectors. He pointed out that
exports in 2015 were worth US$1.71 billion, in 2016
US$1.61 billion and in 2017 US$1.63 billion which is far
below the potential of the sectors.

To strengthen the foundations of the furniture and
handicraft sectors a Polytechnic for the furniture and wood
processing industries has been established in Central Java.
In addition the Minister reported that efforts are being
made to introduce furniture industry design technologies
such as computer-aided design as well as computer-aided
manufacturing.

In addition to assisting with development of design
technology the ministry also helps furniture makers
participate in domestic and foreign exhibitions and
provides tax incentives for the furniture and handicraft
sectors.

For more see: https://akurat.co/ekonomi/id-377721-readkemenperin-
kembangkan-teknologi-desain-industri-mebel

Perhutani ups flooring exports to China
As the latest shipment of 11 containers of wooden flooring
worth Rp.3.2 billion departed for Shanghai the managing
director of Perhutani, Denaldy M Mauna, said that the
company will continue to export at least 10-15 containers
per month to China.

In 2019 the export plan envisages increased exports to
around 15 to 20 containers per month.

https://republika.co.id/berita/ekonomi/pertanian/18/10/29/phcxhl
383-perhutani-ekspor-flooring-ke-cina

Italy and Indonesia sign US$41 million trade contracts
Indonesian and Italian trade got a boost when contracts
worth US$41 million were agreed during the 2018 Trade
Expo Indonesia (TEI 2018) held in late October.

George Lantu, Deputy Chief of Mission in Italy, said 25
Italian business people, partners of the Indonesian trade
attaché at the Indonesian Embassy in Rome and the
Indonesian Trade Promotion Center (ITPC) in Milan
attended the Expo. He added that most were involved in
the paper, furniture, handicrafts, textiles, food and
beverages sectors.

Indonesia pleased with EFTA and CEFTA negotiations
Indonesia's Foreign Minister, Retno Marsudi, recently met
with Norwegian Foreign Minister Ine Marie Eriksen
Soreide, to discuss cooperation to increase trade and
investment between the two countries. The meeting
focused on the environment and forestry, energy
(especially renewable energy), marine resources and
fisheries.

The partnership programme on forestry "Reducing
Emissions from Deforestation and Forest Degradation
Plus" conducted by Indonesia and Norway has become a
model in dealing with deforestation and achieving a low
carbon environment and sustainable economic
governance.

In related news, Retno said Indonesia welcomed the
developments in negotiations between Indonesia and the
European Free Trade Association and the Central
European Free Trade Agreement. Indonesia is committed
to accelerating the final results of the negotiations and
believes the agreement between Indonesia, EFTA and
CEFTA will bring a new great opportunity for trade and
investment cooperation.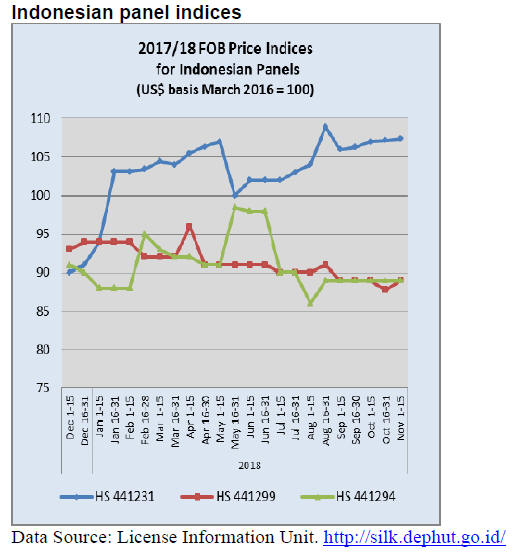 4. MYANMAR
State controlled company to scale down timber sector
activities
The Forest Products Joint Venture Corporation Ltd.
(FPJVC), in which the Myanmar Forest Department and
Myanma Timber Enterprise hold a 55% of share, held its
Annual General Meeting recently. The corporation
reported a net profit of 2.4 billion Kyats for the current
financial year compared to the profit of 3.8 billion Kyats
last year.

According to the corporation chairman, the FPJVC
business model is to be adjusted reducing reliance on the
timber sector to take account of the sharp reduction in log
harvests.

State media sources say Forestry Minister Ohn Win said as
production from the natural forest will be reduced
manufacturers must invest in plantations to secure raw
materials. He also indicated that assistance will be
provided to exporters to secure international market
acceptance of the Myanmar legality verification and
certification process.

Questions raised on government bailout for state
enterprises
Parliamentarians have urged the government to review the
current law under which the government must bail out
loss-making state-owned enterprises. It has been reported
that 17 out of the 26 Myanmar SOEs are expected to make
a profit in fiscal 2018-19.

According to the Ministry of Planning and Finance the
Myanma Timber Enterprise is one of the profitable 17
SOEs despite the considerable reduction in log harvests.

International banks can now offer more services
The Central Bank of Myanmar has announced that
branches of international banks in Myanmar are now
permitted to extend loans to local companies and provide
other banking services thus opening up a new source of
funding for local corporations.

Currently, branches of 13 international banks from China,
Japan, Singapore, India, Malaysia and Vietnam are listed
with the Central Bank, while 49 other banks have
representative offices in Myanmar.

The local investors are hoping to secure loans at lower
interest rates than charged by domestic banks but analysts
write, it is not yet clear how the foreign banks will set
interest rates and whether they can make direct loans to
local companies without the transiting the financing
through local banks.

Progress with the Kyaukpyu port project
Myanmar and China have agreed the structure of financing
the deep sea port development in Kyaukpyu on the coast
of the Bay of Bengal.

The Myanmar press has reported that China will fund 70%
of the investment. The initial phase of the project will
include two berths with a total investment of US$1.3
billion. The original proposal was for a US$7.2 billion
investment. The Chinese investment will be provided by a
consortium led by CITIC Group, a state-owned
conglomerate. The contract was signed in Myanmar by the
management of the Kyaukpyu Special Economic Zone.

Uphill task to benefit from AEC membership
In January 2019, Myanmar, together with Cambodia, Laos
and Vietnam will officially be part of the ASEAN
Economic Community (AEC) but Myanmar faces major
challenges if it is to benefit fully from membership.

The AEC vision is for a globally integrated single market
and production base in a highly competitive economic
region. In theory, the economic bloc will lead to unlimited
investment and trade opportunities between members. In
practice, the challenges for Myanmar are considerable as
the country's ranking in the World Bank's 'Ease of doing
business index' was close to the bottom at No. 171 making
Myanmar the least favorable ASEAN member country in
which to conduct business.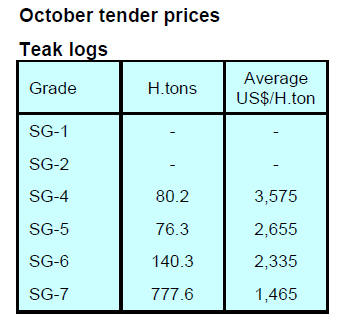 5. INDIA
Real estate developers seek lifting of credit freeze
The Confederation of Real Estate Developers'
Associations of India (CREDAI) has approached the
government requesting it intervene to ease the credit
freeze in the Indian Real Estate sector as this is holding
back completion of many real estate projects.

In its letter CREDAI acknowledged that the Indian Real
Estate sector is a beneficiary of multiple reforms, foremost
being Real Estate Regulation and Development Act, and
the GST. However, at present the industry is trapped in a
downward spiral of unfinished projects and a tapering off
in demand.

At a time when developers are under immense pressure to
deliver projects on time, financial institutions are
cancelling disbursements even after the loans have been
approved.

Getamber Anand, the Chairman of CREDAI commented
"The Indian Real Estate sector contributes significantly to
the growth of the Indian economy, being the second
highest contributor to the country's GDP. Therefore, it
becomes highly imperative for the economy's growth that
Indian realty is on a sustainable path of development. At
this critical juncture, we seek Government's immediate
intervention to provide adequate avenues of liquidity to
developers to sustain the revival of Indian realty."

The press release from CREDAI says the organisation has
consistently voiced its concerns on the lack of adequate
funding for developers will affects the developers and
homebuyers but also the 250+ allied industries which are
directly or indirectly dependent on Indian real estate
sector.

See: https://credai.org/press-releases/credai-seeks-governmentintervention-
to-ease-credit-freeze-in-indian-real-estate

Income growth and expanding retail distribution to lift
furniture demand in India
According to a recently published report by TechSci
Research, "India Furniture Market Forecast and
Opportunities, 2019", the country's furniture market is
projected to reach USD32 billion by 2019.

The country's furniture market is expected to grow at a
rapid pace due to rising disposable income, an expanding
middle class and a growth in the number of urban
households. In addition, the anticipated rise in the tourism
and hospitality sectors is also expected to spur demand for
furniture demand in the country.

The Western and Southern regions are expected continue
to be the leading revenue generators due to the expanding
distribution network of furniture manufacturers in these
regions. Uttar Pradesh, Kerala, Punjab, West Bengal and
Andhra Pradesh are the major suppliers of wood, the most
widely used raw material in the country's furniture sector.

The report reveals that wooden furniture is expected to
continue its dominance in the Indian furniture market. The
home furniture market is expected to witness the fastest
growth over the next five years, followed by office and
institutional segments.

Major 'organised' market players such as Godrej Interio,
Durian, Wipro, Evok and Nilkamal are expected to
outperform during the next five years due to their diverse
product range, expanding distribution network and
exclusive outlets.

The market is also witnessing a growing trend, wherein, an
increasing number of domestic manufacturers are
cooperating with foreign manufacturers to improve
product design and quality.

Karan Chechi, Research Director with TechSci Research
writes "With growing employment opportunities,
purchasing power of the Indian consumers is increasing,
which is consequently expected to continue and boost the
demand for designer as well as standardized furniture in
the country over the next five years."

'The India Furniture Market Forecast and Opportunities-
2019' evaluates the future growth potential of India's
furniture market and provides statistics and information on
market structure, and consumer behavior trends. The
report includes India furniture market projections and
demand forecasting and help-decision makers to take
sound investment evaluation.

See: https://www.techsciresearch.com/news/218-india-furnituremarket-
to-surpass-usd32-billion-by-2019.html

Plantation teak prices
Demand in the domestic market for teak remains firm and
exporters report strong growth in international markets for
India's teak products.

Importers have now seen a slight easing in the strength of
the US dollar and this, along with domestic measures, has
stabilised the dollar/rupee exchange rate. C&F prices in
US dollars for imported plantation teak logs and
sawnwood remain unchanged from two weeks ago.

Locally sawn hardwood prices
Demand for hardwood sawnwood milled locally from
imported logs remains steady. For now, the cost of imports
in rupees has not changed but importers remain alert to
exchange rate movements.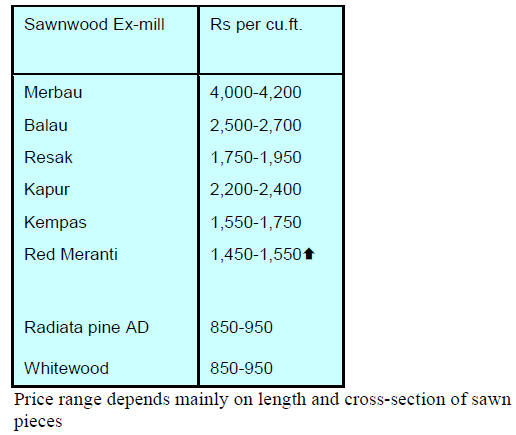 Myanmar teak prices
Improved demand has allowed stockiest of Myanmar teak
logs to increase sales. As stocks of Myanmar logs
imported before the log export ban decline further price
rises for locally sawn teak.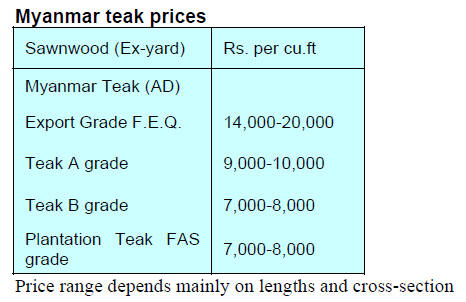 Sawn hardwood prices
Prices for the timbers in the table below increased recently
and the higher prices have been accepted in the market.
Millers hope there will be a period of stable exchange
rates which will enable them to better plan imports.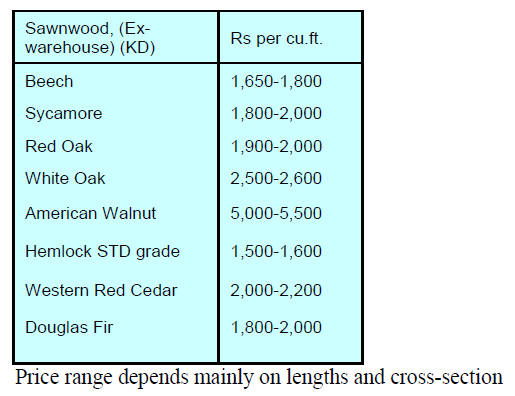 Plywood price update
Plywood market has absorbed the earlier price rise which
has encouraged a rise in production. However, analysts
write that production is now outstripping demand so a
correction of production is inevitable if the recent price
increases are to be sustained.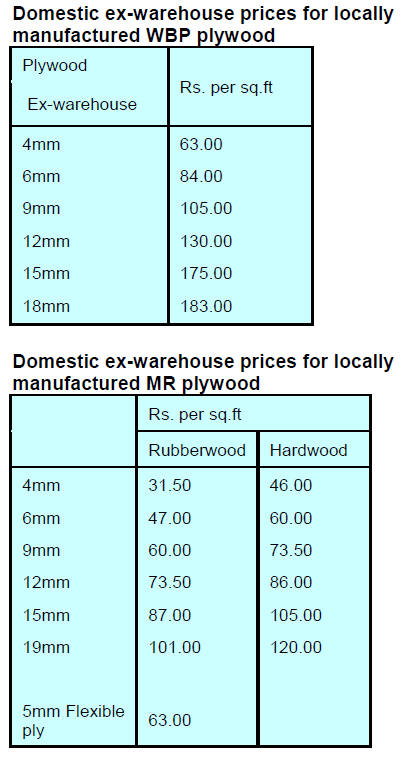 6. BRAZIL
Expansion of work on Araucaria
The Experimental Research Station Caçador (ERSC) in
Santa Catarina is home to a model forest extending over
some 1,000 hectares of mainly Araucaria forest and it is
here that forest restoration and agro forestry techniques are
trialled.

Until 2012 the Station was under the coordination of the
Agricultural Research and Rural Extension Company of
Santa Catarina (EPAGRI), but management coordination
has been transferred to the Brazilian Agricultural Research
Corporation (EMBRAPA).

Since the transfer there has been an expansion of work to
cover management for the conservation and sustainable
use of the Araucaria Forest. Currently, there are 18
experiments especially on araucaria and bracatinga
(Mimosa scabrella ) as well as on some native fruit trees.

Sustainable trade strategy in Mato Grosso
The 'Produce, Conserve and Include' (PCI) strategy
employed by the State Government of Mato Grosso has
attracted participation from companies such as Walmart
and Unilever who see a way to strengthen the power of the
supply chain force to address tropical forest deforestation.

The PCI strategy is seen as a way to establish a sustainable
trade as well as contribute to securing the natural forest.

The PCI Strategy was launched in Paris during COP 21 in
2015 and consists of a set of targets aimed at expanding
and increasing the efficiency of agricultural and forestry
production, conservation of native vegetation, managing
environmental liabilities, socioeconomic inclusion of
family farming, emission reduction and carbon
sequestration.

The Mato Grosso State Secretariat for the Environment
(SEMA) aims to maintain 60% of native vegetation of
Mato Grosso and eliminate illegal deforestation in the
state by 2020.

Furniture exports grow in Bento Gonçalves
Furniture exports by manufacturers in Bento Gonçalves,
Rio Grande do Sul State continue to grow. Between
January and September this year there was an almost 9%
rise in the value of furniture exports to US$28 million
from US$26 million in the same period in 2017.

Despite the positive results the Bento Gonçalves Furniture
Industry Union (Sindmóveis,) says that increasing costs
are eating away any advantage from recent price increases.

The manufacturing sector has been hit by higher freight
and power charges which have increased between 5 to
10%. In addition, the cost of imported furniture
accessories has increased pushing up production costs.

Colombia and the United States stand out as main buyers
of furniture from Bento Gonçalves. Other market include
Saudi Arabia, Chile and Uruguay where there has been a
significant increases in shipments. India, Ecuador, Puerto
Rico and South Africa also import from the enterprises in
Rio Grande do Sul State.

On the other hand, demand in traditional markets such as
Argentina and Paraguay has fallen and this is especially
noticeable for Argentina due to economic weakness and a
weakening currency.

CIPEM invited to join international trade group on
tropical timber
The Center for Timber Producers and Exporters in Mato
Grosso State (CIPEM) was invited to join the ITTO
Market Discussion held in conjunction with the 2018
International Tropical Timber Council, considered one of
the most important places for dialogue on tropical timber.

During the event, the greatest interest of international
representatives was to learn about the mechanisms of
tropical timber control in Brazil. CIPEM presented the
legal framework that the forestry sector has to comply
with. The wood control process involves some steps such
as Environmental Rural Registry (CAR), Forest License,
Logging/harvesting Permit, Industry Operation License,
Forest Products Consumers Registry (CC-Sema) and
Document for timber products Transport.

"The forest-based sector is the most strict production
segment in monitoring forestry activities. From logging
license to control of forest products stock, everything goes
through numerous inspection steps to guarantee legality,"
reported CIPEM.

CIPEM's representatives mentioned that ITTO could
support the forest sector in Mato Grosso through funding
specific research projects for the tropical forest secto, such
as carbon measurement and valuation of forest assets as
well as communication and marketing to show the strength
of the command and control system that guarantees the
legality of Brazilian tropical timber.

See: https://www.itto.int/ittc-54/market_discussion/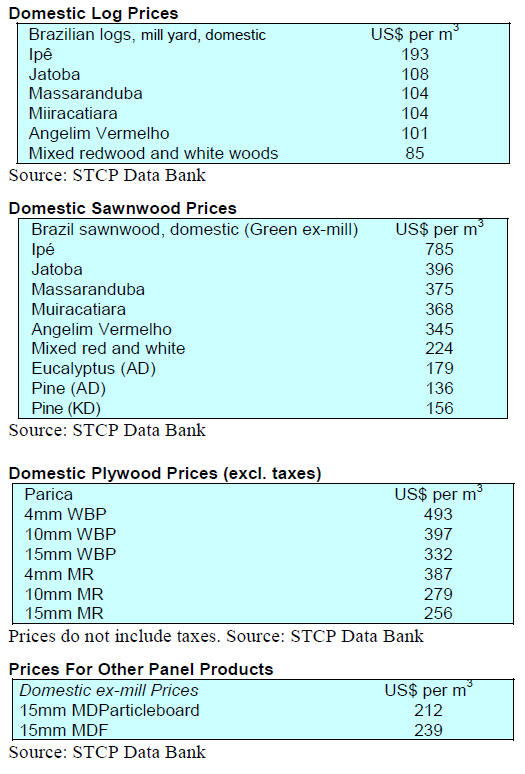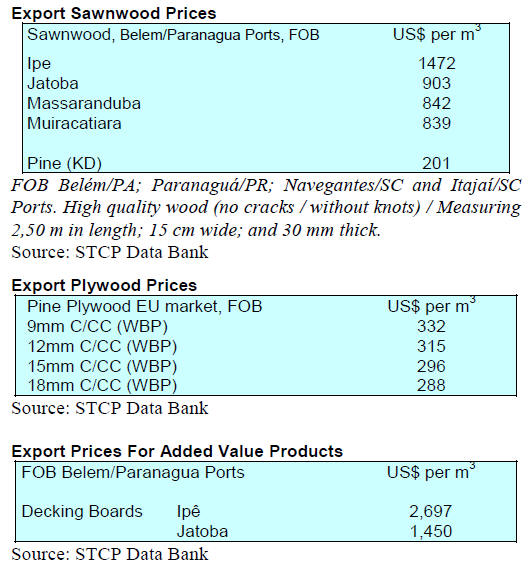 7. PERU
SERFOR reviews exchange of experiences with US
Forest Service
The Board of Directors of the National Forestry and
Wildlife Service (SERFOR) recently exchanged
experiences on governance and forest management with
representatives of the United States Forest Service (USFS)
and the United States Agency for Development (USAID).

The SERFOR board indicated that this visit provided an
opportunity for a frank and fruitful exchange on forestry
and wildlife issues.

Jaime Nalvarte, from the Association for Integral Research
and Development (AIDER), a member of the delegation to
the US said it was a sobering experience to see such a
diverse group including representatives of indigenous
peoples, the private sector and national, regional and local
authorities participating in the discussions in the US.

Lourdes Huanca of the National Federation of Peasant,
Artisan, Indigenous, Native and Salaried Women of Peru
(Fenmucarinap) emphasised that clearly the issue of
governance in the US is different from that in Peru.

Oscar Benavides, a representative of local governments
mentioned that the visit highlighted the efforts being made
by the private sector to improve forest management in
cooperation with local administrations and other
stakeholders.

Peru and Germany reaffirm cooperation on forestry
The Deputy Minister of Agrarian Policies of the Ministry
of Agriculture and Irrigation, William Arteaga Donayre,
led the Peruvian delegation in the Intergovernmental
Negotiations on Cooperation for Development between
the Governments of Peru and Germany. This meeting was
held as part of the commitment between both nations to
reaffirm the technical and financial support in the
agricultural and forestry sectors.

Deputy Minister Arteaga participated in the negotiations
on the future of the programme for the promotion and
sustainable management of forest production in Peru. This
programme aims to increase the productivity and
competitiveness of forest production in Peru and is
focused on Ancash, Ayacucho, Cusco, Huánuco, Junín,
Loreto, San Martin and Ucayali.

This programme has three main components; the
promotion of forest plantations; sustainable forest
production in natural forests in order to optimise forest
concessions management and community forest
management.

Technicians trained in sustainable use of the forest
The Swiss Federal institute of Technology and GIZ
conducted a series of courses on good practices for
sustainable forest management for students. The training
was carried out in production forests under management of
the Canchahuaya community in the province of Orellana,
Loreto Region.

Harvesting in the area is carried out by a company
recognised for its good forest management practices.

The students were exposed to the methodologies used by
the company in logging, personnel safety, road planning
and implementation of traceability to demonstrate the legal
origin of the wood.

Huánuco Region invests in refforestation
The manager of Natural Resources and Environmental
Management in the Huánuco region has reported that over
US$8 million has been spent on reforesting some 10,000
ha.

In the Province of Huacaybamba, 600 ha. were reforested
with pine, alder, quinual, eucalyptus and tara. In the
Province of Dos de Mayo, 917 ha. were also reforested. In
addition, reforestation was undertaken in the Montane
Forest of Carpish with quinual, magche, alder, walnut and
cedar.