Report from North America
Plywood and veneer imports move in opposite
directions
US imports of hardwood plywood increased by 17% in
August as Asian countries increased their volume to make
up for the decline in trade from China. Imports from China
were down an additional 15% in August and are now
down 78% year to date from 2017.

Meanwhile, Indonesia, Vietnam and Malaysia are all
seeing considerable increases in volume exported to the
US, both for the month and year-to-date. Imports from
Cambodia decreased 21% in August, but to-date they
remain more than double that in 2017.

US imports of tropical hardwood veneer continued to
grow, surging 26% in August while year-to-date imports
are now up 39%. Italy, by far the largest US supplier, saw
its exports to the US up by 24% in August.

Imports of veneer from African suppliers fell sharply in
August and are now relatively flat for the year for
Cameroon and Ghana. Imports from India were also down
sharply in August but are still outpacing 2017 year-to-date
numbers by more than threefold.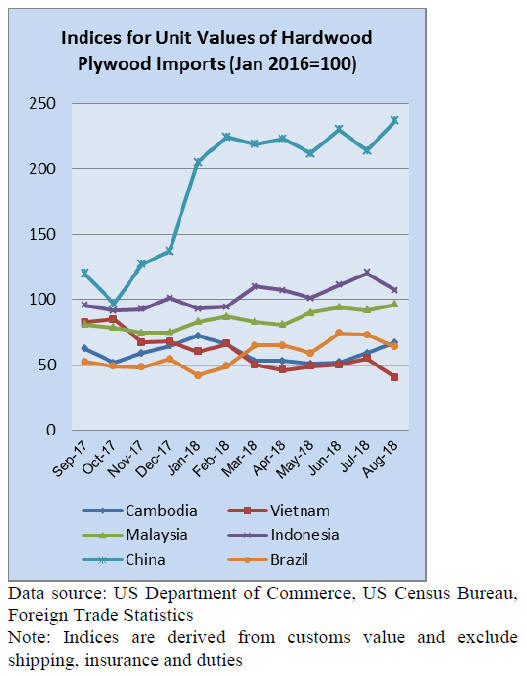 Flooring and moulding imports from Indonesia slow
Hardwood flooring imports grew for a fourth straight
month, climbing 5% in August. The strongest growth was
in imports from Brazil and China. Imports from Malaysia
declined, but year-to-date imports from Malaysia remain
nearly double those of the same time last year. Imports
from Indonesia also declined in August and are now down
nearly one third from last year.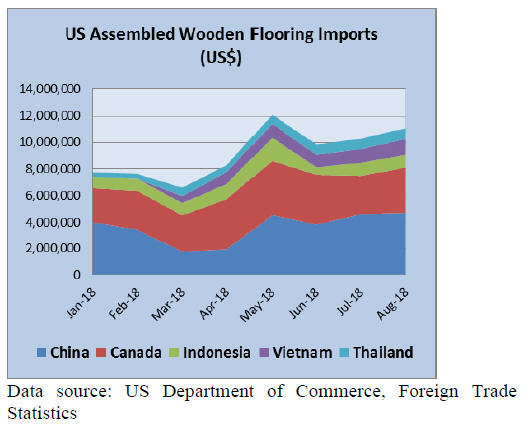 Assembled flooring imports grew for a third month in a
row, rising 11% in August. Imports from Canada and
Vietnam fueled the gain. Imports in this area are up 7%
year-to-date.

Hardwood moulding imports grew 7% in August. The
strongest growth was in imports from Brazil and Malaysia.
Imports from China were down sharply, but year-to-date
imports were 8% higher than in August 2017.

Furniture imports from China and Vietnam rise again
US imports of wooden furniture fell 7% in August,
however, August numbers historically lag behind July.
The US$1.6 billion total for the month came in at 5%
percent above imports for August 2017 and imports
remain about 6% above the 2017 year-to-date. Imports
from the largest suppliers, China and Vietnam are both up
6% year-to-date.

Cabinet sales and furniture orders rise
According to the most recent Smith Leonard survey of
residential furniture manufacturers and distributors new
furniture orders in July were up 5% over July 2017.

The 5% increase was notable one considering July 2017
orders were 11% higher than July 2016. This July increase
marked the third straight month that orders were up 5%
over the same month a year ago.

See: http://www.smith-leonard.com/2018/09/27/september-2018-
furniture-insights/

A press release from the Kitchen Cabinet Manufacturers
Association (KCMA)¡¯s monthly Trend of Business Survey
says participating cabinet manufacturers reported an
increase in cabinet sales of 4.4% for August 2018
compared to the same month in 2017. Stock sales
increased 5.1%; semi-custom sales increased 3.1%; and
custom sales increased 6.2% compared to August 2017.

Compared to last month (July 2018), sales are up 8.3%.
Stock sales are up 8.4% compared to July; semi-custom
increased 9.5%; and custom is up 4.2% after a large drop
from June to July.

Year to date cabinetry sales through August 2018 are up
1.8% according to participating manufacturers. Stock
sales are up 3.5%; semi-custom sales are down 0.5%; and
custom sales are up 4.2% so far this year.

See: https://www.kcma.org/news/august-2018-trendbusiness-
press-release

US to negotiate trade agreements with Japan, EU and
UK
US Trade Representative Robert Lighthizer formally
notified Congress that the Trump Administration intends
to formally enter negotiations toward three new trade
agreements with Japan, the European Union, and the
United Kingdom.

According to the letters of notification, Lighthizer intends
to begin negotiations as soon as possible, but there will be
at least 90 days of consultation with Congress, US
stakeholders, and industry advisory committees such as
those on which IWPA Executive Director Cindy Squires
serves.

See: https://ustr.gov/about-us/policy-offices/press-office/pressreleases/
2018/october/trump-administration-announces

Manufacturing sector expands, but business
executives concerned about tariffs
Economic activity in the manufacturing sector expanded in
September, and the overall economy grew for the 113th
consecutive month, say the nation¡¯s supply executives in
the latest Institute for Supply Management¡¯s
Manufacturing (ISM) Report of Business.

Demand remains strong and production and employment
continue to expand, but respondents are overwhelmingly
concerned about tariff-related activity, including how
reciprocal tariffs will impact revenue and current
manufacturing locations.

https://www.instituteforsupplymanagement.org/ismreport/mfgrob
.cfm?SSO=1