US Dollar Exchange Rates of 25th October 2018
China Yuan 6.9435

Report from China
Real estate investors targets smaller cities
China¡¯s National Bureau of Statistics has just released the
results of its assessment of national real estate
developments in the first nine months of this year.

The real estate sector continues to attract investment and
much of this has been directed to the smaller cities where
the efforts of the government to cool the sector and
eliminate speculation have been less aggressive than in the
main cities.

In the first nine months of 2018 there was an almost 10%
year-on-year rise in investments but the pace of expansion
slowed slightly. There was a 14% rise in residential
housing investment accounting for over 70% of total
investment in the sector.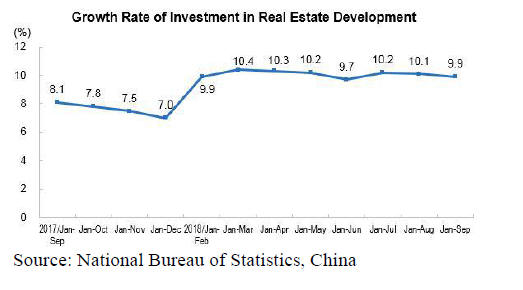 Between January and September this year the land area
purchased by developers increased almost 16% year on
year.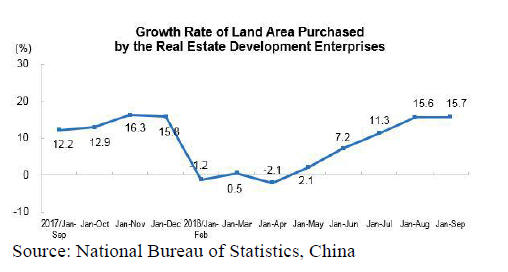 The data for September point to a scaling back of
investment which is put down to economic uncertainties
and the new restrictions aimed at cutting down speculative
investment in the housing sector.

See:
http://www.stats.gov.cn/english/PressRelease/201810/t20181019
_1628757.html

Increases in export tax rebates
The export tax rebate rate for some products has been
adjusted.

According to the government the tax rebate scheme is
designed to mitigate the management pressure for exportoriented
enterprises, improve competitiveness of these
enterprises, reduce market risks, support small and middlesized
enterprises to overcome management difficulties,
guide enterprises to optimise the structure of export
products and accelerate the pace of industrial upgrading.

The new tax rebate levels came into effect on 1 November
2018. The rates for export tax rebates for wood products
are as below.



16% for kiri (paulownia) wood (4407.9920),
sawn lengthwise from 13% in the past.



16% for bamboo flooring (4409.2110 and
4409.2190) from 13% in the past.



13% for particle board (4410), fiberboard (4411)
and plywood (4412) from 9% in the past,
including laminated flooring (4411.1319), solid
composite flooring (4412.9910 and 4412.9410)
and bamboo and wood composite flooring
(4412.1099).



16% for packing and similar packing of wood,
cable-drums of wood, pallets and other boards of
wood and pallet collars of wood (4415.1000 and
4415.2090) from 13% in the past.



10% for pallets, box pallets and other load
boards, pallet collars of radiata pine (4415.2010)
from 5% in the past.



13% for other wood windows and frames
(4418.1090), wooden doors and frames
(4418.2000), wood mouldings for concrete
construction work (4418.4000), wood shingles
and roofing (4418.5000) and other wood pillar
and purlins (4418.6000) from 9% in the past.



16% for other assembled multilayer bamboo
flooring (44187320) and other assembled bamboo
or bamboo-top-lay flooring panels (44187390)
(from no in the past).



13% for bamboo woodworking products for
building use (4418.9100) and other woodworking
products for building use (4418.9900) (from zero
in the past).



13% for other wood carvings (4420.1011) from
9% in the past.



16% for bamboo carvings (4420.1012) from 9%
in the past.



16% for wood fans (4420.1020) (from no in the
past).



10% for ramin wood mosaics (4420.9010) from
5% in the past.



13% for wood boxes and similar items, nonground
type furniture (4420.9090) and wood
clothes hangers (4421.1000) from 9% in the past.



16% for other bamboo circular sticks, ice fruit
sticks, tongue depressors and similar disposable
products (4421.9110) and bamboo products
without specific name (4421.9190) (from no in
the past).



10% for ramin wood products without specific
names (4421.9990) (from no in the past).



16% for bamboo, rattan, straw and willow
weavings (part of 4601 and 4602) from 13% in
the past.

Full details can be found at:
http://szs.mof.gov.cn/zhengwuxinxi/zhengcefabu/201810/t20181
019_3050975.html

Plantation harvests on the rise
According to the eighth national inventory of forest
resources, the area of national plantation was 69.33
million hectares accounting for 36% of the forest land area
in China. The stocking volume of these plantations was
2.483 billion cubic metres, or 17% of China's forest
standing volume.

Between 2009 and 2013 the average annual harvest
volume from China's plantations was 155 million cubic
metres. The harvest volume from plantations accounted
for 46% of the total harvest, up by 7% on the period of the
seventh national inventory.

¡®Plantations - a way to achieve green development¡¯ ¨C
international congress
The 4th International Congress on Planted Forests (ICPF)
was held in Beijing from 23 to 25 October 2018. This is
the first time for the ICPF to be held in an Asian country.

The theme of the conference was "Plantations - a way to
achieve green development", with 4 topics: genetic
resources and breeding, multi-objective management of
plantations, timber, fibre and non-wood forest products,
forest policies and social economics related to plantations.

The Congress aimed to investigate the contribution of
planted forests to green development in the context of
global challenges.

Topics included the sustainability of planted forests in the
context of changing climates and the future role of planted
forests in bio-resources sustainability, environmental
protection and green development.

Log imports through Zhangjiagang Port
According to the data from China Customs, between
January and August 2018, log imports through
Zhangjiagang Port totalled 3.13 million cubic metre
valued at US$720 million.

These logs were mainly from Papua New Guinea (1.51
mil. cu.m) and Solomon Islands (1.07 mil. cu.m),
accounting for 48% and 34% of total log imports through
the Port.

Other main suppliers included Equatorial Guinea,
Cameroon, Republic of Congo, Central African Republic,
Suriname and Liberia. Small quantities of logs were
imported from Malaysia, Mozambique, the Democratic
Republic of Congo, Angola, Mali, Ghana, Indonesia,
Ecuador, Guyana and Argentina.