Report from North America
Tropical sawnwood import volumes drop
After a healthy rise in July, US imports of tropical sawn
hardwood returned in August to the lower numbers seen
throughout 2018. The August volume of tropical sawn
hardwood imports was down 17% from the previous
month at 16,598 cu.m., while the value of imports grew by
5%.

Year-to-date, tropical hardwood imports were down 14%
compared to 2017. The overall decline in tropical
sawnwood year-to-date is mainly due to lower balsa and
Sapelli imports. Sapelli imports dropped sharply in August
and are now 30% down from 2017 year-to-date.

Changes in year-to-date imports vary greatly by species.
Jatoba imports were up significantly from 2017 along with
Keruing and Padauk, while Acajou and Virola declined.

In August, Balsa and Padauk imports increased but
imports of most other tropical hardwood species declined
month-on-month. Cedro and Meranti sawnwood imports
decreased in August but continue to surpass 2017
numbers.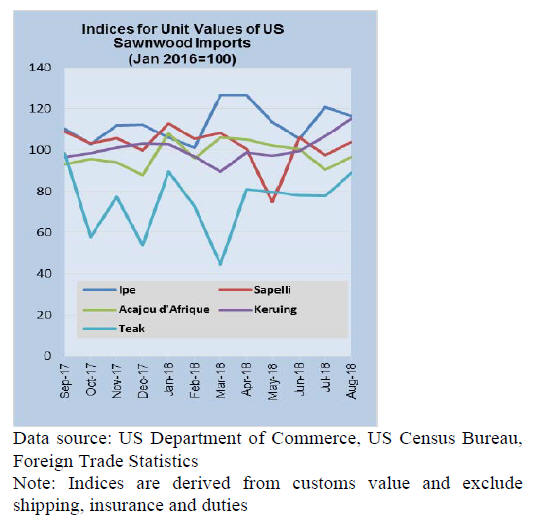 ITC 2018 Harmonised Tariff Schedule revisions affect
wood products
The US International Trade Commission issued Revision
12 to the Harmonized Tariff Schedule. The relatively
comprehensive update implements, as of October 1, new
provisions for wood products agreed to by the World
Customs Organization.

Changes also include new provisions for the third, US$200
billion list of 10% Section 301 tariffs, including those on
wood products from China that took effect beginning
September 24.

Among the numerous changes for imports to the US the
former subheading 4412.32 for plywood ¡°with at least one
outer ply of non-coniferous wood¡± is eliminated and
replaced by new subheading 4412.33 for plywood with at
least one outer ply of one of the following species: Alder,
Ash, Beech, Birch, Cherry, Chestnut, Elm, Eucalyptus,
Hickory, Horse Chestnut, Lime, Maple, Oak, Plane Tree,
Poplar and Aspen, Robinia, Tulipwood or Walnut.

A new subheading 4412.34 is created for plywood with at
least one outer ply of a species of non-coniferous wood
not listed in subheading 4412.33 (other than bamboo).

See:
https://hts.usitc.gov/view/release?release=2018HTSARevision12

Deal struck to update NAFTA
The US and Canada struck a deal on trade and announced
the framework for a new, revised North American Free
Trade Agreement (NAFTA) ¡ª now known as the United
States-Mexico-Canada Agreement, or USMCA. The three
countries reached a consensus after more than a year of
talks.

This revision of the nearly 25-year-old NAFTA agreement
contains major changes on cars and new policies on labor
and environmental standards, intellectual property
protections, and some digital trade provisions. All three
countries involved must still ratify the deal.

The agreement includes strong support for sustainable
forest management and notes that forest products, when
sourced from sustainably managed forest contribute to
global environmental solutions, including sustainable
development, conservation and sustainable use of
resources and green growth. The agreement also includes
provisions to enhance the effectiveness of inspection of
shipments containing wild fauna and flora and to support
the trade in legally harvested wood products.

See: https://www.whitehouse.gov/briefings-statements/presidentdonald-
j-trump-secures-modern-rebalanced-trade-agreementcanada-
mexico/

The Forest Products Association of Canada (FPAC)
applauded the Canadian government¡¯s efforts on reaching
an agreement. ¡°The USMCA will ensure certainty and
improved trade stability among all three countries,¡± says
FPAC CEO Derek Nighbor. ¡°FPAC is specifically pleased
with the outcome of maintaining the existing Dispute
Settlement Mechanism as this allows all industries in the
three countries to challenge discriminatory trade actions.¡±

https://www.woodbusiness.ca/industry-news/news/fpacwelcomes-
the-conclusion-of-the-usmca-5206

Federal Reserve raises interest rates
The Federal Reserve (Fed) raised interest rates in
September and signaled that an additional increase is
expected by the end of this year. It was the third rate
increase this year and the benchmark rate is now at 2 to
2.25%.

The Fed described economic conditions as ¡°strong.¡± It
predicted that growth this year could top 3%, before
slowing in coming years. Unemployment remains low,
inflation remains around the 2% pace the Fed regards as
optima, and the pace of investment has increased it said.

According to the US Department of Labour the US
unemployment rate dropped in September and the number
of unemployed persons fell by 200,000 to 6.0 million.
Employment in construction continued to trend up in
September (+23,000) and has increased by 315,000 over
the past 12 months.

Despite tariff concerns US consumer sentiment reached
very favorable levels in September as the University of
Michigan¡¯s survey index¡¯s measure topped 100.0 for only
the third time since January 2004.

Consumers anticipated continued growth in the economy
and expected the unemployment rate to continue to slowly
decline during the year ahead. The single issue that was
cited as having a potential negative impact on the
economy was tariffs. Concerns about the negative impact
of tariffs were cited by nearly one-third of all consumers
in September.

See: http://www.sca.isr.umich.edu/

New housing sales and starts rebound
Sales of newly built, single-family homes rose 3.5% in
August to a seasonally adjusted annual rate of 629,000
units after being revised down June and July reports,
according to the US Department of Housing and Urban
Development and the US. Census Bureau.

These downward revisions suggest softness in new home
sales activity this summer. However, on a year-to-date
basis, sales are up 6.9% from this time in 2017. The
National Association of Home Builders credits the rise to
the overall strength of the economy but is cautious about
future sales.

The NAHB says ¡°Housing affordability has taken a toll on
new home sales over the summer, and there could be
market volatility in the months ahead as communities
grapple with the after effects of Hurricane Florence,¡±
Moody Analytics estimates the hurricane caused between
US$17 billion and US$22 billion in flood damage in the
Atlantic coast states of North and South Carolina.

Privately-owned housing starts in August were at a
seasonally adjusted annual rate of 1,282,000. This is 9.2%
above the revised July estimate of 1,174,000 and is 9.4%
above the August 2017 rate of 1,172,000. Single-family
housing starts in August were at a rate of 876,000 -- up
1.9% from the revised July figure.