3. MALAYSIA
Muar the 'Furniture City' of Malaysia
The theme of next years' Malaysian International
Furniture Fair (MIFF) will be 'Muar, the Furniture City of
Malaysia'. The fair organisers have indicated that over 200
furniture manufacturers based in Muar, making up half of
all Malaysian exhibitors, will showcase a wide range of
products.

Analysts write, enterprises in Muar account for about 70%
of Malaysia's furniture exports. Muar was accorded the
title of 'Furniture City of Malaysia' in April when the 400-
hectare Muar Furniture Park was launched. This will be
completed in two years.

To ensure local factories have sufficient raw materials the
government banned the export of sawn
rubberwood. Government support for the sector also
comes in the form of competitive loan to encourage
greater automation to address the labour shortage in
Malaysia.

Furniture manufacturing in Muar can be traced back to the
small sized family businesses in the early 1980s. In just a
few decades Muar was transformed into a thriving city
with a place in the global furniture trade with over 700
factories which ship 6-7,000 containers every month.

For more information on MIFF, visit: http://2019.miff.com.my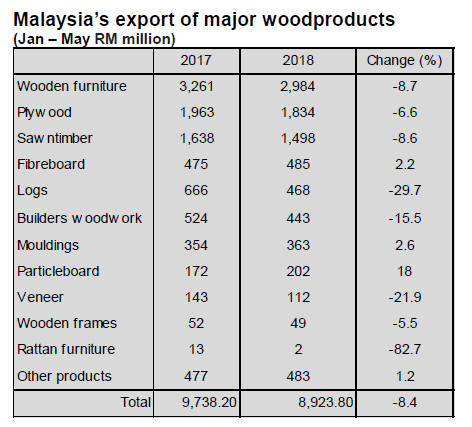 Cooperation on reforestation and forest inventory
The Federal Government is cooperating with the Sarawak
State Government in its reforestation efforts and the
completion of a consolidated national forest inventory.
Water, Land and Natural Resources Minister, Dr Xavier
Jayakumar, said this is critical as the country moves
forward on the international stage for carbon credit rating
and green commodity exports. He emphasised that
Malaysia is no longer tolerating deforestation.

The Minister said Sarawak will benefit from this
programme of cooperation which will begin in 2019
adding that the use of drones will speed forest inventory
efforts.

Building upon the new era of cooperation, Dr. Jayakumar,
said agencies and organisations with expertise in forest
diversity and community development are being
encouraged to become involved in conservation projects in
the Heart of Borneo region, a 22 million hectare forest
area spanning Sarawak, Sabah, Brunei and Kalimantan.

See: http://www.theborneopost.com/2018/09/27/federalsarawak-
govt-tie-up-in-forest-inventory-sought/

MTC hosts business meetings with suppliers from
Chile and Canada
For many years the Malaysian Timber Council (MTC) has
been helping domestic enterprises identify new sources of
raw materials. This effort continued recently when
suppliers from Chile and Canada were invited to Kuala
Lumpur to interact with local companies.

A press release from MTC says the timber raw materials
offered by the invited suppliers ranged from hardwood and
sawn softwood and decorative veneer.

A total of 62 participants from 42 Malaysian companies
registered for the programme and 38 Malaysian companies
participated in the 'Business Matching Session' which
followed.

The overseas suppliers reported having very productive
sessions with the local company representatives.

For more see:
http://www.mtc.com.my/images/media/632/Oversea_Supp
liers-
Malaysian_Importers_Manufacturers_Exchange_Program
me_-ENG-_final.pdf

Plywood prices
Traders based in Sarawak reported the following plywood
export prices: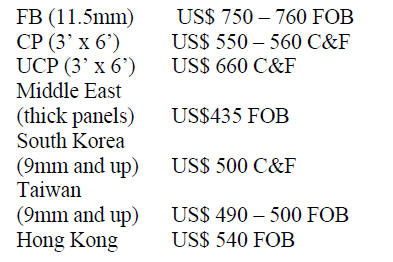 4. INDONESIA
IFMAC supports technology adoption for developing
the furniture sector
The International Furniture Manufacturing Components
Exhibition (IFMAC) and the Woodworking Machinery
Exhibition (WOODMAC) were jointly held in Jakarta in
late September. Around 300 companies from 23 countries
including new exhibitors from Finland, Denmark, Latvia
and Gabon were present and for the first time there were
12 exhibiting companies in the German Pavilion.

The General Manager of PT Wahana Kemalaniaga
Makmur which arranged the exhibition said the increasing
participation of international companies and major
domestic companies allowed for a fruitful interaction on
technology adoption for developing the furniture sector in
Indonesia.

See: https://www.ifmac.net/news-pressreleases.php

Tough price competition from Vietnamese and Chinese
manufacturers
The Indonesian Furniture and Handicraft Industries
Association (HIMKI) said, to increase exports at this time,
Indonesia must compete with Vietnamese and Chinese
manufacurers.

Abdul Sobur, Secretary General of the HIMKI, said
domestic companies face very strong competition from
Vietnamese and Chinese products and this is mainly
because Indonesian made products are more expensive.

According to Sobur, the potential for increasing exports is
becoming tougher and the Association's target for a 9%
growth in export values this year is unlikely to be achieved
mainly because of price competition stemming from high
raw material costs.

Development of biomass energy plantations
A press statement from the Ministry of Environment and
Forestry (KLHK) says the agency is encouraging the
development of biomass plantations as the government
aims to expand the use of renewable energy sources to
23% by 2025 and of this some 5% of this is expected to be
from biomass sources.

It is projected that this year biomass yields could reach 6.2
million tonnes rising to 6.4 million tonnes next year.

The aim is to achieve 8.3 million tonnes by 2025 but this
will require considerable investment in additional
plantations. As of June this year bioenergy plantation
sources extended over only 22,000 ha, just 20% of the
target.

https://industri.kontan.co.id/news/pengembanganbiomassa-
klhk-melalui-pengembangan-hutan-tanamanenergi?
page=2

Indonesia develops rapid wood Identification system
As a result of collaboration between the Indonesian
Institute of Sciences and the Ministries of Environment
and Forestry and Research, Technology and Higher
Education an innovative technology for wood
identification called AIKO has been developed.

A lead researcher, Esa Prakasa, said AIKO is a mobile
phone based application that is able to identify wood
through cross-sectional photo images. Until now and
because there are more than 100 wood characters that must
be observed, manual identificationhe said is a slow
process.

The new technology operates on a photograph of a crosssection
of wood taken using a smartphone and sent to the
website of Xylarium Bogoriense.

See: http://xylarium.pustekolah.org/

Perhutani introduces online log sales
At the Indonesia Business and Development Expo recently
concluded at the Grand City Surabaya, Perhutani, the
state-owned enterprise which manages a vast forest area,
launched its online sales of logs.

Endung Trihartaka, Head of Perhutani East Java Regional
Division, said that the online marketing will help avoid
illegal timber transactions as well as save time. The online
system can be accessed at www.tokoperhutani.com.

Forestry sector a major employer
Indonesia's Minister of Environment and Forestry, Siti
Nurbaya, has reported that the forestry and wood working
sector employs a workforce of around 3.9 million.

This was announced at the National Forest Management
Unit Festival and Forestry Business Exhibition in
Yogyakarta. She further said that the management of
industrial plantations and timber enterprises continue to
perform well and that she is optimistic that as the
governments 'social forestry' policy is implemented this
will absorb another 1.5 million workers.

Asia the main market for Indonesian wood products
Indonesia's export of processed wood products topped
US$9.4 billion up to the end of September according to
Sigit Pramono, Head of Forest Products Certification and
Marketing in the Ministry of Environment and Forestry.
Total exports in 2017 amounted to US$10.94 billion
according to Sigit.

He said the healthy export growth was mainly due to
increased demand in Asian markets which were worth
US$6.63 billion up to the end of September followed by
exports to North America (US$1.21 billion) and the
European Union (US$844 million).

The main export products were panel products (US$2
billion) followed by paper products (US$3 billion) and
pulp (US$2 billion).

Sustainable forest management cooperation extended
A new MOU (2018 - 2021) on cooperation between the
Association of Indonesian Forest Entrepreneurs (APHI)
and the Borneo Initiative (TBI) for the second period was
signed recently.

This extends the arrangement whereby APHI members
commit to sustainable production forest management
through the Indonesian SVLK and any other voluntary
certification scheme. According to TBI Executive Board
member, Jesse Kuijper, this partnership has seen 3.6
million ha. of natural forest and plantations being certified.

APHI Deputy General Chairperson, Rahardjo Benyamin,
said that many challenges continue such as increasing the
number of active forest units in the scheme, encouraging
Reduced Impact Logging (RIL) and improving fiscal and
financial standards and strengthening relations with the
government departments.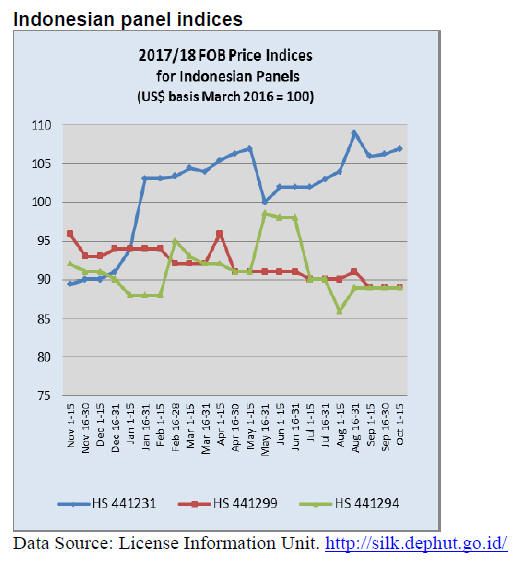 5. MYANMAR
MTLAS workshop provides feedback
According to the Forest Department website, U Zaw Min,
the Deputy Director General (Administration), delivered
the opening speech to launch a Training Workshop on
Independent Third Party Verification based on Myanmar's
Timber Legality Assurance System (MTLAS) held at
Forest Research Institute in late September.

According to Barber Cho, Secretary of Myanmar Forest
Certification Committee (MFCC) the training was
intended to let forest managers from both the Forest
Department and the Myanma Timber Enterprise
understand not only the content of MTLAS but also the
verifiers checklists.

Cho also said that the training was very successful since
MFCC learnt from the participants how well the MTLAS
is understood. The MFCC will evaluate the inputs and
feedback from the participants to strengthen the
certification process. MFCC plans to hold more training
workshops for field staff and operators.

The MFCC is implementing the Myanmar Forest
Certification Systems (MFCS) for Sustainable Forest
Management and MTLAS for timber legality verification.
MFCC plans to be member of the PEFC within one or two
years.

Acacia now the top plantation timber in Myanmar
Acacia mangium has become the main species for both
private and government commercial plantations in
Myanmar but the government will also establish
plantations of some indigenous species.
Mangiumcia, the local name for Acacia mangium, has
been widely planted in SE Asia and the processing
technology for this timber is well established. Eucalypts
was once a favorite in Myanmar but this species did not
prove popular.

The Forestry Department's Deputy Director U Thaung Oo
said, when speaking to the press, that the government
plans to establish around 26,000 hectares of plantations on
denuded forest land by 2028. The aim is to attract private
sector investment in a further 100,000 ha., said U Thaung
Oo.

Skins of illegally hunted animals incinerated
For the first time in Myanmar seized illegal wildlife skins
have been incinerated. The items burnt included elephant
skins, leopard and tiger bones with a street value estimated
at US$1.3 million. Analysts write that trafficking protected
animals and plants is rampant across Myanmar especially
in border areas and this illegal trade is said to be worth
US$20 billion annually.

Supervising the incineration was Nyi Nyi Kyaw, Director
General of the Forest Department. Myanmar is a signatory
to CITES which means that hunting protected wildlife is
illegal in the country.

Long-term plan for mangrove resortation
One million mangrove trees will be planted along the coast
of Kungyangon township in Yangon Region as part of
efforts to conserve the country's mangrove forests,
according to the international conservation organization
Worldview International Foundation.

Mangrove replanting will also be carried out in Kawhmu,
Thanlyin and Kayan along the coast in southern Yangon.

Reports suggest mangrove forests throughout Myanmar
are under threat from overharvesting of firewood and from
clearing for fish farms.

In 2000, there was an estimated 4,600 sq. km. of
mangrove forests in the country but the area dropped to
3,960 sq. km. in little over a decade Conservationists
estimated that if the current rate of loss of mangrove
forests continues there will be only 2,600sq km by 2030.

MTE provides historical trade data
The Myanma Timber Enterprise issued a 70th Anniversary
Commemoration in an effort to improve transparency.
magazine has some useful statistics which was welcomed
by researchers.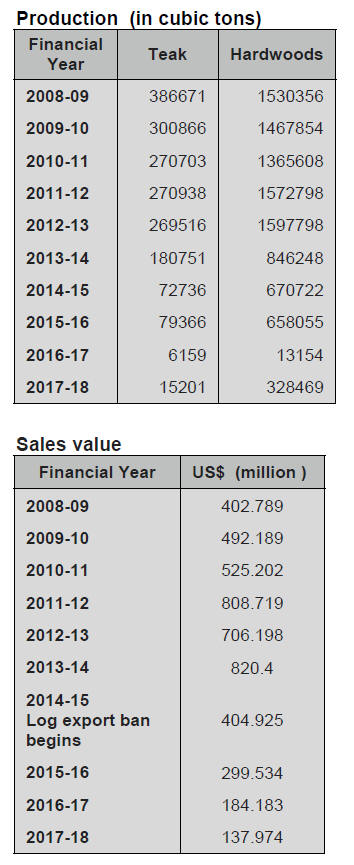 6. INDIA
Rupee could fall to 75 to the US dollar
Up to the end of September 2018 the rupee had fallen
almost 15% against the US dollar, a far steeper decline
than any other Asian currency. At rupee 74 to the dollar
the currency hovered close to an all-time low after the
Reserve Bank of India (RBI) unexpectedly kept interest
rates unchanged at its latest meeting.

The decision of the RBI and a likely further rise in US
interest rates combined with rising crude oil prices are
expected to further exert pressure on the Indian rupee with
some analysts talking of rupee 75 to the US dollar.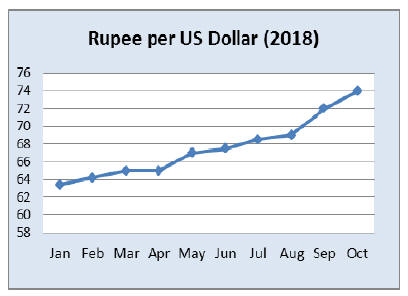 Business group discusses how to expand exports
Recent discussions between CAPEXIL and the Central
Government have focused on how to address the various
constraints which are hindering growth in exports.

CAPEXIL is a non-profit making organization whose role
is to promote export of Chemical and Allied Products from
India. Established in 1958 CAECIL has become the voice
of Indian business community in its dealings with the
Central government.

See: https://www.capexil.com/overview.php

Most recently CAPEXIL has been pursuing an export
strategy for plywood and allied products. In India this
broad category includes furniture, other articles of wood,
plywood, other plywood products, hardboard of wood
fibre, sawnwood, veneer, cork and cork products,
sandalwood chips and tea chest panels.

It has been decided that India needs to improve exports of
all products and that there are opportunities to increase
wood product exports. Analysts point out that the global
market for plywood and allied products group is worth
around a US$130 billion and that this market has not been
fully explored by Indian manufacturers.

While acknowledging the timber industry plays a vital role
in shaping the robust growth of the Indian economy there
is room for considerably more growth of the sector. The
country has skilled carpenters and wooden furniture
producers and many companies are highly conscious of
the need to produce to international standards even though
many of these companies are medium sized family
businesses.

On major constraint to expanding exports is the
availability of raw materials. India does not have a
sufficient domestic timber resource which is a major
constraint and there is no enabling policy for industrial
plantation development.

A further constraint to growth in wood product output is
the generally low production capacity in most enterprises.
In India most timber companies are classified as micro
enterprises and their size limits the opportunity to accept
large international orders.

Greenply to expand production in Gabon
At a recent press conference Greenply Industries
announced it intends to scale up production capacity at its
plant in the NKOK Special Economic Zone in Gabon.

The main output from this mill is okoume face veneers.
The monthly capacity of the plant will be increased to
around 8,000 cubic metres by early 2019.

See: https://economictimes.indiatimes.com/industry/indlgoods/
svs/paper-/-wood-/-glass/-plastic/-marbles/greenplyindustries-
sets-up-euro-11-mn-facility-ingabon/
articleshow/65950212.cms

Maharashtra mangroves redefined
The Maharashtra State Government has gazetted over
15,000 hectares of mangroves across as reserved forest,
becoming the first State in the country to do so. This
decision, however, comes some 10 years the Bombay
High Court told the state government to declare
mangroves as forests.

The result of this decision means the State Forest
Department is now responsible for conservation and
protection of mangrove forests. Until the recent change
only mangroves on government land were classified as
reserved forest.

DELHIWOOD 2019
Delhi Wood, the International Trade Fair for Furniture
Production Technologies, Woodworking Machinery,
Tools, Fittings, Accessories, Raw Materials and Products
will be held 13-16 March 2019 at the India Expo Centre
and Mart in Greater Noida, India.

The organisers say "DelhiWood 2019 showcasing modern
automated solutions in furniture and wood-based
production technologies will open opportunities to the
projected US$35 billion by the year 2020 in the Indian
wood-based furniture and products market."

See: http://www.delhi-wood.com/show.html

Plantation teak
Demand for imported plantation teak logs has firmed in
recent weeks and prices in the domestic market have been
raised by around 3% which goes some way to off-set the
higher landed costs, the result of the weakness of the rupee
against the US dollar.

Analysts report that Import credit facilities have still not
resumed which continues as a big handicap for importers.

C&F prices remain unchanged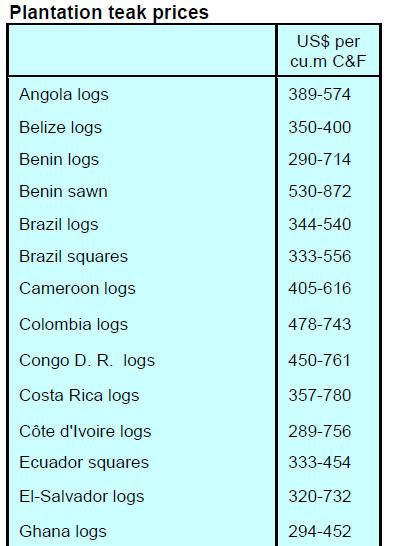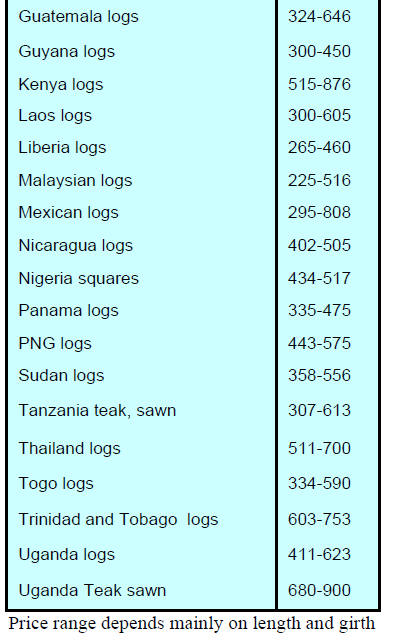 Locally sawn hardwood prices
As the realty market has started to improve the demand for
timber has also seen warming up. The imported costs are
rising due to weakening rupee so to meet the situation the
sales prices have to be raised and the market has
responded to this need.

The dollar and rupee exchange rate has been oscillating on
foreign developments like oil prices and tariff war and
affect the trade to a great extent.

Reserve Bank of India is closely monitoring the situation
and hope stability will return to good extent.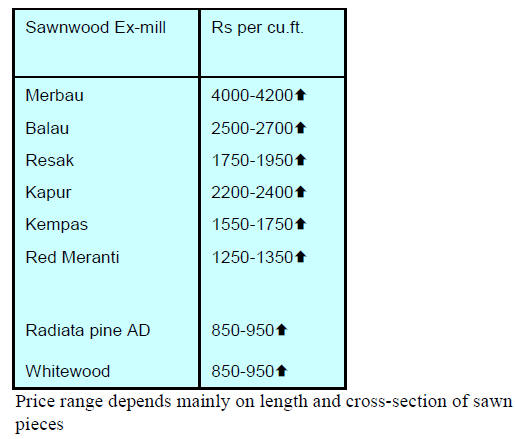 Myanmar teak
The firmer housing market is underpinning healthy sales
of Myanmar teak. However, ex-yard prices in the domestic
market are unchanged.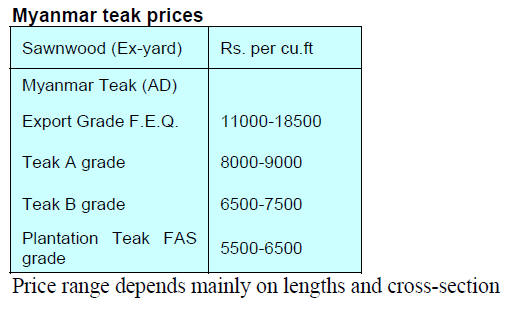 Sawn hardwood prices
A recent modest improvement in demand in the domestic
market for imported hardwoods has provided the
opportunity for importers to raise prices to address the
higher import costs due to the weak rupee.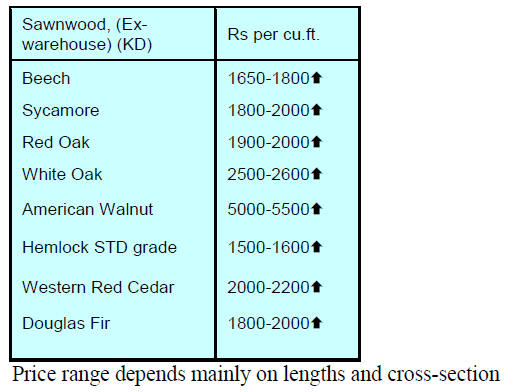 Plywood market
On the back of strong economic growth and the knock-on
effect on demand veneer and plywood manufacturers are
now feeling less pressure as the recent price increases have
improved margins.

Manufacturers would like to increase prices once again
this year but are watching improvements in the housing
market and the movement of exchange rates before
deciding on when a further price rise should be tried.

Analysts write that the volume of veneers, especially
okoume, coming from Gabon may be affected due as there
are suggestions that the government may restrict the
approval of any more licenses for peeler mills in an effort
to attract investment in plywood production for export.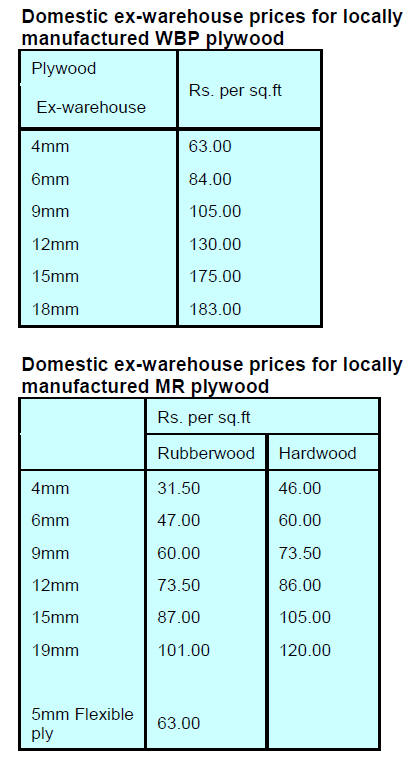 7. BRAZIL
IBAMA databases are now open source
The Brazilian Institute of Environment and Natural
Resources (IBAMA) is responsible for licensing, issuing
permits and monitoring utilisation of natural resources
including logging.

IBAMA uses an extensive array of data sources all of
which are digitalised to allow for systematic supervision,
monitoring, registration of entrepreneurs and properties
and the imposition of penalties.

In September this year IBAMA provided open access to
15 of its internal databases on a platform called "Open
Data". These databases can be used to monitor IBAMA as
well as the basis for independent studies.

The databases made available include:
(i) aerial imagery
(ii) Brazilian wetland vegetation; Evolution of
revenues collected (e.g. fees, contributions
and other sources)
(iii) Environmental licenses for activities and
undertakings licensed by IBAMA (e.g.
licenses for research, logging, deforestation,
others)
(iv) DOF (Document of Forest Origin) of products of
sawmills, industries and charcoa and
(v) Embargoed areas by IBAMA, as a result of noncompliance
with environmental legislation.

In related news, an Amazon Protection System using
micro-wave technology and satellites was the subject of
recent discussions. The Operational and Management
Center for the Amazon Protection System (Censipam) in
the Ministry of Defence presented details of an Amaz˘nia
SAR Project developed in partnership with the National
Institute for Space Research and IBAMA.

This deforestation detection system in Amazonia allows
observing the earth even through clouds and is a powerful
tool to combat illegal deforestation, identifying illegal
activities and transmitting information to IBAMA.

See:
http://www.defesanet.com.br/en/defense/noticia/20615/Technolo
gical-Initiatives-Help-Brazilian-Armed-Forces-Reduce-
Deforestation/

CIPEM hosts Japanese visitor
The Center for Timber Producers and Exporters of Mato
Grosso State (CIPEM) recently hosted a visit by a
representative from Japan's Natural Resources and
Ecosystem Services team in the Institute for Global
Environmental Strategies (IGES).

During the visit CIPEM provided details of the
Sustainable Forest Management model developed in Mato
Grosso and explained the Federal and State environmental
legislation for the timber sector. One of the key objectives
of the Japanese visitor was to understand how the origin of
wood products offered to international markets could be
assured.

For Japanese importers it is necessary that they comply
with the Japanese Clean Wood Act which aims to promote
the use and distribution of timber and timber products
manufactured from timber harvested in accordance with
the laws and regulations of the country of origin. The
IGES representative was reportedly impressed with the
systems in place in Mato Grosso.

Growth in wood panel exports
Statistics from the Brazilian Tree Industry Association
(IB┴) show that there was a significant increase in exports
by the timber industry between January to August this
year. Pulp exports grew 38% year on year while paper
exports rose 4% and woodbased panel exports expanded
7%.

Latin America was the main destination for Brazilian
woodbased panels and totalled US$115 million in the first
8 months of the year. Woodbased panel production grew
expanded between January and August this year rising to
644,000 cubic metres with around 14% being traded in the
domestic market.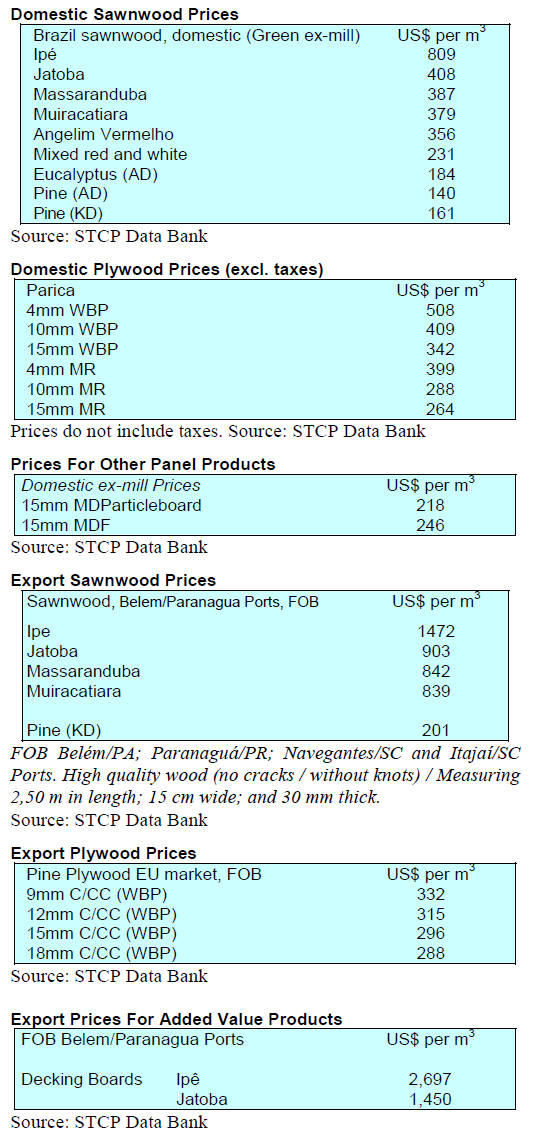 8. PERU
United States and Peru to strengthen timber legality
verification
As a result of claims that the legality of some shipments of
wood products from Peru to the US, specifically three
timber shipments from Peru to the US in early 2017, could
not be verified Peruvian authorities conducted an
investigation the results of which have just been released.

In a report released last month both Peru and the US
acknowledge that while two shipments were in line with
Peru's domestic laws there were doubts over the legality
of the timber in a third shipment.
A statement from the United States Trade Representative
says "while Peru has made valuable headway in its forest
management efforts, more work remains in ensuring the
legality of its timber supply chain can be properly ensured
and verified."

The US Trade Representative, Robert Lighthizer,
welcomed efforts made to date while noting that "there is
more work to do," and that he is "committed to using the
tools available under our trade agreement (the US-Peru
Trade Promotion Agreement) " strengthen monitoring and
legality verification.

For more see: https://www.ictsd.org/bridgesnews/
bridges/news/us-peru-assess-efforts-to-tackle-illegallogging-
under-trade-accord

ADEX – Peru must export higher volumes to off-set
falling prices
Exports represent one of the engines of growth for Peru
but according to Juan Varilias, President of the Peruvian
Exporters Association (ADEX) commodity prices are
falling and this will result in lower export earnings and put
economic growth at risk. To avoid a shortfall in earnings
Varilias has forecast that export volumes will have to be
increased by around 20%.

In its recent Inflation Report for September, the Central
Reserve Bank of Peru announced that this year it expects
higher export volumes especially of agricultural and
marine products as well as textiles, chemicals and iron and
steel products. The Bank forecasts that this year export
earnings could be around 15% higher than last year.