Report from North America
Hardwood plywood imports continue to rise from
Vietnam, Cambodia while Indonesia slips
Hardwood plywood imports fell slightly in July, but were
up from last July, helping to make up some of the deficit
in the year-to-year imports over 2017. The US imported
224,028 cu.m. of hardwood plywood in July.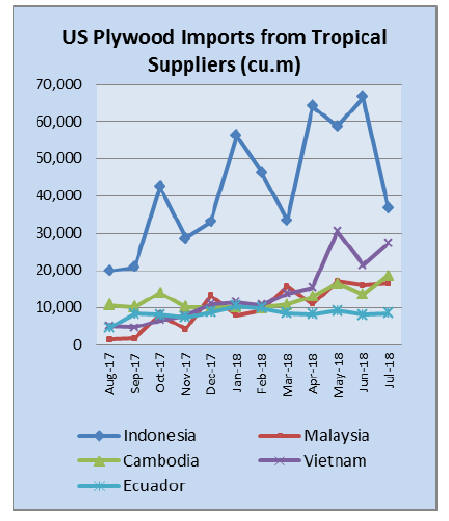 Vietnam and Cambodia both continued to enjoy strong
growth as Chinese plywood manufacturers continue to
adjust to the US anti-dumping and countervailing duties.
Indonesia, which had been seeing strong growth this year,
fell off 41% in July.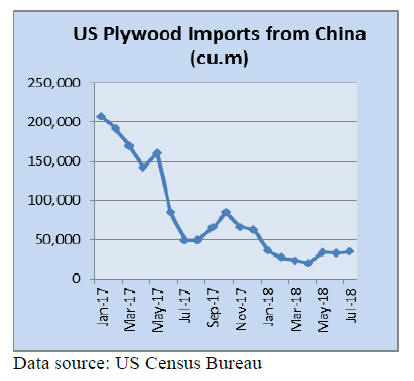 Imports of tropical hardwood veneer steadily
improving
US imports of tropical hardwood veneer enjoyed solid
growth over the summer months with July imports up 14%
over June and up 35% year-to-date over 2017. India
surged 48% in July and is more than tripling last year¡¯s
numbers to date.

Shipments from China are up 81% year-to-date through
July. US veneer imports from India have surged since the
beginning of the year and in July topped shipments from
China.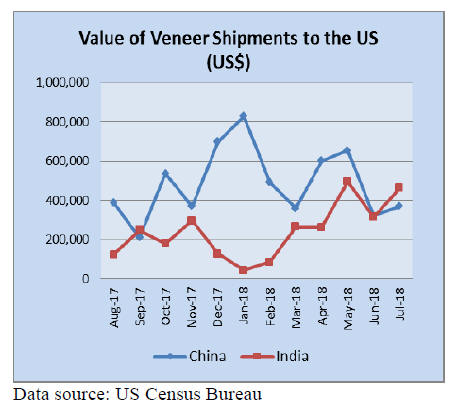 US Imports of hardwood moulding moved up 16% in July
but imports still lag slightly year-to-date behind 2017.
Imports of hardwood flooring and assembled floor panels
were both slightly stronger in July.

Furniture orders and cabinet sales rise
New furniture orders in the US for June were up 5% over
June 2017, according to the latest Smith Leonard survey of
residential furniture manufacturers and distributors. The
5% increase followed a 5% increase reported for May and
15% reported for April. Year-to-date, new orders were up
6% with some 63% of the participants reporting increased
orders.

For more see:
http://www.smith-leonard.com/2018/08/31/august-2018-
furniture-insights/

According to the Kitchen Cabinet Manufacturers
Association, cabinet manufacturers reported an increase in
cabinet sales of 3.8% for July 2018 compared to the same
month in 2017. Year-to-date cabinetry sales through July
2018 are up 1.5%; Stock sales are up 3.2%; semi-custom
decreased 1.1%; and custom sales are up 3.9% so far this
year.

(Source Kitchen Cabinet Manufacturers Association (KCMA)¡¯s
monthly Trend of Business Survey)

US tariffs on US$200 billion of imports from China ¨C
wood products included
The US has announced that it had finalized the list of
approximately US$200 billion worth of imports from
China that will be subject to additional 10% tariffs. Items
included in the list, including a wide variety of wood
products, are subject to an additional 10% tariff as of
September 24.

The tariff rate will be raised to 25% on January 1, 2019 if
the US and China cannot reach an agreement to address
the ongoing trade tensions.

In response to this action, International Wood Products
Association Executive Director Cindy Squires
stated: "These new tariffs represent higher taxes paid by
the American people.

Tariffs hurt US consumers and put US manufacturers that
utilize imported wood products at a competitive
disadvantage. It's time for the Administration and its
counterparts in China to end the cycle of tit-for-tat
escalations that harm both countries and negotiate a longterm
deal that provides economic certainty to U.S.
businesses."

At a series of hearings held last month, scores of US
companies and groups representing various industries
implored the Trump administration not to go forward with
additional tariffs.

The administration received more than 6,000 written
comments and heard testimony from more than 350
witnesses, many of whom argued that new tariffs would be
catastrophic for their businesses.

https://www.whitehouse.gov/briefings-statements/statementfrom-
the-president-4/

https://cdn.ymaws.com/www.iwpawood.org/resource/resmgr/ene
ws/list3_final.pdf

Builder confidence remains firm despite flat existing
home sales
US existing-home sales were unchanged in August and are
1.5% below the level a year ago. The first-time buyer
share of 31% was down from 32% last month and
unchanged from a year ago.

The National Association of Realtors reported that 52% of
homes sold in August were on the market less than a
month. See: http://eyeonhousing.org/2018/09/existingsales-
steady/

The August median sales price of US$264,800 was up
4.6% from a year ago, representing the 78th consecutive
month of year-over-year increases.

Despite a slight increase in inventory, the range of choice
for prospective home buyers remains tight, especially for
entry-level priced homes. Builder confidence remained
firm last month, as builders work to meet the demand of
future home buyers.

In related news, data from the US census Bureau shows
housing starts in August were at a seasonally adjusted
annual rate of 1,282,000. This is 9.2% above the revised
July estimate of 1,174,000 and is 9.4% above the August
2017 rate. Single-family housing starts in August were at
a rate of 876,000, which is up 1.9% from the July figure.

US continues to be concerned about illegal logging in
Peru
US Trade Representative Robert Lighthizer commented on
the findings of the Government of Peru¡¯s verification
report regarding three timber shipments from Peru to the
United States and reiterated areas for additional work by
Peru.

Peru conducted the timber verification in response to a
February 2018 request made by the Timber Committee
under the United States-Peru Trade Promotion Agreement.

Peru found that two of the shipments it investigated were
compliant with its timber harvest and trade laws and
regulations, but not the third.

A press release quotes Lighthizer as saying ¡°The result of
this verification underscores that there is more work to do
in order to stop illegal logging in Peru and to safeguard the
legality of timber products entering the United States
market,¡± Lighthizer said. ¡°We look forward to continuing
to work with Peru to stop illegal logging and the
destruction of the Amazon.¡±

Peru¡¯s SERFOR issued a press release that provided
additional information on the steps that were taken and the
findings of the verification process.

See:
https://ustr.gov/about-us/policy-offices/press-office/pressreleases/
2018/september/us-timber-committee-responds

Notice of plywood Anti-Circumvention Inquiry
The US Department of Commerce¡¯s International Trade
Administration has posted a Notice in the Federal Register
that it has initiated an anti-circumvention inquiry on the
Antidumping and Countervailing Duty orders on Certain
Hardwood Plywood Products from the People's Republic
of China.

The inquiry will determine whether certain plywood with
face and back veneers of radiata and/or agathis pine is
circumventing the AD/CVD duty orders on hardwood
plywood from China.

See:
https://www.federalregister.gov/documents/2018/09/21/2018-
20609/certain-hardwood-plywood-products-from-the-peoplesrepublic-
of-china-initiation-of