Report from North America
Balsa sawnwood imports slip while most tropical
hardwoods gain
U.S. imports of sawn tropical hardwood rebounded in
July, rising 29% to 19,983 cu.m after dipping 12% from
May to June. Imports of Sapelli, Virola and Jatoba rose
sharply, while Balsa imports declined 30% from June to
2,923 cu.m, nearlythe lowest monthly total in the last three
years.

Imports of Keruing sawnwood, while down 13% from
June, still outperformed July of 2017, with year-to-date
figures nearly double those of last year.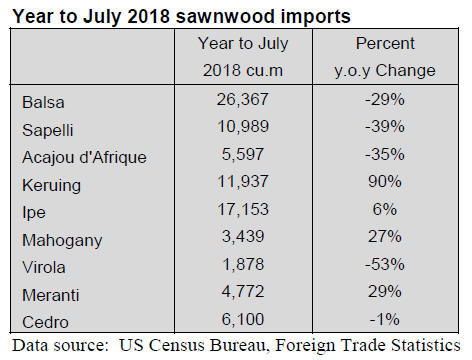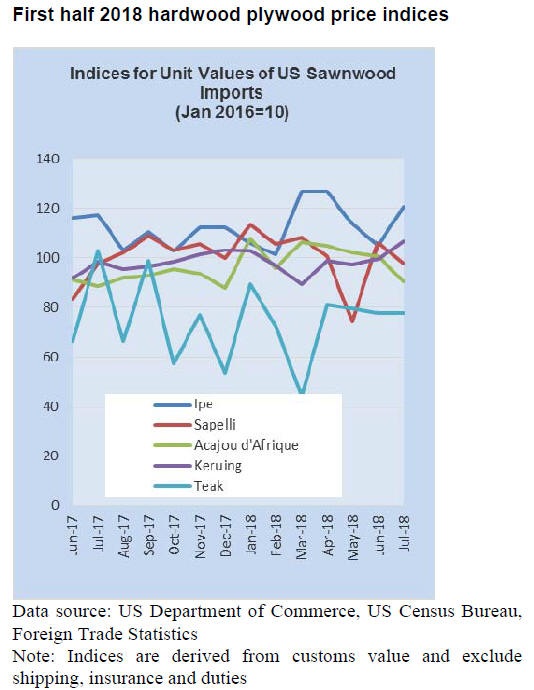 US considers additional tariffs on China ¨C wood
products included
According to the International Wood Products Association
(IWPA), the Trump administration may be about to slap
tariffs of up to 25% on an additional US$200 billion in
Chinese goods including wood products.

The administration can now move to begin taxing the
imports ¡ª equal to nearly 40% of all the goods China sold
the United States last year ¡ª after a public comment
period ended September 6.

China said it is ready to impose retaliatory tariffs on
US$60 billion worth of US goods if that happens. Specific
information about affected products is available on the
website of the Office of the U.S. Trade Representative at
https://ustr.gov/issue-areas/enforcement/section-301-
investigations/search.

GDP growth for Q2 Highest Since 2014
Real gross domestic product (GDP) increased at an annual
rate of 4.2% in the second quarter of 2018, revised up 0.1
percentage point from the advance estimate. Real GDP
rose from 2.3% in the first quarter and is the highest rate
of growth for a quarter since Q3 of 2014. See US
Department of Commerce.

New housing sales and starts stagnating
Sales of newly built, single-family homes inched down
1.7% in July to a seasonally adjusted annual rate of
627,000 units after an upwardly revised June report,
according to the U.S. Department of Housing and Urban
Development and the U.S. Census Bureau.

On a year-to-date basis, sales are up 7.2% from this time
last year. The National Association of Home Builders says
that a lack of overall housing inventory is pushing up
home prices, which is hurting affordability and causing
prospective buyers to delay making a home purchase.

Housing starts grew only 0.9% in July at a seasonally
adjusted annual rate, according to the US Department of
Housing and Urban Development and the U.S. Census
Bureau. Building permits were slightly up from June.

Prices for new and existing homes narrow
The average price for a new home in the US rose to
US$324,467 in June this year, 28% more than the
US$254,200 price for existing homes, according to data
from John Burns Real Estate Consulting LLC. That is
down from a 37% difference in 2015 and is the smallest
difference since the end of 2010.

The main reason is that existing-home prices are rising
faster. Homebuyers are in an affordability crunch,
especially in the more expensive coastal regions, as they
compete for a dwindling supply of homes. Meanwhile,
builders have been slow to boost production, citing higher
costs for land, labour and materials. Builders have started
marketing smaller houses with fewer frills, farther from
job centres aiming at budget-conscious first-time buyers.