Report from North America
China announces retaliatory tariffs on US wood
products
China announced US$60 billion in tariffs on U.S. goods in
retaliation to the Trump administration¡¯s latest
announcement of tariffs on Chinese imports. Many wood
products are on China¡¯s list, including hardwood logs,
veneer, wood composite panels, various finished wood
products and furniture.

Hardwood trade associations in the US such as the
National Hardwood Lumber Association are very
concerned about Trump administration¡¯s tariffs and
China¡¯s retaliation. Last year the US exported US$1.6
billion in hardwood lumber, US$800 million in hardwood
logs and US$260 million in veneer to China according to
the American Hardwood Export Council.

Keruing sawnwood imports continue to expand
US imports of sawn hardwood (temperate and tropical)
fell 37% in June, but the drop was mainly in imports of
temperate species. Tropical imports declined 12% from
May to 15,506 cu.m.

The largest decline was in ipe sawnwood imports, which
fell 30% month-over-month to 2,332 cu.m. in June.
Imports of balsa, sapelli, acajou and meranti were also
down.

However, Keruing sawnwood imports increased
significantly in 2018. Year-to-date imports were up 90%
in June compared to the same time in 2017. More than
90% of the keruing sawnwood imported in June came
from Malaysia.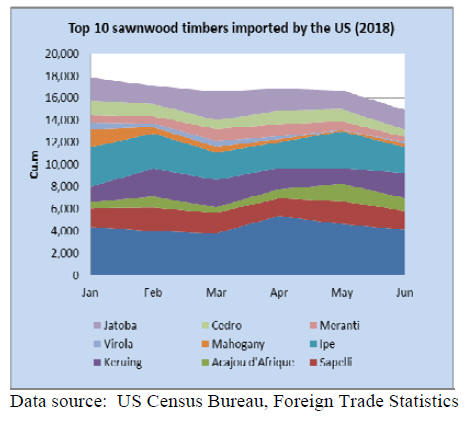 Canadian tropical sawnwood imports lower in first half
of 2018
Canadian tropical sawnwood imports grew in June but
year-to-date imports remained lower than at the same time
last year. Temperate sawn hardwood imports were down,
despite strong demand for flooring and other finished
products in the U.S. markets. Tropical imports were worth
US$2.1 million in June. The strongest month-on-month
growth was in sapelli sawnwood imports, but year-to-date
imports were down by one third compared to June 2017.

Cost of construction steady in July
Construction cost was unchanged in July according to the
Bureau of Labor Statistics, despite US tariffs on key
construction materials ¨C on steel from several countries
and sawn softwood from Canada. Several trade
associations warn that costs are likely to rise again and
possibly depress the housing market by making homes less
affordable.

However, the July survey by the National Home Builders
Association showed that builders were largely optimistic
about the market for new single-family homes. The
outlook for renovation and remodeling was also positive,
compared to the first quarter of 2018.

Despite low unemployment and economic growth, both
housing starts and sales of existing homes declined in
June. Several economists warned of a slowdown in the
housing market due to lower affordability/higher home
prices and rising mortgage rates.