US Dollar Exchange Rates of 10th August 2018
China Yuan 6.8469

Report from China
Transformation of China¡¯s wood panel enterprises
China¡¯s production of wood products, especially
woodbased panels, has increased rapidly in recent years.
According to statistics from the China Timber and Wood
Products Distribution Association (CTWPDA) output of
wood-based panels rose 5% to 315 million cubic metres in
2017.

Of the total, output of plywood, fibreboard and
particleboard was 182 million cubic metres, 67 million
cubic metres and 35 million cubic metres respectively.
2017 output of particleboard surged over 30%.

However, most of wood-based panel enterprises are facing
huge challenges resulting from their low level technology,
overcapacity, inadequate raw material supply,
environmental restrictions and fierce competition not to
mention rising tariff barriers.

Because of this the sector is undergoing a transformation.
For example, in Zhanghzou City of Fujian province, gas is
replacing coal for energy generation and around 1,000 coal
fired boilers have been replaced.

Rise in laminated floor exports through Changzhou
port
According to the Changzhou Customs in Jiangsu Province
the value of laminated floor exports between January and
May 2018 through Changzhou Ports rose 6% to US$206
million, a year on year increase of 3%. Of the total, 54%
was exported to the USA, Russia and Canada.

There is a Changzhou Floor Export Demonstration Zone
located in Henglin Town where there are more than 200
laminated flooring manufacturers and 300 supporting
enterprises. The factories there have an annual flooring
production capacity of more than 350 million square
metres and annual exports of US US$600 million.

Manufacturers adjust to new environmental protection
policy
According to the Chinese government¡¯s environmental
policy called the ¡°Three-Year Plan on Defending the Blue
Sky¡± industrial enterprises in Beijing, Tianjin and Hebei
Provinces will be required to present plans to ¡®green¡¯
production lines by the end of September 2018.

High risk enterprises including foundries, home furnishing
producers, woodbased panel producers, paper makers, and
chemical plants in 28 cities will be required to stop
production to undertake refurbishment between 1 October
2018 and 31 March 2019.

Forest industry enterprises will be affected by this new
policy of environmental protection and face huge
challenges.

Nigeria and Indonesia main suppliers of Chinese
¡®¡®redwood¡¯¡¯
The average growth in the value of retail sales of
commodities in 2017 was 8.2% but sales of furniture
exceeded the average rate and sales of ¡®redwood¡¯ furniture
represented the fastest growth.

Chinese ¡®redwood¡¯ log imports totalled 990,000 cubic
metres valued at US$914 million in 2017, up 24% in
volume and 12% in value. Around 45% of Chinese
¡®redwood¡¯ log imports were from Nigeria in 2017 despite
the log export ban and were worth US$329 million.

In addition, Gambia, Laos and Ghana are also suppliers of
Chinese ¡®redwood¡¯ log imports in 2017.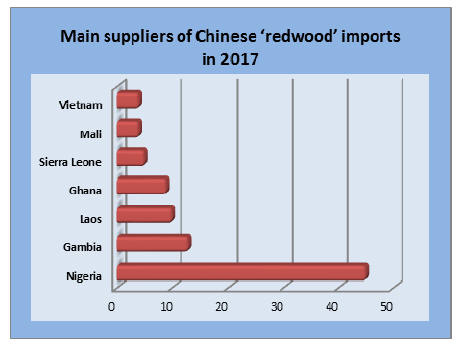 Chinese ¡®redwood¡¯ sawnwood imports amounted to
150,000 cubic metres valued at US$210 million in 2017,
surging 83% in volume and 66% in value. Some 37% of
Chinese ¡®redwood¡¯ sawnwood imports were from
Indonesia in 2017 and were worth US$100 million, a year
on year increase of 68%. In addition, Laos, Nigeria and
Benin were also significant suppliers of sawn ¡®redwood¡¯.

Imported ¡®redwood¡¯ is used in furniture making.
¡®redwood¡¯ furniture has developed rapidly. Before 2014
annual value of production of ¡®redwood¡¯ furniture in
China was about US$46 billion. But after a temporary
decline (the value of ¡®redwood¡¯ furniture production in
Beijing alone fell 40% in 2015) it began to recover and
grew to more than US$15 billion in 2016.

Chinese ¡®redwood¡¯ has a wide range of application.
Besides furniture making, Chinese ¡®redwood¡¯ is used in
manufacturing various kinds of small ¡®redwood¡¯ products
such as flower stand, incense burner table, wood carving,
hand string, jewelry box, walking stick and musical
instruments such as Chinese lute, erhu and pianos.