Japan Wood Products Prices
Dollar Exchange Rates of 10th August 2018
Japan Yen 110.90

Reports From Japan
¡¡
Labour shortage now a major problem
Japan¡¯s economy is beginning to feel the effects of the
volatility in global markets, the result of US trade policies,
as well as from the rising costs of imported raw materials
and the domestic labor shortages.

The latest Tankan quarterly survey for June released by
the Bank of Japan (BoJ) showed business confidence, even
amongst the large manufacturers, was declining. June
figures marked the second monthly fall in confidence.

Revised GDP indicated that the economy shrank at an
annualised rate of 0.6 percent in January-March period but
initial figures for the second suggest GDP improved which
if the figures are not revised down would lift annualised
GDP to 1.9%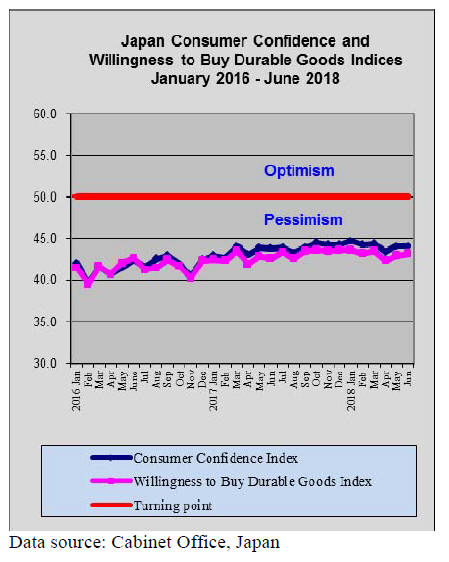 Economic uncertainties did not drive the (BoJ) to change
policy direction and at its latest policy board meeting the
BoJ maintained its positive assessment of economic
prospects and even revised upwards its assessment for
private sector capital investment in three of the nine
regions of Japan.

The labour shortage in Japan is now a major problem
especially in the construction and manufacturing sectors
and the latest population data indicate that there is no easy
fix as Japan¡¯s population is falling at its fastest pace yet
recorded.

Bank of Japan aims to keep yen competitive
After the BoJ decided to maintain its current monetary
policy the yen fell against the US dollar. There was
speculation that the BoJ would end to years of policy
stimulus but this was put to rest with the BoJ Governor
saying the Bank has no intention to raise interest rates and
that the current policy will be maintained until the
inflation target has been achieved.

Some analysts say the decision to maintain the current
policy is partly driven by the BoJ¡¯s interest in keeping the
yen competitive, especially against the Chinese yuan
which has fallen sharply against the US dollar.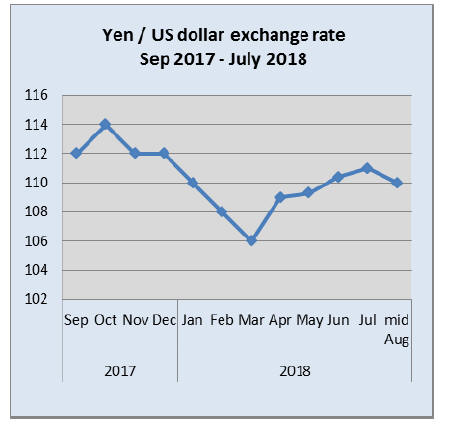 Japanese homes boil because of Inadequate insulation
Temperatures across Japan have soared this summer, with
a record high of 41 degrees Celsius recorded in late July
prompting the Japan Meteorological Agency to declare the
high temperatures, combined with elevated humidity, a
natural disaster.

Between the end of April and the end of the first week in
August, at least 138 people have died from heat-related
complaints and over 70,000 have been admitted to
hospitals for heatstroke or heat exhaustion according to the
Fire and Disaster Management Agency.

The searing temperatures are especially affecting the
elderly who prefer not to use air conditioners or simply
cannot afford to have them running. The impact of the
summer heat has be aggravated by inadequate insulation in
most Japanese homes.

Houses more than 25 years old rarely have roof insulation
and wall insulation at about 5cm is wholly inadequate to
prevent the inside wall becoming hot in direct sunlight.

Calls have been made for the authorities to help those at
the greatest risk. In South Korea, which has also been
affected by very high temperatures, the government has
said it will reduce the price of electricity supplied to
households for the months of July and August and that
additional help would be provided to low-income families.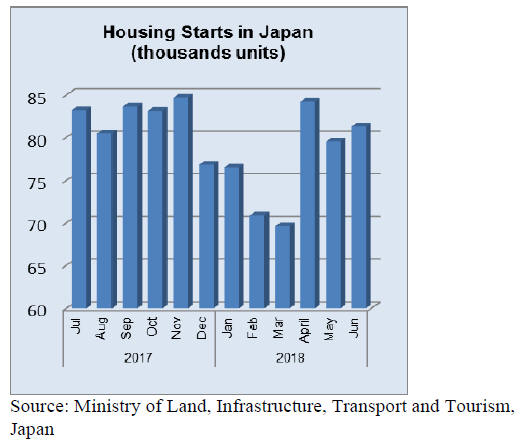 Furniture imports
May saw a reversal of the April decline in the value of
both wooden bedroom and kitchen furniture imports. May
bedroom furniture imports were significantly higher than a
month earlier and kitchen furniture imports rose
moderately.

The month by month trends in imports of bedroom and
kitchen furniture are quite different. Wooden bedroom
furniture imports show consistent peaks and dips mirroring
the cyclical trend in housing starts. On the other hand
imports of wooden kitchen furniture, which could be
expected to also mirror housing starts, show no regular
pattern seemingly more closely related to consumer
confidence.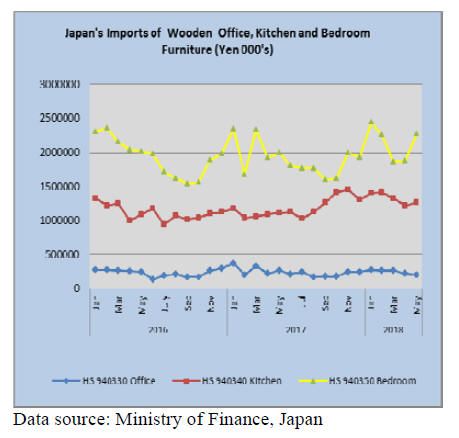 Office furniture imports (HS 940330)
The value of May imports of wooden office furniture was
down on levels in the previous month and marked the third
monthly decline after the peaks seen in January and
February.

Year on year the value of May wooden office furniture
imports was down 24% and there was a 10% decline in
May imports compared to a month earlier.

The top three shippers of wooden office furniture to Japan
remain China, accounting for 64% of total May wooden
office furniture imports, followed by Portugal (7%) and
Taiwan P.o.C also 7%.

In May, the value of imports from China was largely flat
but, while small compared to China, imports from
Portugal expanded by six times the level in April and
shippers in Taiwan P.o.C saw a tripling of shipments of
office furniture to Japan

Kitchen furniture imports (HS 940340)
In contrast to the downward trend in office furniture, May
imports of wooden kitchen furniture were up 13% year on
year and up almost 4% compared to a month earlier.

Three suppliers account for the bulk of Japan¡¯s wooden
kitchen furniture imports, the Philippines, (48%), Vietnam
(35%) and China (13%).

The big winners in May were both the Philippines and
China both of which saw shipments rise on the other hand
shippers in Malaysia, Indonesia and Thailand saw sales
fall in May compared to a month earlier. The only non-
Asian shippers of wooden kitchen furniture in May were
Germany and Italy.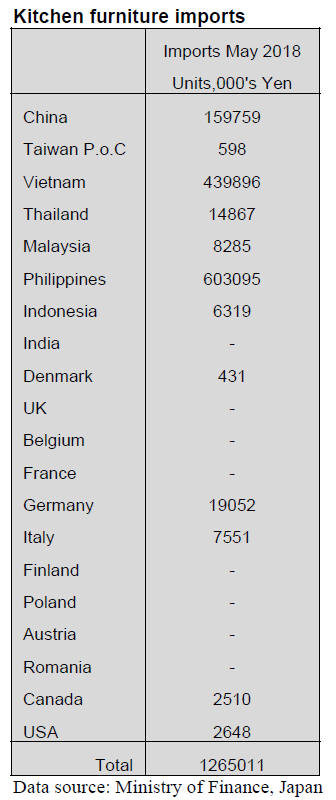 Bedroom furniture imports (HS 940350)
Unexpectedly, Japan¡¯s imports of wooden bedroom
furniture surged in May reversing two months of declines.
The value of May imports of wooden bedroom furniture
was up 21% compared to April and year on year May
2018 imports were 14% higher.

The top three shippers of wooden bedroom furniture to
Japan in May were, in order of value, China, Vietnam and
Thailand. Exporters in these three countries accounted for
90% of Japan¡¯s wooden bedroom furniture imports in
May. Shippers in China accounted for 59% of May
imports followed by Vietnam (28%) and Thailand.

Trade news from the Japan Lumber Reports (JLR)
For the JLR report please see:
http://www.nmokuzai.
com/modules/general/index.php?id=7

Unprecedented heavy rain hit Western Japan
Record breaking heavy rain hit Kyushu, Shikoku and
Western Japan for four days since July 4, which caused
inundations and landslides. Bursting dikes flooded many
houses and landslides engulfed many houses. Death toll
reached 200 with heavy tolls in Hiroshima and Okayama
prefecture. Road system is heavily damaged and rail
system is disrupted.

Chugoku Lumber in Kure, Hiroshima prefecture suffered
little damages at the sawmills but supply of electricity and
industrial water is stopped so mills operations are stopped.
It has some inventories so lumber supply is possible but
deliveries take time because of damaged road system.

Many other building materials manufacturing facilities in
the area are damaged by muddy flood water. Heavy rain
also damaged logging road system so log supply in the
area is definitely affected.

Many houses are destroyed and people evacuated to
temporary shelters as water and electricity supply is
stopped. Hundreds of volunteers from all over Japan rush
to the area to help clean up works in hot weather over 35
degreed after weather changed to scorching sunny day for
more than ten straight days and many suffers heat stroke.

Log exports continue increasing
For the first four months of this year, log export was
347,476 cbms, 23.5% more than the same period of last
year.

Lumber export also increased to 45,656 cbms, 14.8%
more. 285,195 cbms or 82.1% of export logs went to
China. By species, cedar is 290,175 cbms, 83.5% in total
log export. Cypress is 44,421 cbms, 12.8%.

In lumber export, China is top buyer with 19,372 cbms,
42.4% then about 9,000 cbms for the U.S.A. and the
Philippines. By value of lumber export, 680 million yen
for China then 436 million yen for the U.S.A. 380 million
yen for the Philippines so the U.S.A. becomes the second
in value.

Cedar fence board for the U.S. market continues to be
steady but growth is slowing. Lumber export by species is
24,032 cbms of cedar, 52.6% then cypress is 11,043 cbms,
24.2%. Pace of log export for 2018 seems to be over one
million cbms but heavy rain in the Western Japan is likely
to hamper log harvest and may influence export volume.
Besides logs and lumber, export of plywood for the first
four months is 40,142 cbms, 9.6% more.

Wood supply and demand projection for 2018
The Forestry Agency held the first wood demand
projection meeting on June 26. The supply for 2018 seems
to be the same as 2017 in general. Trend is increase of
domestic wood and decrease of imports. Supply of
structural laminated lumber would decline for
bothdomestic production and imports. Domestic plywood
production would increase some while imported plywood
would decrease some.

Domestic log supply increased in 2017 and the supply
would be the same as 2017. There is some comment that
domestic wood supply replaces inflated imported wood
products but in a long run, it would cause declining
demand for wood.

Domestic log demand would increase as the new softwood
plywood mill in Miye prefecture by Nisshin started and in
the second half of the year, it would be in full production.

By record breaking heavy rains in early July in Western
Japan hit major log producing prefectures like Hiroshima,
Okayama, Ehime and Kohchi and it would take some time
to restore logging road systems so log production would
drop in these regions so some areas may suffer log
shortage.

High prices of North American wood products would
continue for the second half of the year and the supply
would continue tight but the demand is also stagnating so
both supply and demand would keep shrinking.

European wood supply would increase more than last year
in the second half but structural laminated lumber would
decline.

Radiata pine logs and lumber are only items to be more
than last year. Increase of logs would be in the fourth
quarter this year and lumber from Chile would increase
during July and September.

Log supply from both Russia and South Sea countries
would decrease considerably by supply side problems.
Log export ban by Sabah of Malaysia would impact log
supply. Log import from Far East Russia would drop by
log export duty so the demand in Japan would shift to
veneer for plywood mills in Japan, which have been using
Russian larch logs.

Projection of new housing starts for 2018 by 12 private
think tanks is 930,000 units, which is revised downward
by 23,000 units from previous projection in last March.
Negative factors are inflating building materials cost and
labor.

South Sea (tropical) logs and lumber
At the recent Forestry Agency¡¯s demand and supply
projection meeting, log supply from South Sea for the
fourth quarter and first quarter next year is reduced by half
of initial projection after Sabah, Malaysia bans log export.
Plywood mills peeling Malaysian logs are now seeking log
supply from other regions like PNG and Solomon Islands,
Africa, South America then veneer supply from Russia
and Indonesia.

Movement of merkusii pine laminated free board from
Indonesia is recovering with start of more public facilities.
Distributors carry ample inventories so they are not ready
to place new orders yet.

Review of domestic logs
Share of domestic logs in total logs used for
manufacturing lumber and plywood has been climbing.
While import of logs continues to decline, domestic log
production continues increasing. For domestic wood
products manufacturers, domestic logs are now
indispensable.

Supply side price escalation of all the imported wood
products is remarkable since second half of 2017.Facing
such steep price inflation, it is challenge how much
domestic wood can replace imported items such as SPF
2x4 lumber, green hemlock square for sill, KD Douglas fir
square for girder and purlin, European laminated post and
stud and floor base of South Sea hardwood plywood. Also
another challenge is if stable log supply is achieved to
satisfy growing demand.

In 2017, domestic log supply for industrial use expanded
to 21,279,000 cbms when new housing starts did not
increase. This proves that share of domestic logs in total
log consumption increased.

Meantime percentage of kiln dried products in total
lumber shipments exceeded 40% for the first time. This
means increase of new domestic log cutting sawmills with
kiln dry facilities so domestic KD lumber production
increased, not imported species like Douglas fir.

Also, domestic log consumption for plywood
manufacturing is now nearly four million cbms. Now a
new softwood plywood mill in Miye prefecture by Nisshin
has started running and Yamanashi plant by Keytec and
Ohita plant by Shin-Ei will start up next year. These plants
consume about 100,000 cbms a year so the volume will
keep increasing for plywood manufacturing to over 4
million cbms next year.

New housing starts in 2017 are 964,641 units, 3,064 units
less than 2016 but domestic log supply increased to 21,279
M cbms, 619 M cbms more than 2016. While housing
starts decreased, domestic log demand increased.

By species, supply of all the softwood species increased
over 2016. Cedar took 63.5% in total softwood then
cypress increased to 12.2%. Larch production was less
than the demand. Larch is used for laminated lumber and
plywood so the demand is growing.

In the wood statistics made by the Ministry of Agriculture,
Forestry and Fisheries, it is the first time since 1997 that
the demand for domestic logs hit over 21,000,000 cbms
but contents have changed a lot in last 20 years. Compared
to 1997, logs for lumber decreased by 2,804,000 cbms
while logsfor plywood increased by 3,792,000 cbms.
Hardwood log demand dropped by half while cedar
increased.

Share of domestic logs in 1997 was 46.0% then it climbed
to 80.8% in 2017 and 80% of logs consumed by sawmills
is domestic.

Log demand has shrunk by about 40% in last 20 years.
Demand for imported logs shrunk by one fifth so share of
domestic logs almost doubled. Declining trend of log
demand had been before 1997.

Demand decline for both imported and domestic logs had
been lasting and in 2012, both were almost even with
15,000 M cbms each. Since then share of domestic has
kept growing while that of imported has kept dropping.

As to imported logs, logs from all the sources have
decreased. Sharp decline of Russian logs (7% of 1997) and
South Sea logs (4% of 1997) is conspicuous. Some of log
demand is replaced by finished products but shifting to
domestic logs of plywood manufacturing is notable
change.

Cedar logs replaced imported logs. Cedar log demand in
20117 was12,147,000 cbms while that in 2002 was
6,860,000 cbms so it is1.8 times increase in fifteen years.

Domestic log production by the region is changing.
Kyushu has been the top producer but it is now peaking
off while the North East is growing. Log production by
seven prefectures in Kyushu was 5,078,000 cbms while
that by six prefectures in the North East was 5,201 M
cbms and they have more room to grow. Log producers in
these regions are seriously tackling replantation to make
sustainable forest management to insure future log supply.

In 2017, log demand for lumber increased by 1.3% from
2016. Domestic log demand increased by 3.7% while
demand for imported logs decreased by 5.4% so share of
domestic climbed to 75.2%. Shifting from high cost North
American logs to domestic logs progressed in 2017.

The most symbolic move is Cypress Sunadaya in Ehime
prefecture, which had been cutting North American yellow
cedar for years then by skyrocketing prices and tough
availability, it gave up to cut North American cypress and
changed to domestic cypress. By species of logs for
lumber manufacturing in 2017, cedar was 8,200,000 cbms,
1.3% more than 2016 then cypress was 2,180,000 cbms,
9.9% more.